Track time without lifting a finger.
Never worry about forgetting to start or stop a timer again. Timing automatically records which apps, documents and websites you use, so you always know where your time went!
Integrate with a variety of apps and services.
Work doesn't just happen in front of your computer. That's why Timing also tracks time spent on phone calls, meetings, calendar events, and (soon) reminders!
Timing is the only time-tracking software with innovative features like this!
Import iPhone and iPad usage from Screen Time.
Timing can import your mobile app usage from Screen Time, giving you a comprehensive overview of all your work, regardless of which device you used.
Timing is the only third-party solution for viewing Screen Time data in this way.
Not all your work happens in front of the computer. Timing's interactive timeline makes it easy to add "offline time" such as meetings with just a few clicks.
And when you want to focus on a specific task, Timing lets you start and stop timers just like any other time tracking app.
Timing supports tracking all your favorite apps:
Call tracking: Never forget to record time for a meeting again.
Timing automagically asks you to enter time right after each video or voice call.
Timing is the only time-tracking software with innovative features like this!
Privacy-friendly time tracking for teams.
Timing's team functionality lets you invite team members and share projects with them.
Team members report time towards these projects as usual; you view their reports in the Timing web app.
Team members' privacy is protected: Team admins only see aggregate times associated with team projects. No personal times or private details are shared.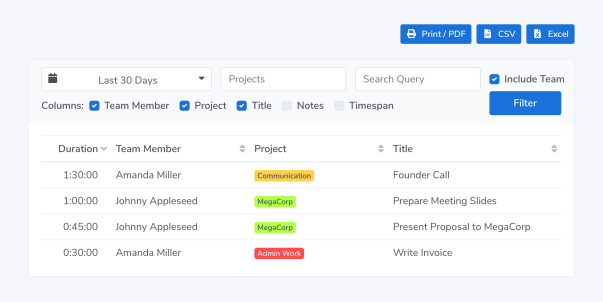 Impress your clients and colleagues with reports.
No matter how your clients need you to report your time, Timing can do it.
Report data as PDF, XLSX, CSV or HTML to create timesheets and invoices. Freelancers and contractors will love this, but Timing's smart reporting capabilities benefit everyone else, too. For example, team managers can view reports of their team's work time.
Record time for calendar events with a single click.
You have already entered your time into your calendar; why enter it again?
Timing's timeline shows all your calendar events, so you can record time for them with a single click.
Time tracking is not an end in itself.
Luckily, our integrations enable a variety of uses for your data. Here are a few examples:
Export data for further processing with our Web API.
If you need to track other activities, such as phone calls or meetings, simply add them manually.
Timing can even automatically ask you what you did when you return to your desk!
Plus, our time tracking widget for the menu bar can always show you how productive you are right in your Mac's status bar, to help you stay on track.
The first time-tracking app that saves you time.
Everything in Timing is built to help you get the job done super quickly, saving you lots of time in the process.
For example, our extensible rules system can automatically categorize almost all of your activities – simply ⌥-drag an activity to permanently assign it to a project.
Over time, Timing will save you hours of manual categorization effort, not to mention all the time you'd normally spend starting and stopping manual timers.
Try Timing for free today!