The 11 Best Time Tracking Apps for Mac: A Comprehensive Market Overview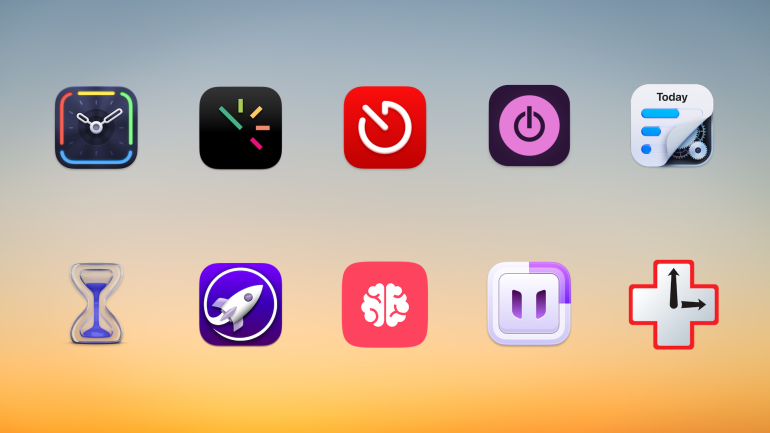 Background image: César Couto; Icons: respective app developers
Do you really know how you spend your time? As you look back on a project you've just completed, did it take you the three hours you think it did, or was it probably two, plus an hour of responding to emails? The only way to know for sure is to track your time by using one of the eleven best Mac time tracking apps we've identified below.
Choosing the app that's right for you depends on what you need — every app is slightly different. While some tally your activities automatically, carefully keeping track of which web pages and documents spend the most time on, others allow you to log your time manually. Some are ideally suited for freelancers and small businesses, while others are tailored to larger companies.
Read the rest of this buyer's guide for an overview of the entire Mac time tracker market in 2023!
Table of Contents
Market Overview: What makes each candidate unique, and why did we pick them?
If you don't have time for a deep dive, here's a quick overview of what makes each candidate stand out:
This list is by no means exhaustive, and there are other options you might consider using, such as:
Our picks, however, are what we believe to be the best on the Mac time tracking app market. And we've been in the Mac time tracking app market for over 10 years, so we know what we are talking about!
Qbserve, for example, doesn't get regular updates (unlike Timing, which is a subscription-based app with frequent updates). And Clockify, while popular, doesn't quite cut it in terms of design and Mac-native UI. We think discerning Mac users are likely to be disappointed. Hubstaff, on the other hand, seems to be more about employee monitoring – for example, it regularly takes screenshots of employees' desktops for managers to review. We do not believe that such methods are conducive to a positive work environment, so we have decided not to include them. Harvest is very similar to Toggl without the added benefit of a great native Mac application like Timery. Finally, our concerns about Time Sink are very similar to Qbserve – it no longer appears to be in active development. We recommend sticking with one of the options below.
Why should you use a time tracking app?
Whether you're self-employed, managing a small team, or overseeing a large enterprise, keeping track of how you and your team use your time is critical to the success of your business.
In many instances, the minutes, hours or days you spend on a project directly influence how much you quote and, as a result, how much you invoice. If you're not using a Mac app to record working hours, you may underestimate how long a project takes to complete. Make this mistake repeatedly, and your business's bottom line will start to suffer.
Even if you don't bill by the hour, using a time tracker for Mac can help you get a sense of how productively and efficiently you and your colleagues are using their time. In this era of quiet quitting, having a sense of these metrics (without violating their privacy) can help you identify team members who may be feeling apathetic and disengaged. Armed with this knowledge, you can step in and try to find solutions to help them.
What are the benefits of using an app to track your time?
Why use an app? Surely just keeping an eye on the clock, and jotting down a rough estimate on a piece of paper or a spreadsheet is sufficient? While that's one way of doing it, you're missing out on some of the key advantages that using an app affords. Let's take a look at some of these benefits:
Greater accuracy
Your own manual estimates will never be as accurate as an app that's designed specifically to keep track of what you're doing. Automatic time tracking apps, rather than manual ones, are particularly useful in this regard – they simply run in the background while you work as usual.
Improved reliability
How much time did you spend on a project yesterday? What about last week? Realizing that you didn't note down the final tally in your spreadsheet can be frustrating. You might undercharge and lose income, or overcharge and erode the trust of your client. With the right app, you can simply go back in time and draw on accurate data as you put your invoice together.
Useful reporting functionality
Some of the best macOS time trackers offer useful insight on a daily, weekly or monthly basis. Study these reports and you might identify opportunities that help your business grow.
Business success
A study conducted by McKinsey states that the average employee spends 28% of their workweek checking their email. By carefully tracking work hours on your Mac and knowing exactly where you're whiling away the minutes, you can start to make informed decisions about how you work so that you can minimize distractions and improve your productivity. Of course, knowing which emails are related to specific projects means you can bill for the time it takes to compose them, too.
What should you look for in a time tracker?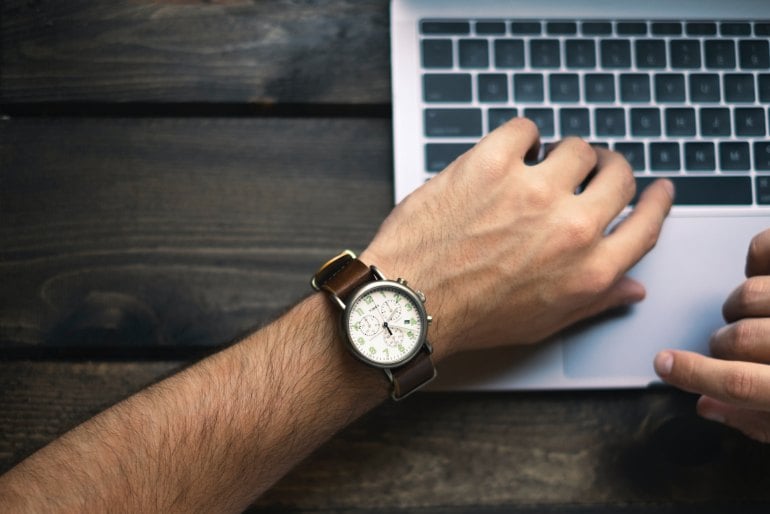 As you start to refine your selection, here are some of the most important characteristics you should keep in mind.
Automatic versus manual time tracking apps
Mac time tracking software typically works in one of two ways: it either tracks your time automatically or prompts you to log your tasks manually.
Automatic applications use intelligent tracking features that can detect when you switch between email, documents, web pages, or meetings. They simply run in the background and provide a detailed report when you are done for the day. Manual time management systems, on the other hand, typically require you to click a timer on your Mac when you start or finish a task, but they are more prone to human error. What if you forget? And what if you work on something else in between?
While manual functionality can be useful, automatic time tracking is certainly the way to go.
Is there one automatic time tracker that stands out from the rest? There is! Take a look below.
Apps that are Mac native
If you're a Mac user, make sure you're opting for apps that are native to the Mac, and have been designed specifically for macOS. Native Mac apps offer a better user experience and design. They're also likely to integrate better across all your Apple devices. We've been developing apps for Mac and optimizing them for the macOS user interface for more than ten years, so we know what we're talking about!
(Want to become a Mac power user? Let us show you how.)
Team functionality
Your needs might be a little different if you're working alone or in a team, but not every application is designed or best suited for the needs of small, medium, or large groups of people. Think carefully about your needs and who will need to access the software before you choose the one that's right for you.
The 11 Best Time Trackers for Mac available
Here are the best Mac time tracking apps currently on the market.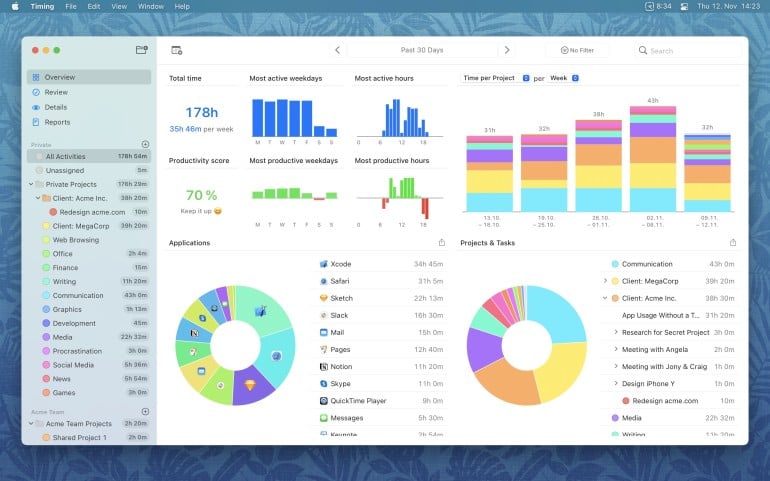 Automatic or manual: Automatic.
Best for: Keeping track of your time automatically on Mac.
Price: Free 30-day trial. The three-tiered pricing plan comes with a 20%+ discount on annual billing. The Professional, Expert and Connect plans cost $8, $10 and $14 per month respectively with annual billing.
Capterra rating: 4.8 out of 5.
Timing is one of the most respected Mac time tracking apps around, and for good reason. It's a native Mac desktop application that automatically tracks all activity on your Mac, keeping a complete record of every app, document, and web page you use – without you having to do a thing!
Timing simply keeps track of what you do, while staying in the background. You can also tell it which projects your activities belong to, so it can automate those assignments for you with rules. And when you leave your Mac, Timing automatically detects that idle time, so you don't overcount your time.
In addition, Timing offers several other automation features that ensure your time records are accurate without costing you time. For example, its automatic call detection offers to record time spent in a meeting as soon as the voice or video call ends. After all, meetings are often billable hours. Similarly, Timing can integrate with your calendar to show appointments on its timeline, so you can easily track time for those as well.
And if you do a lot of work on your iPhone and iPad, you'll love Timing's innovative Screen Time integration: It is the first time-tracking app to import your mobile app usage from Screen Time, giving you a comprehensive over your work time across all your devices!
Of course, Timing gives you full control over how your time is tracked. This means you can manually start and stop timers at any time, and intuitively edit your time using the visual timeline. If you're on the go, Timing's web app lets you start and stop timers directly from your phone. The data you record is automatically synced with your other devices, so you have a holistic and accurate timekeeping record.
Curious to find out more? Download Timing's free 30-day trial today.
Pros
Timing automates most of your time tracking: it automatically records how much time you spend on each app, document and website.
It comes with other handy automation features such as the automatic assignment of times via rules, call tracking, a calendar integration, and idle detection, among others.
Manual time entries, including start and stop timers, let you retain full control over your time tracking.
Strong history of innovation in the time-tracking space — for example, it is the first Mac app to automatically offer to record time spent in video calls or import your mobile device usage from Screen Time.
The privacy-preserving team functionality option allows you to see how much your team has worked on a particular project, but not which specific apps, documents or websites they've used.
Cons
Timing can be a bit on the expensive side (but you get what you pay for).
It doesn't include native invoicing support, but integrates well with a variety of billing apps that can help you with that.
What users say
"I love that this software tracks all I do, and when, while using any applications on my computer. I do not always remember to start the timer when I am working between clients, but I can go back and see what I was doing and on what application, along with for how long, afterwards. I use it for multiple clients to track my time, and the time clock is great, too, because you can add in what you are doing. I also like that you can set shortcuts for starting and stopping the clock and edit any entry if needed, and even add an entry after the fact." – Management consulting, small business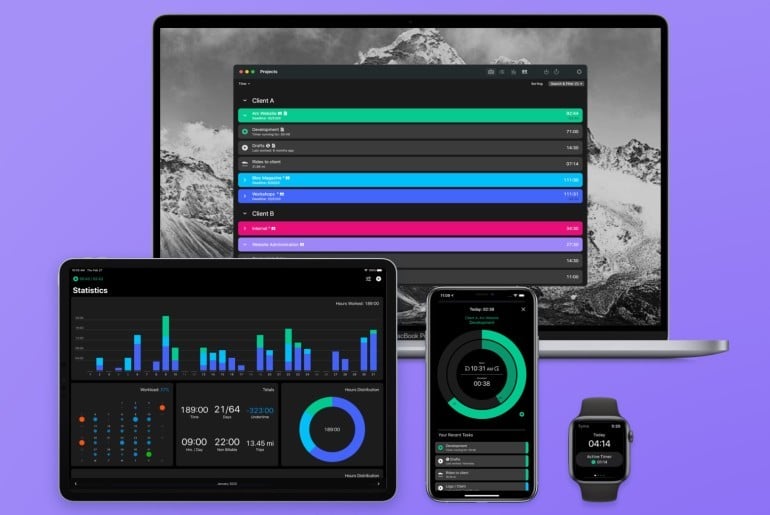 Image source: Tyme
Automatic or manual: Manual.
Best for: Tracking time manually.
Price: 14-day trial, followed by a monthly and annual subscription of $3.99 and $35.99 respectively.
Mac App Store rating: 4.6 out of 5.
Tyme is a timer-based tracker with a friendly and intuitive interface, and a selection of shortcuts so vast, you'll likely never have to touch your mouse once you get the hang of them. With this time tracking app Mac users can start a timer super-quickly. It also provides plenty of reporting options for later evaluating your time-tracking data.
Tyme's dashboard is comprehensive, and helps to give you a detailed overview of everything you're working on quickly and easily. It's also a native Mac app, and synchronizes seamlessly across all your Apple devices.
Pros
Tyme is available on all Apple platforms, which is great if you're a Mac user.
Tyme provides plenty of ways to export your data as e.g. PDF or send it to other services for e.g. invoicing.
It also has a teams edition available if you work with others.
Cons
Tyme doesn't offer any automatic time tracking features. All of your entries have to be made manually using a start-stop timer.
The dashboard can feel cluttered if you have lots of projects going on.
What users say
"I literally couldn't be happier with Tyme. I had no idea how useful a time tracking app could be with regards to actually making me more productive because now I have such a clear idea of where my time is spent. I've used a number of other apps, but they were either over complicated or just kind of ugly. I keep a Tyme window up all day because it's not only serving me up valuable information, but it's just gorgeous to look at." — Mac App Store review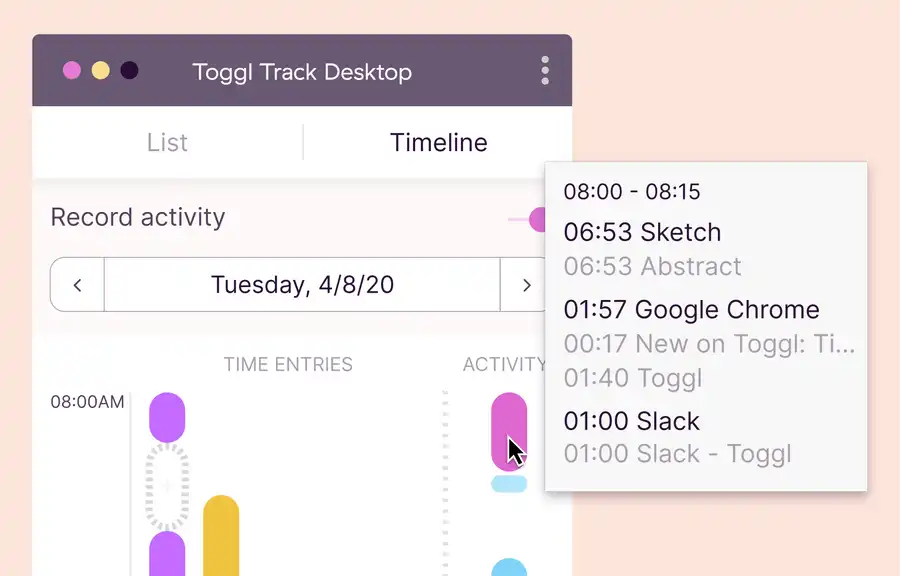 Image source: Toggl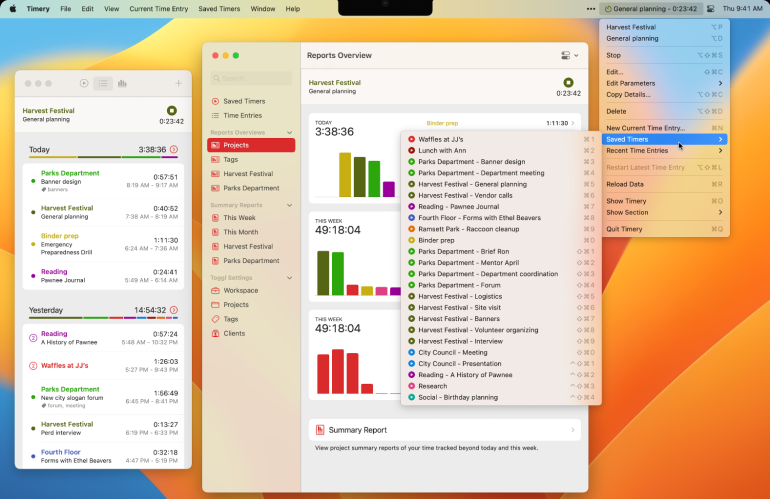 Image source: Timery
Automatic or manual: Manual, though with some automatic functionality.
Best for: Users looking for a generous free app that offers excellent manual time tracking.
Price: Free tier, followed by starter and premier plans at $9/user/month and $18/user/month respectively. Enterprise plan prices are available on agreement.
G2 rating: 4.6 out of 5.
Although Toggl is a manual, timer-based app, it's widely regarded as one of the easiest apps to use. Most importantly, it asks for very little information from you when you start a task — you don't even need to insert the client or project straight away, you can just get to work and fill in the details later. This, combined with its simple, straightforward and intuitive interface, has earned it its easy-to-use reputation.
Using the Toggl Chrome extension, Toggl's timer button appears in almost every web app you use, so you won't forget to start or stop your timer. Its idle detection is also excellent, and helps you to correct your time quickly and easily if you step away from your computer but forget to stop your timer.
On Mac, Toggl works best if you combine it with Timery, an independent app that helps to streamline your time tracking processes on Mac.
Pros
Toggl boasts great interoperability, which means that it works well with other apps and programs.
Timery provides a nice, Mac-native interface for Toggl.
Cons
Toggl's Mac app isn't very user friendly. To get around this, use Timery as a Toggl client on your Mac and iOS devices.
Toggl's automated time tracking option isn't very detailed and can be quite cumbersome to use.
What users say
"Toggl Track is so easy to use, and it has every feature I could possibly want to ensure I'm accounting for and billing for every bit of my time appropriately." – President, small business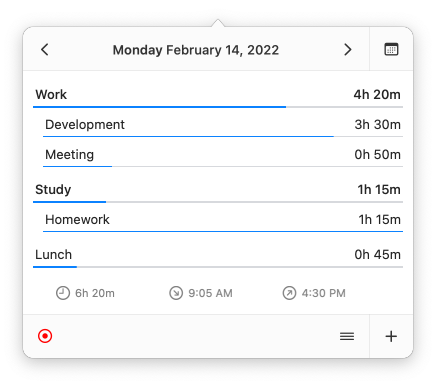 Image source: Daily
Automatic or manual: Neither — Daily uses sampling.
Best for: Unique approach uses sampling rather than automatic or manual tracking.
Price: Free seven-day trial. Monthly, yearly and lifetime licenses cost $3.99, $29.99 and $59.99 respectively.
Mac App Store rating: 4.6 out of 5.
Another user-friendly app, Daily is neither an automatic nor manual time tracking solution for macOS. Instead, it uses sampling, a common statistical tactic, to calculate what you're spending your time on. By asking you every 20 minutes (or thereabouts — you can adjust this interval to suit your needs) what you're working on, Daily is able to monitor what you're doing without you having to manually start or cancel a timer. In addition, this provides a frequent reminder for you to stay on the task that you set out to accomplish.
With the results of Daily's sampling, you can view and export your timesheets to create reports and issue invoices. Keyboard shortcuts allow you to control Daily without needing to open the app, and cloud-based synchronization means that all your data is available on all your devices and securely backed up.
Pros
Daily's sampling approach keeps you on track and makes sure you don't forget to record time.
Daily has been built natively for Mac.
Cons
Some users might find the frequent check-ins irritating and distracting.
What users say
"This is such an easy tool, I've been using it for almost probably about 5 years now and really don't know how I lived without it. When you deal with work timesheets, you don't want to be in there constantly, and with this, I go about my normal day and track easily as the day goes on. And it's great for keeping track of my side project time too." — Mac App Store reviewer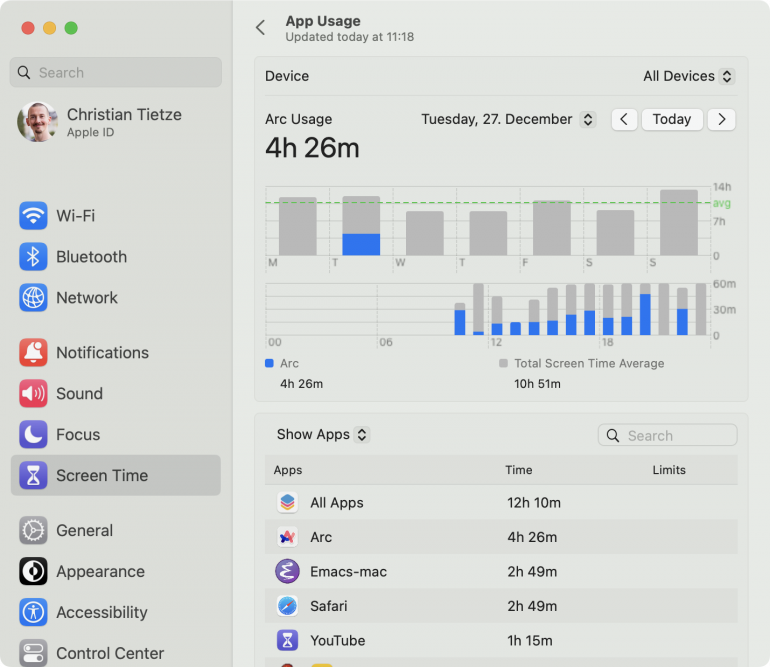 Automatic or manual: Automatic.
Best for: Built-in feature that requires no intervention, but has very limited accuracy.
Price: Free, standard on all Apple devices.
Rating: Since it's not an independent app, Screen Time is not rated either on G2 or the Mac App Store.
Screen Time is built into all Mac devices and is designed to give you a high-level overview of how long you use your device every day, and which apps you use the most. With this information on hand, you can use Screen Time to schedule time away from your device, and limit time on apps that can be distracting.
While Screen Time is a Mac-native feature, it offers serious limitations as a time tracking tool, particularly if you need to use this data professionally — to quote and invoice, for example. The detail it provides simply isn't granular enough. It might identify that you're on a browser, for example, but not the precise content of what you're researching.
Pros
Available on all Apple devices.
Built-in and free.
Cons
Screen Time can be very unreliable and data may be inaccurate.
Data is often not correctly synced between devices.
It's not exactly clear how the time is calculated.
Screen Time certainly has its place, but more as a means of adjusting your behavior than as a professional time tracking tool. For more information on Screen Time, take a look at our definitive guide.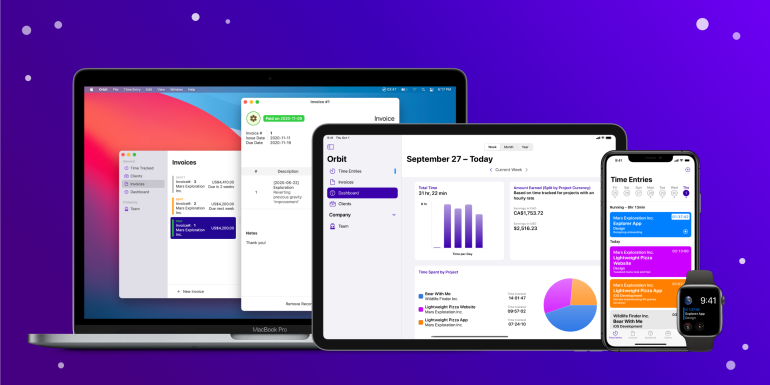 Automatic or manual: Manual.
Best for: Anyone looking for basic invoicing functionality integrated into their time-tracking app.
Price: $7.99 per month, $79.99 per year.
Rating: 4.6 out of 5 stars with 49 ratings on the Mac App Store.
Orbit is a time-tracking and invoicing app that offers features like automatic idle detection, easy setup, custom invoice creation, and plans for small teams. It can give you an overview of how you spend your time and offers automatic invoice generation from logged time entries. In addition, Orbit is also available for iPhone, iPad and Apple Watch, so you can track your time on the go.
If you would rather not have separate apps for tracking time and creating invoices, Orbit could be a good option. However, if you're looking for more advanced time-tracking features, Orbit might not be the best choice for you.
Pros
Available for all Apple platforms: Mac, iPhone, iPad, and Apple Watch
Comes both with basic time-tracking and invoicing functionality, so you don't need two separate apps.
Cons
Does not have many advanced time-tracking features; it seems like Orbit gives you the basics for everything, but not much more than that.
Development of new features has slowed down considerably in recent months.
What users say
"Great for individuals and contractors alike: If you want to keep track of time and have intelligent pausing, this is perfect. As a bonus you can generate invoices for your hard work that you spend your time tracking :)" — Review from user "Schemetrical" on the Mac App Store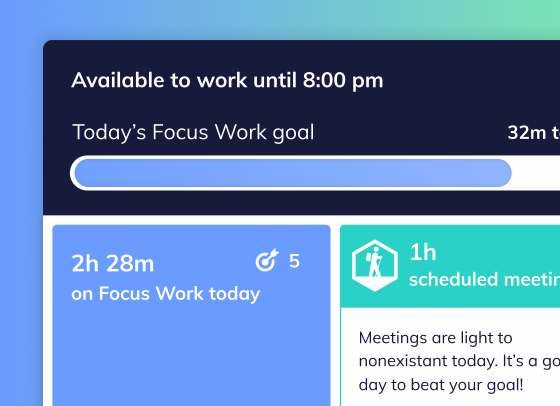 Image source: RescueTime
Automatic or manual: Automatic.
Best for: Optimizing how you spend your time so that you can be more productive.
Price: A limited free plan and a paid plan for $9/user/month.
G2 rating: 4.1 out of 5.
RescueTime does more than simply track your time, it also guides you on how to optimize your time so that you can overcome distractions and improve your productivity. It defines itself as habit-building software, which emphasizes the importance it places on eliminating distractions and strengthening focus. With this time tracker Mac users can see in broad strokes which apps and websites they used.
Pros
The free plan comes with basic automatic time tracking.
The paid version can block distractions for you.
Cons
RescueTime is mostly intended to offer a broad overview of how you spend your time, so its project management and customization options are limited.
Manual time entries are fairly cumbersome and aren't integrated all that well.
RescueTime doesn't allow you to export your hours or create an invoice.
What users say
"By far, the best part of RescueTime is how streamlined and easy it is to use. Painless. Install it, install the browser extensions, then it runs quietly in the background, tracking and capturing data." — Clinical director, mid-market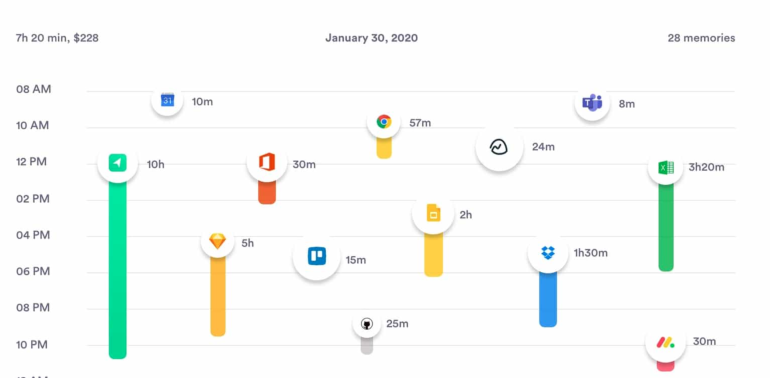 Image source: G2
Automatic or manual: Automatic.
Best for: Gives you a high-level overview of your day and offers features for planning your tasks ahead of time.
Price: 14-day trial period. The starter, premium and unlimited plan go for $8/user/month, $14/user/month and $20/user/month respectively if billed annually.
G2 rating: 4.8 out of 5.
An automatic time tracking tool, Timely closely records and analyzes your work by tracking the specifics of your meetings, documents, web pages and emails. While Timely is very accurate, it's still a good idea to go through the reports it generates to ensure that everything has been allocated properly.
Timely offers comprehensive features that help you allocate and manage projects, and budget for them. If you're starting to go over your budget, Timely will notify you ahead of time, so that you can either reign in the hours you're spending on it, or speak to your client about extending the budget. Teams will find it useful, too.
Pros
Compatible with macOS as well as other platforms and operating systems.
Also offers other functionality, including project tracking and team management features.
Users can set what data is available to employers.
Cons
At times, Timely's AI algorithm can make the wrong call and allocate time incorrectly.
What users say
"I began using Timely when I started my job as an analyst. I work with many applications on my laptop, and Timely helps me track how much time I spend on any application. It means so much to me that I can manage my time very well and measure how I improve in working on many tasks efficiently." — Brand protection analyst, mid-market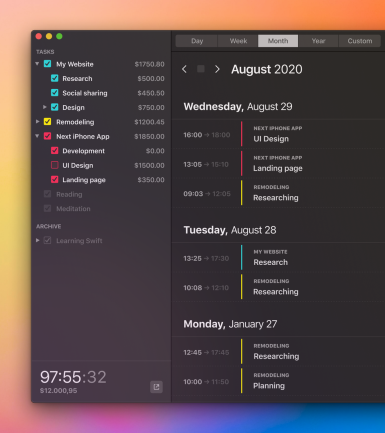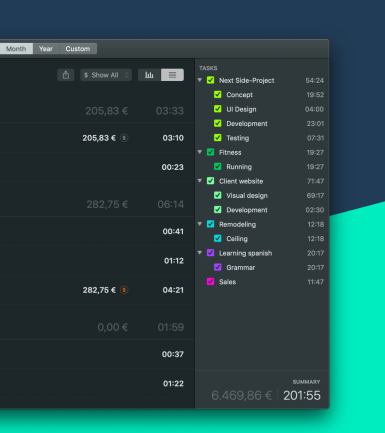 Image sources: Klokki, Timemator
Automatic or manual: Manual.
Best for: Manual time tracking with limited automatic tracking.
Price: 14-day free trial, followed by a one-time fee of $30.
Mac App Store rating: 4.6 out of 5.
Klokki, a native Mac app, is hosted in your menu bar. It uses rule-based functionality to help you monitor your time without having to start or stop a timer. Once your rules are set, you can simply start working without selecting a task or starting a timer.
Klokki is closely related to another app, Timemator. The two used to be one app, in fact, but their developers have since separated them and taken them in slightly different directions.
Both are still "manual-first" apps, however. While there is some automated functionality, this begins with manual rules and processes that have to be established upfront. In addition, their automatic tracking capabilities can not quickly tell you e.g. how much time you ever spent on a particular app, website, or document.
Pros
Klokki is entirely Mac native.
It easily detects idle time and excludes this information from your reports.
Cons
The version on the Mac App Store doesn't support automated toggling as the store doesn't allow screen and activity recording.
What users say
"I love this app because not only does it track the time, but creates a report for each day based on time spent and on which project. Clear, very easy to use and I'm sure will make my boss happy to have accurate time calculated!" — Mac App Store reviewer
Which of the best time tracking apps for Mac should you use?
Which macOS time tracker is right for you depends on your particular needs. While there is some overlap between the 8 best apps we've listed above, each has its own unique characteristics.
If you're unsure where to start, Timing's 30-day free trial gives you plenty of time to see what it's all about. Simply download it now, obligation free, to see how well it works for you. If you have any questions, you can also contact us so that we can help you directly.
Frequently Asked Questions
Still have a few questions? Let's get them answered for you:
Does the Mac have a built-in time tracking app?
macOS has its own time tracking feature, called "Screen Time", but it is not detailed enough for many people. Other apps like Timing provide way more details, without having to start and stop timers.
How can I see how much time I spent on my Mac?
Using a time tracking app like Timing can help you understand how much time you spend on your Mac and which apps and programs you use. Best of all, you don't have to do anything, it will do all the time recording for you!
How do I track the time on my laptop?
Time tracking software can be used to manually enter tasks or track activities automatically. Automatic tracking tools, like Timing, work in the background to monitor your activities.