Screen Time on Your iPhone, iPad and Mac: The Definitive Guide in 2023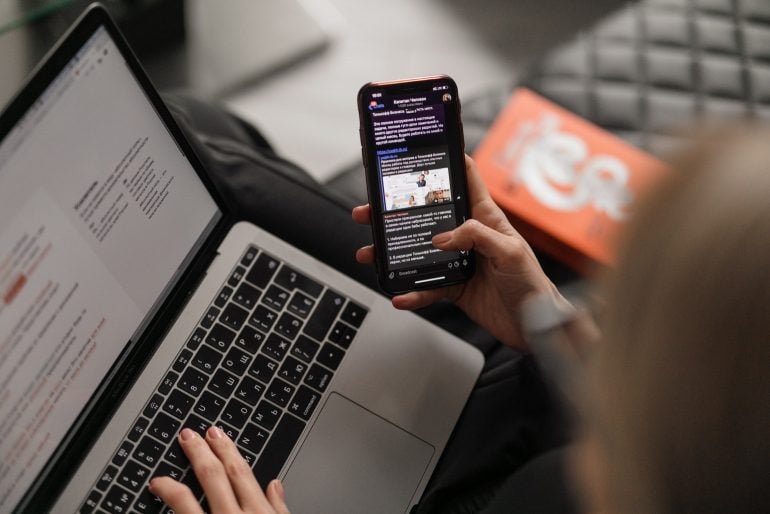 It probably goes without saying, but we couldn't live without them: our digital devices are arguably among the most indispensable parts of our personal and professional lives, connecting us to friends, family, colleagues, and the rest of the world for a multitude of reasons numerous times a day.
How many times a day exactly? A recent survey found that US smartphone users checked their phones an average of once every four minutes in 2021, a dramatic increase from a 2019 study, which put this figure at once every 10 minutes. Whatever our habits, if we look at our Screen Time report, many of us will likely find that we're spending at least a month a year on our phones—maybe more.
But is every one of these instances worthwhile? Are we using our time productively, to learn, work and be entertained, or are we simply whiling away the hours? When it comes to our phones, tablets and computers, where is the line between help and hindrance, and can being aware of our screen time help us to manage our phone usage better?
Let's look at how monitoring the apps you're using through Screen Time on iPhone can help you to be more aware of your time, and boost your productivity in the process. We'll also ask whether there are any alternatives for you to consider. (Spoiler alert: there are!)
What is Screen Time on iPhone?
Screen Time is a feature on all Apple devices—iPhones, iPads and Macs—that tells you how long you use your device every day, and which apps you use the most. It also gives you the option of scheduling time away from your screen, and limiting the time you spend on apps that can be a bit distracting.
Screen Time isn't a separate app, but rather a built-in feature that you can activate and control in Settings. To get started, simply go to "Settings > Screen Time," and tap "Turn on Screen Time". Hit "Continue" and then choose either your own device or your child's device. One of the best features about Screen Time is that it can help you manage the time your family spends on their iPhones or iPads, which we'll get to in a little bit.
Once you're in Screen Time, you can view how many hours or minutes you've spent on your device, and on which apps. With this information in hand (some of which could be quite shocking), you can start to re-evaluate and, if necessary, change the way you interact with your device.
Of course, since Screen Time is essentially about looking at how and where you spend your time, it's right up our alley. At Timing, we're all about tracking time for increased productivity.
How Does Screen Time Work?
If you've activated it, Screen Time is constantly working in the background to assess what apps you're using on your device, and for how long.
The first thing that you'll see when you go into Screen Time is a graph that shows you how many hours and minutes you've spent on your device that day. Below, there are a few options that allow you to set downtime and manage limits.
Here's what the opening page looks like: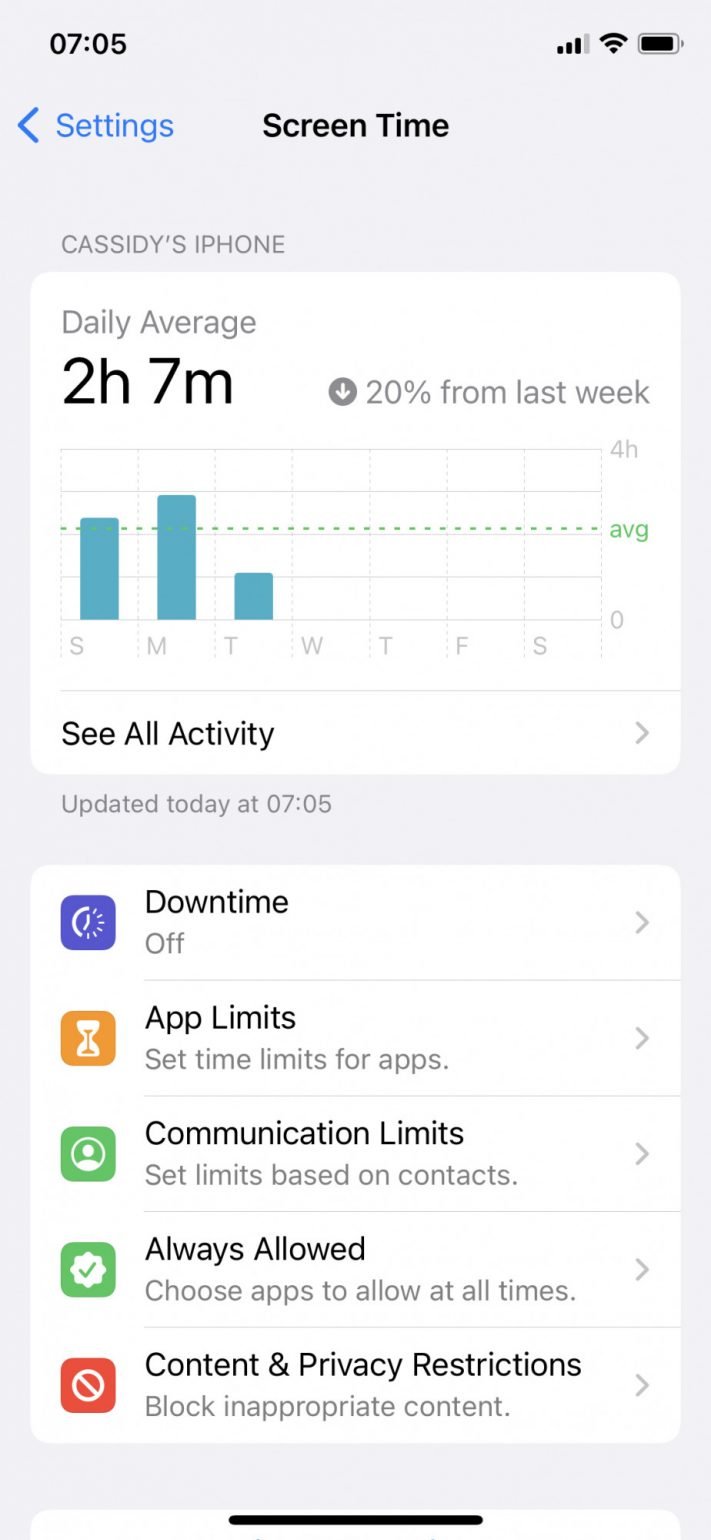 Downtime, App Limits and Communication Limits
It's not uncommon for users to get a bit of a fright when they first log into Screen Time, discovering they've spent hours on apps that could have been better spent on more productive activities, or simply being present with friends and family.
If that's you, don't worry! Just like Timing, Screen Time is meant to help you track your activity so that you can organize your time and use it to your advantage. Use it correctly and the information it provides can be empowering, rather than disheartening.
Screen Time includes key features that will help you to set personal limits: Downtime, App Limits and Communication Limits.
Downtime
Downtime allows you to schedule time away from the screen. You may want to spend time away from technology in the evenings, for example. If that's the case, simply set a schedule, during which only apps you choose and phone calls will be available.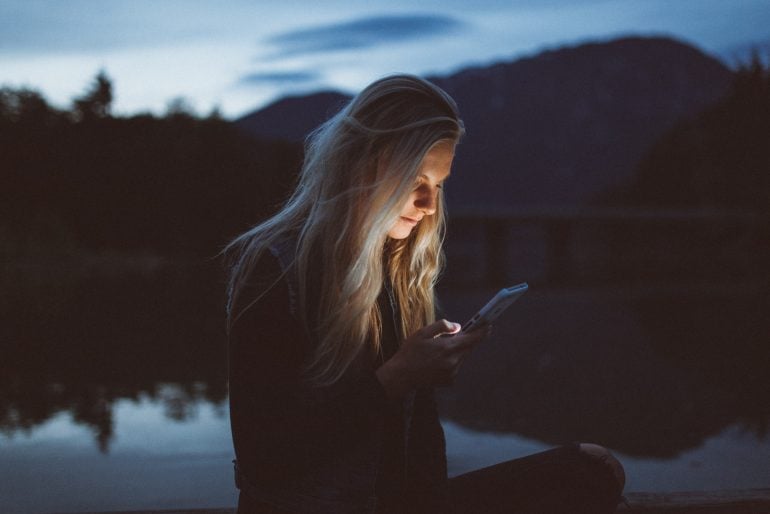 App Limits
App Limits allows you to set daily time limits for certain app categories, such as social, games, entertainment, travel, and shopping and food. They reset every day at midnight. You can also choose apps that you want to be available at all times, such as Messages or WhatsApp.
Communication Limits
Communication Limits enables you to limit who you speak to so that only people within your contacts list, or with a mutual contact, can connect with you during certain times of the day. You'll always be able to make or receive emergency calls, however.
Always Allowed, Block Content and Privacy Restrictions
Always Allowed is where you can choose which contacts and which apps are, as the name suggests, always allowed. These apps are available even during downtime, or if you choose the "All Apps & Categories" app limit.
Screen Time also allows you to set content and privacy restrictions. You can choose to block content that you simply don't want to see, and make adjustments to get greater control over private information, like contacts, photos and location services.
What Does Your Screen Time Report Look Like?
If you tap on "See All Activity", you'll be able to take a look at your screen time report, which shows some of the more granular details of how you use your phone.
A bar graph gives you weekly and daily totals on the categories you've engaged with the most—in the case below: social, productivity and finance, and utilities. It tells you which apps and categories you've used the most, how often you've picked up your phone and which app you used first, and which apps send you the most notifications.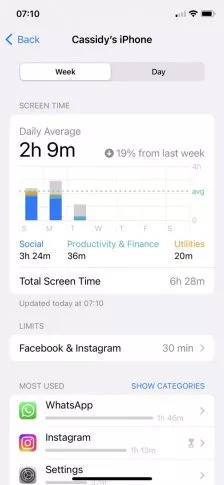 Pickups and Notifications
For many of us, picking up our iPhones during a moment of downtime—while waiting in line, or even while sitting at a stop light—has become an involuntary reflex.
Screen Time allows you to review how many times you've picked up your iPhone or iPad per hour, as well as your first pickup and number of total pickups per day. You'll also be able to see the apps that you used first after picking your phone up. This information can help you track the apps that are drawing you into your phone, and perhaps demanding more attention than they should.
Here's the pickup info: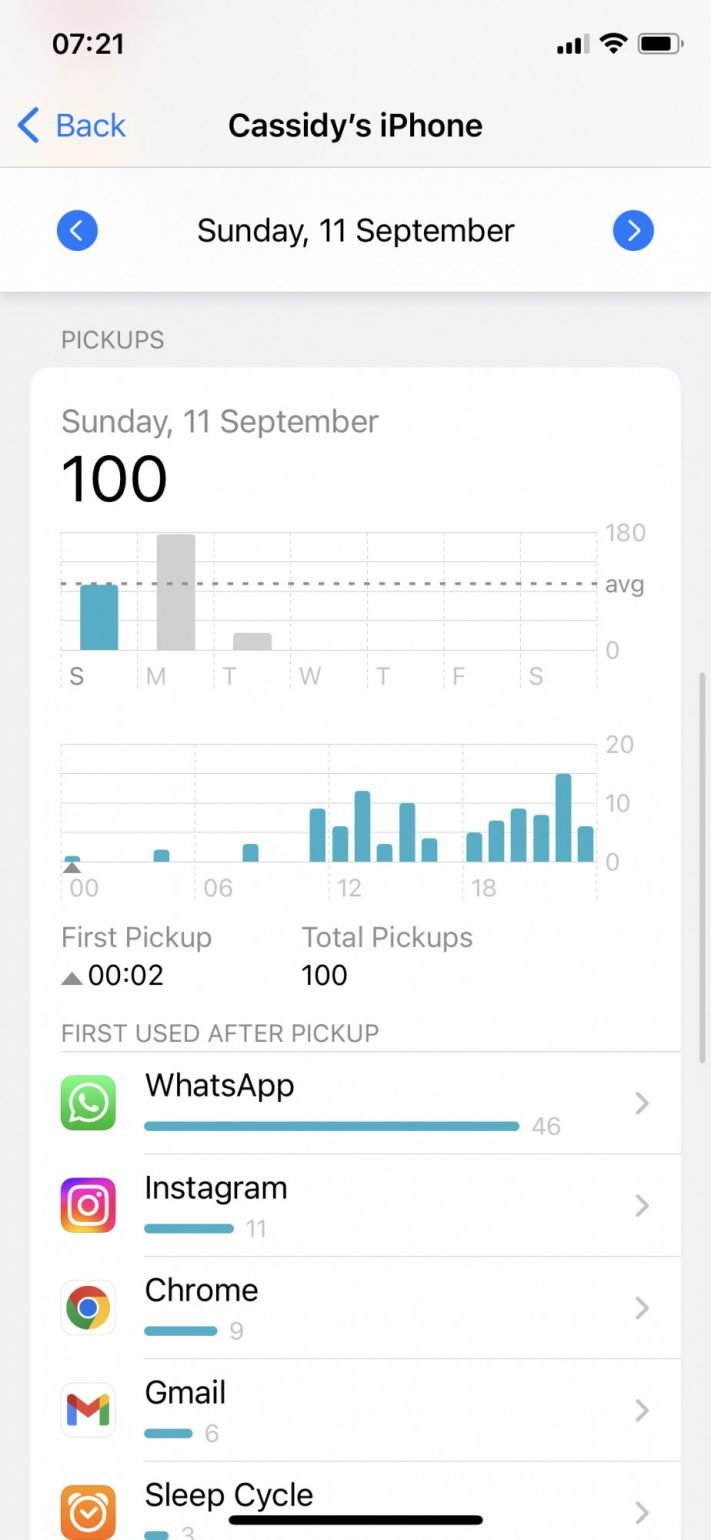 If enhancing your productivity is important to you, being aware of the apps that send you the most notifications is also important—they're the ones that are likely distracting you when you're in the middle of a task. If you want to limit your notifications, go to Settings > Notifications and adjust the notification style in the app concerned.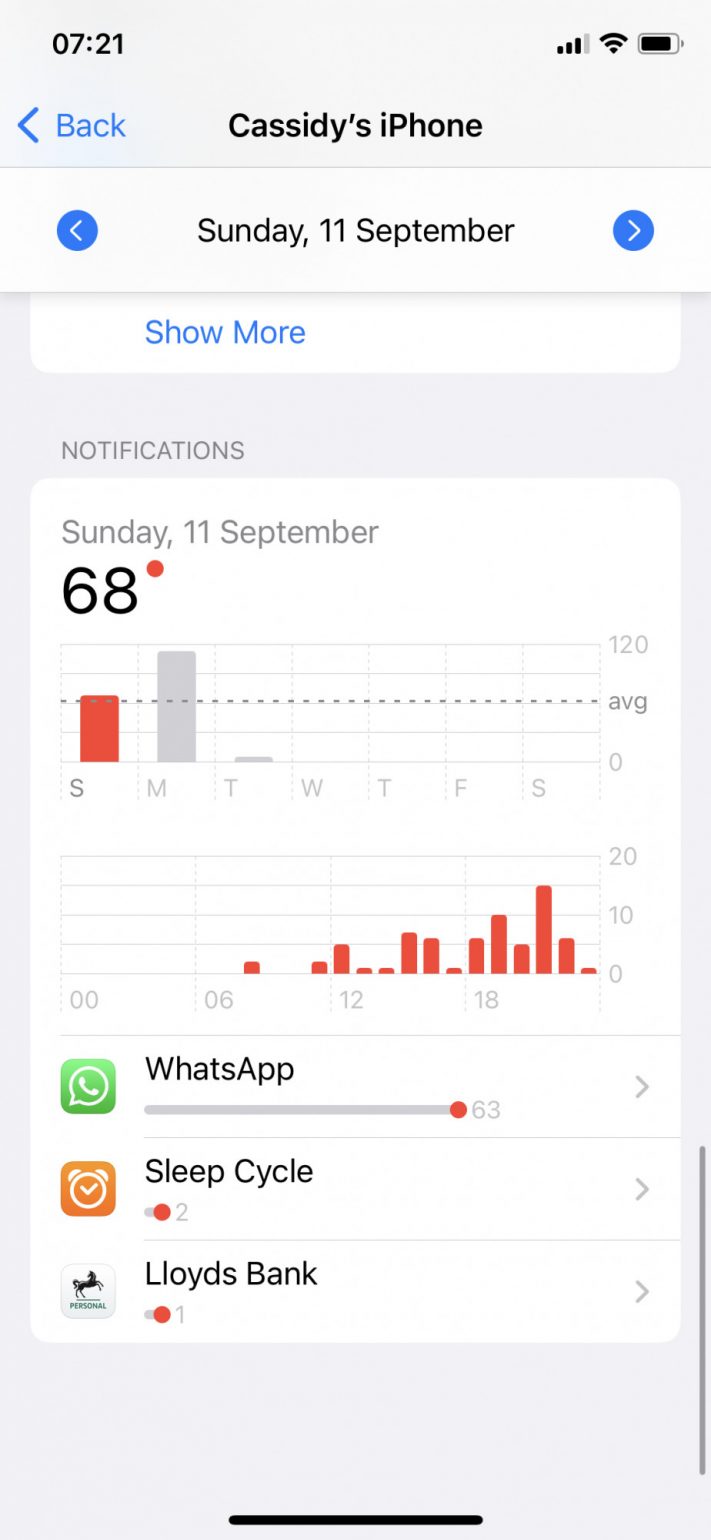 Screen Time on iPad and Mac
Screen Time works very similarly on iPads as it does on iPhones, and the screenshots we've provided above will look just about the same.
To share your Screen Time settings across all your Apple devices, sign in with your Apple ID on each device and select "Share Across Devices" on Screen Time's opening page. This will help you view your combined screen time across your devices.
Screen Time looks slightly different on Mac; it is available in your System Preferences, along with all the data and limits you've come to expect from using Screen Time on iPhone and iPad. It also divides your device usage into apps and categories, and shows you how much time you've spent on each. We also have a dedicated article on Screen Time for macOS if you'd like to learn more.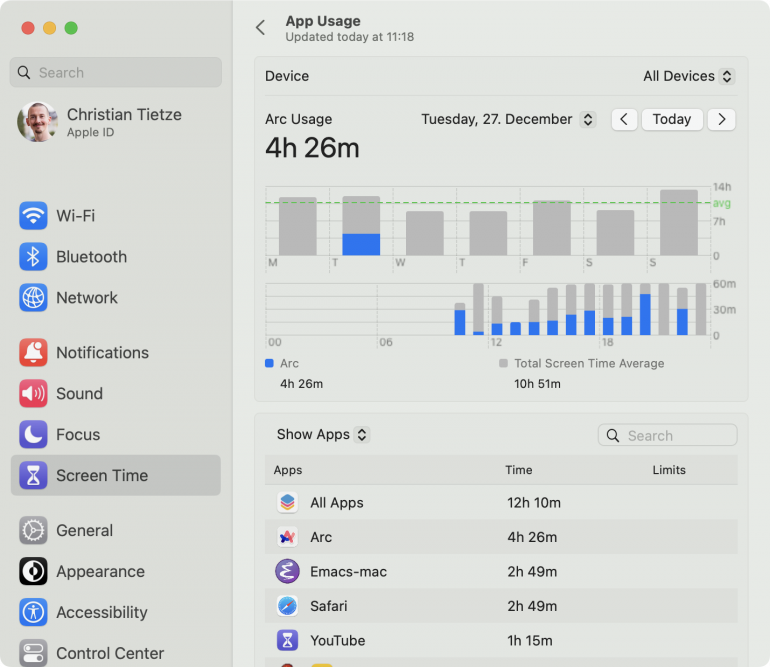 Screen Time vs. Timing—A Better Alternative?
While Screen Time can help you see where all those minutes (and hours) are going, it won't necessarily help you work productively. The information—particularly on Mac—simply isn't detailed enough. Time spent on Google Chrome, for example, could be used finding recipes for parmesan-roasted potatoes, rather than researching a potential new client. Screen Time doesn't distinguish between the two.
So, while Screen Time and Timing have the same basic goal of helping you to be more efficient, aware and productive, Screen Time passes the baton to us when it comes time to give detailed insights into how you spend your working hours. Here's what sets them apart:
Detailed tracking: Timing automatically tracks your time on your Mac, including the apps you use, the documents you edit, and the websites you visit.
Fully customizable: By allowing you to create a hierarchy of projects that make sense for you, set up custom rules to categorize and file chunks of time, and assign productivity scores, Timing gives you a near-endless range of possibilities for tracking and organizing your time.
Enter data manually: You can also manually enter time spent off your Mac — such as on phone calls or during in-person meetings. This seamless control helps you to account for every minute of your day.
Reporting and invoicing: And you can use Timing for easy tracking and to export data to your invoicing solution, which Screen Time doesn't allow.
If you aren't a Timing user yet, you can try our 30-day trial for free, with no credit card required. Of course, if you're an avid Timing user, you've been ahead of the curve for a while. You already know how helpful and transformative it is to be able to review your minutes and hours, and see where your priorities lie.
Screen Time for Family
Finally, for parents who want to monitor and limit device usage for their children, Screen Time offers a feature called "Screen Time for Family."
Screen Time for Family allows you to see where and how children under the age of 18 are spending time on their devices. You can adjust settings, such as downtime or app limits, from your own device provided you're the designated family organizer. You can also add another family member as a parent or guardian.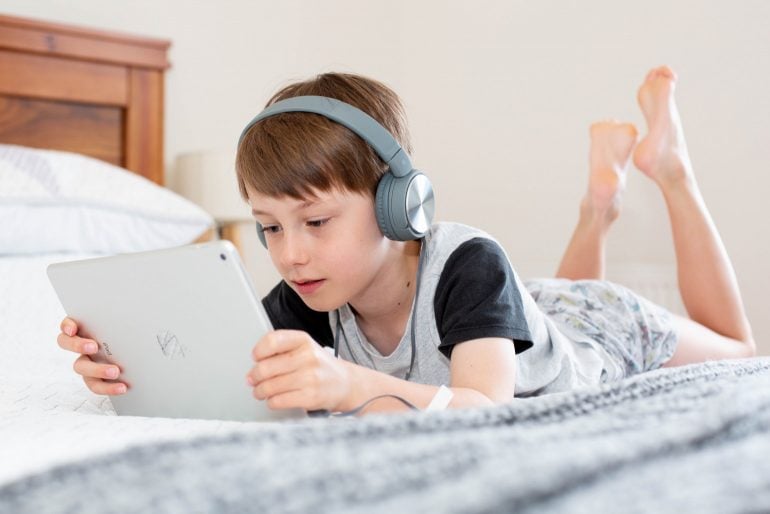 Frequently Asked Questions
Still have more questions about how Screen Time works? Let's look at a few of your FAQs:
How do I check Screen Time on my iPhone?
To check Screen Time on your iPhone, open the "Settings" app, then scroll down to "Screen Time". There, you can enable Screen Time or view your phone activity stats. If you would like to learn more about how Screen Time works, make sure to read the rest of this article.
Does Screen Time include phone calls?
Screen Time doesn't capture individual phone calls, but it will show you how much time you spent on the phone in total. Also, you can check your iPhone's "Phone" app for a history of all your calls, including their lengths. In addition, our app Timing has a call tracking feature that automatically detects when you start and end an audio or video call in a variety of popular meeting apps, including Zoom, Slack, Microsoft Teams and Google Meet.
What does Apple Screen Time include?
Screen Time includes information on the apps you use on your phone, and for how long. It also shows how often you pick up your phone, and how many notifications you receive from each of your apps.
Does Screen Time count apps running in the background?
Screen Time only monitors apps that you're actively using, rather than those that are updating in the background or those that you have moved away from but not closed completely. If you find that this is not the case, and suspect that your Screen Time data might be wrong, there are a few ways you can solve this. You can also try an alternative automatic time tracking solution such as Timing.
How is Screen Time calculated?
Screen Time adds up how much time you spend actively using your device. It also counts the time you actively spend in each app, so it won't count time when you are using a different app or not using your device. If you think that your Screen Time is wrong, you can try a different automatic time tracking app such as Timing.
What is healthy screen time on iPhone?
Outside of work, it's a good idea to try and limit your screen time to less than two hours per day.
Conclusion
If you have questions about how you can use Screen Time alongside Timing, feel free to reach out to us! You can also read more about Timing by checking out our features, or reading through our FAQs.