Screen Time on Your iPhone and iPad: The Definitive Guide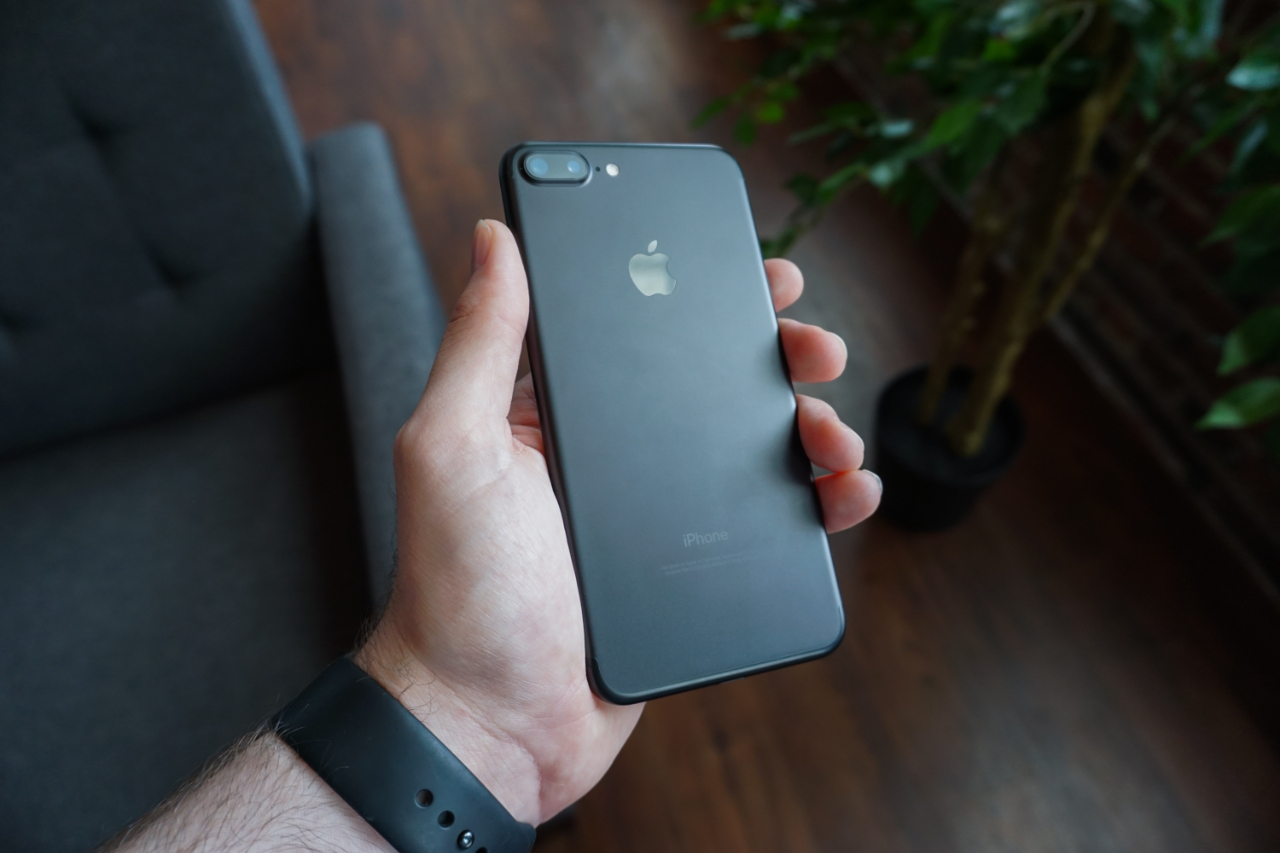 Apple rarely fails to impress and delight us with new iPhone updates, products, and industry announcements. And the iOS 12 software update has not disappointed, especially with a newly released feature designed to increase your awareness of the time you spend on your iPhone: Screen Time.
Screen Time, effectively a built-in time tracker, could change the way you think about your iPhone or iPad by allowing you to review how you are using your device and how often, and make adjustments accordingly.
Here at Timing, we're applauding – Obviously, we're all about time tracking for increasing productivity!

And while there are significant differences between Timing on macOS and Screen Time on your iPhone or iPad, we're still excited to take a more in-depth look at what Screen Time offers you, and how it can help you review and improve your time usage.


Are you using your iPhone to your best advantage? Answer these 5 questions to help you get an accurate assessment of how you're meeting (or missing) your productivity goals on your iPhone.
Table of Contents
What is Screen Time?
Screen Time is Apple's solution for those of us who want to know how often and when we are using our iPhones and iPads …. and how much time we spend on certain apps (cough, cough, Instagram). It shows you how long you used your device every day, and which apps you used the most. Plus, it lets you set a limit on how long you want to use your device each day.
Most importantly, Screen Time can help you get the most out of the time you spend on your handheld digital devices, whether that's on productivity-boosting activities, social connections, or a little entertainment.
The first thing you should know is that Screen Time cannot be synced to your Mac. This means that, while Screen Time is great for tracking activities you can perform on your iPhone or iPad, it won't help you to organize your productive hours of work (you'll have to leave that to Timing!)
Screen Time is not a separate app, but a built-in feature that you can activate and control within Settings. To activate time tracking in Screen Time, simply go into "Settings > Screen Time," and tap "Turn on Screen Time." Tap "Continue" and then choose whether you are selecting your own device or your child's device (one of the best features about Screen Time is that it can help you manage the time your family spends on their iPhones or iPads, which we'll get to in a little bit).
While Screen Time is great for tracking activities you can perform on your iPhone or iPad, it won't help you to organize your productive hours of work.
Click To Tweet
Once you're in Screen Time, you can view how many hours or minutes you've spent on your device, and on which applications. But there's a lot more to it than that.
Features of Screen Time
Apple tends to release products and updates that make technology more efficient, user-friendly, and useful, and Screen Time is no exception.
With multiple features in an easy-to-use interface, Screen Time gives you a thorough look at how and when you're spending the valuable minutes of your day on your iPhone or iPad.
How do I see my Screen Time?
To see your Screen Time, open the "Settings" app on your iPhone or iPad, then tap "Screen Time". To learn more about how to use this time-tracking feature and make the most out of it, read the rest of this article.
Review How You Spend Your Time
The first thing that you'll see when you go into Screen Time is a graph that shows you how many hours and minutes you've spent on your device that day. That time is broken up into helpful categories such as Entertainment, Productivity, and Social Networking.

Here's what it looks like: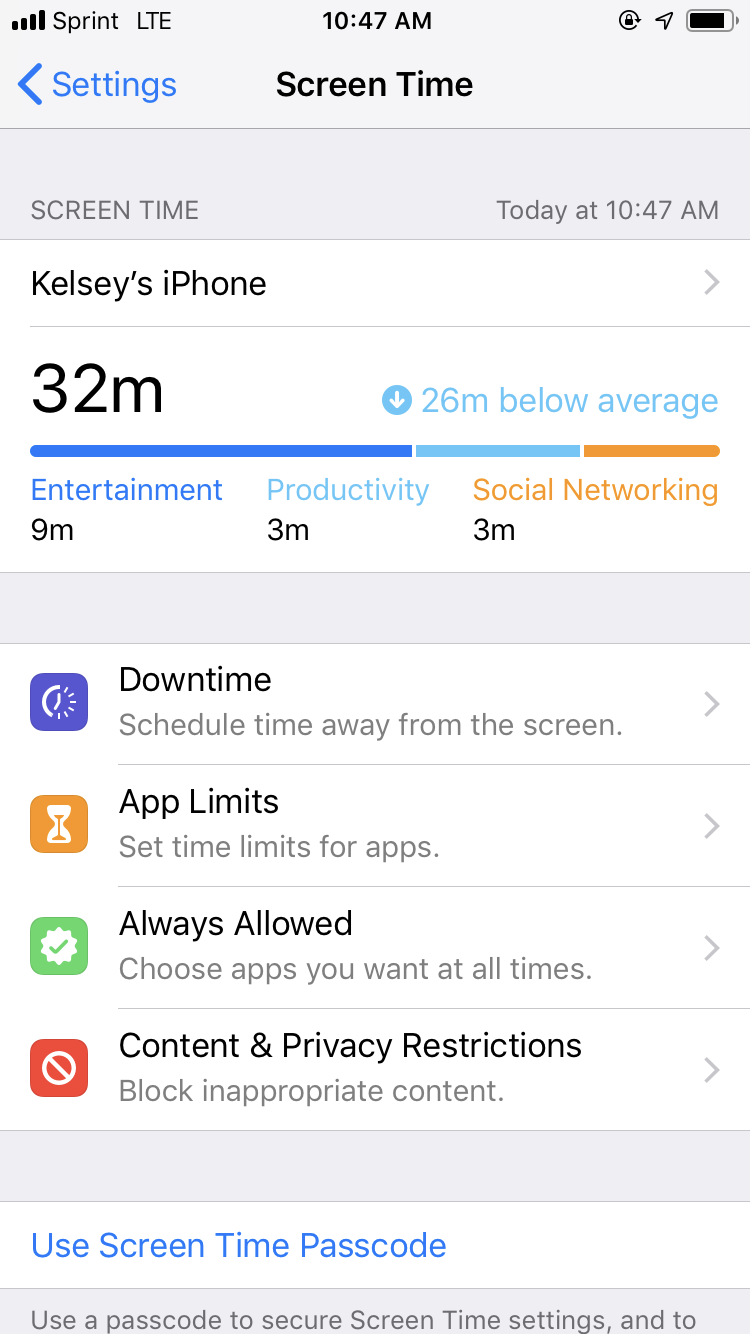 Tap on [Your Name's] iPhone/iPad at the top, and you'll get a more in-depth view (shown below). A bar graph shows you when you spent time on the above categories, as well as a weekly total. You'll also see how this time usage compares to your daily or weekly average.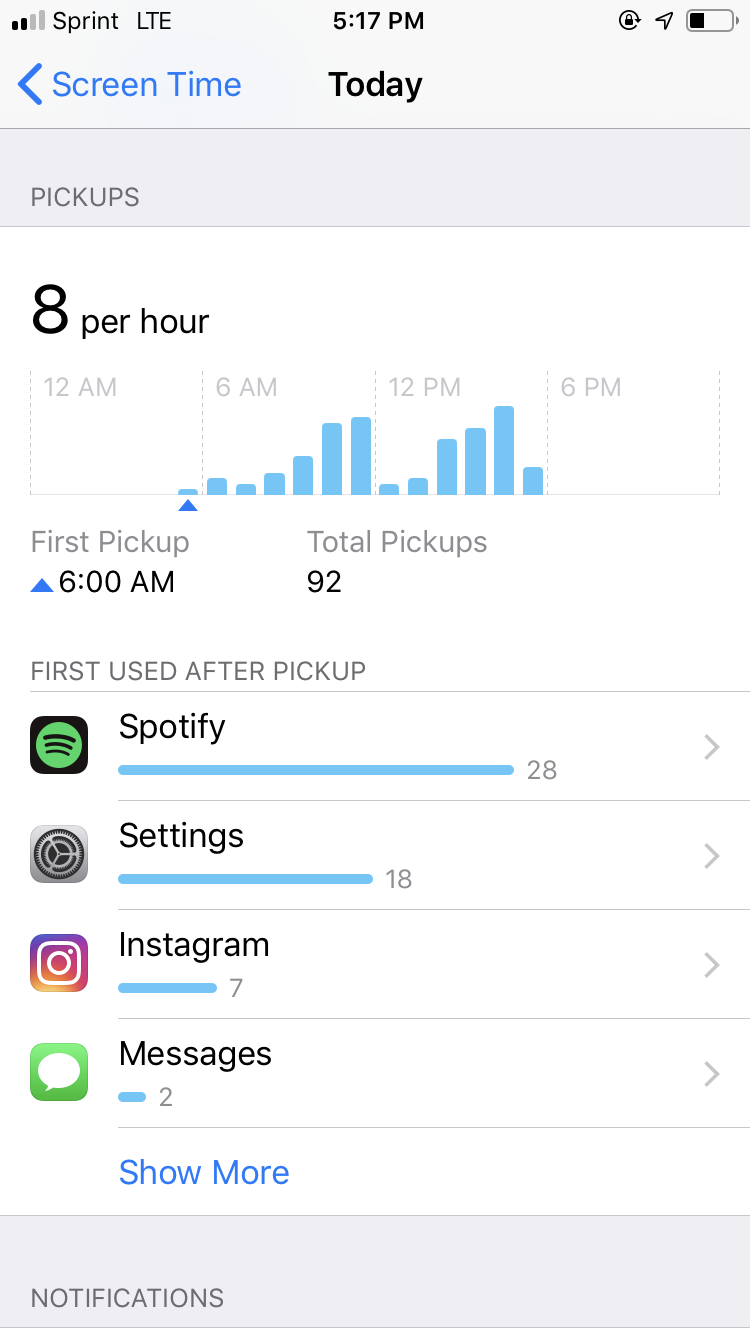 Just below the graph, you'll see how many minutes you've spent on specific apps or features of your phone. Tap once more and you'll see an even more detailed breakdown of each app or feature, with a daily average of how minutes or hours you spend on that app (shown below for Instagram).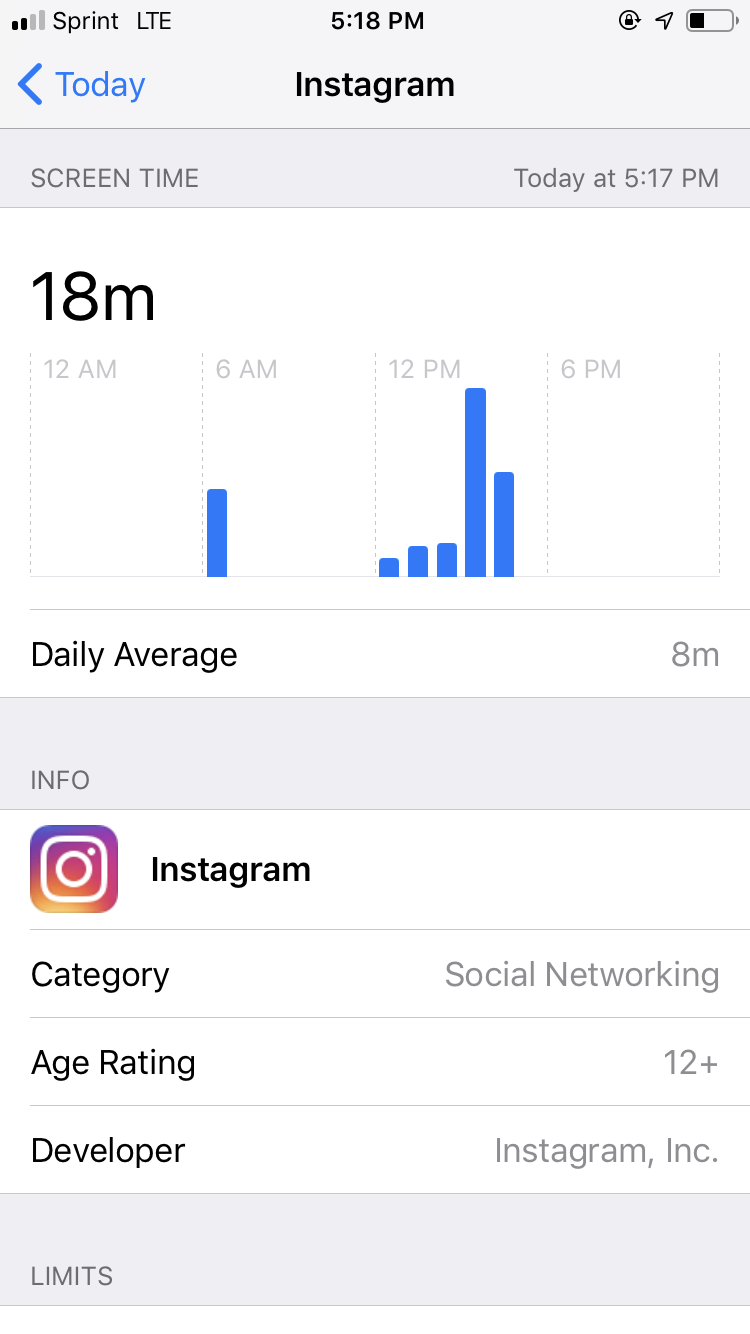 You can also view this kind of reporting for the past 7 days (shown above), which shows you a weekly average of how much time you spent on your device, and how this average compares to the previous week.
What Does Screen Time Include?
Screen Time includes information on which apps you used on your phone, and for how long. It also shows you how many notifications you received from each of your apps. Screen Time does not include individual phone calls, but it will show you how much time you spent on the phone in total.
Set Time Limits and Schedule Time Away From Phone
Some iPhone and iPad users might be a little disturbed when they first log into Screen Time, discovering they've spent hours on apps that might be sucking time away from real, productive activities, or simply being present with friends and family.
If that's you, don't worry! Just like Timing, Screen Time is meant to help you track your activity so that you can organize your time and use it to your advantage.
Screen Time includes two key features that will help you to set personal limits: "Downtime" and "App Limits."
Downtime allows you to schedule time away from the screen. For example, you may want to set evenings aside for time away from technology. If that's the case, you can simply set a schedule, during which only apps of your choosing and phone calls will be available. App Limits allow you to set daily limits for app categories. They reset every day at midnight.
When you set multiple limits at different points in time, and you are concerned that you may not be able to access or use certain apps, you can also choose apps that you want at all times (such as Messages).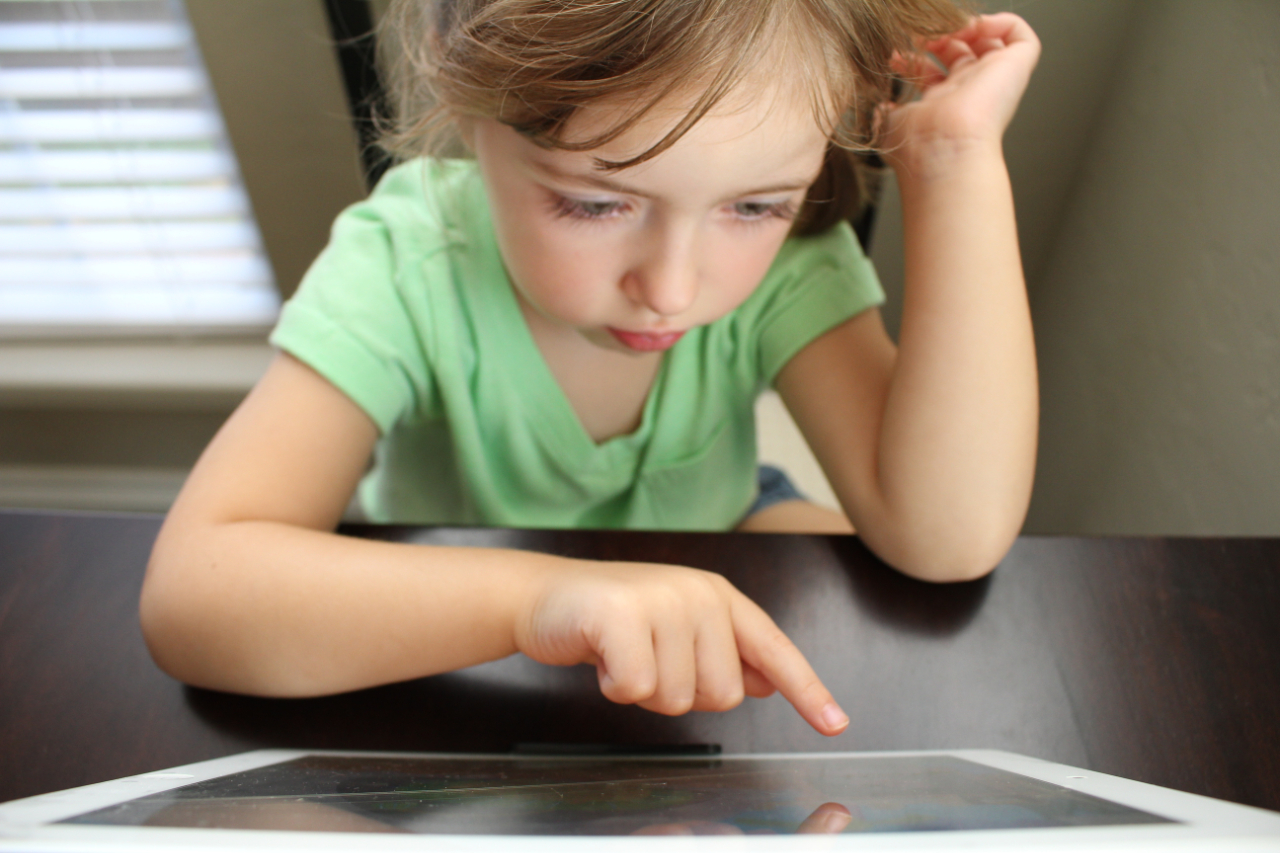 Set Privacy Restrictions and Block Content
Screen Time will also allow you to set content and privacy restrictions. You can choose to block content that you simply do not want to see, and make adjustments to get greater control over private information, like contacts, photos, and location services.
Review Pickups and Notifications
For many of us, it has become an instant reflex to pick up our iPhones during a moment of downtime – in line, at a stop light, or waiting for a friend.
Screen Time allows you to review how many times you've picked up your iPhone or iPad per hour, as well as your first pickup and number of total pickups per day. Then, you're able to see the apps that you have first used after pickup, which helps you to be aware of why you've picked up your device in the first place. This helps you tracking apps to figure out which "suck you in" to the phone, demanding more attention than they should.
Below, you'll see an example of what "Pickups" looks like.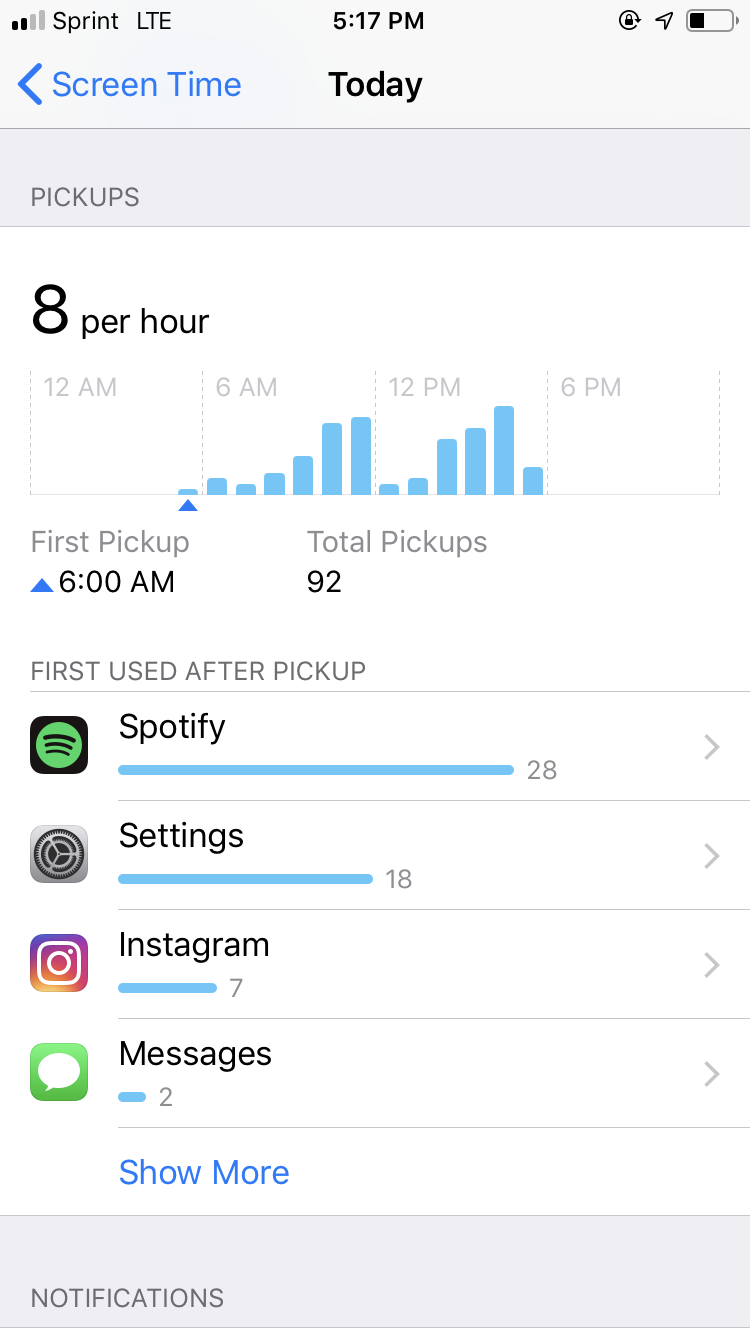 Below Pickups, you're able to view how many notifications you have received, as well as an average per hour. This is a great feature if you'd like to reduce your notifications, which you can typically limit in the settings of an app.
Here's what Notifications looks like in Screen Time: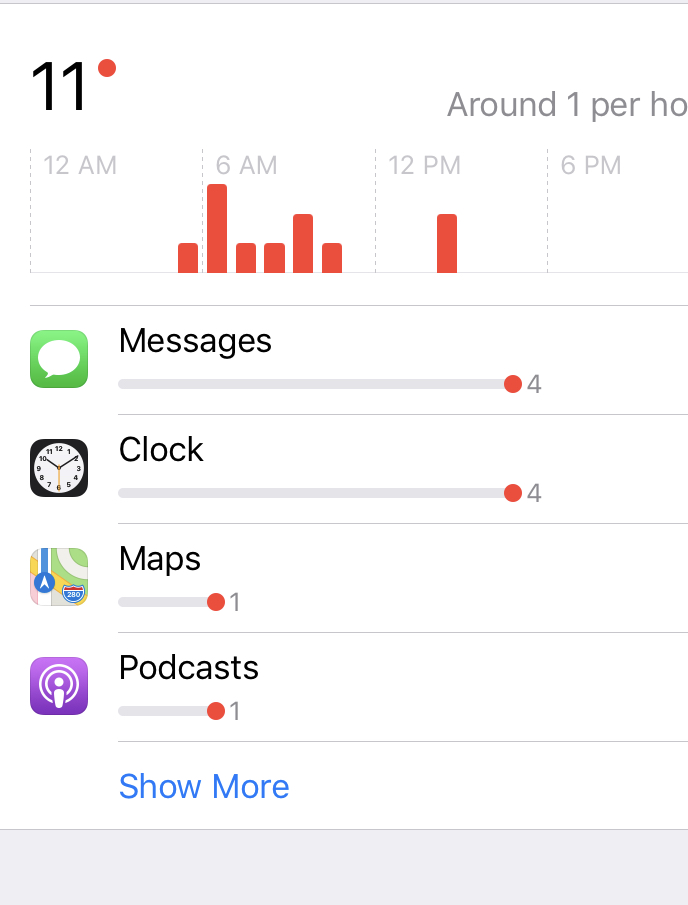 Screen Time for Family
Finally, for those of you who are parents and want to monitor and limit device usage for your kiddos, Screen Time offers a feature called "Screen Time for Family."
Screen Time for Family allows you to see where and how your kids (under age 18) are spending time on their devices. Then, you can adjust settings – such as time limits or downtime – right from your own device (You must be the designated "family organizer" to do so).
Are you using your iPhone to your best advantage? Download this worksheet to give you an accurate assessment of how you're meeting (or missing) your productivity goals on your iPhone.
Screen Time vs. Timing
After reviewing and assessing the various features of Screen Time, we've found that this iOS 12 update is a great start for helping to address a growing concern over screen addiction and, frankly, time wasted.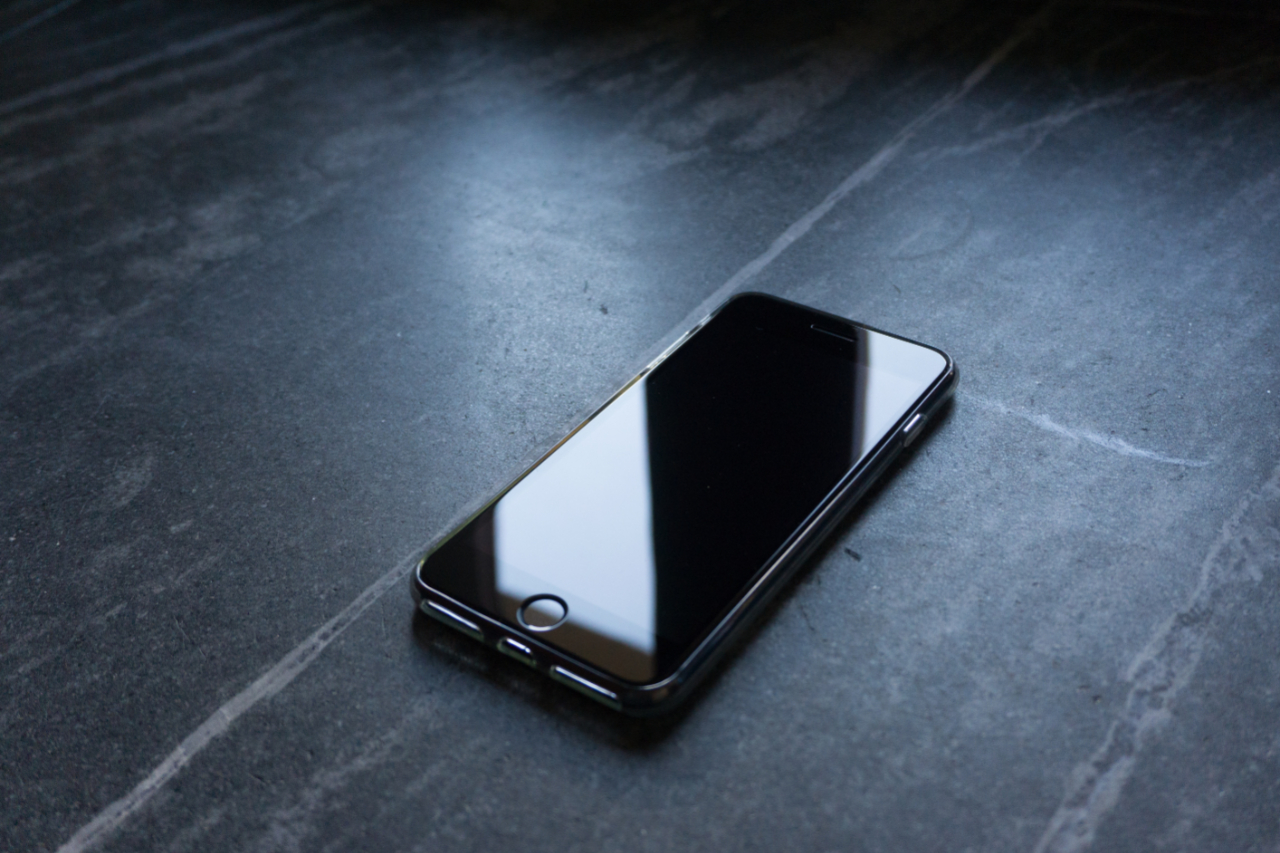 Screen Time can help you see where all those minutes (and hours) are going, helping you to review and manage your own valuable time. But, it won't necessarily help you with work productivity.
So, while Screen Time and Timing have the same basic goal of helping you to be more efficient, aware, and productive, Screen Time's passes the baton to us when it comes time to granular insights into how you are spending your working hours.
Timing automatically tracks your time on your Mac, including the apps you use, documents you edit, and websites you visit.
By allowing you to create a hierarchy of projects that make sense for you, set up custom rules to categorize and file away chunks of time, and assign productivity scores, Timing gives you a near-endless range of possibilities for tracking and organizing your own time.
Plus, you can manually enter time spent off your Mac – such as phone calls or field research. Finally, you can use Timing to export reports for easy tracking and invoicing.
We suggest that you use Screen Time to track time spent on productive activities and phone calls, which you can enter manually into Timing (Unfortunately, Screen Time data is not available to third-party apps, so the two cannot be synced).
If you are an avid Timing user, you've been ahead of the curve for a while! You already know how helpful and transformative it is to be able to review your minutes and hours, and see where your priorities lie.
We're excited to see how Screen Time will help Apple users to become more aware and productive with how they spend their days, turning our digital devices into tools that give us a higher return on our most precious resource: time.
If you have questions about how you can use Screen Time alongside Timing, feel free to reach out to us! You can also check out our FAQ here.