Top Five Time Tracking Software for Architects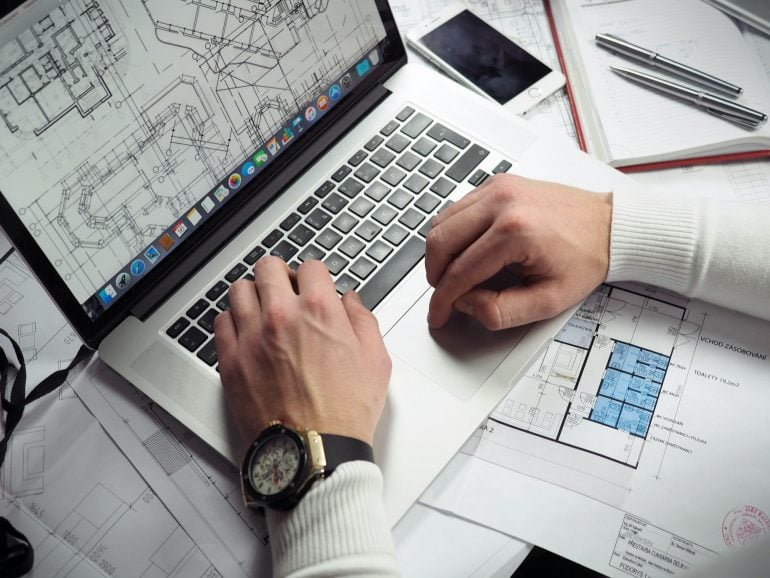 Image source: energepic.com
Architects have a strong need for accurate time tracking software. Many freelance architects and architectural firms charge by the hour. However, their hourly rate is only one side of the equation. Architects also need a reliable record of billable hours to manage project costs and invoice their clients accurately.
As an architect, you need an automatic time tracking tool that is either part of your project management software or a standalone solution that you can integrate with your toolset to keep your projects moving forward.
A time tracking app, such as our Timing for macOS, can help you create more accurate timesheets through automation. Timing does not require manual time logging or entries. Instead, it automatically tracks how much time you spend on each app, document, and website. This means you always know how much time you spend on work-related activities, allowing you to concentrate on your most important tasks. 
Timing also has you covered with a web app you can use on your mobile iOS or Android device. It lets you start and stop timers manually during your offline meetings, site visits, and when you're generally out of the office. You can check our website to learn more or download Timing to start your 30-day free trial and see how it works.
In this article, we will discuss the benefits of automatic time tracking software for architects and shortlist the top five timekeeping apps you can use to get a more accurate picture of how you spend your workday.
Before we start with our top picks, let's dive into why architects need reliable time tracking tools.
Why architect teams need accurate time tracking
The right time tracking software helps architects stop guessing how they spend their time. It helps them compare their work hours across different projects, manage costs, monitor their team's productivity, and improve their business processes. 
Let's discuss some of the most common challenges architects face during their workday to understand the importance of time tracking.
Multitasking and productivity issues
Architectural projects involve office work, meetings, and construction site visits. Architects often have to switch between tasks and remember to log time entries manually. Since it's distracting, many architects skip tracking time on tasks with low relevance. This results in billable time never actually getting recorded (and thus billed), as well as other billing issues.
Multitasking also takes a toll on your productivity. It's hard to concentrate on a given task when you keep getting interrupted. Architects need solutions that help them identify productivity issues by showing distractions and time-wasters on the time record.
Inaccurate project estimates
Improper time tracking leads to inaccurate project estimates. When managing multiple projects, you need good time planning and understanding team capacity. A reliable time tracking tool helps you plan your resources and manage project costs. Planning for future projects becomes easier when you have actionable insights from past projects.
Underbilling and lost revenue
Manual timekeeping can be troublesome because you need to remember to start and stop timers yourself. It requires attention you would otherwise focus on your tasks. That's why architects often forget to log their working hours or leave that task for later. 
This leads to increased error rates and inaccuracies in your reports, resulting in underbilling and lost revenue. An automatic timekeeping tool would resolve this by recording time for all tasks to the second regardless of whether a timer was started manually or not.
Inaccurate data on tasks, projects, and clients
Time tracking is a part of your project management. The more clients you have, the harder it gets to manage projects and monitor your internal costs. As an architect, you need good project time tracking software that allows detailed reporting. 
Time tracking data will show if you spend time and resources on the right activities. It will help you stick to the planned budget and keep the project profitable.
Overtime and decreased work/life balance
Good time management is essential not only for productivity but also for your overall well-being. Having many projects in the pipeline can be demanding and stressful. Tracking time helps you spot the tasks that take most of your time and effort. You can then reduce, automate or delegate these tasks. With a detailed time report, you'll improve time planning in the future and avoid stress caused by working overtime.
How time tracking software for architects solves these challenges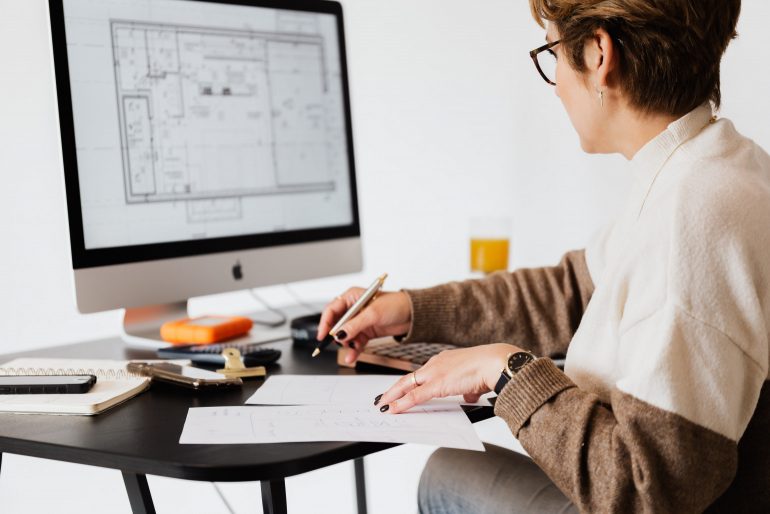 Image source: Karolina Grabowska
By tracking your time and using that data to make smarter decisions, you can be more efficient and deliver higher-quality work. Let's discuss some of the benefits of time tracking software for architects.
Optimized workflow and increased productivity through automation
Automatic time tracking is critical in project management. The more data you have, the better you'll track inefficiencies in time management and distractions that decrease your productivity. Automation makes both time entries and reporting effortless. All that's left for you is to analyze your time records and identify the areas for improvement.
Keep track of the cost of your projects and bill clients accordingly
Architect billing rates are based on the time spent per project. Therefore, time tracking is essential for cost calculation. The more accurate your timesheets are, the more cost-effective your projects will be. Every minute matters, and when you reduce timekeeping errors, you minimize losses.
Manage projects without a project management software
Time tracking software for architects allows you to allocate time entries to projects. It enables you to identify bottlenecks in your workflow and evaluate how to improve working practices. This helps spot optimal project scopes and durations and better plan future projects.
Up-to-date information at your fingertips
Automatic tracking in real-time provides fast and reliable time reports. It also means that you always have the latest data readily available. You don't have to wait for team members to log in their entries at the end of the day or for supervisors to approve them.
Improved operational efficiency and more free time
Manual time tracking is a tedious, time-consuming task you must keep in mind all the time. On the other hand, automatic timekeeping saves time and doesn't require your attention at all. You can focus on your client's project and spend your time on tasks you'll be paid for. When you focus on the right tasks, you'll spend less time working and more time with your family or friends.
Features to look for in time tracking software for architects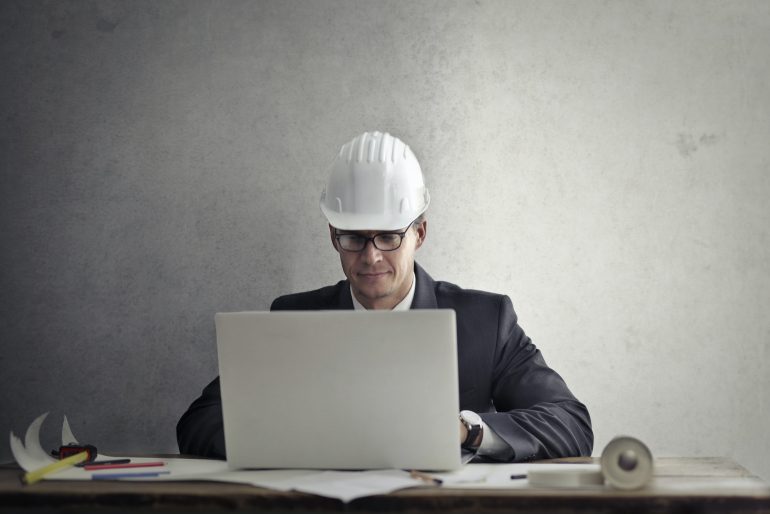 Image source: Andrea Piacquadio
Here's the list of key features found in excellent time tracking software:
A combination of automatic and manual timekeeping

Productivity reports

Detailed reporting and automated timesheets

Integrations with third-party software

Top-notch data security and privacy

Modern functional interface
In the following sections, we will explain why these features are essential for optimizing your workflow.
Intelligent time tracking with automatic and manual options
There are many timekeeping tools, but most require you to remember to add manual entries or start, pause, and stop timers manually. This is not ideal in a busy work environment and increases the risk of errors.
A good timekeeping tool will provide primarily automatic tracking, with manual tracking available when you need to make adjustments or have to track time on the go.
Productivity reports to track your progress
A useful timekeeping app will enable you to assign productivity scores or provide another way to track how your productivity improves over time. You should also be able to identify time-eaters and periods of inactivity to assess how your productivity changes throughout the day.
Detailed reporting for actionable insights
Data is valuable only when you can draw the correct conclusions from it. You need a time tracking tool that offers detailed reporting to get actionable insights. Your tools should also provide you control over the level of detail you want to see in the report. You must be able to switch between a general overview and tracking time down to the second.
Integrations with your standard toolkit
A good timekeeping software for architects would support integrations with third-party apps, such as billing software or a project management tool. Look for solutions that offer built-in integrations, plugins, or API connections with other software.
Privacy implications
You should be able to store and share your time tracking data securely. Also, automatic time tracking software must respect the privacy of your team members. The perfect time tracking software will give you an aggregate record of project time without compromising the privacy of individual team members.
Also, architects often share their timesheets with clients or attach them to invoices. You need to control which part of your record gets shared and which remains confidential.
Ease of use and modern interface
A well-designed user interface will make any feature easily accessible. It also helps reduce the high-learning curve, especially for non-tech-savvy users.
Time tracking for architects: 5 best tools to use in 2022
Now you know what features to look for in a time tracking tool, so you can read more about the top 5 solutions we selected based on the aspects that make them particularly suitable for architects.
1. Timing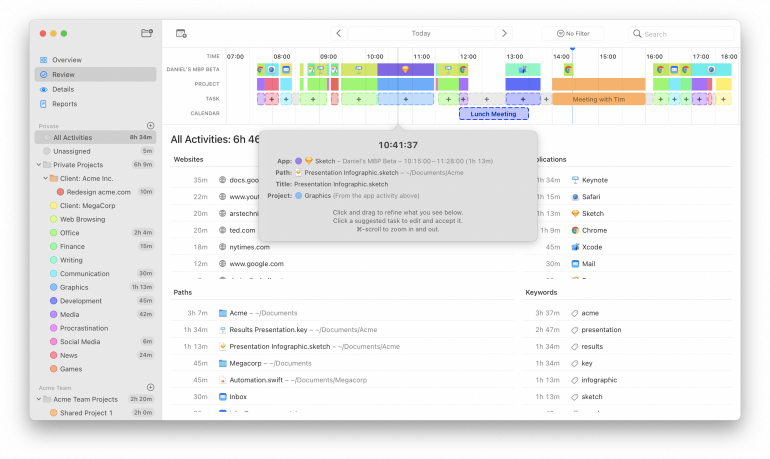 Timing is a native desktop app for macOS that automatically tracks all activity on your computer. It makes a complete record of all apps, documents, and web pages you use in your daily operation. Timing works in the background and does all the tracking instead of you. This means that you don't have to remember to start or stop the timer while working on your tasks. All your activity gets recorded with zero effort and high reliability.
Timing also allows you to track time spent offline. The best way to do this is to use the web app on your Android or iOS mobile device to start and stop the time tracker while on the go. The times recorded on the go sync automatically to make a single timekeeping record across all devices. The combination of automatic detailed time tracking and manual control guarantees flexibility and coverage for all work situations.
Timing offers three pricing plans: Professional, Expert, and Connect, with a 20%+ discount on annual billing. The Professional plan costs only $8 per user/month with annual billing. The prices for Expert and Connect plans are $10 and $14 with annual billing. Timing also provides a 30-day free trial to start tracking time during your workday.
2. Beebole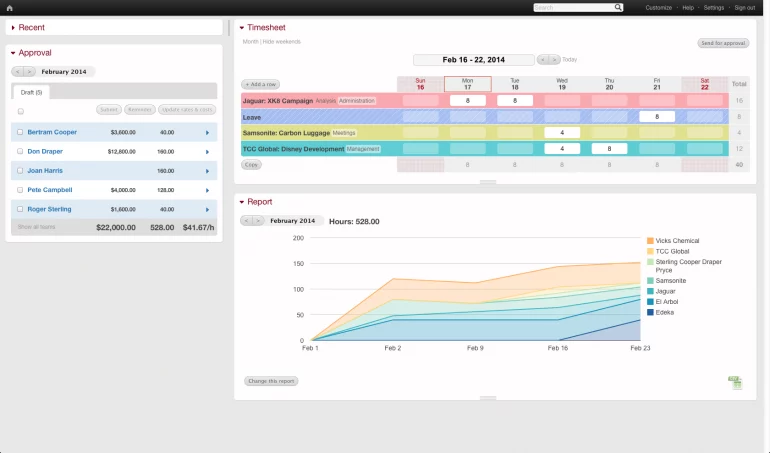 Image source: G2.
Beebole is a web app for project management, team management, and time tracking. Users can choose how they organize and track time based on a hierarchy of clients, projects, and tasks. To track time, you must configure projects first, so your time entries can be assigned accordingly.
Time tracking in Beebole is manual. You must first select a project and task and then start a timer to record your time. Team members must submit their time entries for management approval before timesheet generation. Beebole native Android and iOS apps include only time tracking features.
Beebole offers all its features at a flat rate of €6.99 per user/month. You can test the app with a free 30-day trial.
3. TimeTrack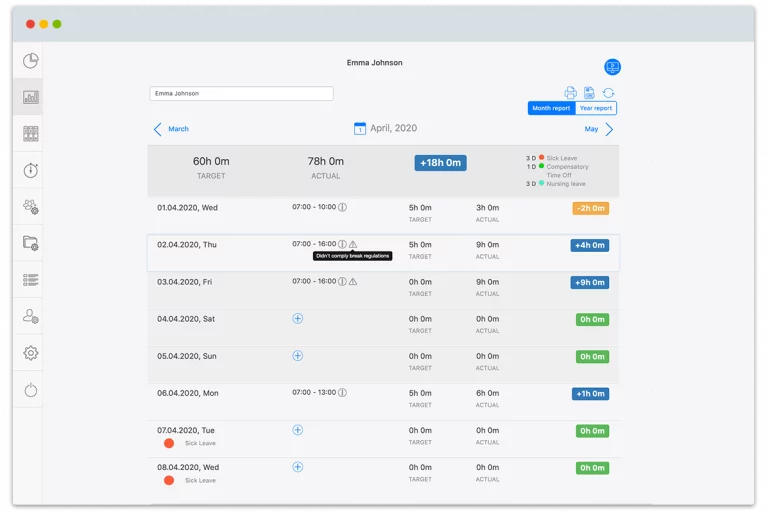 Image source: G2.
TimeTrack is a web-based tool for project time tracking. Users can track time via a web app while in the office or native iOS and Android apps on the go. You need to select a project and task to start recording time manually. 
TimeTrack synchronizes time entries across devices in real-time. The app will synchronize your data when you go online again if you're offline during fieldwork.
TimeTrack comes with three subscription plans. The standard plan costs $4 per user/month with annual billing. You can also purchase a Premium or Gold subscription at $8 and $10, respectively. All plans come with a 14-day free trial.
4. Dovico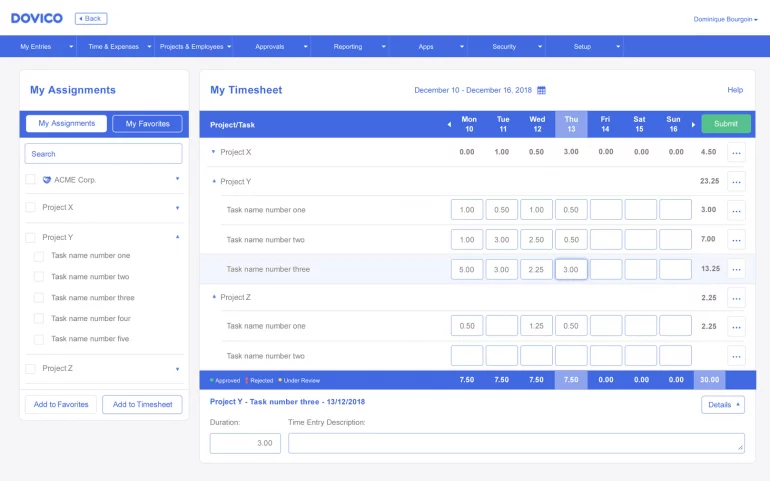 Image source: G2.
Dovico is a cloud-based solution for project cost management and time tracking. You can use it in an up-to-date browser or native iOS and Android apps. With Dovico, users track time on projects and tasks.
There are three ways to create a time entry. The easiest way is to manually start a timer before working on your task. You can also add start and end times or a total duration while bulk editing your tasks. While timesheet generation and reporting in Dovico are automated, time tracking is entirely manual.
Dovico offers three subscription plans – Basic, Professional, and Premium. The basic plan costs $8 per user/month, and the price goes up to $15 and $21 for the upper tiers. You can test the app with a 30-day free trial.
5. actiTIME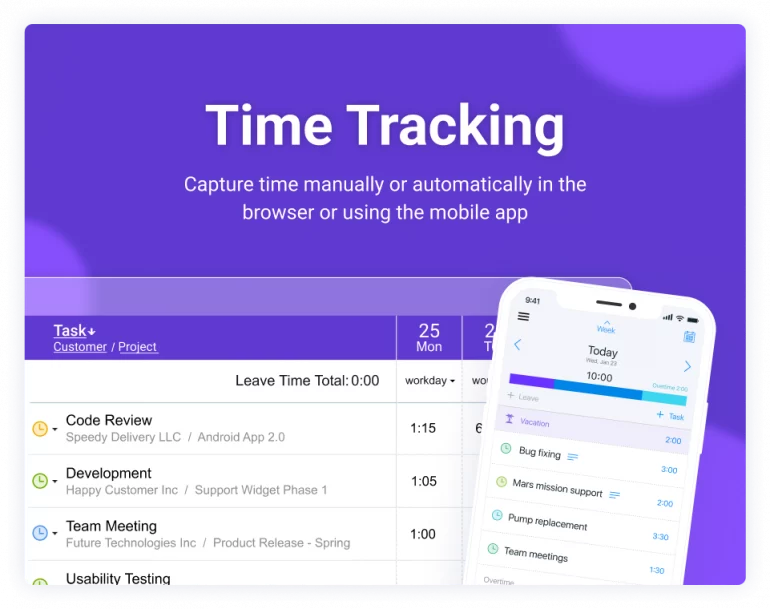 Image source: G2.
actiTIME is a project and team management software with manual time tracking features. With actiTIME, you need to create clients, projects, and tasks before tracking time. Your team members can manually submit their time on each task on their timesheet.
A team leader needs to approve all timesheet entries before further usage. Once approved, you can use timesheets for report generation and data visualization. actiTIME also has native mobile apps for iOS and Android. You can start and stop the time tracker with the mobile apps, but it is still a manual action.
actiTIME offers four pricing plans based on the number of users. There's a free plan with limited features and up to 3 users. For 1-40 users, the price is $6 per user/month, and for 41-200 users, it's $5 per user/month. The most expensive plan includes 200+ users and costs $1250 per month.
Track time to the second with Timing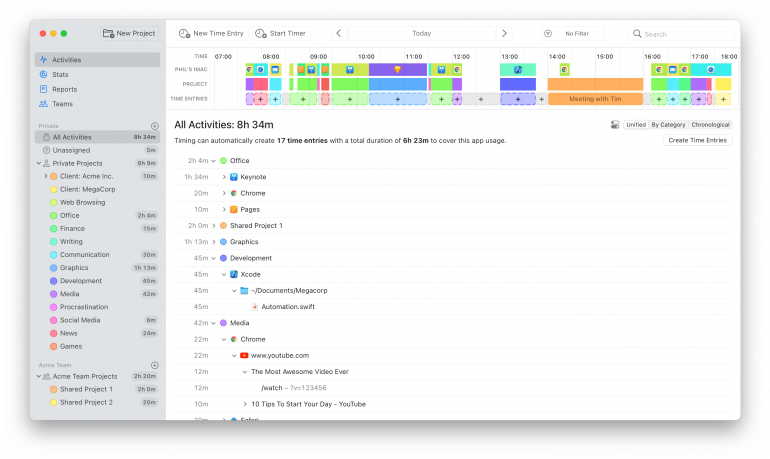 Timing is a highly accurate time tracking solution. It relies on automation, so architects don't have to remember to start and stop timers and fill in time entries manually. Here are the main features that put Timing on top of our list:
Fully automatic time tracking with optional manual tracking for full control

Detailed timesheets for accurate billing and invoicing

Tracking time in online and offline meetings or while on the go

Detailed time tracking data and productivity scoring

Guaranteed privacy and data security
Let's say a few more words about the advantages these features bring.
Forget timers and start tracking your time automatically
Timing is a fully automatic time tracking solution that records all work-related activities on your macOS devices. It automatically records all apps, document titles, and browser URLs while you can relax and focus on your work. Our app proves that time tracking is not necessarily time-consuming. Automation guarantees that every second you spend working is recorded, and you don't even have to think about it.
In addition, Timing supports manual time tracking when working offline via the web app you can use to start and stop the timers. That way, you have complete control over timekeeping in the office and on the go.
Create timesheets you can trust and bill clients accordingly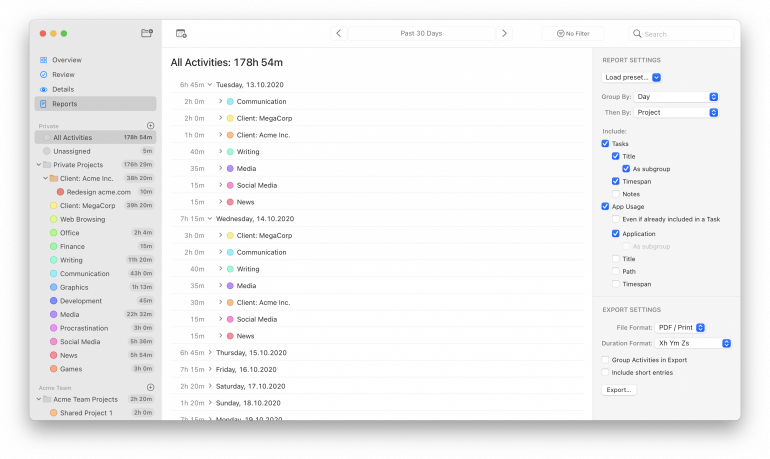 With Timing, you can categorize tasks and link them to projects. The highly detailed and customizable time reports make client billing almost effortless. Timing provides flexibility with reporting and helps you generate both summarized overviews and specific reports that show recorded time down to the second. With this level of detail, you have full control over what activity to include or exclude from your billable hours. You can ensure accurate client billing and retain the trust of your customers.
Timing integrates with the GrandTotal app for macOS via a plugin. You can easily export your timesheets and attach them to your invoices for increased transparency. In addition, the Excel export allows you to attach timesheets to invoices from other billing apps. Last, Timing has a Zapier integration you can use to link with any other invoicing software.
Record time spent on meetings as each work hour counts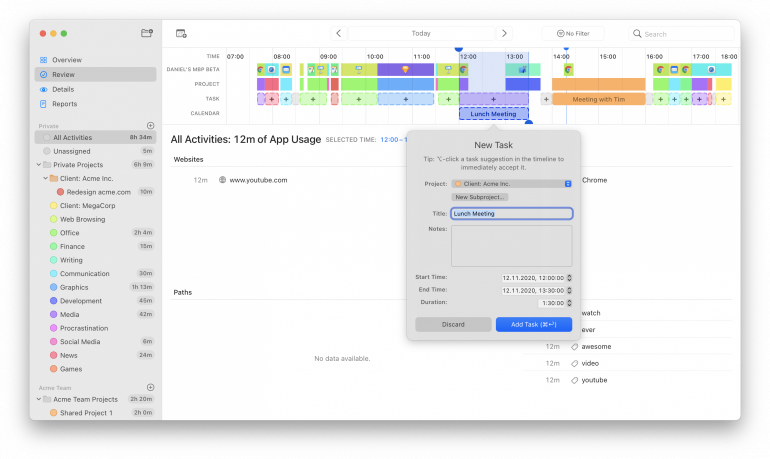 Timing also has you covered when you are offline during meetings and site visits. It offers a web app with a manual timer you can start and stop to record time out of the office. 
You can also sync your Google Calendar with Timing to automatically convert all appointments to time entries. Also, Timing prompts users to log a time entry after each video or audio call and online meeting to ensure all work is accounted for.
This level of control, combined with automated time tracking, increases accuracy significantly. With a reliable record, you can ensure your reports will be valid.
To see Timing in action, start a 30-day free trial.
Track your progress with detailed reports and increase your productivity
Timing will help you improve your productivity with its built-in productivity tracking based on assigned scores for each task. You can monitor your productivity scores to track how you improve the value of your work and reduce unnecessary tasks and distractions.
Timing is also great for project planning with reports that help estimate project costs. As each team member shares project-related time entries, you'll get a clear picture of your team's overall capacity. At the same time, Timing keeps your team members' privacy, as you can see only an overview of their time, without individual details.
Your future project planning will improve as you'll be able to allocate time to projects based on your real capacity without any guesswork.
Keep all your data private and secure
With Timing, you are the sole owner of your data. Our app doesn't take screenshots and doesn't capture sound or screen videos. Also, all records are stored locally on your computer. You decide what portion of your data to share and with whom. 
There's also a cloud storage option you need to opt into syncing data between different Mac devices. Data on the cloud is heavily encrypted to prevent unauthorized access. Also, Timing is GDPR compliant, so the strictest legal regulation protects your data.  You can also sign a Data Protection Agreement with our team if you need one for privacy-compliant time tracking.
Time tracking software for architects: The final verdict
Time tracking is essential for architectural firms. Architects combine office work with site visits and require accurate tracking of time spent on office tasks and on-site activities. You need time tracking software that automates your entries without distracting you with manual timers. On the other hand, it should allow you to manually enter and edit timekeeping records when working away from your computer.
Undoubtedly the tool that combines all these features is Timing. In addition, our app offers detailed reporting, productivity tracking, and third-party software integrations, so you don't have to change your toolset. To start your 30-day free trial, download the Timing app for macOS.