Automatic Time Tracking for Developers
While you are in the flow of writing code, you don't want to get interrupted by starting and stopping timers.
Timing automatically tracks how much time you spend on writing code, reading documentation, communicating with stakeholders, and everything else.
Download the Timing app today and start focusing on doing your best work!
Download Free Trial
Free 30-day trial for Mac, no credit card required.
Track time in developer tools.
Here's an example of what Timing records for Apple Xcode. Notice how Timing recognizes which source code file you worked on, without having to start and stop a timer or installing a plugin.
This works in a similar fashion with most developer apps, such as Visual Studio Code and Terminal or iTerm2. And all of this information is only visible to you, of course.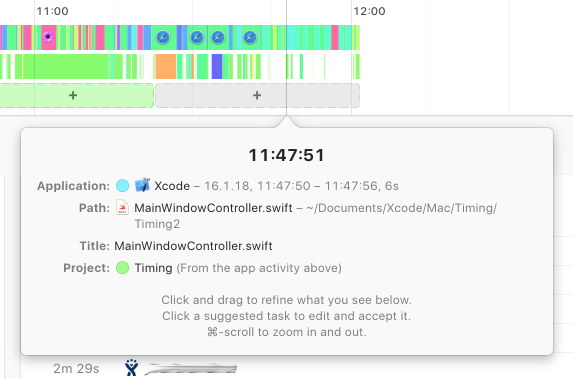 We support all your favorite software development tools:
Get the free 30-day trial and try it yourself!
Assign your time to projects.
Simply assign your time via drag and drop, then use the timeline's smart suggestions to combine blocks of time that belong together.
You have never accounted for so much time with so few clicks!
Not all your work happens in front of the computer. Timing's interactive timeline makes it easy to add "offline time" such as meetings with just a few clicks.
And when you want to focus on a specific task, Timing lets you start and stop timers just like any other time tracking app.
As a programmer, you probably are very keen on optimizing your workflow with automation.
Besides its time tracking already being automatic, Timing supports this by offering various automation facilities, integrations and APIs. Here are a few examples: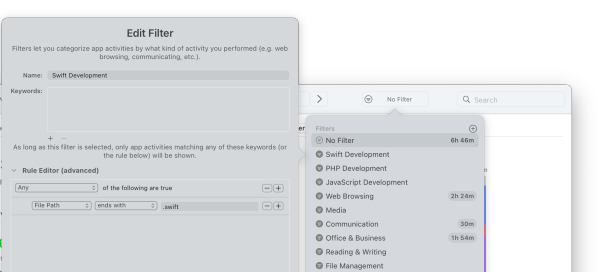 Stats for all your programming languages.
Timing's built-in filters let you slice and dice your data as needed, for example to find out how much time you spend programming in different languages.
Try the leading time tracker for developers!
Stop worrying about time and focus on doing your best work instead.
Download Free Trial
Free 30-day trial, no credit card required.