Frequently Asked Questions
Is this a subscription?
Yes. Depending on whether you choose an annual or a monthly plan, you will be billed up front for the first year or month, then again after that period has elapsed. You will be shown the exact amounts you will be billed (and the billing frequency) during the checkout process, before you are asked to enter your payment information.
What happens when I cancel my subscription?
When you cancel your subscription, you will continue to have full access to Timing until the end of your current billing period. After that, you can still view data up to the day your subscription has ended.
Please note that annual plans offer a discount for committing to a full year of using Timing, so we can not provide pro-rated refunds for annual plans.
Which version should I choose?
Timing 2 comes in three editions.
If you only want to know how you spend time on your Mac, the Productivity edition is the right choice for you.
It will track time spent in apps, lets you assign those activities to projects, and create rules.
It also computes a productivity score so you know exactly how you are doing.
If you also want to track off-computer time, group blocks of time into tasks, or bill your time, consider the Professional edition.
In addition to all the features of the Productivity edition, it lets you create tasks and even makes suggestions on blocks of time that belong together.
It also lets you start and stop manual timers and generate reports suitable for sending to your clients.
If you are a heavy power user or want maximum control over your time tracking, the Expert edition is for you.
It adds the option to save filters (in addition to projects) to further analyze how you spend your time.
It also offers additional options for customizing reports, and lets you control Timing (and extract data) via AppleScript.
You can also upgrade to a higher edition with a pro-rated discount at any time.
Can I upgrade to a different edition of Timing later?
Yes, you can upgrade at any time via the subscription management link you receive with your order. The upgrade fee is the difference between the plan prices pro-rated for the portion of your billing period that has already elapsed.
How many Macs is one Timing subscription good for?
You can use Timing on up to two, three, or four (for Timing Productivity, Professional, and Expert, respectively) personal Macs belonging to you personally. Each subscription can be used by one person; if you plan to use Timing in a family, each family member will need their own subscription.
Similarly, if you are using Timing in a business, each employee needs their own Timing subscription. For example, you can not use the same Timing Expert subscription on two Macs used by different employees.
Is Timing available on the Mac App Store?
No, and we have no plans right now to change that.
The Mac App Store's sandboxing rules would restrict the details Timing can track for you, resulting in a worse experience.
I am a European business customer. How can I have VAT deducted from my purchase?
Simply click the "Add VAT Number" button during checkout, before entering your payment information: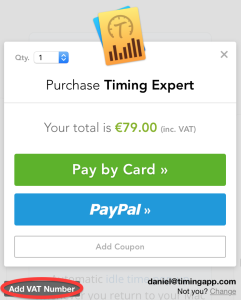 Your receipt email contains a link to e.g. customize your address in the receipt and enter your VAT ID if present.
Once you have entered your VAT ID there, you should automatically receive a VAT refund within a few days if you are based outside the United Kingdom. If the VAT refund does not arrive, please contact help *at* paddle.com with your VAT information and receipt number so that our payment provider can refund the VAT for you.
Note that our payment provider is based in the UK. Thus, UK-based businesses can not have VAT deducted this way but can get it refunded from the UK tax authorities instead.