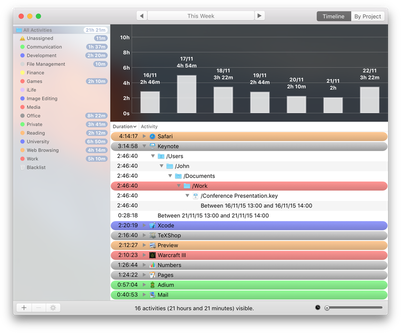 Timing tracks your time
so you don't have to.
Have you ever spent all day in front of your Mac, just to wonder where the heck all that time went?
You could use a time tracker.
But to be honest, time tracking sucks.
You have to start and stop timers and enter what you did.
And if you forget that, you are back to square one.
Not so with Timing. Instead of making you do all the work, Timing automatically tracks how you spend your time. It logs which apps you use, which websites you visit, and which documents you edit. And if you are a freelancer, you can export that data to create invoices.
Start Tracking!
---
Avoid procrastination
Timing mercilessly shows you which activities are hogging your time, like browsing the web and playing games.
Perfect for freelancers and businesses
Don't worry about forgetting to start or stop a timer for billing your clients. With Timing, all the tracking happens automatically.
Document-based tracking
Timing tracks the path of every document you view or edit. See the compatibility list for details.
---
Safari and Chrome support
Domains of websites you visit are also tracked.
Date filtering
Watch your productivity plummet during the holidays.
Projects
Drag your activities into projects to categorize the time you spent.
Screenshots: