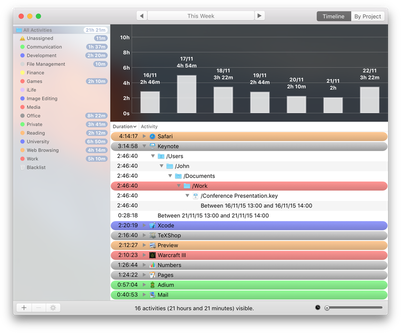 The Time Tracker you always wanted.
Timing is the best way to keep track of the time you spend with your Mac. Find out where your time goes - without ever having to start a timer again!
Timing automatically tracks which documents you are editing, which applications you use, and which websites you visit. After tracking, you can drag and drop activities into projects.
Easily review what you've done this week with just one click. See you how you spent your time each day and which activities consumed most of your time. And if you need the raw data to create invoices, just export it as CSV or JSON!
Start using Timing today and never worry about time tracking again!
Try It For Free


Requires OS X Mavericks and supports OS X El Capitan.
Trial version expires after ten days but can seamlessly be upgraded to the full version.

Avoid procrastination
Timing mercilessly shows you which activities are hogging your time, like browsing the web and playing games.
Properly track work time
Don't worry about forgetting to start or stop a timer for billing your clients. With Timing, all the tracking happens automatically.
Document-based tracking
Timing tracks the path of every document you view or edit. See the compatibility list for details.
---
Safari and Chrome support
Domains of websites you visit are also tracked.
Date filtering
Watch your productivity plummet during the holidays.
Projects
Drag your activities into projects to categorize the time you spent.
Screenshots: