RescueTime vs Freedom – Who Wins?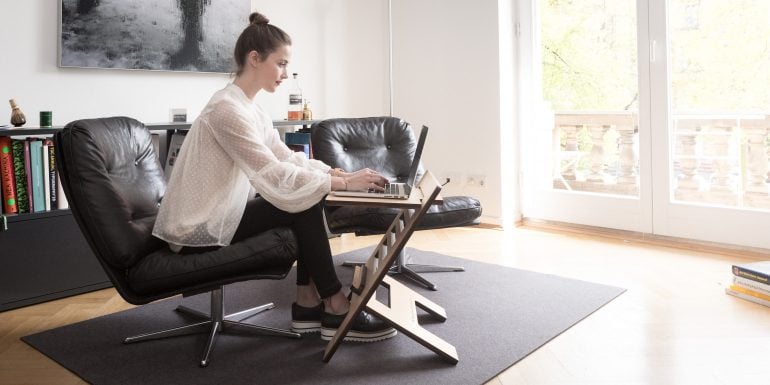 Productivity is vital in the 21st century, and it's not a secret that people aren't as productive as they could be. A Gallup study conducted just a few years ago showed that 53% of employees did only the bare minimum required by their job position. 
Also, one clear conclusion from the pandemic's impact on our lives is that remote work has become more important than ever. In today's remote working environment, people struggle with distractions that affect their efficiency during the day. That makes it more and more challenging to complete all their work in time to meet their deadlines.
Distractions caused by social media and other web services are one of the leading causes of productivity issues. Luckily, there are ways to curb all this negativity. One easy fix is using time tracking software to ensure your team is working at maximum efficiency.
Timing, RescueTime, and Freedom are some of the popular solutions in this niche. It's time you found out more about them! 
You can start with Timing, our time tracking solution for Mac users, which is enjoyable to use and respects your employees' privacy while helping you see how they spend their work hours. Activate a free 14-day trial we're currently offering, and start tracking!
Now, let's explore RescueTime and Freedom and see how they stack up against each other.
RescueTime vs Freedom: The overview
Both RescueTime and Freedom are time-tracking apps that help you improve your productivity and efficiency. However, their features and purposes are quite different. 
We will compare these solutions and help you see how they stack up against Timing, our time tracking tool for macOS users, as we experienced both apps' good and bad sides while doing our research.
Let's dive into details.
RescueTime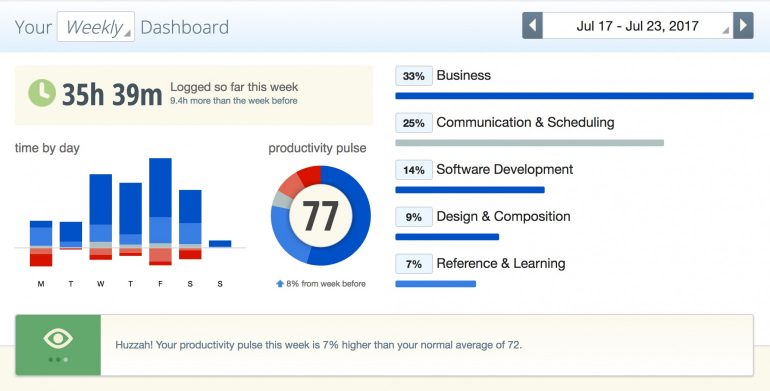 Image source: comparecamp.com
RescueTime is an automatic time-tracking solution that has been around for some time. It might not have the most advanced time tracking features, but it suits the needs of many users just fine and is affordable enough not to ruin their budget.
The app also offers several productivity-boosting features, such as Focus Time and Focus Sessions, which you can use to block distracting websites and limit time on activities that are not work-related.
With special reports for teams, RescueTime lets you see the overall time your team spends on previously specified apps. You can use this information to optimize daily workflow further while your team members can see when they are most productive.
All data is visible in the RescueTime team dashboard, and you can get weekly updates on your employees' activities and logged-in time.
It's important to note that RescueTime protects your team members' privacy, as you can see the general overview of their activities. You cannot monitor individual employees by tracking their specific activities.
Of course, there are some flaws. For example, the interface is a bit dated and lacks clarity. RescueTime can be slow with its feedback on productivity, prompting you to manually check the reporting dashboard for your daily performance. The app doesn't have as many customization options as some newer alternatives. For example, keyword functionality is pretty basic. Also, you can't generate invoices with RescueTime or use it for project management, either.
In general, RescueTime is a solid app that fulfills its purpose and is sufficient for many users who need basic time tracking features.
RescueTime reviews:
RescueTime currently has a 4.6 score on Capterra (based on 125 reviews).
RescueTime features:
Automatic time capture

Notifications that alert you when you lose focus

Focus sessions

Reports

Monitoring of idle time

Employee database

Mobile access

Screen activity recording

Time tracking

Timesheet management
How much does RescueTime cost?
RescueTime has a free version and offers a 14-day trial for the paid version. The subscription costs $12/month or $6.50 when billed annually.
RescueTime platforms:
You can use RescueTime on several platforms, such as Windows, macOS and Linux, Android and iOS devices.
RescueTime support:
If you have any problems with your RescueTime account, you can start with a knowledge base. It has useful articles and videos that cover the most common issues users may have. You can also reach the RescueTime support team by phone or email. 
RescueTime pros:
The basic version is free

Supports mobile devices (Android and iOS)

Discreet time-tracking on apps and websites

You can use the Focus function to block all websites that have been listed as "distracting" if your team ever starts spending too much time on them

Reports provide you with helpful statistics concerning productivity
RescueTime cons:
An outdated interface

Limited customization

You can't create specific projects and assign activities to them

Limited use for project management or billing
Freedom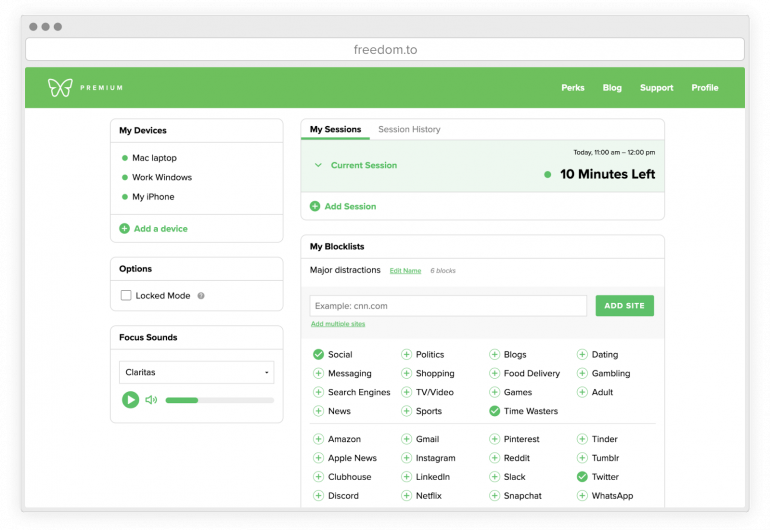 Image source: Freedom
Freedom is a software solution recognized for its digital distraction-blocking technology. You can sync it across as many devices as you would like.  
Freedom app works differently from RescueTime as tracking time isn't the focus. Freedom provides this feature through an optional browser extension called Insight that shows you where you spend your time online.
The app helps you create a blocklist and tune out websites and apps that distract you during a specific period. You decide what you want to block, start a session, and that's it. There are pre-generated presets you can customize further.
With advanced scheduling, you can plan these sessions and make them recurring. The tool even allows you to block the entire internet and play some ambient sounds to make it seem like your workplace is a café, library, or office.
Freedom doesn't offer detailed reports and statistics, limiting its use for billing and invoicing. However, you can still see how much time you spent on work by analyzing session history and getting details about dates, session longevity, and used devices.
Overall, Freedom seems like a more straightforward solution than RescueTime in terms of productivity tracking and distraction blocking on all your devices simultaneously. On the other hand, RescueTime provides similar features but gives you more data on time spent on work activities allowing you to make necessary adjustments to improve your productivity and efficiency.
Freedom reviews:
Freedom currently has a 4.8 score on G2 (based on 4 reviews).
Freedom features:
Block websites, apps, and the whole internet to reduce distractions

Create blocklists you can use in different situations

Create website exceptions to leave the ones needed for your work active

Sync your data across all devices you use

Advanced scheduling with recurring sessions

The locked mode that prevents you from ending a session

Ambient sounds for a more comfortable working environment

Session history to see dates, longevity, and devices used during a session

Session annotation to track progress

Time tracking browser extension
How much does Freedom cost?
Freedom doesn't have a free version, but the company offers a free trial for seven blocking sessions. There are three subscription plans: Monthly ($8.99 per month), Yearly ($3.33 per month), and Forever ($159.99 as a one-time payment).
Freedom platforms:
Freedom has clients for Windows, Mac, Linux, Android, iOS and Chromebook devices. It's worth noting that some features are unavailable on specific systems. For example, app blocking doesn't work on Chromebooks, and you can set up website exceptions only on Windows and Mac.
Freedom support:
Freedom has a help center covering the most critical topics, such as client installation or general app use. You can also contact the support by e-mail. 
Freedom pros:
Very easy to use

Easy setup

A solid way to tune out distractions – either randomly on in scheduled timeframes

You can block the Internet with one click of a mouse button
Freedom cons:
Not really a time tracker –

primarily

just a distraction blocker

The practicality of blocking all websites remains

questionable

It doesn't offer any project management-related features

No detailed reports – it's not an effective tool for billing or invoicing

Murky pricing practices – details aren't provided until you start a free trial
RescueTime vs Freedom: How they compare
While you can use RescueTime and Freedom for more or less the same purpose — increasing productivity — they offer a somewhat different approach to this task. 
RescueTime is focused on time-tracking and providing the users information on how exactly they use their work hours. On the other hand, Freedom focuses on reducing distractions and improving concentration.
RescueTime vs Freedom: Users
RescueTime, with its statistics and reports, is suitable for teams and individuals. In contrast, Freedom will probably suit the needs of some freelancers, such as writers, quite well. Users who want to boost their focus and concentration, and don't care for detailed reports, could be pretty happy with Freedom.
RescueTime vs Freedom: Deployment
Both apps have very easy, streamlined installation and registration processes that don't do or require anything out of the norm. Neither application needs extensive configuration to start working – in fact, you can start using both software right after installing their desktop apps.
RescueTime vs Freedom: User interface
Based on user reviews on popular sites such as TrustRadius and G2, we can conclude that RecueTime's interface is outdated, and isn't user-friendly. Freedom has a newer, slicker design with a clear focus on ease of use.
RescueTime vs Freedom: Time tracking features
RescueTime does a good job at tracking time. You activate the app, and it starts gathering data. It has limited customization options, though. For example, you can't set up your keywords or connect them to specific tasks. You can only use them for general searches. 
However, with Freedom, time tracking is more of an afterthought — you can still see how much time you spent on work by looking at specific sessions and using the Insight extension to track particular websites. However, the app won't offer very detailed reports in this regard. Its focus is entirely on tuning out distractions. RescueTime is better than Freedom in terms of actual time-tracking. 
RescueTime vs Freedom: Project management features
RescueTime doesn't help you much with tracking individual projects. The data it gathers isn't specific or valuable when focusing on particular tasks. 
You can categorize and filter information, but it can be a chore. RescueTime provides more features than Freedom which cannot be considered a project management tool. Neither of these solutions is perfect for this purpose.
RescueTime vs Freedom: Invoicing and billing
Neither app provides features explicitly designed with invoicing or billing in mind, such as time budgets or a clear distinction between billable and non-billable hours. 
However, between the two, RescueTime is a better choice because of its detailed activity reports, which help you evaluate how much time you spent on a given task – assuming you're willing to put in some time to segregate the information accordingly. 
You can't track specific projects, but you can estimate how much time you've spent if you know which websites you accessed while working on a particular task.  
RescueTime vs Freedom: Privacy
RescueTime does not mention privacy as an essential consideration, which can be a downside. The company provides some information on its website. Specifically, you can find details in the Privacy Policy and the knowledge base. 
The software records:
The name of the app you use

The names and URLs of websites you visit 

Window titles

The start and end time of your activities 

Device login names (system user name)

Device names

Operating system versions

Manufacturers (in some cases) 
It also saves the public internet address you are working from. The software keeps this data and activity information but discards it with account deletion.
RescueTime doesn't collect information about keystrokes or form input. It discards query strings. It doesn't take screenshots of the screen, window, or page body content. You can also use site controls to force the app not to store specific data or delete previously recorded items. Also, it doesn't sell, share or rent data to any other organization.  
Freedom aligns with the Privacy by Design guidelines, which means privacy considerations are taken into account from the beginning of the product development and enforced on the technological level. 
The app's creators inform users that their solution doesn't store any logs and doesn't track website use. Most of the data is kept locally on the user's machine. The app syncs with Freedom servers only during login, creating/updating blocklists, and starting/scheduling sessions.
In general, Freedom's attention to privacy seems visibly higher between these two solutions.
RescueTime vs Freedom: Integrations
When searching for integrations on the Freedom website, you won't find any information.  On the other hand, you can integrate RescueTime with Google Calendar, Microsoft Office 365, and Microsoft Outlook.
RescueTime vs Freedom: Customer support
RescueTime provides slightly better customer support because it allows customers to contact the company by phone or email.
RescueTime vs Freedom: Pricing
RescueTime is less expensive and offers a free plan, not just a limited trial, so it's a clear winner when it comes to monthly pricing. However, if you want to pay annually, Freedom is less expensive than RescueTime. You can choose an option that best fits your needs.
RescueTime vs Freedom: Timing as an alternative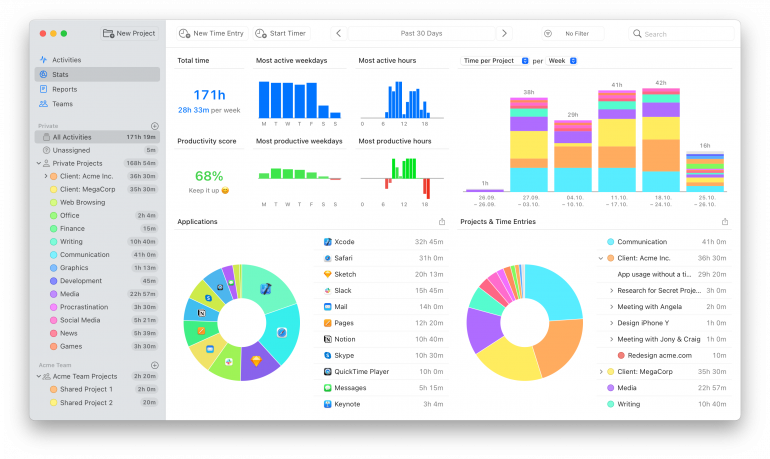 As you can see, both of the options we covered so far have their weaker and stronger points. They don't provide all features necessary for a manager of a small team or even a freelancer working on their own. Thankfully, we have something else to propose – our app Timing can compete with both of these tools and even come out on top in some areas. It's an excellent Freedom or RescueTime alternative.
Intelligent, automatic time tracking whenever you need it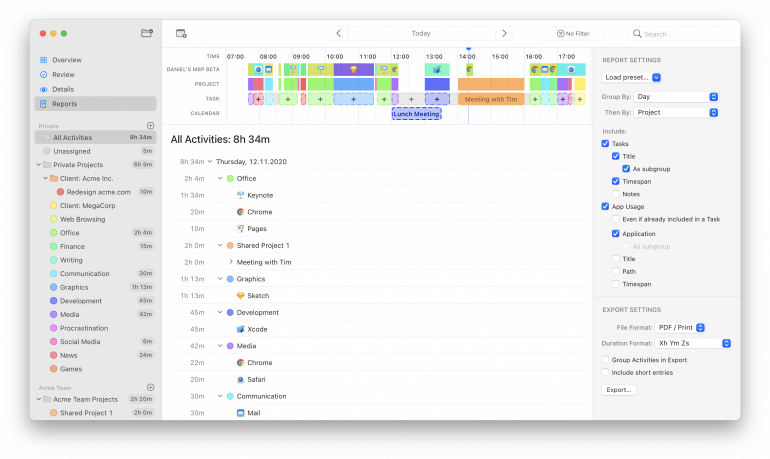 Timing is an intelligent time tracking solution for Mac users. It offers a native desktop app for macOS and a mobile-ready web app that you can use to track time wherever you are.
Thanks to its automated tracking, Timing helps you boost your team's productivity and efficiency without any effort from your side. And if your team members need to track some time manually, they always have the option to start and stop timers. It allows them to share these projects and time entries with you without compromising their privacy. 
The best thing about Timing is that it provides advanced categorization, customization, and detailed tracking features. It lets you categorize work into projects and set up rules to automate these categorizations in the future. 
You can do this before you start tracking time or later via the drag and drop feature, creating your rules in the process. Whatever you decide, you will gain clarity and have a precise picture of the time spent on specific tasks impossible to achieve with manual tracking alone. 
With Timing, our time tracking tool, you can review your individual team member's productivity and capacity. We also provide a project or client view to determine how much collective time has been spent. This information helps you better manage your team, clients, and business.
Detailed data makes invoicing and billing easier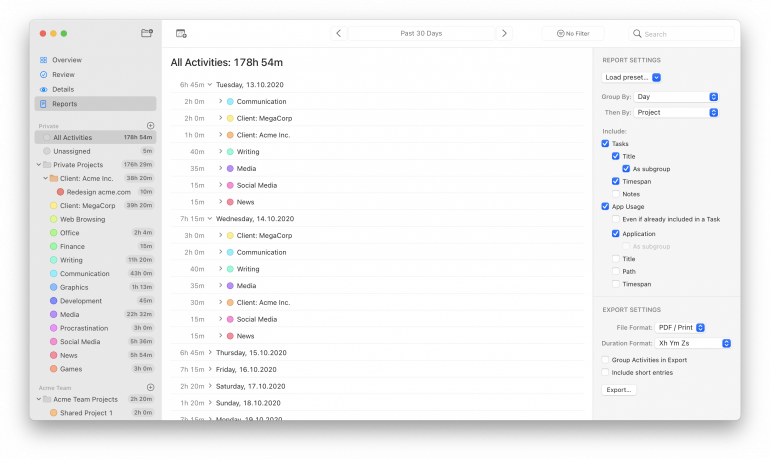 Timing doesn't include advanced invoicing or billing features since most users already have a system in place for these purposes. Also, it doesn't differentiate between billable and non-billable hours.
Since you can categorize tasks into projects, you can use time-tracking reports to make billing and invoicing substantially easier. Timing helps you track your team's progress, control the budget and increase the project's profitability by letting you know how much time they spend working.
You can use Timing reports and attach them to your invoices. Providing transparency into the time you spend on your client's projects gives them security and peace of mind knowing how much they should pay for a given job.
Time management with a focus on privacy
Timing stores all your data locally unless you opt into a built-in sync service that lets you sync your data between multiple Mac devices. In that case, you should know that:
The sync data is

encrypted and

well-protected

You can use incognito mode safely

Your data will never be sold to anyone
Timing turns off time tracking after a configurable inactivity delay. Also, it doesn't take screenshots or track apps running in the background. 
Timing's focus on privacy is best seen when teams are using it. For instance, as a manager, you can only see employees' total time on a given project and not information about specific apps, documents, or websites they use, preserving their privacy.
Well-designed interface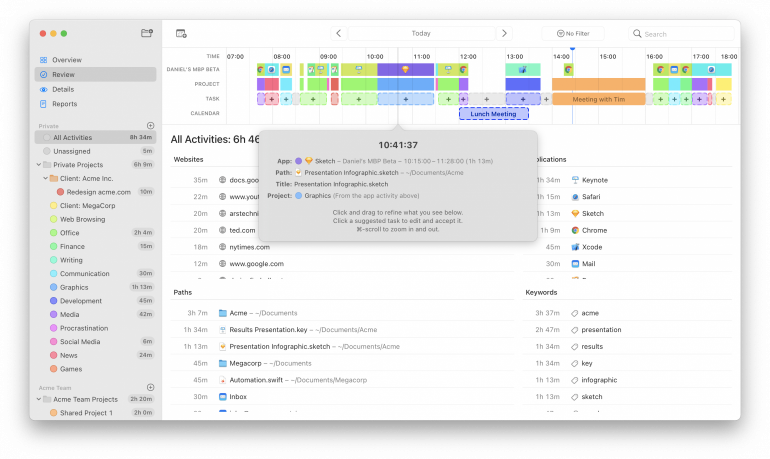 Our Timing app has a well-designed, user-friendly interface. Each feature is easy to navigate and access.
Competitive pricing
We don't believe in free plans that often rob users of many essential features and give false hope of using the tool entirely for free. We see Timing as a Premium product for Mac users that adds value with innovative smart features and state-of-the-art automation. 
We offer three monthly subscription plans: Professional ($8.90), Expert ($11.90), and Connect ($16.90). You can lower the price by 20% or more if you decide to pay annually. There's also a free 14-day trial available you can activate right now.
Friendly customer support
We've prepared an informative FAQ and an extensive knowledge base with many valuable topics. We also provide email support.
RescueTime vs Freedom vs Timing: A quick recap
Here's a quick recap of some of the points from our comparison in a handy table that presents all three solutions.
RescueTime
Freedom
Timing 
Time tracking

Detailed

Very limited 

Most detailed

User interface

Functional but not very user-friendly

Sleek and easy to use

Modern, easy access to important features and information

Project management

Basic functionality

Basic functionality

Detailed time reports for specific projects

Invoicing & billing

Basic functionality

No functionality

Provides detailed time reports to attach with invoices

Free trial

Yes

Yes

Yes

Free plan

Yes

No

No

Pricing

Starts at $12/month or $6.50 when billed annually

Starts at

$8.99/month

Starts at $8.90/month or $6.40 when billed annually

Support

Knowledge base, e-mail support, phone support

Help center, e-mail support

Knowlege base, FAQ, e-mail support
Tired of wasting time?
If you don't need to bill by the hour or are just looking to improve your personal productivity, Timing, RescueTime and Freedom are good tools. They'll help you boost your productivity and efficiency with features that might suit your needs.
However, RescueTime and Freedom may not be the best option for small teams or enterprises. They don't provide many features these environments need, such as detailed time tracking reports, project management, or billing and invoicing. You might try to find solutions for some of these issues, but it will cost you time, and your time is better spent doing something else.
Timing, our intelligent time tracking software, will help you and your team members track time spent on projects more efficiently. You'll see how much time is spent on each project, who does the work, and which projects risk going over the budget, increasing your teams' productivity in the process. We offer a free trial for the first 14 days, so you can try out our software before you buy. Start tracking today!