ActivTrak vs RescueTime: Which Productivity App is Better for You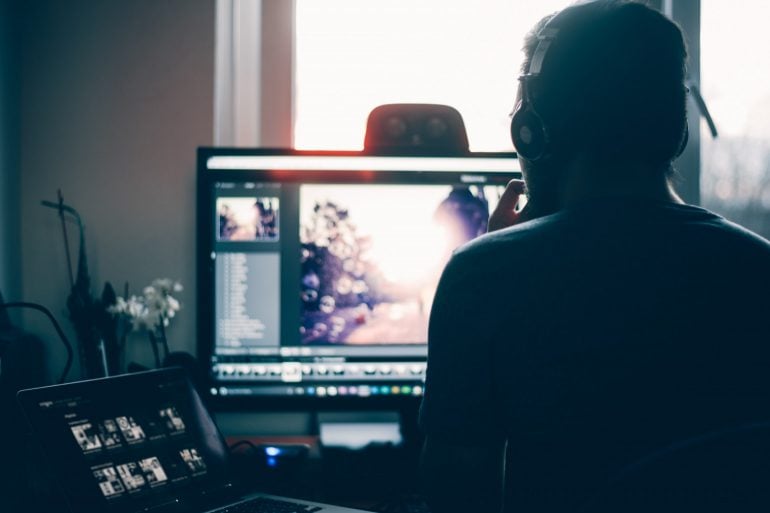 When you have no control over your bad work habits, they affect your personal life and career. Browsing the internet, shopping online, and especially using social media during work hours can significantly reduce your productivity. 
Statista reports that over 200 million people worldwide are addicted to social media. It can even destroy your otherwise successful career in extreme situations. 
Luckily, there is an effective way to keep your professional life in order and win back some of the time you're wasting every day on various online distractions. Spend it instead with family and friends or doing activities that make you happy!
While developing Timing, our premium time tracking tool for macOS users, we extensively researched other time tracking solutions and productivity apps such as ActivTrak and RescueTime to address most of the issues users are likely to have with these tools. 
Our goal was to deliver the best possible solution to help our users cut down on bad habits that affect their productivity and efficiency. 
We provide high-performing professionals with detailed time reports to help them understand how they spend their workdays and where they can make improvements. As a result, our users feel more in control and empowered in their personal and professional lives. Sign up today for a 14-day free trial, start tracking your time and see if Timing is a good fit for your needs. 
Now, let's go over the basics on RescueTime and ActivTrak and see why Timing is an excellent alternative to these tools.
ActivTrak vs RescueTime: A general overview
Time is a valuable resource, and we all have finite amounts of it to use, so choosing the best time management tool for your needs is crucial. There are many things to consider when selecting the perfect time tracking software, from price to features. Which one should you choose? 
If you want a no-frills option that's quick and easy to set up and use, RescueTime might be the solution for you. On the other hand, ActivTrak has many options for your work needs if you're looking for advanced features. 
Both tools aim at helping individuals move toward their goals, but there are many differences between them. We will take a look at their features and benefits and compare them to Timing to help you decide which one might be best for you!
ActivTrak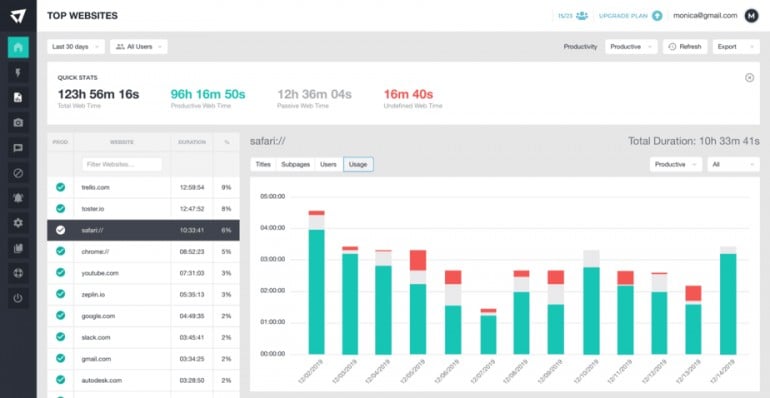 Image source: softwaresupp.com
ActivTrak is a workforce analytics platform that gives companies the ability to track employees and boost the productivity and efficiency of their team members, both in-office and remote. It's a pretty complex software with several different components that give you a complete overview of your work activity in one place. You can also use it if you are a professional who needs advanced workday monitoring.
The ActivTrak app runs in the background and gathers detailed information on your computer activity. 
Data is then gathered according to pre-built dashboards and reports and then sent to the cloud, where it gets analyzed. You receive a somewhat simplified summary with insights, details on possible blockers, and tips on making your workflow more efficient.
ActivTrak helps you track your time automatically and sends data directly to a reporting dashboard. It shows how much time you spend on work-related activities, including screen time, website and app usage, and the date and times when you did your work. 
ActivTrak also shows you a productivity report and lets you know how much time you spent on productive or unproductive activities.
It offers a variety of ways to analyze your data. You can get insights in the ActivTrak dashboard, export data in timesheets, or download it on your computer. You can also filter data to include only relevant results for projects that clients should pay for.
The system's interface has a nice design, but the scope of the information is robust, and the complexity of the solution might turn out to be a problem for some people.
ActivTrak reviews
ActivTrak currently has a 4.6 score on Capterra (based on 532 reviews).
ActivTrak features
Dashboards

Automatic time tracking

Productivity reports

Team summaries

Tracking the application & website usage

Workload management

Productivity coaching

Benchmarks & goals

Personal insights

Integrations

Screenshots

Real-time tracking of user activity

Alarms & website blocking

Activity classification

Activity logs

Data privacy controls
ActivTrak pricing
ActivTrak has a free version with limited features and provides storage of 3GB that three people can share. There's also a 14-day free trial of the premium accounts. The company offers three subscription plans:
Advanced ($9 user/month with a 5 user minimum, billed annually)

Premium ($15 user/month with a 5 user minimum, billed annually)

Enterprise
ActivTrak platforms
You can use ActivTrak on Windows, Windows Server,  macOS, and different browsers. 
ActivTrak support
ActivTrak has an expansive knowledge base that is a good starting point if you encounter any problems. Free plan users can also reach the company by email, with a response time of one business day. Paying customers have additional options here – they can use Live Assistance Service or chat, phone, and email support.
ActivTrak pros
The basic version is free

Analytics gather vast amounts of data

Good performance monitoring tool

Extensive customer support for premium users

Support for in-house and remote teams
ActivTrak cons
A very complex platform 

Has a high learning curve

Not a good option for non-tech users

Not the best choice for freelancers or smaller teams: more geared towards enterprises and large organizations
RescueTime

Image source: rossgriffin.com
RescueTime is a productivity-boosting tool that automatically tracks your time on documents, apps, and websites during the workday. It also lets you track your inactive or offline time and pause the timer when you need to take a break. It provides reliable data to track your activities or monitor general employee productivity and efficiency.
When you need to concentrate on work, use Focus Time and Focus Sessions to block distracting websites or apps. Some platforms, such as Facebook, are blocked by default, but the tool lets you create a list of sites or apps you wish to block based on your personal needs. Also, you can customize this tool as it enables you to set alerts to notify you when you start losing focus.
RescueTime's biggest flaw is its outdated interface and the limitations on some of its features. It's hard to track projects as you can't track the exact time spent working on specific tasks.
It lacks detailed time reports that you can use for invoicing and billing purposes. It provides an overall perspective of your work time and a productivity score to see if you need to make some improvements.
RescueTime reviews
RescueTime currently has a 4.6 score on Capterra (based on 125 reviews).
RescueTime features
Automatic time capture

Customizable alerts

Focus mode/sessions

Monitoring of idle time

Reports including productivity score

Basic stats on activity and productivity baselines

Exporting timesheets to Google Sheets 
RescueTime pricing
RescueTime subscription starts at $12/month or $6.50/month when billed annually. There's also a free plan with limited features and a free trial of the paid version.
RescueTime platforms
RescueTime offers a web application and supports macOS and Linux, Windows, iOS, and Android devices.
RescueTime support
RescueTime has a knowledge base that covers the most important topics and issues. You can also reach support by phone or email.
RescueTime pros
Free version

Tracks time spent on websites and apps

Reports help you find productivity issues

The focus feature can be used to block distractions

Works on mobile devices (a web app and a native client for Android)

Solid software to use just for time tracking 
RescueTime cons
The interface is a bit outdated

Tracking specific projects is fairly limited

It's hard to track specific time spent on particular tasks
ActivTrak vs RescueTime: The basic differences 
While you can use both apps for productivity and time management, ActivTrak comes out of this comparison as the more sophisticated and complex tool. While this might indeed be a boon in many situations, not every user requires that level of complexity in their day-to-day work.
RescueTime vs ActivTrak: Users
RescueTime can be a good option for people who want a tool to track their work time and limit distracting side activities, such as social media and non-work-related web browsing. 
ActivTrak technically also offers such features as you can block websites or apps you don't want to use while working. However, ActivTrak's focus is on analytics, and its complexity makes it a solution that better fits the needs of team leaders and managers, especially in larger organizations. 
ActivTrak vs RescueTime: Deployment
RescueTime has a simple, streamlined installation process that should be a piece of cake for most users. 
ActivTrak deployment is more complex since there are more ways to get the solution running, but the company provides support. There are articles and video tutorials dedicated to the installation process. There's also onboarding that helps users get accustomed to this solution's various features.
ActivTrak vs RescueTime: User interface
The ActivTrak interface seems modern and presents data better than RescueTime. However, ActivTrak's complexity can be intimidating for users less accustomed to using such software.
ActivTrak vs RescueTime: Time tracking features
RescueTime tracks your workday in real-time, but it only provides general data and doesn't offer much in terms of specifics. You can't track particular projects or tasks unless you sort through all the information remembering what documents, URLs, or apps are connected to that individual task. 
ActivTrak offers the same feature but gives you more sophisticated data and control over what you track, how you work, and how the software interprets data. A classification system allows you to decide which websites and apps are considered productive for a team, specific role, or individual employee.
ActivTrak and RescueTime: Project management features
RescueTime can help with project management to a degree, but it's not its primary focus – it doesn't offer any special features in this regard.
ActivTrak, on the other hand, seems to be more team-oriented than project-focused. However, it offers a range of features that can help you manage your employees, assess their workload balance, and identify and work around bottlenecks.
ActivTrak vs RescueTime: Invoicing and billing
Neither of these apps mentions features explicitly designed with invoicing and billing in mind, but ActivTrak will provide you with more data you can use for your reports.
ActivTrak vs RescueTime: Privacy
There's no mention of privacy on the RescueTime main page. Still, the company does have a privacy policy, and you can also find some information in the privacy section of their knowledge base. 
RescueTime gathers information about:
The names and URL addresses of websites you visit

The names of the apps you use 

Window titles

Device operating system versions

Public internet addresses

Device login names

Device names

Device manufacturers 
The software also logs when you start or end using the applications.
ActivTrak doesn't use intrusive employee monitoring technologies, such as keystroke logging or video surveillance. The privacy and security section provides more context in this regard. 
It offers a list of many other things ActivTrak does to protect the user's privacy, such as:
Offering sensitive data protection

Excluding non-business activities from tracking

Scheduling working hours

Providing configurable user permissions 

Anonymizing and aggregating data in some circumstances

Offering audit logs and non-track lists. 
It's worth mentioning that the application can take screenshots of the user's screen, but the functionality is turned off by default.
ActivTrak vs RescueTime: Integrations
You can integrate RescueTime with Microsoft Outlook, Microsoft Office 365, and Google Calendar.
ActivTrak offers integrations with a much more comprehensive array of tools and technologies. The list includes Salesforce software, Microsoft Teams, Microsoft Viva, Zendesk, Slack, the Google Workspace suite, Zoom, Lattice, CultureAmp, Qualtrics, Atlassian Jira, Monday, Asana, Workday, and ADP.
ActivTrak vs RescueTime: Customer support
In both cases, users have access to a detailed knowledge base and several ways to contact the support team in case of any issues. 
While ActivTrak offers more options, including a chat and a live help service, some are only available to paid users. RescueTime doesn't make such a distinction.
ActivTrak vs RescueTime: Pricing
Both apps offer limited free plans and 14-days free trials for the paid plans. However, RescueTime costs less than ActivTrak.
ActivTrak vs RescueTime: Timing as an alternative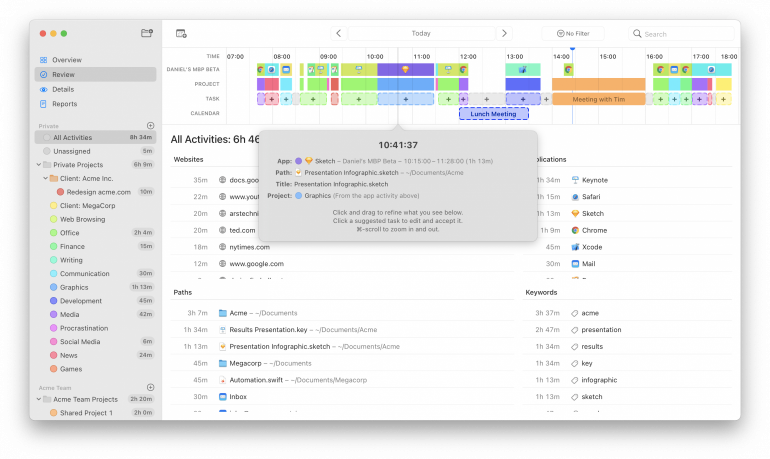 ActivTrak and RescueTime will help you save valuable work hours. But we have a superior alternative – Timing, our time tracking tool, built for multitaskers who want to manage their lives better while also getting more productive and efficient in their work-related activities.
Intelligent time tracking tool for macOS users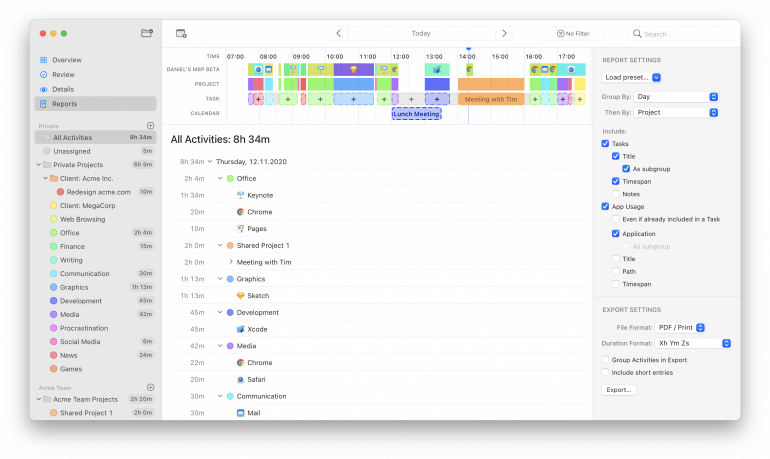 Timing is high-value software that helps you take control of your professional life by offering detailed time reports to manage your workload better.
Timing provides automated, effortless time tracking to macOS users. You can also track your time manually if you want to. Still, with automatic time tracking, it's easier to get detailed information about how you spend your workdays – something you won't be able to achieve with manual tracking alone. Also, during your busy days, you can download the web app to your mobile iOS or Android device to start and stop timers on the go.
Timing keeps your private data safe
Timing helps you keep track of the time spent on different apps. It records the window title, document path, or URL of the app you use while working. If you work on other Mac devices, you can sync your data thanks to the built-in sync service. Your data will be well protected and never sold to anyone.
If you only use one Mac device and don't need to sync your data, then know that Timing stores your data locally with no possibility for anyone else to access it other than yourself. Your tracking data will never leave your Mac! Timing also won't take screenshots while you're working, so you can be relaxed knowing that your private information is entirely under your control.
Timing follows your schedule
As any high-performing professional, you probably have your calendar booked with meetings. Timely automatically recognizes when you're in a meeting and shows calendar events on your timeline. It also asks you to record time after each video or audio call, ensuring that all the hours are accounted for. It clarifies if everything went according to your plan, what you've accomplished, and how to make further improvements in your everyday work.
Timing helps you evaluate your work habits 
Timing has an automatic productivity tracking feature built right in. You can assign productivity scores easily and track your improvement over time with more tasks moving from low-value to high value.
Detailed data improves your efficiency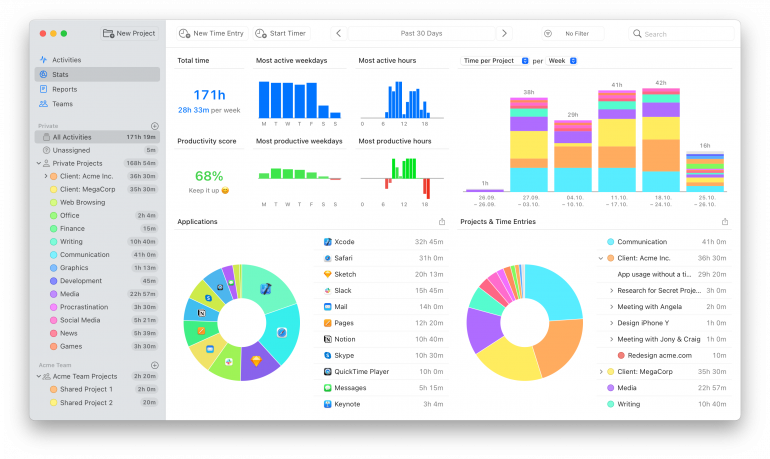 Since Timing gives you a weekly, daily, or hourly overview of your work-related activities, you can generate reports full of valuable information to improve your efficiency.
You can export data from the app in various file formats to create timesheets for your services or use a plug-in that lets you automatically import tracked hours as billable items in the GrandTotal invoicing app for Mac.
A well-designed interface makes Timing easy to use
We wanted to make Timing as easy to use and understand as possible – our goal is to help you do your job, not make things more difficult. We built our app with this core principle in mind. That's how you can really reap the benefits of using Timing.
Timing has competitive pricing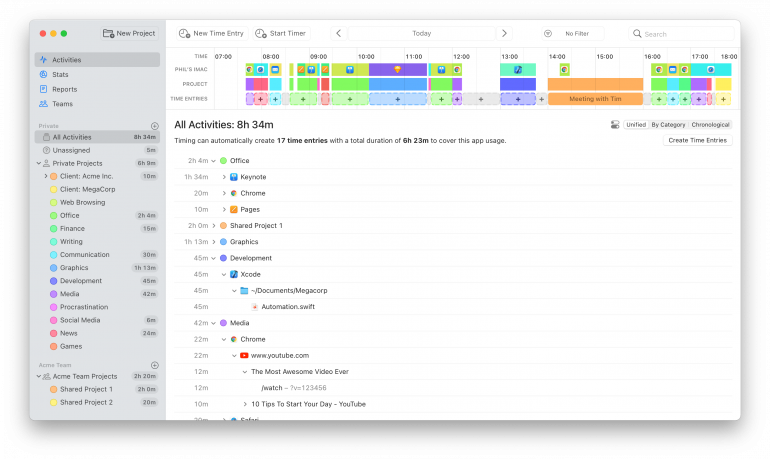 We care deeply about our product's quality, providing a premium experience to our users. We offer superior customer service, intelligent tracking features, and high-quality data you won't find elsewhere. 
Try our solution for free for 14 days, and decide if it's worth your money. After that, you can choose one of three subscription plans: Professional ($8.90), Expert ($11.90), and Connect ($16.90). You can lower the price by at least 20% if you decide to pay annually.
Timing provides help when you need it
We have prepared a knowledge base with helpful information to make the onboarding process smooth. There are many valuable resources to check out there, but if you can't find exactly what you need and still require help, don't hesitate to contact us by email.
ActivTrak vs RescueTime vs Timing: A recap
The table below summarizes some of the most important points we want to emphasize from our comparison. It includes all three tools: RescueTime, ActivTrak, and Timing.
RescueTime
ActivTrak
Timing
Time tracking

Basic

Detailed

Most detailed

User interface

Functional but not very user-friendly

Sleek and easy to use

Modern, easy access to important features and information

Project management

Basic functionality

Complex team management tools, detailed reports – but not focused on projects

Detailed time reports for specific projects

Invoicing & billing

Basic functionality

Basic functionality

Detailed time reports you can attach to invoices 

Free trial

Yes

Yes

Yes

Free plan

Yes

Yes

No

Pricing

Starts

at $12/month or $6.50/month when billed annually

Starts at $9 user/month, billed annually

Starts at $8.90/month or $6.40/month when billed annually

Support

Knowledge base, e-mail, phone

Knowledge base, e-mail, live assistance, chat, phone, remote support

Knowledge base, FAQ, email support
ActivTrak vs RescueTime vs Timing: The verdict
Productivity management apps and time tracking tools can be a massive help in your daily life. You might have to familiarize yourself with them for a bit, but it will be an easy way to control your bad habits and build new, positive ones!
You'll be able to focus on work more efficiently and save time you spend on unnecessary distractions. You can then dedicate this extra time to what's really important – people you love and activities that bring you joy!
However, to get the most benefits from these solutions, you need to invest in one that will fit your needs. In our opinion, Timing is the best option for professionals who are constantly busy and have a lot of things on their minds at once. You might ask why? 
Our time tracking is intelligent, automatic, and very detailed. It can also help you evaluate your time on specific tasks, which can be invaluable for increasing your productivity and efficiency!
If you're not sure of the value Timing brings to the table, just give it a try. Activate a 14-day free trial and start tracking today!