10 Toggl Alternatives: The Best Time Tracking Tools for Freelancers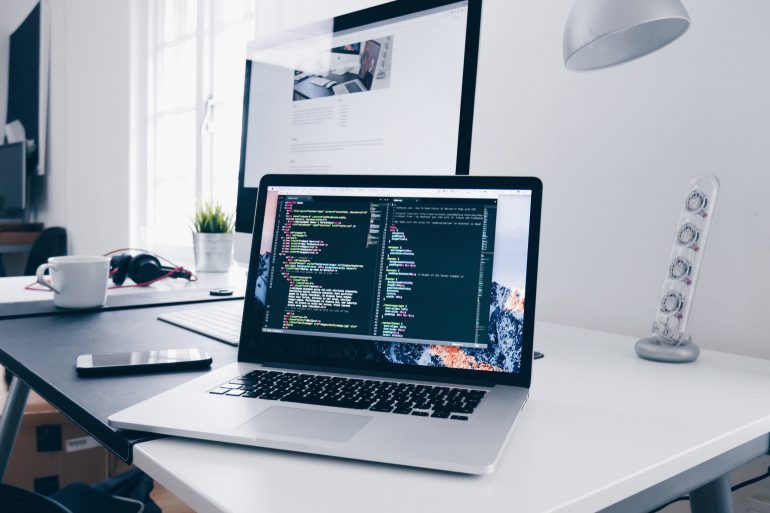 Freelancing gives you a great deal of independence and control over your career and work habits compared to the restrictions of being an employee. It is something many people have experienced during the pandemic. It's not surprising that nearly 40% of workers said they would rather quit their job than go back to the office full-time after trying to work remotely for a while.
On the downside, you can only blame yourself when something goes wrong. And let's be honest – something can go wrong quite easily. With the number of distractions that surround us, it's very hard not to lose focus from time to time.
In such situations, you can sometimes find yourself in a tight spot – working long hours to keep an important deadline. It is hard to keep track of the amount of time you've worked on a project and provide detailed information to your clients – otherwise, they might think that you're either doing some work for free or billing them too much. One way to handle this is by using time tracking tools such as Toggl or our Timing.
Timing is an automatic premium time tracking solution for macOS users. It helps you track time spent on your projects, create detailed reports you can use to attach to your invoices, and manage your clients successfully. With Timing, you will get more reliable data than manual time trackers. You can use accurate details to bill your working hours correctly and make your projects more profitable.
Also, by helping you understand how you spend your workday, Timing enables you to increase your productivity and efficiency. To see how Timing works, use a 14-day free trial and download our app today.
But if you're still not sure what to do, read on – we'll take you through the ten best Toggl alternatives you can currently find on the market!
What is Toggl?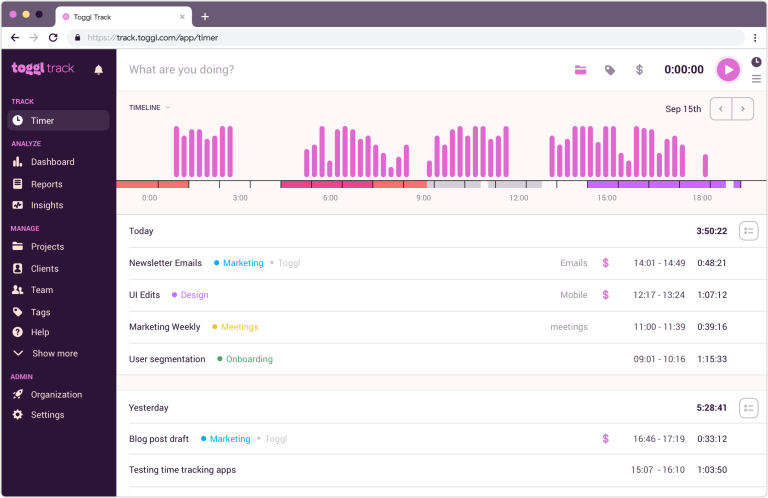 Image source: pcmag.com
Toggl is a time tracking app best suited for freelancers or small and large teams operating in any industry. Toggl has a 4.7 rating on Capterra based on 1779 reviews.
Toggl provides you with reports about your work activities – you can see how much time you spend on projects and tasks, which helps you be transparent with your clients. You can generate weekly or monthly reports to provide a consistent information source and send them to clients. You can also save and export them to CSV or PDF formats.
By tracking projects with Toggl, you can also control budgets, make estimates, get insights on profitability, and synchronize your work with other people – for example, an outside team you're co-working with.
Toggl is easy to use. It is available on Windows, Linux, macOS, Android, and iOS mobile devices.
The solution also offers a range of integrations. The list includes many popular applications, such as Google Calendar, Gmail, Google Docs, MeisterTask, Atlassian Jira, Asana, GitHub, Microsoft Outlook, Salesforce, Slack, Trello, Codebase, WordPress, or Redmine.
Why do freelancers use Toggl?
Toggl helps you keep a finger on your bad habits – detailed reports give you insights into your productivity and efficiency, which is essential to improve your workflow.
It lets you know how much time you spend on a given task when billing clients. Thanks to a suitable time tracking mechanism, and an array of additional features, Toggl gives you the tools you need to optimize your workdays.
Why are freelancers looking for Toggl alternatives?
Though Toggl is good software, it might not be able to fulfill everyone's needs. For example, some people may not like the interface or need a specific missing feature. One thing that certainly stands out is the lack of automation, which could make it faster and easier to use.
Toggl alternatives: Evaluation parameters
We considered several parameters to choose the best tools for our list, such as the price/benefit ratio, features list, integrations, and customization options. We also factored in user scores on platforms such as Capterra and Product Hunt since they're an excellent way to learn how other people perceive these solutions.
10 Toggl alternatives in 2022
Below, you'll find our list of the ten best Toggl alternatives you can use in 2022. We'll summarize each tool, list their most important features, and describe how their time-tracking feature works. You'll also see information about pricing and a list of pros and cons for each solution.
Toggl alternatives: Timing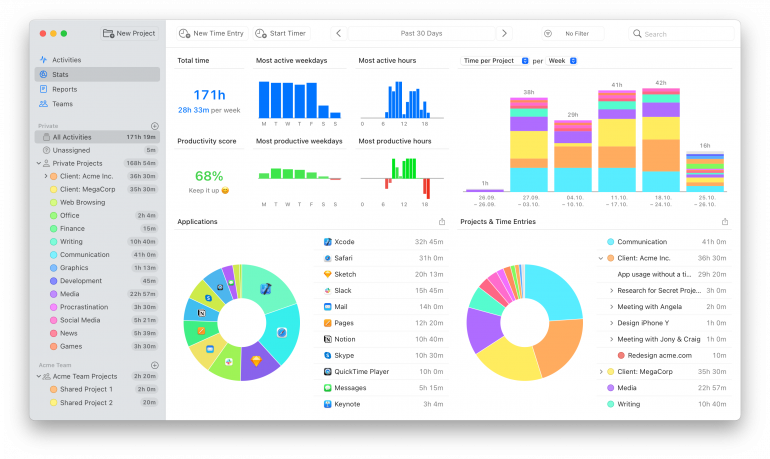 Timing is an intelligent time tracking solution for macOS users that lets you track the time you spend on different projects automatically. You can also download our web app to your mobile iOS or Android devices to track time or start and stop timers manually while on the go. Timing saves you time and does all the time tracking work for you. Since there is no need to start and stop timers, it helps you focus on more critical tasks.
Timing gives you detailed reports on how you spend your time. You will have complete control over the level of details you want to see, from highly detailed to top-line overviews, weekly, quarterly, or yearly summaries, or tracking time down to seconds. It also has a built-in productivity tracking feature to assign productivity scores and track your progress over time.
You can export data in several file formats and easily create timesheets for your services or use a plug-in that automatically imports tracked hours as billable items in the GrandTotal invoicing app for Mac.
Timing user rating
Timing has a 4.8 rating on Capterra (based on 140 reviews).
Timing users
Timing is used by freelancers, high-performing professionals, and teams of different sizes.
Timing time tracking feature
Timing automatically tracks and records the window title, document path, or browser URL of the app you use while working. It gives you access to advanced categorization, customization, and detailed tracking features. You can categorize work into projects and set up rules for categorizations that you want to automate in the future.
Timing automatically records your time in a meeting and displays it on your timeline with Calendar integration. It will ask you to record the time after each video or audio call to help you count every hour spent working. Timing helps you plan your workday, see what you accomplished, and improve by providing insights into your productivity and efficiency.
Timing provides automated time tracking and has additional features to help you focus on what matters and lessen your worries about billing errors and other administrative tasks.
Timing enables you to track time spent on work-related activities and helps you improve your productivity without compromising your privacy. It will never take screenshots or perform invasive tracking since it's not a monitoring software.
Also, our built-in sync feature is an optional syncing tool that allows you to share data across multiple Mac devices. If you don't sign up for a synced account, the tracking data will never leave your device as it is stored locally.
If you decide to use our cloud functionality, we promise that your personal information will be well protected and won't fall into the wrong hands. We will automatically discard any data made while using the incognito mode to keep your data private. You can even choose specific activities and prevent tracking by adding them to the exclusion list.
All of the above makes Timing an ideal choice for freelancers. It helps you:
Save time by automatically providing a detailed overview of how you spend your time
Increase accuracy when billing clients
Gain clients' trust
Improve your reputation
Strengthen relationships with your existing customers
Timing features list
Automatic time tracking – save time and money thanks to effortless, automated tracking of the time you spent working, with no hours left unbilled
Document-based tracking – track time in every app, document, and the website you use
Calendar integration and call tracking – easily record your time on appointments, calls or video meetings
Manual time entries – easily add offline time retroactively to ensure that you have complete control
Productivity tracking – track how your productivity improves over time
Privacy-friendliness – never worry about invasive tracking or having your screen captured
Detailed and sophisticated time reports – export timesheets you can trust and bill your clients confidently
Zapier integration – integrate with third-party services easily, quickly, and without coding
Timing deployment
Timing is available on macOS. It provides a web app you can use on Android and iOS mobile devices.
Timing integrations
Timing can be integrated with the Calendar. The app also offers Zapier integration, and you can connect it to a billing system via the web API.
Timing customer support
We have an extensive knowledge base and a FAQ – you can find a lot of useful information there. You can also reach us by email.
Timing – Pricing
Timing doesn't offer a free plan, but it provides a 14-day free trial. There are three subscription tiers:
Professional – $8.73 per user per month
Expert – $12.04 per user per month
Connect – $18.67 per user per month
It's worth noting that we offer a 20% discount for customers who decide to pay annually instead of monthly.
Timing – Pros
Mac users find themselves at ease with its Mac-native interface
Automated time tracking – set it and forget it
Focus on the user's privacy
Optional data syncing on different macOS devices
Detailed reports that you can attach to invoices
Complete control over the level of details you want to track
Fast and reliable native app
Timing – Cons
Dedicated app only on macOS
Time tracking on mobile is available only via the web app. It doesn't include a native iPhone app.
No built-in support for hourly rates
Toggl alternatives: Hubstaff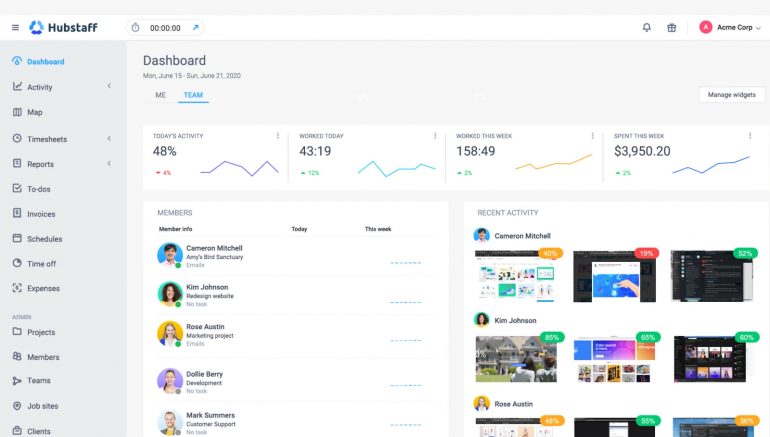 Image source: Hubstaff
Hubstaff is a productivity platform created for teams, especially remote ones. The software consists of Hubstaff Time, Hubstaff Desk, and Hubstaff Field.
Together, they provide time tracking – both in the office and on the go. The solution also has some project management features, such as tracking the project budget, scheduling jobs, and organizing the work order. Finally, some billing-oriented features include easily-exportable timesheets with billable and non-billable hours.
Hubstaff user rating
Hubstaff has a 4.6 rating on Capterra (based on 1231 reviews).
Hubstaff users
People working remotely, in the field, and in the office who need a way to easily track their progress and time spent on work use Hubstaff.
Hubstaff time tracking feature
Hubstaff creators compare their product to a "traditional time clock system installed on a desktop or mobile device."
You can start and stop the timer manually, but you can also automate time tracking up to a certain degree by tracking work hours and creating automated timesheets in the process.
You can track specific projects, workflow, clients, and locations. The app allows you to capture screenshots, track apps and URLs, and activity rates based on moving your mouse and using the keyboard.
If you are a manager, you can create reports that help you make your estimates better, streamline workflow, track projects, monitor budget spending and get projects done on time. Also, you can use the automated attendance tracking to receive alerts when your employees are late for work, leave their offices earlier or miss their shifts completely.
Hubstaff features list
Manual time tracking – track time and gather data on your or your team's activity
Geofencing and GPS tracking – timers are automatically started and stopped based on a GPS location
Employee monitoring – track apps and websites, take screenshots
Project budgeting – set budget limits and automated alerts when they get exceeded
Detailed reporting – get information about activity and profitability
Work orders and jobs – create work orders and schedule jobs
Online timesheets – easily exportable timesheets with billable and non-billable hours
Payroll software – an automated payment system
Productivity measurement – tools that allow you to make your work more efficient
Online invoicing – accurate, automated invoices
Employee scheduling – a streamlined scheduling system
Mobile team tracking – allows clocking in and out on a mobile device
Hubstaff deployment
It provides a web app and dedicated clients for Mac, Windows, Linux,  Android, and iOS devices. You can also use a Google Chrome extension.
Hubstaff integrations
You can integrate Hubstaff with over 30 other solutions, including popular apps such as Zapier, Asana, Atlassian Jira, Trello or Teamwork Projects.
Hubstaff customer support
Hubstaff has a detailed support site full of useful information. You can contact the company by email, phone, live chat, and even traditional mail.
Hubstaff pricing
Hubstaff has a free plan for one user only and a 14-day free trial. There are three paid subscription tiers:
Time Starter – $7 per user monthly or $5.83 per user per month when you pay annually
Time Pro – $10 per user monthly or $8.33 per user per month when you pay annually
Enterprise – custom pricing
Hubstaff pros
Solid time tracking
Project management features
Good platform support
Free plan
Nice integration options
Hubstaff cons
Allows taking screenshots (optionally)
Mostly manual tracking
Many additional features – project budgeting, work orders, employee scheduling and so on – will be useless for freelancers
Toggl Alternatives: ManicTime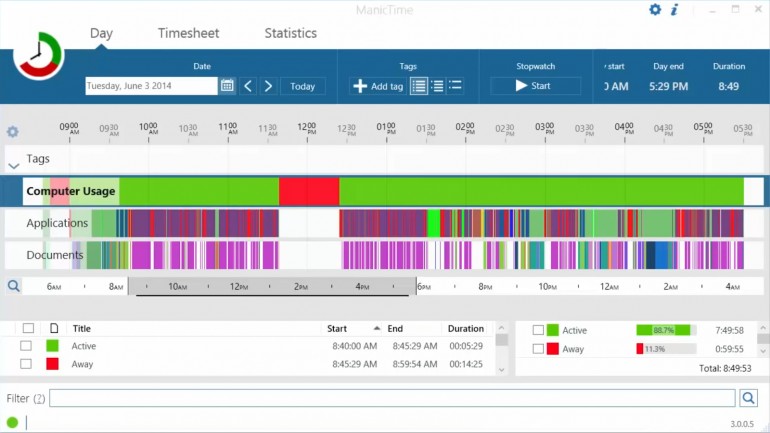 Image source: ManicTime
ManicTime is a less-known solution created by a Slovakian company of the same name. It automatically records what the users do on their computers. However, there's also an option to start and stop timers manually. It provides statistics that allow you to evaluate your productivity.
ManicTime user rating
ManicTime has a 4.2 rating on Capterra (based on 14 reviews).
ManicTime users
ManicTime is a good option for freelancers and teams. It has a visible focus on smaller companies.
ManicTime time tracking feature
The software automatically tracks websites, documents, and applications you use to work. You can set up alerts and a tracking schedule and turn the "Off The Record" mode on and off, which will stop you from tracking for a specified period.
You can also restrict websites and apps, blocking ManicTime from accessing them. ManicTime also allows you to track offline work and away time and create timesheets that you can easily export to Excel or the invoicing tool.
ManicTime features list
Automatic tracking – automatically records computer usage, gathers data on apps, websites, and documents you've worked on
Offline work – local datastore that can work without an Internet connection
Privacy – data is stored locally and isn't shared with anyone
Accurate timekeeping – accurate and easy to understand data presented in a graphic report
Easy timesheets – easily create reports with the time spent on a given project, and export them to Excel or another tool
Reports – see gathered data, get it on email in scheduled timeframes, and share it easily with others
Auto-tagging – create rules to categorize some types of activity automatically
Away time – the software knows when you step away from your computer and stops tracking
Stopwatch – track time manually if you want
Tracking project time – teams can easily track project time and progress
Live updates – reports between the client and the server are sent every minute, so everything is always up to date
ManicTime deployment
ManicTime is available on Windows, Linux, Mac and Android devices. The app is very easy to install on any supported device, and there's minimal configuration required. The user can also decide to use the software completely on-premise, storing data in one of three popular databases: SQLite, Microsoft SQL Server or PostgreSQL.
ManicTime integrations
You can integrate ManicTime with some other technologies and solutions such as Atlassian Jira and GitHub, among others.
ManicTime customer support
There's detailed documentation and several video guides. You can contact the company by email.
ManicTime pricing
You can buy a ManicTime license with a one-time purchase, and you get support for one year. The price for a single user is $67 ($250 for a team of five).
There's also a cloud subscription model with two tiers:
Three devices per user cost $50 or $60 per year in monthly payments
 Five devices per user cost $65 or $75 per year in monthly payments
The company also offers a free trial with limited features.
ManicTime pros
Solid, not too complicated automatic tracking
It doesn't share collected data with third parties, keeping users' privacy safe
ManicTime cons
It lacks project management tools
It includes only the Android app you can use as a stopwatch or add your work time manually
It's more Windows-oriented since the Mac version has limited features
Toggl Alternatives: Timeneye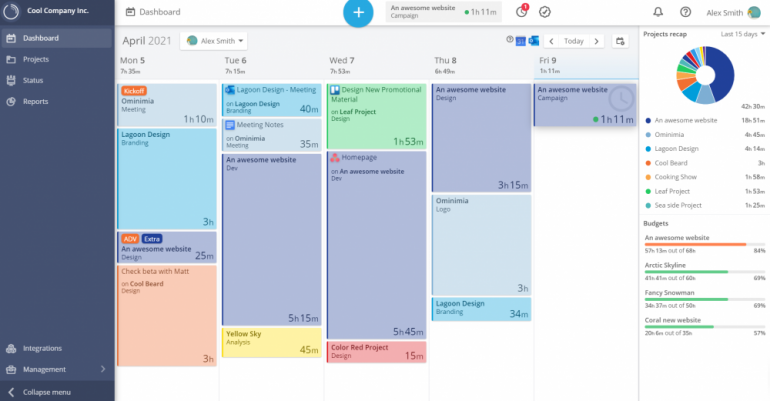 Image source: Timeneye
Timeneye is a time management application that mainly focuses on manual tracking capabilities. The software has a straightforward, well-designed interface and is relatively easy to use.
The app also offers the option to track projects and has additional project management and billing functionalities though they aren't the primary focus. You can manage billable hours, get budget notifications and see an overview that presents information about the team's status.
Timeneye user rating
Timeneye has a 4.8 rating on Capterra (based on 112 reviews).
Timeneye users
Teams and freelancers can use Timeneye, but the project management features mentioned above suggest that the focus is on the former group.
Timeneye time tracking feature
Timeneye's time-tracking capabilities are somewhat basic – you click a button, the app starts working, and you begin tracking the time spent on specific projects. You can add a description to each entry.
You can see your time report in a straightforward and customizable dashboard. You also have the option to input time data manually.
Timeneye features list
Manual time tracking – track the time spent on projects with the click of a button
Team management – keep track of how your teammates spend their time
Project tracking – see the progress of individual projects
Reports – analyze what apps and activities took the most time
Team status overview – see the status of your team and tasks
Billable hours management – easily manage your team's rates for billing purposes
Budget Notifications – you get notified when your project exceeds the budget
Timeneye deployment
You can use it as a web application. There are also browser extensions and dedicated clients for mobile devices (Android and iOS).
Timeneye integrations
You can integrate the software with other solutions, such as Asana, Basecamp, GitHub, Gmail, Google Calendar, Google Docs, Google Sheets, Atlassian Jira, Trello and Microsoft Teams.
Timeneye customer support
Timeneye has a FAQ and a dedicated support page. You can contact the company by email.
Timeneye pricing
Timeneye offers just one subscription plan priced at $7 per user per month or $6 per user per month when paid annually. There's also a 14-day trial.
Timeneye pros
Easy to use
Support for mobile devices
Handy project management features
Timeneye cons
Lack of automation makes it a bit cumbersome
Toggl Alternatives: Qbserve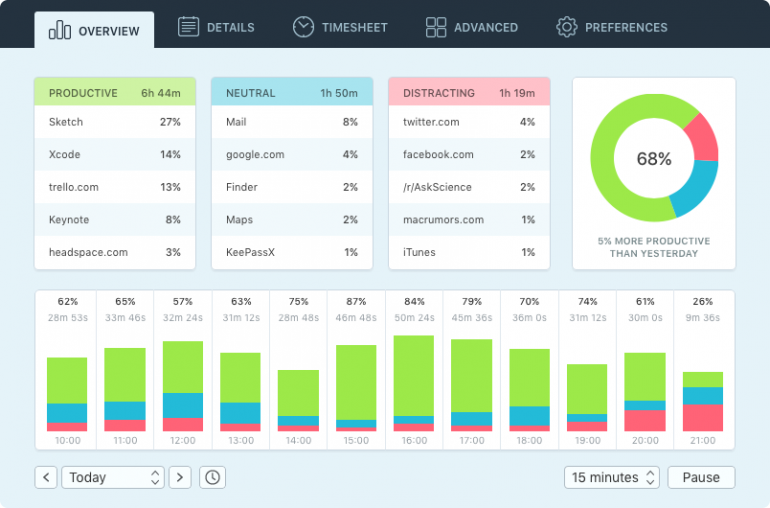 Image source: Qbserve
Qbserve is an automated time tracking app that can track over 7600 different applications and websites. You can gather your activity data and categorize it by projects.
You can set up billable rates and create PDF invoices or use a third-party solution for this purpose. It protects users' privacy – data is stored locally and isn't shared with anyone. You can also pause tracking and exclude private browser tabs.
Qbserve user rating
Qbserve has a 4.9 rating on Capterra (based on 9 reviews).
Qbserve users
Qbserve's website doesn't mention any specific user group, but the app's nature makes it suitable for freelancers and small teams.
Qbserve time tracking feature
The solution employs an automatic time tracking system based on rules predefined by the user. To start using the tool, you have to create projects and assign them specific websites and apps you use or documents you work on.
After that, the app will automatically track and categorize your time on these activities. You can also edit time entries manually whenever you need.
Qbserve features list
Automatic time tracking – track websites, apps, and documents connected to specific projects
Reports and timeshifts – create detailed productivity reports for specific periods: days, weeks, or months
Dynamic icons – the software displays your productivity score as an icon, with colors changing depending on your performance
Notifications – create alerts to notify you when you reach goals, get too distracted, etc.
Browser integrations – Qbserve can detect websites in Safari and Chrome, but the user can install extensions for Firefox, Opera, Vivaldi, and Yandex Browser
Idling – smart detection of idle time
Data export – to JSON and CSV formats
Team tracking – track the time spent talking to colleagues on Slack
Qbserve deployment
Qbserve works only on Macs. The solution's setup is very easy, but you'll also have to configure projects beforehand – connect them to specific websites, apps, and activities to start tracking.
Qbserve integrations
Qbserve offers integration with other apps through AppleScript or webhooks.
Qbserve customer support
The company offers a detailed FAQ. The staff can be contacted by email.
Qbserve pricing
Qbserve requires a one-time payment of $40. There's also a 14-day trial.
Qbserve pros
Automatic tracking
Considers the user's privacy
Good pricing (one-time payment)
Qbserve cons
Projects have to be configured beforehand
Works only on Macs
No mobile support
Toggl Alternatives: Clockify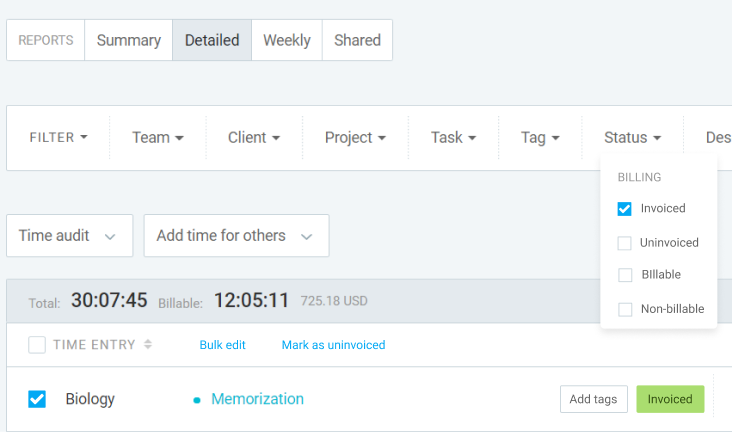 Image source: Clockify
Clockify is yet another solution that offers multiple ways to track time – you can start and stop timers, use manual entries or create templates with predefined activities.  It has additional features for billing and invoicing, such as billable hours.
Clockify user rating
Clockify has a 4.7 rating on Capterra (based on 2918 reviews).
Clockify users
Clockify is a product that has been created mostly for companies – the messaging on its website focuses on teams, though freelancers can use this software too.
Clockify time tracking feature
The tool offers the option to track the time manually using timers that you can start and stop whenever you want. The user can create manual entries too. Finally, there's also a way to make the process of time tracking a bit easier, though also possibly less accurate, by creating templates with predefined times and activities that you can use multiple times later on.
Clockify features list
Manual time tracker – manual time tracking system based on timers
Timesheet – easy way to manually log activities
Calendar – a visual tool to show you how you spend your time and log activities
Dashboard – handy summary of your team's progress and activities
Reports – detailed and easily exportable reports on time, earned money, etc.
Team – your teammates can log time in your account (they have to be invited to do so)
Scheduling – a tool for project planning and capacity visualization
Time off – tracking of time off, holidays, requests, etc.
Projects tracking – easily track the progress and budgets on projects
Expenses – record project expenses (fixed fees, others)
Invoicing – create invoices for the time and money spent on tasks
Activity tracking – see websites and apps you've worked on or sites you've visited
Clockify deployment
The company offers desktop clients for Windows, Mac, and Linux. There's also a web app, dedicated mobile applications for Android and iOS and extensions for popular browsers (Firefox, Chrome, Edge).
Clockify integrations
You can integrate Clockify with other solutions such as Google Calendar, Outlook, Gmail, Google Docs, Google Sheets, Microsoft Teams and Salesforce.
Clockify customer support
The company offers various video tutorials that explain many important issues and features. You can contact the staff by email, chat or phone.
Clockify pricing
Clockify provides a free plan for an unlimited number of users. However, that version lacks many useful features. To get them, you need to pay a monthly subscription.
There are four different plans:
Basic – $4.99 per user per month or $3.99 per user per month if paid annually
Standard – $6.99 per user per month or $5.49 per month if paid annually
Pro – $9.99 per user per month or $7.99 per user per month if paid annually
Enterprise – $14.99 per user per month or $11.99 per user per month if paid annually
Clockify pros
It's relatively cheap
It provides some automation features with Zapier and Integromat integration, such as starting a timer at the beginning of your workday and stopping it at the end, starting a timer when you begin a meeting, or syncing data between systems.
Good list of integrations
Clockify cons
The interface looks dated
It's focused on manual time tracking
Pricing messaging is a bit confusing – it's advertised as 100% free, but in reality, it just offers a typical free variant with reduced features, along with some paid plans
Toggl Alternatives: Harvest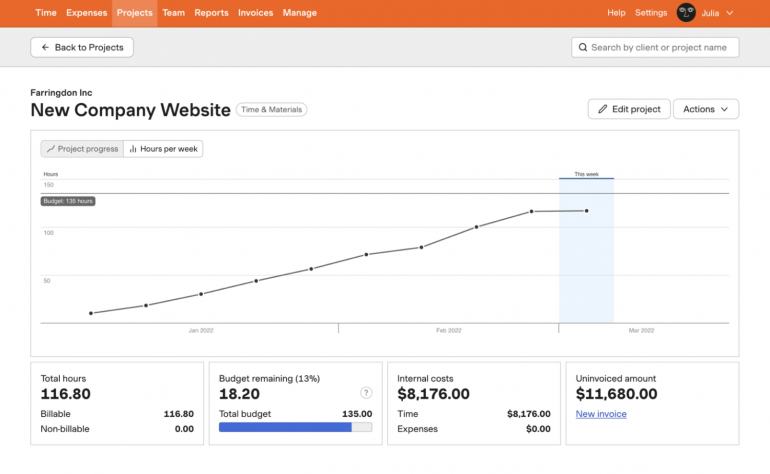 Image source: Harvest
Harvest is a manual time tracking application. The solution is lightweight as it focuses on ease of use. You can integrate Harvest with other tools and track time using timers while working on these tools.
Harvest supports detailed reporting that helps you control your budget and understand costs associated with a project, visualize team capacity, and analyze time spent on various tasks.
The software also provides some billing and invoicing features – you can set billable hours and rates, quickly create invoices and even collect payments from within the app.  Alternatively, you can use QuickBooks Online or Xero for the same purpose.
Harvest user rating
Harvest has a 4.5 rating on Capterra (based on 469 reviews).
Harvest users
Harvest is a product for teams, but it's a pretty easy-to-use tool that can be a good option for individual users (e.g., freelancers).
Harvest time tracking feature
Harvest uses manual time tracking, but you can set up customized, automated reminders to notify you to start tracking your time or submit your timesheets. One example of using reminders is to remind yourself in the morning to track your time during work hours. Also, you can set up a reminder at the end of each day or week to fill out any required data.
The company doesn't detail its tracking mechanism any further than that. The data gathered by the app is assigned to specific projects and can be used to analyze productivity and team efficiency.
Harvest features list
Manual time tracking – track time on a device of your choice
Reports – keep a finger on your budget and productivity
Invoicing and payments – easy way to create invoices and collect payments
Project tracking – track specific projects and gather detailed information about team capacity, costs and time spent
Harvest deployment
To use Harvest, you have to install the app on your chosen device and create an account. Both activities are pretty simple, as is the tool's basic configuration. You can use desktop clients for Windows-based computers and Macs and mobile apps for Android and iOS.
Harvest integrations
You can integrate Harvest with various third-party solutions. The list includes tools such as Asana, Basecamp, GitHub, Slack, Trello, PayPal, Stripe, Atlassian Jira, Outlook, Google Calendar and Zapier, among others.
Harvest customer support
There's a detailed help center with a good number of articles. You can contact the company by email or Twitter.
Harvest pricing
Harvest offers a free plan with limited scope and features. There's a single paid plan – Pro – priced at $12 per month with a 10% discount when paid annually.
Harvest pros
Simple but effective time tracking
Billing/invoicing features
Project categorization
Harvest cons
Almost no automation (excluding reminders)
Toggl Alternatives: TMetric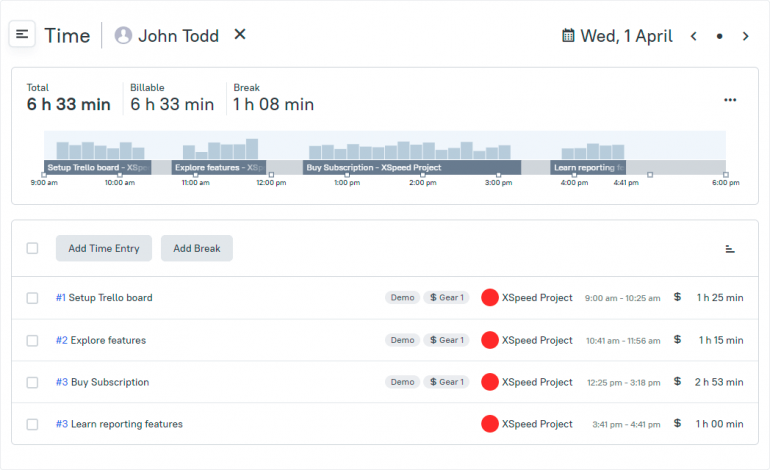 Image source: TMetric
TMetric is a standard, manual time tracking application with a decent range of in-built team management, project management, billing, and invoicing features. You get team and task management tools that help you control the progress of your projects.
TMetric user rating
TMetric has a 4.5 rating on Capterra (based on 242 reviews).
TMetric users
TMetric is an app for teams, but freelancers can also use it.
TMetric time tracking feature
TMetric uses a manual time tracking system. You can start tracking tasks you created within the client or an external web service integrated with the program.
TMetric gathers data on the websites and apps you use while working. You can also manually add time entries via the "add entry" button or through the Timeline feature. You can add breaks whenever you need them.
You can edit, merge and delete entries. Gathered data is summarized in detailed reports with information on specific projects, clients, budgets, and time (billable and non-billable). You also get metrics for entire teams and specific team members (time, activity level, and productivity).
TMetric features list
Manual time tracking – track the time of every team member you work with
Team management – keep a finger on productivity and activity
Billing & invoicing – set up billable rates and create invoices
Task management – manage your workflow and make it more effective
Project management – create projects, assign tasks and budgets
Time off – a simplified way to manage time off
Manual entries – make manual entries when they're required
Idle detection – the software detects when you're not working
Offline mode – tracking that doesn't need access to the Internet
TMetric deployment
The program supports macOS, as well as Windows and Linux. There's also a web application and dedicated apps for the Android and iOS platforms. Installing TMetric and creating the account is simple, and the app doesn't require extensive configuration.
TMetric integrations
You can integrate TMetric with many popular solutions such as G Suite, Microsoft Office, GitHub, Asana, Atlassian Jira, Trello, Redmine or Zendesk.
TMetric customer support
TMetric has a dedicated support page with a User Guide, a FAQ, and some video tutorials. There's also an extensive documentation page. If you encounter further problems, you can contact the company by email.
TMetric pricing
TMetric offers a free plan that provides limited features to a team of up to 5 people. There are also two paid tiers:
Professional – $5 per month or $50 annually
Business – $7 per month or $70 annually
There's also a 30-day free trial of paid plans. It's worth mentioning that the pricing depends on the team size, and the prices mentioned here are based on only one user.
TMetric pros
Good list of integrations
Project management features
Billing and invoicing features
Solid free Toggle alternative
TMetric cons
Only manual time tracking
Toggl Alternatives: Monitask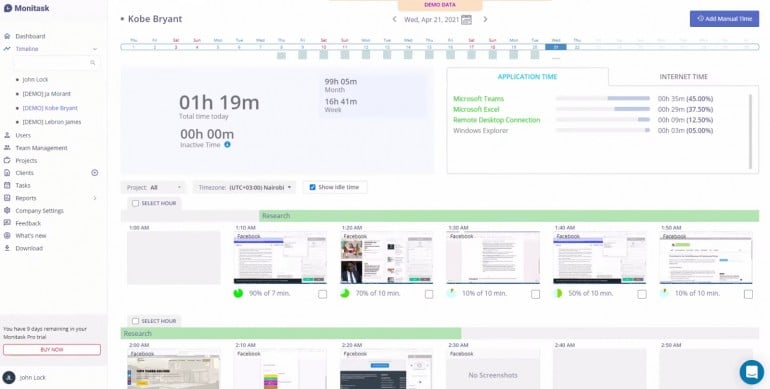 Image source: Monitask
Monitask is a time tracker and timesheet app you can use primarily for employee monitoring. It uses a manual time tracking system and employs screenshots as the basic proof of work method. It allows you to track your time on projects and specific tasks. It also offers several additional features, such as attendance monitoring, productivity tracking, and timesheets that allow you to set billable hours.
Monitask user rating
Monitask has a 4.8 rating on Capterra (based on 87 reviews).
Monitask users
Freelancers can use Monitask and companies that work with remote teams or employees.
Monitask time tracking feature
Monitask uses a manual time tracking system and tracks websites and apps you use while working on your tasks. There are no automated tracking options. It gathers data and synthesizes it into reports that summarize the time you spent on specific activities. These reports also show your overall productivity.
If you work as a manager, you will have access to the essential data about each team member – for example, what apps are they using and the percentage of time they are using them. Activity level is tracked based on mouse movement and keyboard usage. However, the app doesn't track sensitive or private information (passwords).
Monitask features list
Employee time tracking – the employees use a Clock-in / Clock-out board to report their hours, and you can control the time they spend on various tasks and activities
View employee screenshots – screenshots are used as proof of work
Project and task tracking – create projects, assign tasks and see how they progress
Employee attendance tracking – see how your employees attend their workplaces
Online timesheets – an easy way to generate timesheets with billable hours
Summaries and reports – detailed information on productivity and activity
Remote monitoring – monitor and track remote employees
Monitask deployment
Monitask has a simple setup. It needs to be installed on the employees' devices, while the manager uses a web-based dashboard. It is available on Windows, Linux, and macOS. There's also a dedicated mobile app for Android devices.
Monitask integrations
Monitask offers integration with a wide range of technologies and solutions including Zapier, Atlassian Jira, and BaseCamp.
Monitask customer support
Monitask offers a dedicated help page and a FAQ. You can contact the company by email.
Monitask pricing
Monitask doesn't offer a free plan, but a 10-day free trial is available.
There are three paid plans:
Pro – $5.99 per month or $4.99 per month billed annually
Business – $8.99 per month or $6.99 per month billed annually
Enterprise – $19.99 per month or $15.99 per month annually
Monitask pros
Good list of integrations
Solid feature set
Project management features
Workforce management features
Monitask cons
Manual tracking
No free version
Takes screenshots of the employees' screens as proof of work
No dedicated iOS app
Toggl Alternatives: My Hours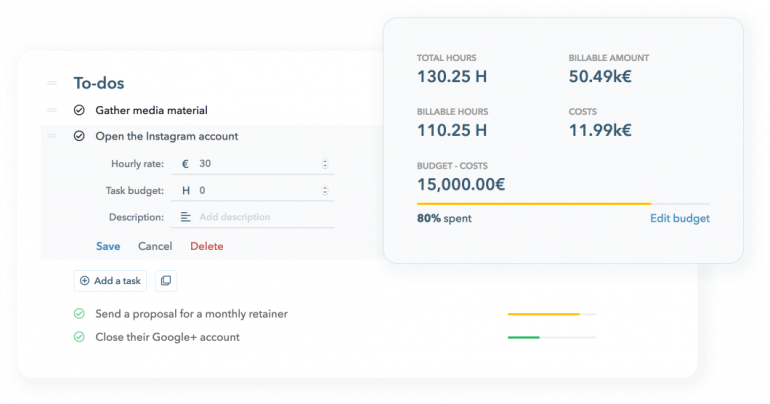 Image source: My Hours
My Hours is a free, cloud-based, manual time tracking system. It also includes some features that help with organizing projects and teams and billing and invoicing.
For example, you can set default hourly rates for each team member, but the system allows you to be flexible – you can customize the rates for each project, client, and employee. My Hours also lets you quickly generate invoices. The program has a well-designed interface and a decently generous feature set, but it lacks any sort of automation regarding its time tracking mechanism.
My Hours user rating
My Hours has a 4.8 rating on Capterra (based on 725 reviews).
My Hours users
My Hours was created with small teams and freelancers in mind.
My Hours time tracking feature
My Hours is a standard manual system with no automated time tracking features. The software only tracks when you start the timer, though you can do it in several ways.
You can start tracking without a specific project and categorize it later on. You can fill any gaps using manual entries or the Timeline. You can also fill out a weekly timesheet, and the manager can either approve them or leave comments inside.
Finally, My Hours allows you to create reports for specified periods spent on tasks and send them to your client. You can also calculate your profits, generate pivot tables, and more.
My Hours features list
Manual tracking time and expenses – track the time spent on tasks
Organizing projects – create projects and coordinate your team
Project budgeting – set clear budgets and reminders for budget limits
Billable rates and hourly rates – set up customizable rates for every team member
Easy invoicing – create invoices quickly and easily
Reports – detailed reports on time spent on projects and costs, that can be scheduled and automatically sent to clients' email addresses
Mobile tracking – apps for iOS and Android give you access to tracking on the go
My Hours deployment
My Hours is a cloud-based application, so deployment isn't very complex, but the configuration can take a bit of time.
My Hours integrations
My Hours can be integrated with QuickBooks. There's also a Zapier integration.
My Hours customer support
My Hours has a solid knowledge base and a video tutorial. You can contact the company by the form provided on the website or live chat.
My Hours pricing
My Hours offers a free version – its features are somewhat limited, but there are no limits on the number of teams and projects. A paid Pro version is priced at $7 per month or $6 per month if you decide to pay annually.
My Hours pros
Cloud-based – easy to set up and use
Decent range of features for project management and billing
Doesn't take screenshots
My Hours cons
Manual tracking only
No dedicated desktop clients
Skimpy list of integrations
Toggl Alternatives: An overview
Here's an overview of all ten of our proposed Toggl alternatives for 2022 – you'll find the most important details in the table.
Time tracking
Project management tools
Invoicing & billing
Starting price
Support
Rating (Capterra)
Timing
Automatic
Some (detailed reports for specific tasks and projects)
No (but you can download detailed reports and attach to invoices)
$8.73

20% off when paid annually

Knowledge base, FAQ, email support
4.8
Hubstaff
Manual with automatic timesheets and automatic attendance tracking
Yes
Yes
$7 monthly

or $5.83 per month when paid annually

Support site, e-mail, phone, live chat, and traditional mail
4.6
ManicTime
Automatic
No
No
$67 (one-time payment)
Documentation, video guides, e-mail, contact form
4.2
Timeneye
Manual
Yes
Yes
$7 per month or $6 per month when paid annually
FAQ, support page, e-mail
4.8
Qbserve
Automatic
No
No
$40 (one-time payment)
FAQ, e-mail
4.9
Clockify
Manual. When integrated with Zapier or Integromat, it provides some automation, such as starting/stopping the timer or syncing data between systems
Yes
Yes
Free
Video tutorials, e-mail, contact form, chat, phone
4.7
Harvest
Manual with automatic reminders to start tracking time or submit timesheets
No (aside from project tracking)
Yes
Free
Help center, contact form, e-mail, Twitter
4.5
TMetric
Manual
Yes
Yes
Free
User guide, FAQ, video tutorials, documentation, e-mail
4.5
Monitask
Manual
Yes
No
$5.99 per month or $4.99 per month when paid annually
Help page, FAQ, contact form.
4.8
My Hours
Manual
Yes
Yes
Free

The paid plan is priced at $7 per month ($6 per month if you decide to pay annually)

Knowledge base, video tutorial, contact form, live chat
4.8
Toggl Alternatives: The verdict
Time is one of the most valuable assets. Having the right time-management and organizational skills can help freelancers achieve their goals. However, not everyone has these skills, and that's why time tracking tools have become so popular.
Time tracking software helps you keep track of your time while working. It also enables you to stay on top of your work to manage your time more efficiently.
These days, you will find many manual time tracking tools on the market, but they all have one major downside – they rely on you to remember to start and stop the timers yourself. It leads to inaccurate reports, unbilled hours, and potential issues with your clients.
Intelligent time tracking solutions such as Timing track your time automatically, save your time, and make your life easier as they do all the tracking work for you. With Timing, you don't have to start and stop the timers manually, so you can focus on running your business. Since there is no human factor involved, and machines are more efficient at data capture, Timing provides you with more accuracy and reliability than manual time trackers. It includes comprehensive reports with great details, so nothing falls through the cracks.
Timing is a premium tool that provides value and helps you manage your clients successfully. If you're still on the fence, download our free 14-day trial and enjoy using a solution as detail-oriented as you are!