Toggl vs RescueTime: Which One Should You Use?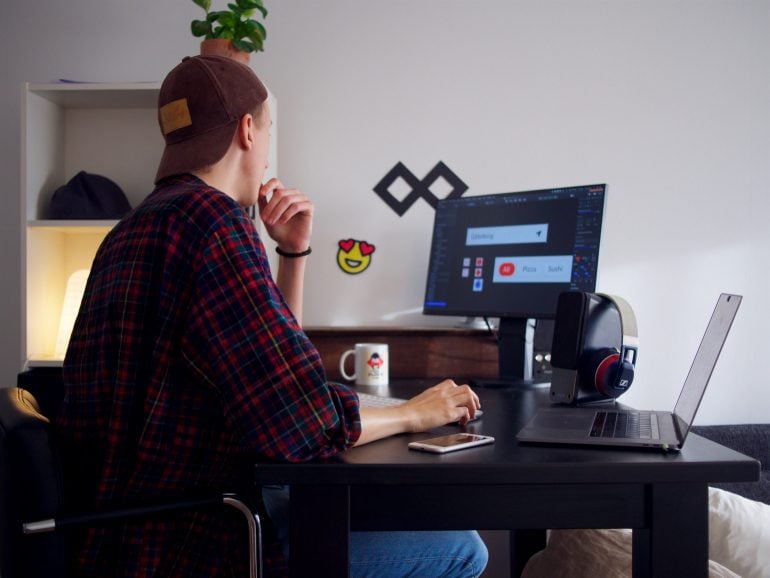 As a freelancer, it is up to you to be productive and work efficiently. You have your clients and the tasks on your plate that need taking care of every day, so it's easy for days to go by without getting anything done because it's just too tempting to put off hard work. The solution? Invest in a time tracking tool that helps track how much time you spent on specific activities throughout the day!
Both Toggl and RescueTime are popular tools on the market. However, they have different features which set them apart from one another. In today's article, we'll make a general overview of both apps and break down some key features you should know about to make it easier to decide which tool fits your needs better.
In addition to that, we'll compare Toggl and RescueTime with Timing, our premium time tracking tool for Mac users, as an excellent alternative. It offers some unique features that freelancers enjoy. If you want to test it out right away, use the 14-day free trial and download it now.
Let's start by covering the basics of time tracking.
Why is time tracking important? 
Time tracking is a strategy for managing your time by keeping track of how you spend it. Keeping track of your time can help you find out what tasks are taking up the most of your time, which will allow you to better plan your day and prioritize tasks. You can use time tracking tools to measure productivity, which leads to increased efficiency in your work activities.
There are two primary types of time tracking software: manual and automatic. Manual time tracking software requires more organization skills, but it is also more flexible and can track tasks without using a computer. Automated time tracking software tracks your work automatically as long as your computer is on by recording the window title, document path or browser URL of the active window, or in other words, the app you're using while you work.
Automatic time tracking software is a better option than manual time tracking because it reduces the risk of human error while billing clients. You can focus on your work and always know how much time you spend on your projects. It leads to more accurate reports that help you easily create your invoices.
You can also use time tracking to measure your distractions, as they are equally important as measuring your work. For example, if you're spending too much time on social media, adjust your routine accordingly to include less of those activities. Time-tracking applications provide a snapshot of how you spend your day and allow you to make changes for the better!
The benefits of time tracking for freelancers 
Working as a freelancer can be challenging, especially when balancing your professional and personal life. It is where time tracking tools come in handy. 
Time tracking tools bring back control into your own hands and give you more freedom by helping you stay organized and get paid what you deserve. With these tools, it's easier to keep track of your hours and manage them accordingly. 
Here are the top six benefits of using time tracking tools for freelancing:
You'll have an accurate tally of the hours you spend on different assignments.

You'll get compensated fairly for the work that you complete.

It will be easier to negotiate your service price on similar projects.

You will create accurate invoices faster using the time reports.

You'll improve your reputation and relationships with your clients.

You'll ensure

that no time is accidentally left unbilled.
Toggl vs RescueTime: a general overview 
Toggl, RescueTime and Timing are three popular time-tracking solutions for freelancers. But before choosing which one to use, you need to find out what features and benefits each offers and how they compare, so let's explore that below.
Toggl: Time tracking and project management tool
Image source: www.pcmag.co
Toggl is one of the oldest time tracking apps and productivity tracking tools that helps you stay aware of how you spend your working days. You can track billable hours, offline time and breaks. Also, it syncs across all your devices so you can track your time with the web app, desktop app, mobile app or browser extension.
Why do freelancers use Toggl?
Toggl provides a set of features that are useful for freelancers:
Managing projects and sprints

Calculating billable hours

Monitoring your efficiency
Identifying tasks that consume too much time

Getting a weekly report about how you spent your time on different activities

Tracking time spent on work-related activities

Identifying gaps in your efficiency
Toggl time tracking features
Toggl lets you know how much time you've spent on your projects with automatic and manual time tracking features. Besides your active window, it also tracks each app you're using in the background and turns data into entries, which are then turned into hours. 
You can assign an application to trigger when your work hours start or stop without having to open it manually, ensuring more accurate results of your project's timeline. Furthermore, it helps you decide on your actual productivity levels, including what you should complete by a specific date.
You can sync your Outlook or Google calendar events with Toggl and automatically track time spent on meetings. Also, Toggl knows all your preferred apps and creates triggers with time entry suggestions for those you're regularly using. If you want to speed up your work process, you can put the entries that you use most at the top of your Timer page.
On the other hand, you can also track your time manually by hitting the Start button.  If you have enough time to personalize manual tracking, you can use this option by adding work-related apps and splitting them into categories. In any case, you will need to make many adjustments to use this feature properly.
Toggl statistics and reports
When it comes to reports, Toggl lets you get data on productivity and estimate the worth of your projects. Toggl enables you to create three different types of reports:
Detailed Reports

to obtain insights based on particular filters (such as project, activity, customer, etc.) that help you assess your productivity

Summary Reports

to get a better understanding of your work habits and determine how exactly you should bill your customers

Weekly Reports

to find out the total time

spent

by a particular user during a specific week on all projects
Toggl integrations
Toggl integrates with more than a hundred apps that will help you manage your tasks efficiently. Whether we are talking about business-related or personal tasks, you'll find integration options for any of the following:
Evernote

Redmine

Zapier

Freshbooks

Harvest

QuickBooks
Toggl pricing plans
Toggl Track offers three different pricing plans. Each plan suits a particular type of freelancer. If you have just started, you should consider the Free plan. It provides you access to basic features and brings you access to:
Unlimited time tracking

Exportable reports

Idle time detection
Other pricing plans include:
Starter plan for small teams for $9 per user per month

Premium plan for growing teams for $18 per user per month

Enterprise for large organizations with custom pricing 
RescueTime: Automated time tracking solution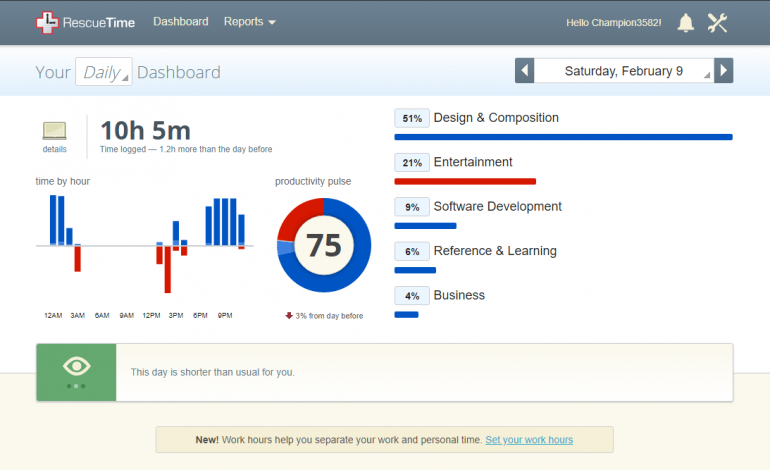 Image source: medium.com
RescueTime is one of the main competitors of Toggl in the time-tracking market. Therefore, this tool offers similar features but has some key differences that stand out from the crowd.
RescueTime does not allow you to track the exact time you spend on specific projects or activities. Instead, you can classify applications and websites you use for work by adding tags like Social Media, Communication, Design, Business, Management, etc.
Also, you can classify websites and applications under five distinct categories — Very distracting, Distracting, Neutral, Productive and Very productive. Each category helps you determine how much time you're wasting during each session.
What is more, the app automatically blocks websites known as distracting. For example, Twitter and Facebook are blocked by default to help you focus more. Also, you can allow or block specific websites according to your productivity-related needs.
Why do freelancers use RescueTime?
RescueTime tracks your behavior, automatically analyses your activities, and determines what hours to record. This tool uses an automatic time tracking algorithm that monitors your time on different websites, apps, and documents. What is more, you can use the time tracker even offline when working on your computer without having a good internet connection.
Alternatively, you can pause the time tracking feature anytime or choose some parts of the day that you want to count as free hours, which is very important for billing your clients correctly.
RescueTime statistics and reports
When it comes to getting insights into your productivity, RescueTime helps you track your work habits and determine what exactly does not work in your current schedule. Therefore, you can generate up to five different reports:
Summary Reports

to get an overall perspective on how exactly you spend your work time

Categories Reports

to find out how much time you spend on specific apps and websites

Key Tools Reports

to see a detailed view of your productive time based on software categories

Daily Highlights Reports

to get daily overviews about how well you stay productive

Productivity Reports

to obtain a total score (0 – 100) that determines how well you have managed to stay productive on various projects during your working hours.
RescueTime integrations
You can integrate RescueTime with plenty of work-related tools, such as:
Microsoft Office 365 Calendar

Zapier

GitHub

ToDoIst

Slack
RescueTime pricing plans
RescueTime is a bit more reticent and does not say much on its website regarding pricing. Before signing up, the only information available to all the users is that RescueTime has two plans. One is free, and the other starts at $12/month or $6.50/month when billed annually. There's also a free trial of the paid version.
Toggl vs RescueTime: Timing as an alternative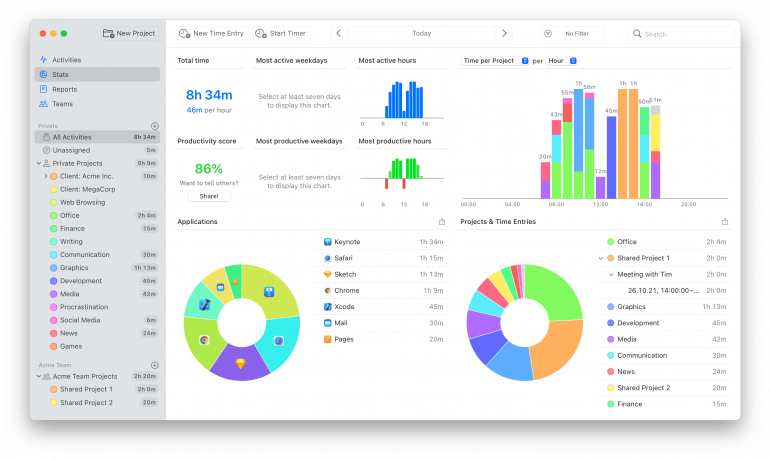 Timing, our intelligent automatic time tracking solution, is best suited to freelancers who use macOS. It helps you become more productive and efficient. Timing makes your life easier by automatically tracking how much time you spend on work-related activities. 
It frees you from worrying about time tracking and lets you focus on doing your best work instead. The best part is that there's nothing special about the process: just get down to business with your Mac without having to start and stop timers.
Why do freelancers use Timing?
So how exactly does our automatic time tracking work? Well, here is a short explanation.
Timing records the window title, document path or browser URL of the app you are using at the moment. Thanks to the built-in sync service, you can easily synchronize your data between different Mac devices. 
Unlike other time tracking apps, which take screenshots from users' devices without their knowledge, we at Timing keep your private data safe and secure as privacy is equally important to us as to our users. We don't take screenshots and don't perform any invasive tracking. 
Alternatively, you can enter the time spent on each app manually. The UI is super simple and intuitive. What's more, Timing also has a web-based app that you can use on iOS devices to start and stop timers. 
Timing statistics and reports
Timing gives you a weekly, daily or hourly overview of all your work-related activities. You can export data from the app in various file formats to create timesheets for your services. Also, you can use a plug-in that lets you automatically import tracked hours as billable items in the GrandTotal invoicing app for Mac.
Timing pricing and 14-day free trial
Timing is a premium solution when it comes to pricing. Compared with Toggl and RescueTime, our tool does not offer a free version. Timing is undoubtedly a valuable asset to consider for two reasons – it saves you more in extra billed hours and also gives you an accurate picture of how much time you spend working without any effort on your part. Time costs money, and Timing will help you make the most out of your time by improving your productivity. Think of it as an investment rather than a cost.
You can significantly improve your overall efficiency in just 14 days using the free trial; no credit card required, no strings attached.
When it comes to subscriptions, there are three different pricing plans you can pay monthly or annually with a 20% discount:
Professional

– $8.90 per user per month or $6.40 per month, billed annually

Expert

–$11.90 per user per month or $8.90 per month, billed annually

Connect

–$16.90 per user per month or $11.90 per month, billed annually
Toggl vs RescueTime vs Timing app: a quick recap
Each tool offers a great user experience, but freelancers must choose according to their specific needs. For example, if you need reports that can help you increase success in your endeavors, choose Timing because it provides detailed and easy-to-understand reports you can use for many purposes, including creating your invoices.
Furthermore — and this should be obvious — the pricing aspect is also one factor among many others which will significantly influence your decision. But instead of finding all the information yourself, we have already put all the relevant data into a table to help you speed up the process.
Toggl 

RescueTime

Timing App

Time Tracking Functions

Automatic & Manual

Automatic & Manual

Automatic & Manual

Call tracking

No

No

Yes

Detailed reporting

Yes

Yes

Yes

Invoicing and billing

Yes

No

No

User interface

Simple and intuitive

A bit confusing and outdated

Simple and intuitive

Privacy

Screenshot based

Screenshot based

Non-intrusive time tracking & locally-stored information

Deployment

Mac

Windows

Android

Linux

Web

Web-based

Mac

Windows

Linux

Mobile (Android)

Desktop (Mac)

Cloud

Saas

Web-based

Support

24/7 Live Chat

24/7 (up to 48 hours for complex issues)

Email support 

Pricing

Starting price $9 monthly

Starting price $6.50 monthly

Staring price $8.90 monthly

Ratings from users

Capterra- 4.7/5 

(1776 reviews)

Capterra- 4.6/5 

(125 reviews)

Capterra- 4.8/5 

(140 reviews)
Toggl vs RescueTime vs Timing app: the verdict
Timing will help you increase accuracy when billing clients, gain clients' trust, improve your reputation and strengthen relationships with your customers. 
This intelligent and automated time tracking solution can help improve how much money you make from your work! You can learn which projects take up most of your time and which other ones are the most lucrative for you. Timing will help you know yourself better and charge accordingly. 
Get your hands on the free 14-day trial of Timing and start tracking your work time today!