Time Doctor vs. RescueTime: Which App Will Help You Achieve Your Goals the Most?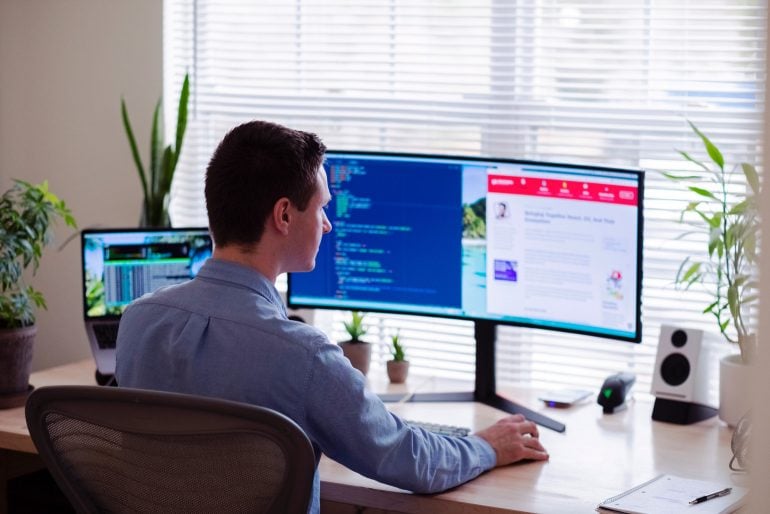 For a freelancer, time tracking is crucial for many reasons. Perhaps the most important one is that billing clients for the time you spend on a project is how you make your money. Time tracking tools also help you stay on top of your work and better manage your time.
Even though Time Doctor and RescueTime are some of the most commonly used time tracking software applications these days, there are also alternatives you should consider. Our Timing app is an excellent choice for Mac users looking for an intelligent automatic time tracking solution. It helps you quickly figure out how much time you spend on important projects with less effort, measuring your work activities and distractions simultaneously.
Today, we will compare Time Doctor, RescueTime and Timing to help you decide which one works best for you and your freelancing business. We strongly recommend you start a 14-day free trial and download Timing to try out all the available features if you need a fast start. It will help you save time and money and ensure you don't leave any working hours accidentally unbilled.
Why is time tracking essential for freelancers?
Time tracking is simply the act of keeping track of time spent on different tasks. For freelancers, time tracking is crucial for two reasons:
It helps you

stay productive

and

efficient

.

It

enables you to

submit accurate invoices

by proving your time on a project.
Time tracking is essential for any freelancer looking to increase earnings. Time tracking tools allow you to track your time down to the minute and see how much you should bill your clients for each project.  
What are the benefits of time tracking?
Time tracking can offer many benefits to freelancers. By recording your time on various tasks, you can better understand how long specific projects take you and where you spend most of your time.
This information helps you increase the price of your services and give clients an accurate estimate of how long a project will take. Additionally, time tracking enables you to identify patterns in your work, allowing you to work more efficiently.
Finally, time tracking can be a valuable tool in combating procrastination, as it can help you see where your time is actually going. This way, you will get more motivated to work on a particular project, knowing a similar one didn't take much of your time. Ultimately, you will solve your time management issues and get more control over your business and private time. 
If you're not using a time tracking tool, you're likely underestimating the time you spend on tasks. It can lead to pretty big issues, like not getting paid what you're worth or unexpectedly going over budget.
Time Doctor vs. RescueTime: a general overview 
There are many time tracking tools on the market, but they all have different features. Some are better for people who need to track specific tasks, while others are good for general time tracking and invoicing. It's important to find the right tool for you and your workflow, so don't be afraid to test different ones until you find the one that best suits your needs. 
We have chosen Time Doctor and RescueTime as two commonly used time tracking tools for our comprehensive review, which we will compare with our Timing app. Before you make your decision, let's find out what each solution has to offer.
Time Doctor: Track time spent on your projects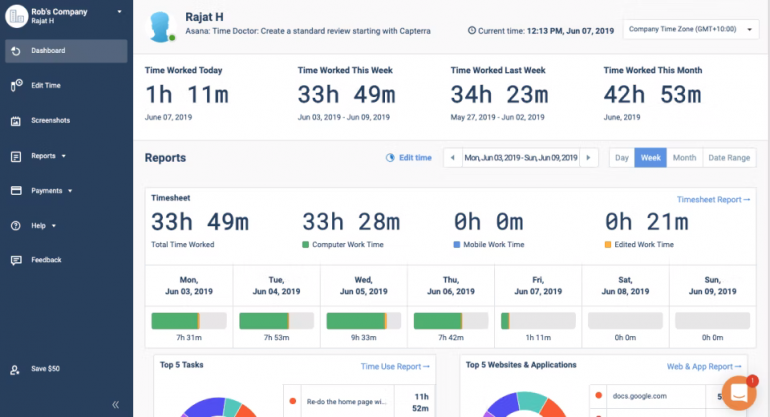 Image source: capterra.com 
Time Doctor is a software application created for teams aiming at higher efficiency. However, you can use it as an individual freelancer. It offers you a time tracking solution with integrated detailed reports.
Any freelancer tech stack should include this type of project management tool because it provides features for project tracking, budget measuring and tracking your overall productivity.
Time Doctor features
You can easily track the time spent on particular applications, websites and documents. What is more, this tool is helpful for the payroll time tracking aspect. This way, you can track how many hours you have worked on a particular project and bill accordingly. 
Time Doctor reports 
Time Doctor allows you to access reports and statistics to effectively track time spent on tasks. For example, you can get a daily or a weekly report showing how you used the app during a specific period. It helps you gain insights into how you have spent time and where you should improve your workflow.
To improve your productivity, you will have to analyze different data about your working hours. What is more, you will not get enough information monitoring individual projects to create your improvement plan. Analyzing your entire work-related time will surely do the job.
Time Doctor subscription and free trial
When deciding which time tracking software to use for your work, pricing is crucial. Therefore, Time Doctor offers three distinct subscriptions, each tailored for small businesses but available for individuals as well.
The cheapest plan is called Basic and costs $7/month. This plan brings you access to all the important features this application offers. However, you can't perform individual application tracking or URL tracking. Therefore, the app won't detect whether you're working on Google Docs or scrolling on Facebook. It just knows that you are using a Google Chrome browser.  
To gain access to the latter features, you will have to opt for the Standard plan ($10/month). This subscription package also offers you the opportunity to integrate up to 64 different apps and systems within the Time Doctor software.
The most expensive subscription plan is Premium and costs $20/month for each user. This membership package offers you access to all the features available, including:
VIP customer support (priority)

Internet and Computer activity reports

Unlimited groups and data storage space
Fortunately, Time Doctor offers you the opportunity to try out all the essential features during the free trial. There is no free plan for Time Doctor.
RescueTime: Get to know your work habits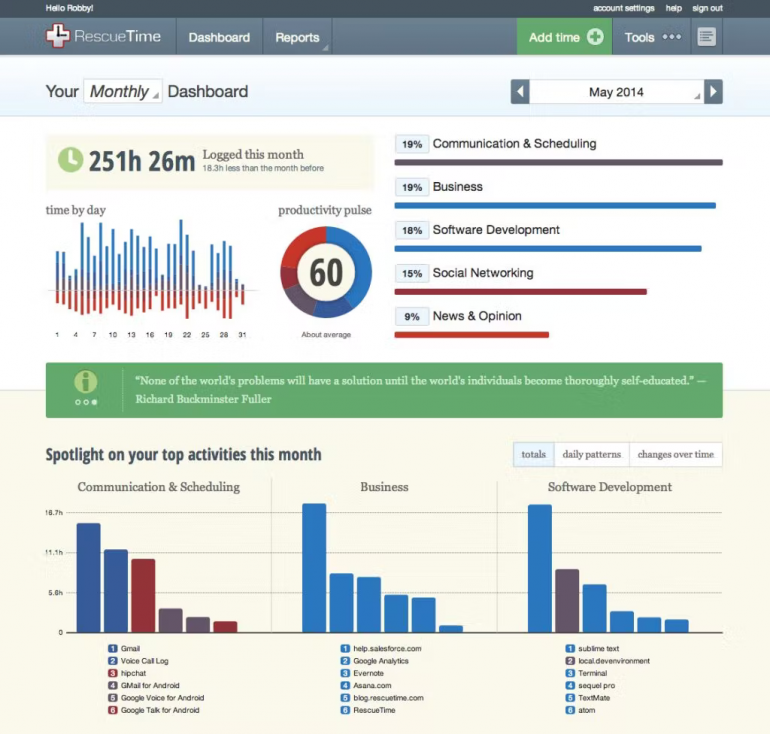 Image source: softwareadvice.co.uk
RescueTime was initially a time management software designed for individuals to increase productivity. However, considering all the features added during the past years, it has become a time-tracking solution. Therefore, freelancers can take advantage of this tool to stay focused, track their work hours and determine areas of improvement.
RescueTime features
Like Time Doctor, RescueTime lets you track time spent on different projects and activities. It offers a web-based application and a desktop app that helps you track each application, document and URL.
Furthermore, the Intelligent prompts feature offered by RescueTime helps you get healthy work habits by reminding you to take a break and stretch out after pre-determined intervals. For example, it may ping you after 3 hours of continuous work, so you do not forget about stretching your back or drinking the appropriate amount of water.
RescueTime reports 
RescueTime offers you the opportunity to access insights about your work hours. This way, you can determine areas of improvement and time-consuming tasks that you can outsource or automate.
However, you might not bill clients properly when using this tool. The app lets you generate reports but doesn't offer comprehensive data that helps you create accurate invoices and get paid for your working hours.
Yet, it is a better alternative to using online timesheets that you need to update manually. When it comes to tracking time and managing your workload, it is crucial to automate as many activities as possible to minimize the risk of human error.
RescueTime subscription and free trial
RescueTime does not provide much information about the pricing packages. However, they claim the cheapest package starts at $12/month or $6.50 when billed annually.
A couple of months ago, freelancers could obtain a free plan on RescueTime. Yet, as everything is a business, the free plan has disappeared and was quickly overcome by paid subscriptions.
Time Doctor vs RescueTime: How they compare
Even though Time Doctor and RescueTime are two very similar tools, they offer slightly different experiences. Continue reading to find out more. 
Time Doctor vs RescueTime: Time tracking features
Both applications offer you automatic and manual time tracking as their core features.
RescueTime is better for individuals, while Time Doctor is best suited for teams. RescueTime can track time spent on projects, but it isn't easy to get accurate data for invoicing, as it doesn't track individual tasks or breaks. It tracks only the overall teams' performance and, as such, isn't employee monitoring software. Also, RescueTime gives your team members privacy as no one can see their data, including managers. 
On the other hand, Time Doctor tracks individual tasks accurately so you can use data to create timesheets for payroll purposes. It also allows team members to define daily priorities and track their time on particular tasks. This data is visible in reports that managers can view and use for their needs.
Time Doctor vs RescueTime: Reports and statistics
The main difference is in the reporting feature. Time Doctor offers up to seven different report types about your work habits. RescueTime, on the other hand, limits the report availability to only three types.
Time Doctor vs RescueTime: Platforms and integrations
Time Doctor shows better OS compatibility than RescueTime because it lets users install the app even on Linux devices. Also, you can integrate plenty of other apps with Time Doctor and better track the time you spend on your tasks than with RescueTime. 
Time Doctor vs RescueTime: Pricing
When it comes to pricing, the two apps are very similar. Both offer free trials to better understand the available features before deciding which one to use. Both tools provide annual billing, allowing you to get a discount based on the 12-month subscription. In terms of costs, Time Doctor has higher pricing plans.
Time Doctor vs RescueTime: Support
Both tools offer 24/7 support for all the clients, but RescueTime has had some issues lately regarding customer service. For example, finding the appropriate solution for a complex customer problem may take up to 48 hours.
Moreover, both tools provide comprehensive knowledge databases that help users understand how each feature works. It is helpful for people who are not tech enthusiasts and need more information to use these tools properly. 
Time Doctor vs RescueTime: Conclusion
To put everything in a nutshell, the Time Doctor vs RescueTime battle doesn't have a clear winner. Each tool is useful for its purpose while having some drawbacks here and there. It all depends on what exactly you are going to use them for. If you want to get your productivity even higher, here is a Time Doctor and RescueTime alternative for you.
Time Doctor vs RescueTime: Timing as an alternative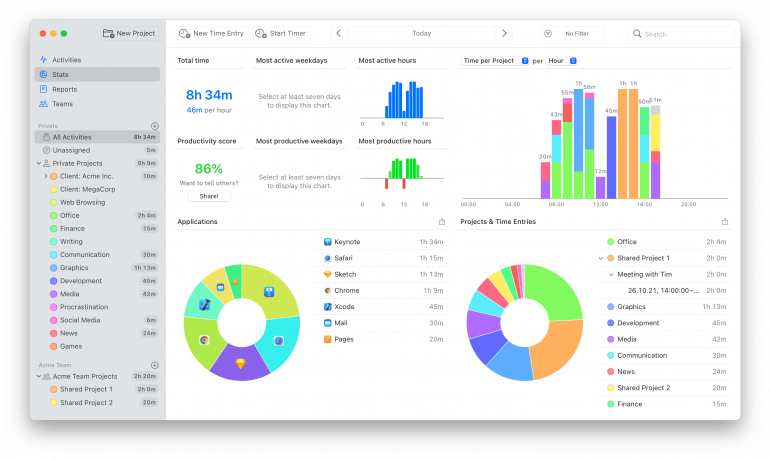 Time Doctor and RescueTime are some of the most commonly used tools, but plenty of alternatives perform just as well (or even better). Our time tracking tool is called Timing. It brings an intelligent automatic time tracking solution to the fingertips of any Mac user.
If you use a manual time tracking tool, think about how many times you forgot to start or stop a timer? Exactly. Each work session that remains untracked equals lost money. If you are a busy Mac user who wants to become more productive and efficient, our app Timing is undoubtedly a tool to consider.
Automatic time tracking (user privacy included)
Timing helps you track your time by automatically recording how much time you spent on every app, document and website. This way, you can focus more on what you have to do and stress less about billing errors. Our tool monitors the window title and the URL of the app you are currently working in and tracks the time you spend accordingly, down to the second. 
We know that user privacy is one of the essential topics in 2022, so Timing puts you in full control of your data. If you don't sign up for a sync account, tracking data never leaves your Mac. And even when you do use our optional cloud functionality, your data is well-protected and will never be sold to anyone.
Learn more about your work habits with reports
With Timing, you can generate reports that will show you valuable information about your work. Besides offering you the opportunity to improve your efficiency, our app will help you generate a report that shows exactly how much you have worked on a specific project and bill your clients accordingly.
Available pricing plans
Even though using a free time tracker may sound tempting, you should always be aware of the pros and cons of such software. Timing is a premium solution for Mac users. It does not offer a free plan, but you get a higher-quality product and the assurance that your data stays private in return. Remember, if you aren't paying for something, there probably are trade-offs involved, e.g., in terms of quality or privacy.
With Timing, you have three different subscription packages you can choose from. The most affordable one is called Professional and provides access to the automatic time tracking feature. The good news is it only costs $6.40 per month with annual billing.
If you are an agency owner or work in a team, the Connect plan might be the best option for you. It lets you create teams, share projects with colleagues, and view each other's times using the web app. It costs $11.90 per month per user with annual billing.
By far, the most popular pricing plan is called Expert. In addition to all the functionality from the Professional tier, it offers additional time-saving features such as automatic call tracking and the option to add time entries for calendar events quickly. It only costs $8.90 per month.
If you are unsure which pricing package to choose, you might opt for the 14-day free trial. It comes with no strings attached; you don't need to provide an email address or credit card upfront, and you won't be billed automatically when the trial ends.
Time Doctor vs RescueTime vs Timing: A short recap
When it comes to deciding which tool to include in your tech stack, it is crucial to assess all features according to your needs. We tried to make things easier for you by creating a general overview of each tool and below you can find a quick recap of the most important information in this article. 
Time Doctor

RescueTime

Timing App

Time Tracking Functions

Automatic & Manual

Automatic & Manual

Automatic & Manual

Privacy

Screenshot based

Screenshot based

Non-intrusive time tracking & locally-stored information

Platforms

Mac, Windows, Android, Linux

Mac, Windows, Android

Mac, Web

Support

24/7 Live Chat

24/7 (up to 48 hours for complex issues)

Knowledge base, FAQ, email support

Pricing 

starting from

$7/month

$6.50/month billed annually

$6.40/month billed annually
Why choose Timing?
Have you ever thought that ineffective time trackers waste your money? Well, picture this: you work on a client's project for around 20 hours. Suddenly, you remember you forgot to start the timer for the last part of the project. Now you're stuck with unbillable hours that will not bring you any money for your effort.
If you have already lost money, you should do something about your current, ineffective time tracking solution. You may be wondering how to bill customers correctly? 
The answer is simple: download the Timing app and start saving time today!