RescueTime vs TimeCamp vs Timing: Which Time Tracking App is Better for Small Teams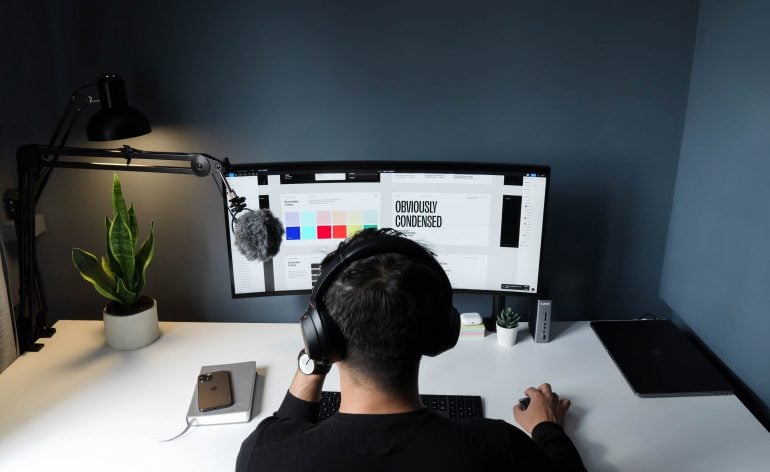 Employee productivity is essential for any successful business, and in the 21st century, there's a myriad of different distractions that can affect it negatively. The main culprits here are – of course – social media and the Internet. An average American spends around 1300 hours a year on Facebook, Instagram and TikTok. Long story short – wasting time on various portals when your team is supposed to be working can be a severe problem, and it can be pretty hard to pinpoint and identify by yourself.
From a manager's perspective, knowing precisely how much time your team members spend on different parts of a project is incredibly valuable, especially in the case of smaller teams, where each person's contribution matters much more. It's also crucial to know how their workload affects their work-life balance and if it has a negative impact on their personal lives. Thankfully, there's a category of software that helps you with all that and more – time tracking tools. 
While improving the Timing app, our intelligent automatic time tracking solution, and a premium product for Mac users, we did extensive research to compare our product with other tools on the market. We learned that there are quite a few different solutions out there, but RescueTime, TimeCamp, and our Timing seem to be some of the most interesting right now. 
In this blog post, we will cover and compare each of these three tools, similar at first glance but with a different set of features and approaches to pricing. So, if you want to learn how they stack up against each other, our in-depth RescueTime vs TimeCamp vs Timing comparison is an excellent place to start!
In the meantime, if you are new to the time tracking tools, we strongly recommend you sign up for a 14-day free trial and download our Timing app to test all available features. The process is fast and easy, and it takes only a minute to set everything up.
RescueTime vs TimeCamp vs Timing: a general overview
Timing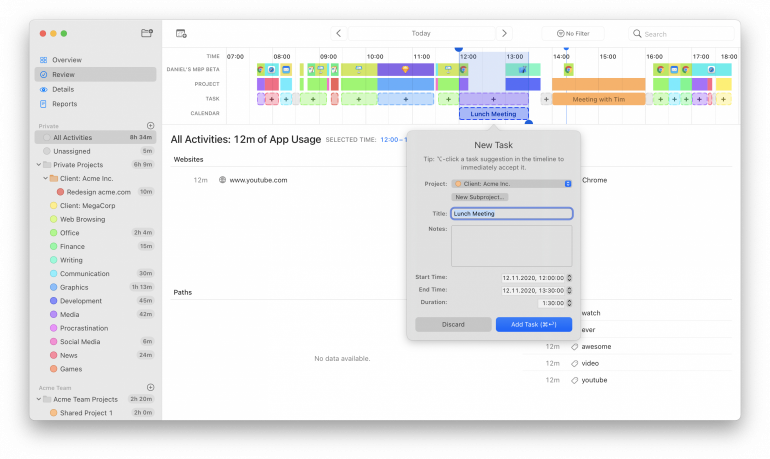 Our Timing is a premium time tracking tool for Mac users. The Timing app is easy to use and also highly configurable. Our solution automatically tracks your work and lets you categorize it into projects. You can also set up rules to automate these assignments. Thanks to that, it's much easier to optimize your time tracking.
The application also monitors your activity and stops tracking if it detects you're not at your desk – it can even ask you what you did once you get back. You can input the entry manually via the Timeline to ensure no time is lost or unaccounted for.
You can visualize the results and get very detailed reports. You can also generate a productivity score – to see how well you use your time – and the application gives you the ability to specify which projects you consider important. There's also an option to sync the work between different Mac devices.
Finally, it's also worth noting that our design philosophy takes users' privacy into account. Timing stores all your data locally on your Mac unless you activate the built-in sync between your Mac devices, and all sync data is encrypted. Private browser tabs will automatically discard information, so it's safe to use incognito mode without fear of saving your activity during browsing sessions. And even when used in a team context, managers can only see the total duration recorded towards a project, but not which apps, documents or websites their team members used.
Want to improve productivity in your company? Download the Timing app and start tracking right away!
Timing features:
Team functionality

for sharing projects and times with colleagues

Automatic time tracking

It works in the background, so you don't need to start and stop timers manually

Inactive time tracking

Manual time entries

Call tracking

Complex reports

Privacy protection

Creating time entries for calendar events with a single click

Intuitive interface

Document-based tracking

Activity tracking

Calendar integration

Built-in sync between Mac devices

Web app

for tracking time on the go
How much does Timing cost?
Timing is a premium product, and therefore, we don't offer a free version. There is, however, a 14-day trial and monthly or annual subscription. Here are the costs of our pricing plans:
Professional

– $8.90 per user per month or $6.40 per month, billed annually

Expert

–$11.90 per user per month or $8.90 per month, billed annually

Connect

–$16.90 per user per month or $11.90 per month, billed annually
Timing platforms:
Timing is primarily a native Mac application for tracking your computer usage. It also offers a mobile-ready web app that can be used for tracking on the go.
Timing support:
Timing offers an extensive knowledge base and a FAQ. You can also reach us via the contact form on our website. 
Timing pros:
You can enjoy automated task categorization that saves your time or categorize your tasks manually if you need more control in your everyday work.

It tracks your time automatically and works seamlessly in the background, letting you focus on work without having to stop and start timers yourself.

The manual time tracking feature lets you review your time when you want to. It gives you control and allows you to add or change details or even add the time you spent away from a computer, for example, working offline.

Time tracking for projects that involve both online and offline tasks

Well-designed, simple and clean interface

An interactive, colored timeline that gives you an overview of your work activities 

Very accurate tracking that helps you understand team capacity, manage projects and resources and improve efficiencies and profitability. 

A privacy-friendly design that respects team members' privacy while still providing important information to the manager.

Work synchronization between different Mac devices

Automatic tracking means no time is accidentally left unbilled.

Detailed and easy-to-understand reports you can use for invoices

Insightful data about your performance and habits help keep your work more structured and organized. 

No need to download an actual mobile app, thanks to the web app

Very fast due to being a native macOS app

Regular updates

A comprehensive knowledge base helps you find answers to most questions you might have. If you still need help, you can contact support by email to receive additional information.
Timing cons:
The desktop app is available only for macOS, not Windows

No native mobile applications – only the web app you can install on your phone
Timing reviews:
Timing currently has a 4.8 score on Capterra (based on 140 reviews).
       2. RescueTime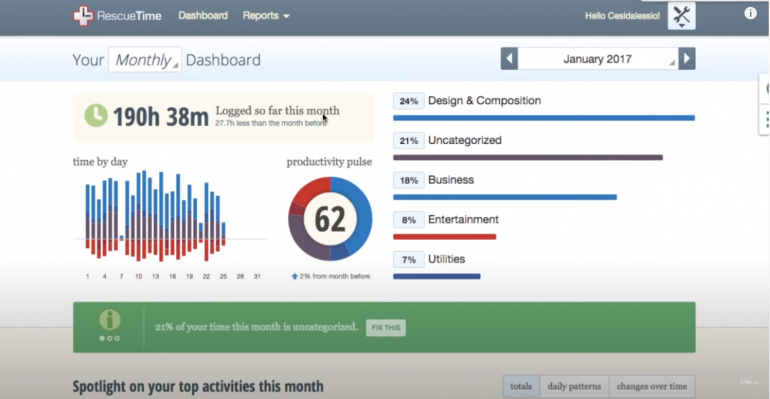 Source: YouTube.
RescueTime is probably the most well-known solution in our comparison. It's been around for a good while and has a large user base. Many people don't even consider any alternatives because it fits their needs just fine.
The pricing is affordable, the free version offers just enough features, and the basic functionality is respectable. The app does what it's supposed to, though it may sometimes frustrate the user with outdated design and interface. For example, to see how much time you spent on different apps and URLs, you have to dig through the menu – for whatever reason, the app doesn't present information on the dashboard. 
RescueTime also isn't the best when it comes to customization options (tracking rules, reports, and so on). For example, you can use keywords more broadly here. You don't exactly assign them, but you can search your work through them to see how much of what you did in a given timeframe connects to a specific phrase. The program generates generalized data that is hard to use for billing purposes.
In short, if you want to precisely adjust the tool to your needs or require precise information on different projects and tasks, you'll probably get better mileage with another product. However, many less demanding users who want the essential time tracking features will find the software does a decent job.
RescueTime features:
Activity dashboard

Alerts/notifications

Automatic time capture

Employee database

Idle time monitoring

Mobile access

Screen activity recording

Time tracking

Timesheet management
How much does RescueTime cost?
The pricing information on the RescueTime website is limited. RescueTime offers two plans. One is free, and the other starts at $12/month or $6.50 when billed annually. There's also a free trial of the paid version.
RescueTime platforms:
RescueTime has a web app and clients for Windows, Macs, Linux-based PCs and Android devices.
RescueTime support:
RescueTime has a solid knowledge base that can help you with various problems. You can also contact the company via phone or e-mail. 
RescueTime pros:
You can use it for free

It tracks time on apps and websites

It works in the background and doesn't have to be turned on or off manually

The Focus Time function gives you the option to automatically block all sites listed as distracting once you spend too much time on them

Reports help you keep a finger on your productivity
RescueTime cons:
Lacks polish in some areas

The interface is outdated

It lacks customization options

Default options should be better

No version for iPhones

The data is hard to use for billing clients
RescueTime reviews:
RescueTime currently has a 4.6 score on Capterra (based on 125 reviews).
     3. TimeCamp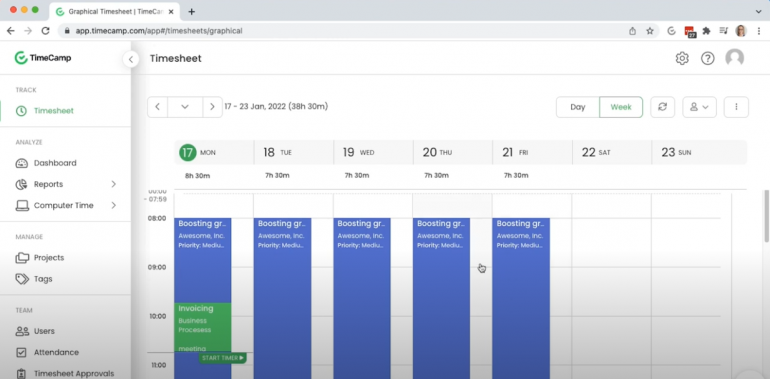 Source: YouTube.
TimeCamp is also an interesting option. Like the other two, it's an automated solution that you can use to easily track time. It seems to be geared more towards teams than freelancers and works well alongside tools such as Trello and Slack. There's built-in integrations with many business solutions. The number of features and customization options is also respectable, but they sometimes may require a bit of time to set up.
One very nice thing about TimeCamp is the number of platforms you can use it on – it supports pretty much any modern device that you can find in a typical company. However, there's also a downside that might be a consequence of that – having so many different versions means the developers can't focus on a single one. Many users complain about blips, bugs, problems with logging in, stability issues and similar.
The good news is that the free plan is very generous, so you have as much time as you want to test the solution (solo or in a team) and see whether it suits your needs.
TimeCamp features:
Activity dashboard

Activity tracking

Approval process control

Automatic time capture

Billable & non-billable hours

Billing & invoicing

Calendar management

Collaboration tools

Contact database

Customizable invoices

Customizable templates

Hourly billing

Mobile access

Mobile time tracking

Multi-currency

Off-line time tracking

Idle detection
How much does TimeCamp cost?
TimeCamp has a free version. Also, it offers three paid plans with a 10% discount on the yearly subscription. The Basic plan costs $6.30/month, and the Pro plan costs $9/month when billed annually. You can get a customized offer for the Enterprise plan.
TimeCamp platforms:
TimeCamp is available as a web app, but it also supports Windows, macOS, and Linux operating systems clients. There are also Android and iOS apps.
TimeCamp support:
There's a help desk and a knowledge base. You can also reach the company by e-mail and a 24/7 chat. 
TimeCamp pros:
You can use it for free

Many reporting options

Solid interface

Good customization
TimeCamp cons:
Automatic tracking can be a bit hard and time-consuming to set up

Some users mention bugs and stability issues

The mobile version is a bit limited
TimeCamp reviews:
TimeCamp currently has a 4.7 score on Capterra (based on 545 reviews).
RescueTime vs TimeCamp vs Timing: Which time tracking tool should you choose?
While we were creating our tool, we researched extensively so that our product could be as good as possible. We compared these solutions to learn what our Timing does better and in what areas we can improve our vision. You can read our findings below.
RescueTime vs TimeCamp
RescueTime vs TimeCamp time tracking
Both apps track time automatically, and users don't report significant problems with the accuracy of either of the solutions. However, based on user reviews on popular sites such as TrustPilot, G2 and SoftwareAdvice, RescueTime seems to be the more stable and bug-free out of the two. 
RescueTime vs TimeCamp customization options
TimeCamp is more customizable because of the way it uses keywords. RescueTime allows you to search by keywords and see how much time spent during a project is connected to each keyword, showing a percentage value. 
But the solution doesn't allow you to set up the keywords manually. TimeCamp, on the other hand, provides you with that choice, and because of this, you can use it more effectively to track specific projects.
RescueTime vs TimeCamp interface
TimeCamp seems to have a cleaner interface out of the two, with the information being more readily available to the user.
RescueTime vs TimeCamp price
TimeCamp's cheapest paid plan is slightly less costly ($6.30 vs $6.50), and the solution also offers a free plan with unlimited users. RescueTime's free plan is more limited in nature.
RescueTime vs TimeCamp platforms
Both solutions support the Windows, macOS, and Linux operating systems and Android devices. However, TimeCamp also works on iOS phones and tablets.
RescueTime vs Timing
RescueTime vs Timing time tracking
Both apps track time accurately and automatically.
RescueTime vs Timing customization options
Timing is a better choice when you need to track your time on specific tasks. Thanks to its project and rules features, you can customize it in many ways. Timing offers more flexibility because you can do the categorization initially before you start tracking time or assign your activities via drag and drop, later on creating rules in the process.
RescueTime vs Timing interface
Timing has better visualization options – it presents more helpful information to the user. Also, data is easier to find because our app offers a more modern, cleaner interface.
RescueTime vs Timing price
RescueTime offers an affordable plan for what you get, as well as a free version. We don't provide a free plan, but you get a more in-depth experience with our premium product.
RescueTime vs Timing platforms
The Timing app works on Macs, and you can use it on your smartphone via a web app. RescueTime also has clients for the Windows and Linux operating systems and an app for Android phones – so it wins out when it comes to platform support.
Timing vs TimeCamp
Timing vs TimeCamp time tracking
Both apps track time accurately and automatically, but Timing seems to have fewer problems with stability and bugs.
Timing vs TimeCamp customization options 
Both apps offer extensive customization options and use keywords in similar ways. The difference is that Timing works without them and allows the user to add them retroactively, while TimeCamp requires you to set them up to start functioning at all. Because of this, Timing can be seen as the smarter and more flexible option out of the two.
Timing vs TimeCamp interface
Both apps have a clean, intuitive interface that makes them easy to use and offers helpful information to their users.
Timing vs TimeCamp price 
TimeCamp offers an attractive free version and has a cheaper paid plan. As a premium product, Timing is pricier but provides outstanding technical excellence.
Timing vs TimeCamp platforms
TimeCamp wins out when it comes to availability. The company offers dedicated apps for Windows, Linux, and macOS computers and Android and iOS devices. Timing is only available as a dedicated client on Macs, while it supports mobile devices via a web application.
RescueTime vs TimeCamp vs Timing: a general overview
To make things a bit easier for you, we made a general overview of the features and functions of each of the tools presented in our article.
Platforms
Pricing 

(starts at)

Free Option
Trial

Support

Timing

Mac, Web

$6.40/month with annual billing

No

14-day

Knowledge base, FAQ, contact form

RescueTime

Web, Mac, Windows, Linux, Android

$6.50/month with annual billing

Yes

14-day

Knowledge base, phone, e-mail

TimeCamp

Web, Mac, Windows, Linux, Android, iOS

$6.3/month with annual billing

Yes

14-day

Helpdesk, knowledge base, e-mail, 24/7 chat
Get more done in less time with a time tracking app
There are many advantages to using time tracking apps for individual users (such as freelancers) and companies (both bigger and smaller). These solutions can help you focus, increase productivity and keep bad work habits at bay. They're also an invaluable asset for project management and evaluating billable hours.
The key thing here is to know which solution to bet on. While RescueTime is probably the most recognizable brand among the three options presented in this article, the other apps have a lot to offer. If you want a premium product – one that'll help you save time with minimal effort required from your side – and are a Mac user, be sure to check out our Timing for Mac! It won't let you down for sure.