The 7 Best Time Tracking Tools for Freelancers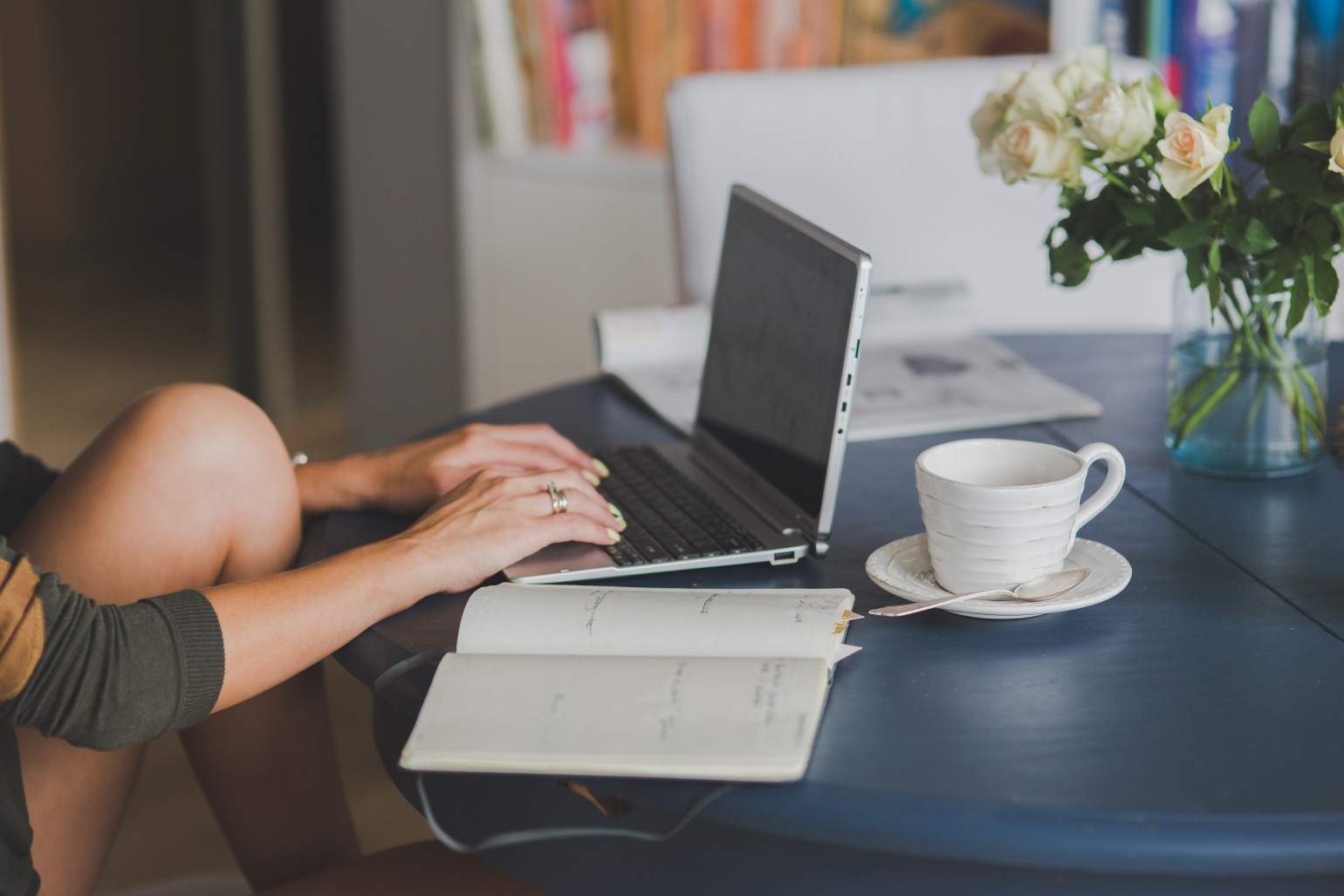 Any successful freelancer knows that time tracking is an absolutely critical part of finishing tasks and projects on time. Though you can easily try to track time by hand–taking manual notes on an app, or even with old-fashioned pen and paper–you're a lot more likely to succeed with time tracking software. Click To Tweet
In theory, time tracking software helps you to succeed at getting all the juicy benefits out of tracking time, like successfully completing tasks and projects on time, managing your work hours well, and gaining insights into your work life that ultimately help you to become a better, more lucrative freelancer.
In the following article, we'll take a look at the seven best time tracking tools to help you get the most out of time tracking.
1.  Timing
Timing is an easy-to-use time tracking software that automatically records your work hours and minutes in real time to give you in-depth insight into how you're spending work hours. Here are three exceptional features of Timing:
Visual Overview
If you're more of a visual person, Timing might be the best time tracking tool for you. Key features include:
Pie charts and graphs of how you're portioning out time on different apps and systems. On your Timing "Overview" tab, you'll be able to view a handy pie chart that displays time spent on various applications (such as Chrome, Excel, or Word), and an additional pie chart that displays time spent on various projects and tasks. This will depend on your categorization abilities, explained below. You'll also be able to view your total working time for the day (or week, or month, or year), a productivity score, bar graphs that indicate how you're spending your time on an hour-to-hour basis and how productive/active you are on an hour-to-hour basis. Of course, everything is nicely color-coded to give you a quick, easy-to-understand representation of your working hours.
A calendar timeline that displays projects (and inactive hours and minutes) in helpful, color-coded blocked segments according to client or project. You can view this calendar timeline under your "Review" tab, where you can also retroactively categorize your time spent during a certain block of time and even sync your personal calendar (along with appointments and meetings) to your timeline. This is also where you'll categorize your work hours according to your projects or clients.
Customizable color coding so that you can choose how you'd like your time to be displayed across the multiple visual displays–whether you love neon pink, turquoise, lime green, burgundy, or forest green.
The result? You get a visual project management tool that not only helps you track your time usage and productivity, but helps to organize your work…which leads us to the next powerful feature: advanced categorization.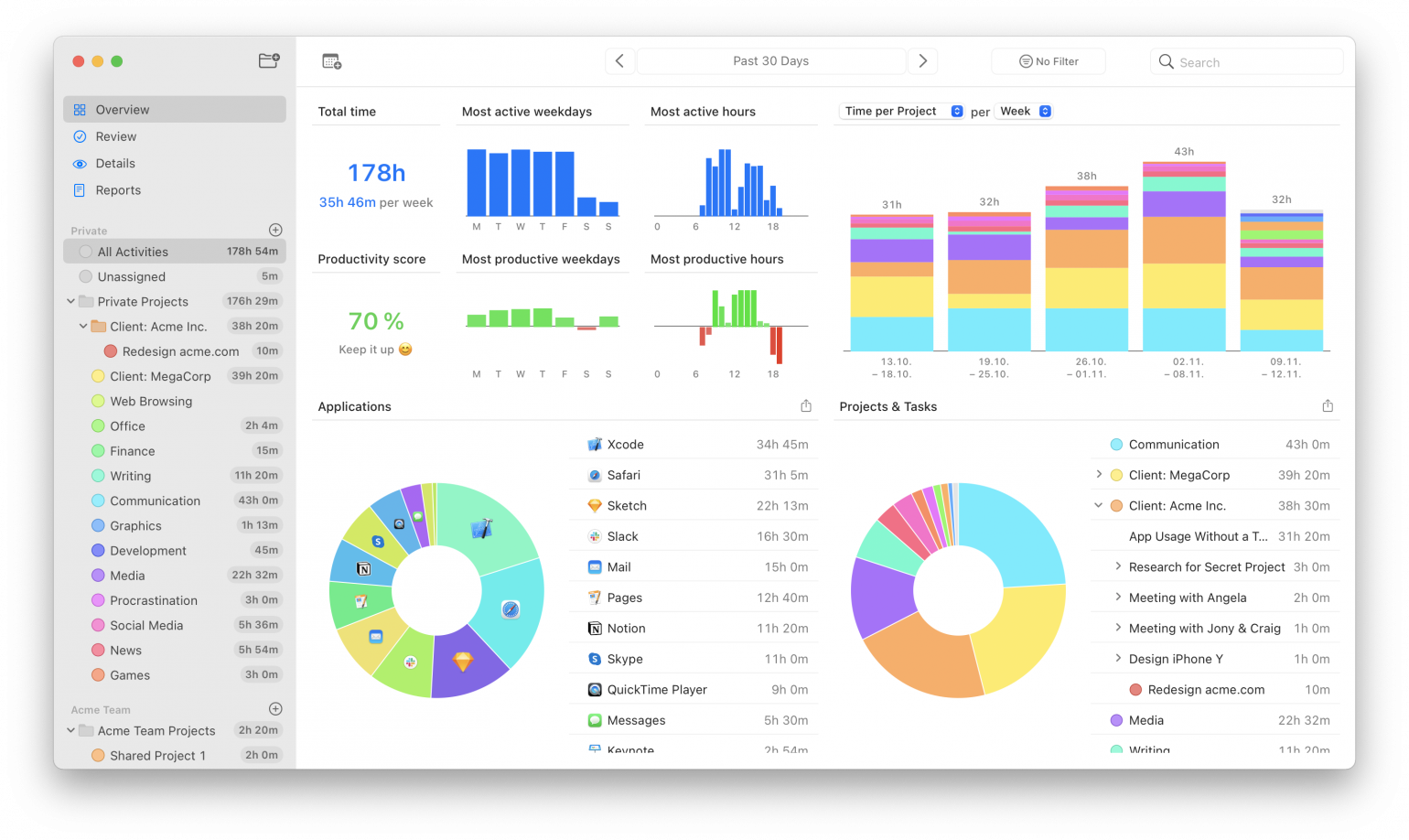 Advanced Categorization
Next, Timing gives you the ability to automate detailed categorization of various clients and projects. To help Timing accurately categorize your time usage, you have a couple of options:
You can go into your Review tab in Timing and create a new Project (or Client), choosing both Keywords and Rules to help Timing automatically categorize your work hours.
Or you can go into your Review tab and then ⌥-drag a website, application, keyword, or "path" onto a Project/Client (displayed on the left-hand sidebar) to automatically create a Rule moving forward.
Either way, by determining specific keyword paths you help Timing do the heavy lifting of time tracking for you. Again, this makes project management and time tracking even easier–and more accurate.
Detailed Reporting
Timing also gives you the ability to generate detailed reporting based on your automatic time tracking results. Under your "Reports" tab you can adjust settings exactly to your liking for separate reports, so that you can send clients tailored accounts of your projects and tasks. These reports can not only be used for invoicing purposes, but as leverage for showing clients how much time certain tasks and projects require (and as a result, how much you're able to charge).
Finally, you can use Timing on your mobile device so that you can track time on the go if needed–perfect for freelancers who work on their phones frequently, or who are holding in-person meetings.
If you're interested in trying Timing free for 14 days, click here.
2.  Harvest
Harvest is a time tracking tool that's often used for tracking work hours at larger companies and organizations. It's great for simple billing purposes–allowing different team members or employees to input their hours for specific clients or accounts–and for more complex needs, such as managing budget.
Here are several key features of Harvest as a time tracking software:
Time and expenses allow you to integrate your time usage with your expenses, allowing for better budgeting overall. You can even log expenses by simply taking a picture of your receipt, inputting additional details, and saving that data to your Harvest account.
Mobile functionality means that you can use Harvest on your smartphone if necessary–using apps for both the iPhone and Android.
Customizable time-tracking allows you to either retroactively input time, set timers, or schedule projects and tasks ahead of time. Either way, Harvest's user interface is easy to use…and easy to teach to new employees or team members.
The bottom line? Harvest is great for project managers who want to ensure that teams are staying on track in terms of time and budget, and for employees who need to deliver time tracking reports to leadership.
That being said, Harvest doesn't provide the same customizable, automated abilities to track time as other time tracking tools–meaning it may be less-than-ideal for freelancers who want immediate, accurate, and detailed insight into how they're actually spending their work hours and minutes.
3.  Toggl
Like Harvest, Toggl is a time tracking software that's frequently used in companies and agencies, helping leaders to manage their team members' time well. One of the strengths of Toggl is that it has plenty of options for tracking time–including background tracking, calendar integration, autotracking, and more.
Here are key features of Toggl:
Versatility. Toggl promises to help you track your time in a variety of ways, on a variety of platforms. You can set a manual timer or automatically track your time usage on any application or tool that you use for more than 10 seconds. Or, you can turn calendar events into new time entries. And, Toggl offers its platform on desktop, web, and mobile apps, giving you flexibility on how you'd like to track your work hours and keep track of projects and tasks.
Integrations. Toggle offers a range of app integrations–great for professionals who work across a number of platforms and applications.
Reporting. Toggl's reporting features allows users to generate a range of reports, including summary, weekly, and detailed reporting.
Project Dashboard. The Project Dashboard is ideal for managers who want to get a bigger-picture view of how projects are progressing in terms of time usage, budget, and potential scope creep.
Billable Rates. One of the most useful features of Toggl is that it allows managers to track profitability by comparing Billable Rates to project activity.
Toggl also offers scheduling capabilities that allow managers to send email notifications, perform time audits, or ping team members for required fields.
While Toggl is certainly a nifty tool (with a mobile app to boot), it might not be the best choice for freelancers who want a simple, easy-to-use interface that allows them to gain powerful insight into productivity while managing their personal clients and accounts well.
4.  RescueTime
Like Timing, RescueTime is an automatic time tracking app. It automatically logs your work hours and minutes, exports time tracking reports, and produces helpful visualizations of what you've been working on. Also like Timing, RescueTime can give you helpful insight into your most active hours–key for freelancers who need insight into how focused they've remained on work all day…or how distracted they've been.
Here are some additional features of RescueTime:
Distraction blocking that allows you to "turn off" specific distractions–such as YouTube or Facebook–in order to get more done, faster.
Notifications that ping you in real time, letting you know how productively you're working and where you might improve and get back on track (e.g. "You've spent more than 2 hours on Distracting Time").
A related online course, the "Productivity Challenge," which promises to teach you how to be more productive and focused at work. The secret to the course is using real data and measurable metrics to help you improve your working habits–and ultimately, to achieve a better work-life balance. (Note that the Productivity Challenge represents an additional cost.)
The downside to RescueTime is that it's not quite as customizable as Timing–giving you a little less control as to how your time tracking tool accounts for things like productivity rating and categorization. RescueTime may be fine for beginner time-trackers, but it doesn't provide the same high-level functionality as Timing.
5.  Qbserve
Qbserve has identified the same issue that Timing and RescueTime have tackled: time clocks and start and stop and manual timers don't always work for accurate time-tracking. Susceptible both to human error (like forgetting to set the timer) and to inaccuracies (like logging "distracted time" as working time), timers fall short of giving users the accurate insight they need.
Automatic time tracking, however, offers a far richer, more accurate level of insight and project management for freelancers who want to keep track of their various clients and projects. And like Timing and RescueTime, Qbserve has capitalized on this fact and created a time-tracking software for logging work hours without manual input or intervention.
That being said, Qbserve offers a few useful features:
Time tracking for websites, applications, documents, and more–providing detailed insight as to how you've been spending your work hours.
Real time feedback that gives you a productivity score (similar to Timing) and pings you with customizable notifications for keeping you on track and letting you know when you've accomplished your goals.
Reports and timesheets that give you customizable insight into your time usage–as well as invoicing in various formats (and 18 languages).
Customizable rules for automating detailed time tracking–not unlike Timing's customizable rules for Projects.
While Qbserve does have a lot of strong features that make it a good choice for freelancers, its "overview" is a little simplistic, lacking some of the more interesting visualization charts that Timing offers.
6.  Timely
Timely is another automatic time tracking app, designed to make time tracking easier and more accurate. Timely is one of the more unique options for tracking time, as it relies on artificial intelligence to help generate detailed reporting.
Here's how it works:
Timely automatically tracks your work hours in detail–including applications, websites, meetings, and even GPS locations of how and where you've spent your work hours.
Then, Timely turns your time tracking into automated timesheets with artificial intelligence. Over time, the A.I. "learns" your habits and time usage so that it's able to increase automation and even make educated suggestions on time usage.
Timely also offers a Team Management solution for managers and leaders who want to utilize the time tracking software for managing teams and likewise, a Project Time Management solution for getting an organized overview of various projects.
Timely may be one of the more unique options for tracking time, with some pretty nifty features, but it isn't necessarily easy to use or understand. Its user interface can feel a little complicated to navigate initially, and it takes some time to understand how it's logging work hours. Unless freelancers are willing to be patient with onboarding, Timely may not be the best option.
7.  Hubstaff
Hubstaff falls more into the category of Harvest and Toggl, as a time tracking software and project management hybrid. It promises easy onboarding and improved insight into productivity, and provides an app for use across multiple devices–making it a great option for remote teams.
Here are a few cool features of Hubstaff:
Payment features, including payroll software, online timesheets, invoicing, and more.
Team management features that include employee monitoring, geofencing, and even GPS tracking–perfect for field teams, such as those in construction, landscaping, real estate, and more.
Budgeting features for ensuring that employees stay on budget and within scope.
Scheduling to help managers run their teams and set schedules.
Hubstaff's specialty is for leaders of teams who work remotely. It offers a suite of features and functionalities that can help managers monitor team members who are working on various projects and tasks–all from a distance. That being said, Hubstaff may be a great option for those who are working on teams. But for freelancers who want an easy-to-use interface that will also offer them rich insight into how they're spending work hours, it's not an ideal solution.
The Verdict
Ultimately, the kind of time tracking tool you choose should depend on your specific needs as a professional.
When looking through features and functionality, think through what you actually need and use, and how you'd like those insights delivered. Do you want an easy-to-use interface? Detailed insights into how you're actually spending your time? Budgeting tools? The ability to generate reports for invoicing purposes? Tracking tools for teams that you manage?
As you've just discovered, you'll most likely be able to find a tool that's just about a perfect fit.
And if you're reluctant to make a commitment, you can always try a free trial–most time tracking software offers a trial period so that you can test out the features and functionality, and make sure it's a perfect fit for you (and if you really want to get sophisticated, you can try several trials at the same time to compare how they log your working hours).
Regardless of which time tracking tool selected, you'll want to commit to time tracking software. The insight it offers is invaluable toward boosting your productivity, your focus, and ultimately, your income. Time tracking software is especially critical for freelancers–as productivity and focus are "non-negotiables" for those with fluctuating incomes and project loads.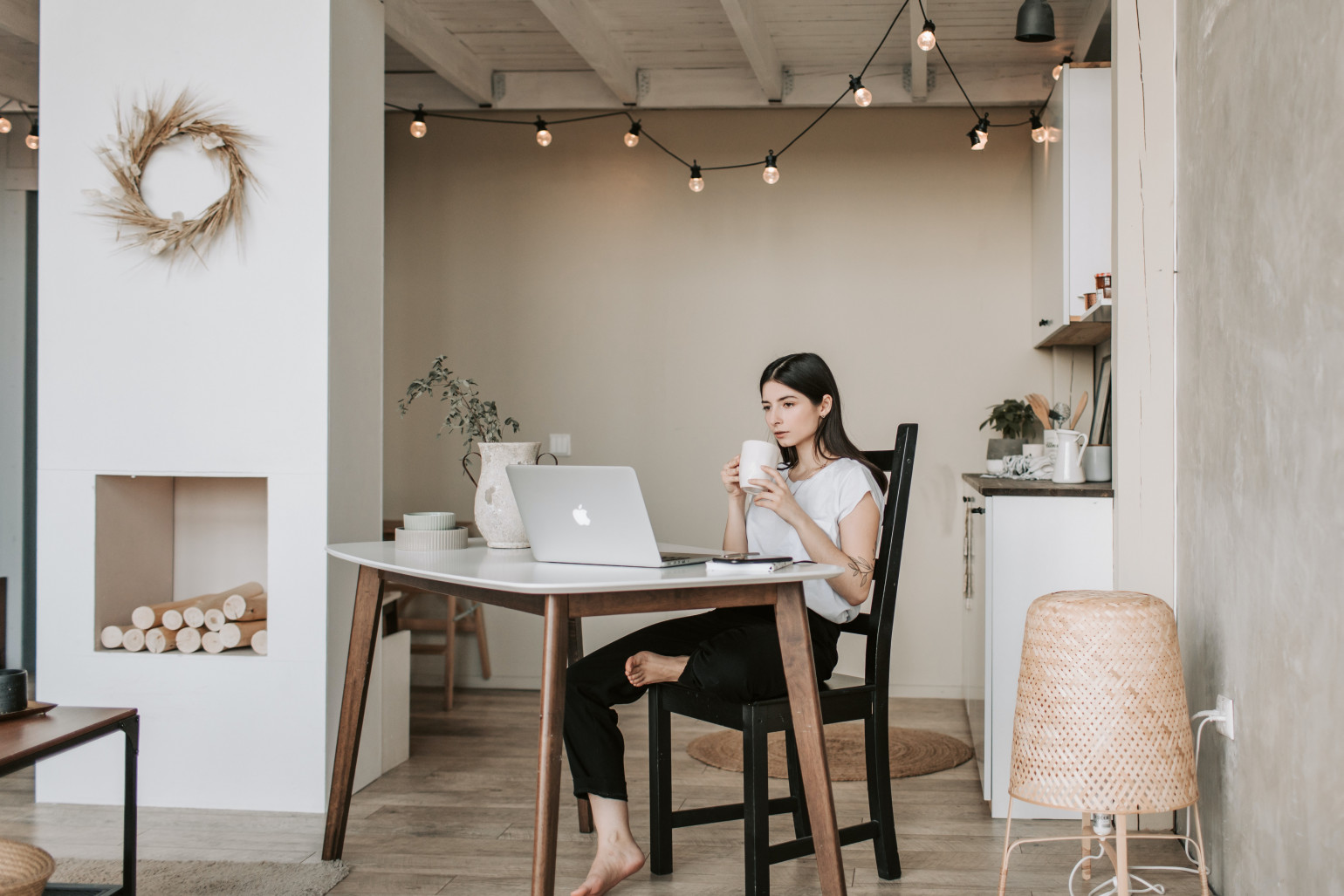 Try Timing for Free for 14 Days
As mentioned above, Timing is an automatic time-tracking tool that offers strategic insights into how you're spending working hours and minutes. Ideal for freelancers and solopreneurs, Timing can ultimately help you become a more productive and efficient professional by helping to improve your time management skills and gain greater insight into potential areas of distraction as well as "flow."
Again, Timing's intuitive, user-friendly time tracking platform includes:
A detailed overview of your time usage, adjustable to the time frame of your liking (perfect if you want to review your time usage over a week, a month, a quarter, or even a year).
Calendar integrations to help you sync your time usage with your scheduled events and meetings.
Multiple options for inputting time, including automatic time tracking and retroactive input.
Easy-to-understand insights, displayed graphically for quick at-a-glance knowledge of what's really going on in your work day.
Reporting you can adjust for various clients.
And more…
If you'd like to try out an easy to use, insight-producing time tracking tool, give Timing a free try for 14 days here.