Timing 2019.2: Web App & API, Archiving Projects, and More!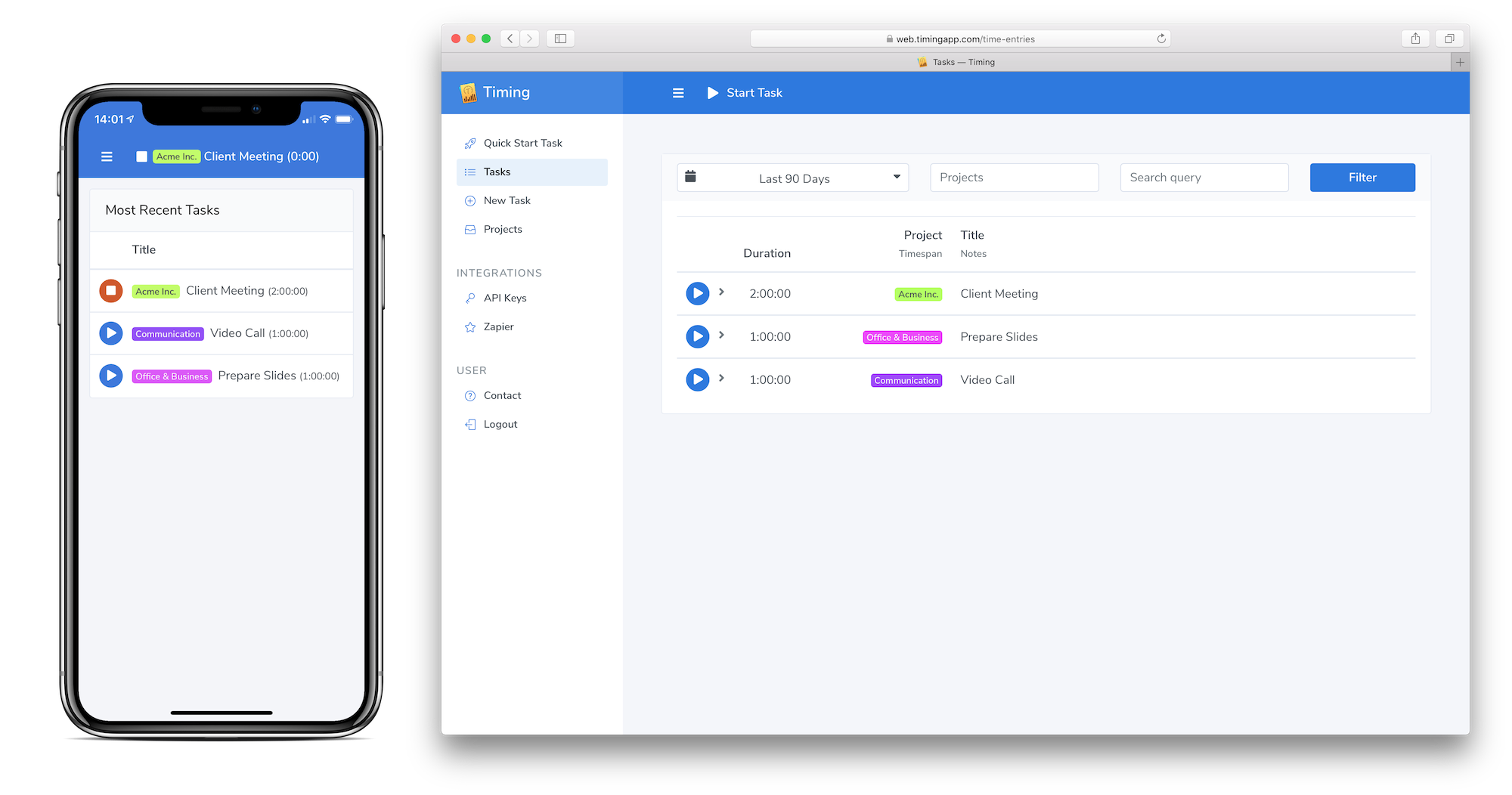 We are happy to announce the release of Timing 2019.2!
The new version includes:
Web/iPhone app: You can now track time on the go via web.timingapp.com, which is fully phone-optimized.
Siri shortcuts: We have created a few Siri shortcuts to quickly start and stop tasks from your iPhone.
Web API and Zapier integration: These let you integrate Timing with other services.
Archiving projects: You can now archive projects, which hides them in various parts of the interface and disables their rules. Please note that this feature requires Timing Professional or higher.
Batch-editing task titles: Double-click a task title in Timing to quickly edit all tasks with the same title rather than just one.
Stop tasks started on other devices: If you e.g. start a task on your iMac, that task will also show up as running on your MacBook, letting you quickly edit or stop it from there.
Read on for more details on all of the new features!
Web App
The new web app lets you access your Timing projects and tasks from anywhere. In particular, it works great on your phone, letting you start and stop tasks on the go. Simply visit web.timingapp.com and start tracking time from anywhere!
And if you prefer a more "native" feel, simply press the "Share" button in Safari, then tap "Add to Home Screen". This will create a home screen icon for the Timing web app and gives it a more streamlined UI without the browser chrome getting in the way.
Web API
With the web app in place, we now also offer a Web API for Timing Expert customers. Via the API, you can build apps and scripts that use Timing data — creating, reading and deleting projects and tasks is all possible. This should make it much easier to integrate Timing with your teams' project management and billing systems. Make sure to check out the Timing API documentation to learn how you can use the Timing API with your projects.
Siri Shortcuts
We have also created a few Siri Shortcuts to demonstrate what you can do with the Web API. Simply tap the following links on your iPhone to install the corresponding shortcut, then insert your Timing API key:
Zapier Integration
We haven't stopped at building a web app, API and shortcuts for you! You can now also use Zapier to integrate with your favorite third-party services like Google Sheets, Toggl, Harvest, Quickbooks, and many more!
Here are some examples for Zaps you can create with Timing:
Export tasks to Freshbooks for billing.
Connect a "New Time Entry" Timing trigger with a "New Time Entry" Freshbooks action.
This would also work with other billing tools like Quickbooks.
Export tasks to Toggl or Harvest.
Connect a "New Time Entry" Timing trigger with a "New Time Entry" Toggl action.
Export tasks to a spreadsheet for reporting.
Connect a "New Time Entry" Timing trigger with a "Create Spreadsheet Row" Google Spreadsheets action.
Import Timing projects from a spreadsheet.
Connect a "New Spreadsheet Row" Google Spreadsheets trigger with a "Create Time Entry" Timing action.
Create Timing projects for each of your teammates whenever you create a project yourself.
Connect a "New Project" Timing trigger with a "Create Project" Timing action.
Posting a message to Slack whenever you start a task.
Connect a "New Time Entry Started" Timing trigger with a "Send Channel Message" Slack action.
To get started, sign up for Timing's Zapier integration, then visit our Zapier integration page.

Archiving Projects
In addition, if you have a license for Timing Professional or higher, you can now mark any project as "Archived". Once you do so via the project's context menu or task editor, Timing will automatically hide it from the project list and stop applying rules for it. You will also no longer see task title suggestions for that project, which should make it even easier to find the projects you need when starting a new task.
Batch-Edit Task Titles
As always, the update also includes a few smaller quality of life improvements, such as the option to quickly edit all tasks with the same title by double-clicking them. You can read about those in the
full release notes for Timing 2019.2
.
Timing should automatically offer to install this update within the next 24 hours. If it doesn't, you can download and install the update now.
Update Availability
Since Timing 2.0, all purchases of Timing come with exactly 12 months of free updates, so if you purchased Timing on or after August 1st, 2018, Timing 2019.2 is a free update. Otherwise, you can purchase an extension to your update period by clicking "Extend Update Period…" in the "Timing" menu.