Track Time on the Go with the Timing Web App — Right from Your iPhone!
With our recent Timing 2019.2 update, you can now access your Timing data via our new web app. This means that you can now track your time with Timing from anywhere!
To access the web app, simply visit web.timingapp.com. There, you can start and stop tasks right from the home page — yet another way to keep track of your time, regardless of which device you are using right now.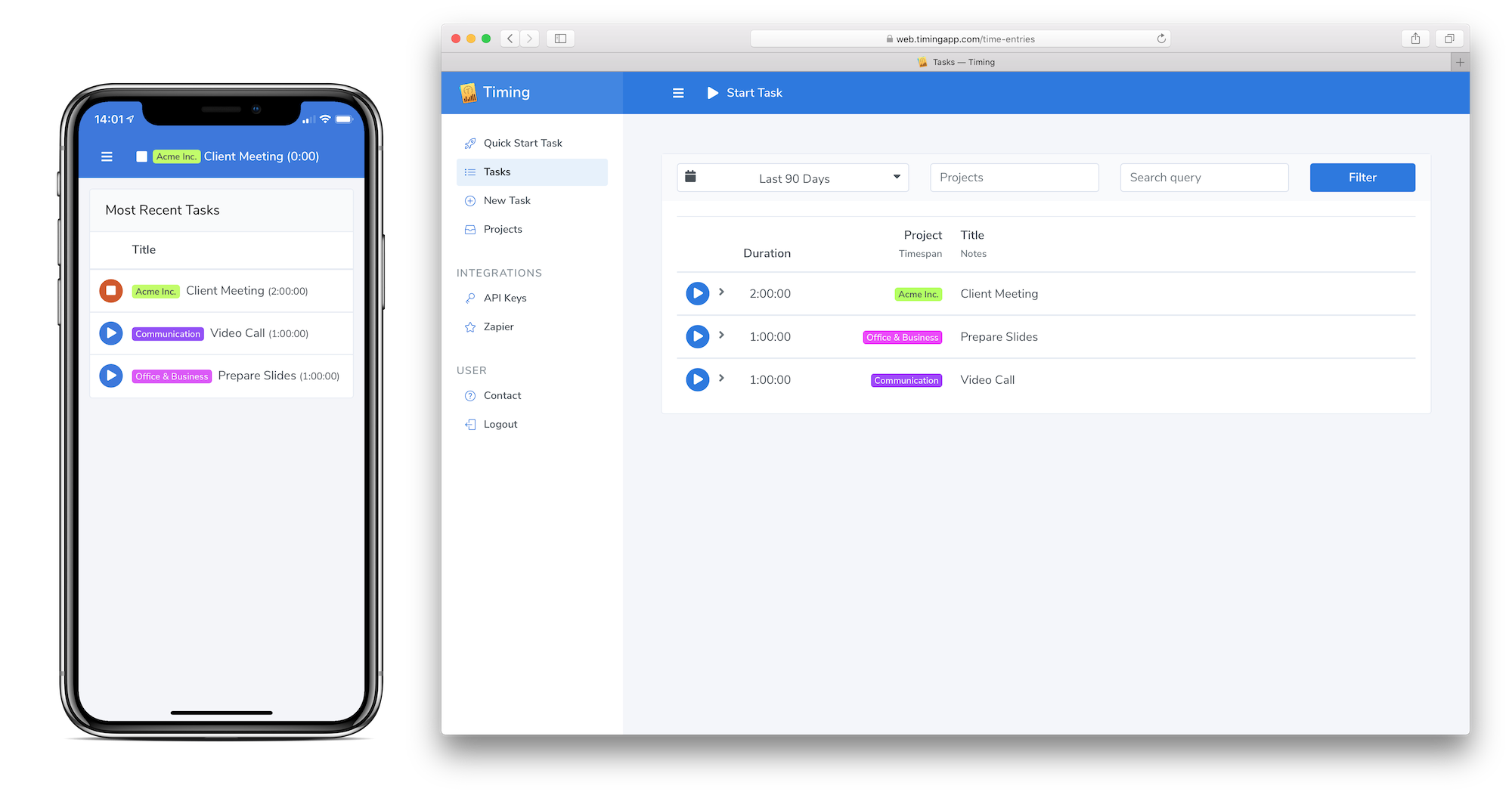 I especially love this feature for phone calls or on-site meetings, and even when I'm researching work-related tasks via Google on my phone. Let's face it, we need a time tracking app that works where you work.
There are two super easy ways to start tracking your time from the phone web app:
Using the "Quick Start Task" item from the navigation menu. Use this to resume a task you have already started previously.
Starting tasks via the "Start Task" button on the title bar. This option when you are looking to start a new task, one that you haven't previously worked on.
Option 1: Use "Quick Start" to Track Time for a Pre-Existing Task
Are you looking for a way to quickly start where you left off? Then this option is for you!
The Quick Start page contains the 25 most recent tasks you've worked on from the past 30 days — with the latest at the top of the list. This means you don't have to scroll forever trying to resume your last task.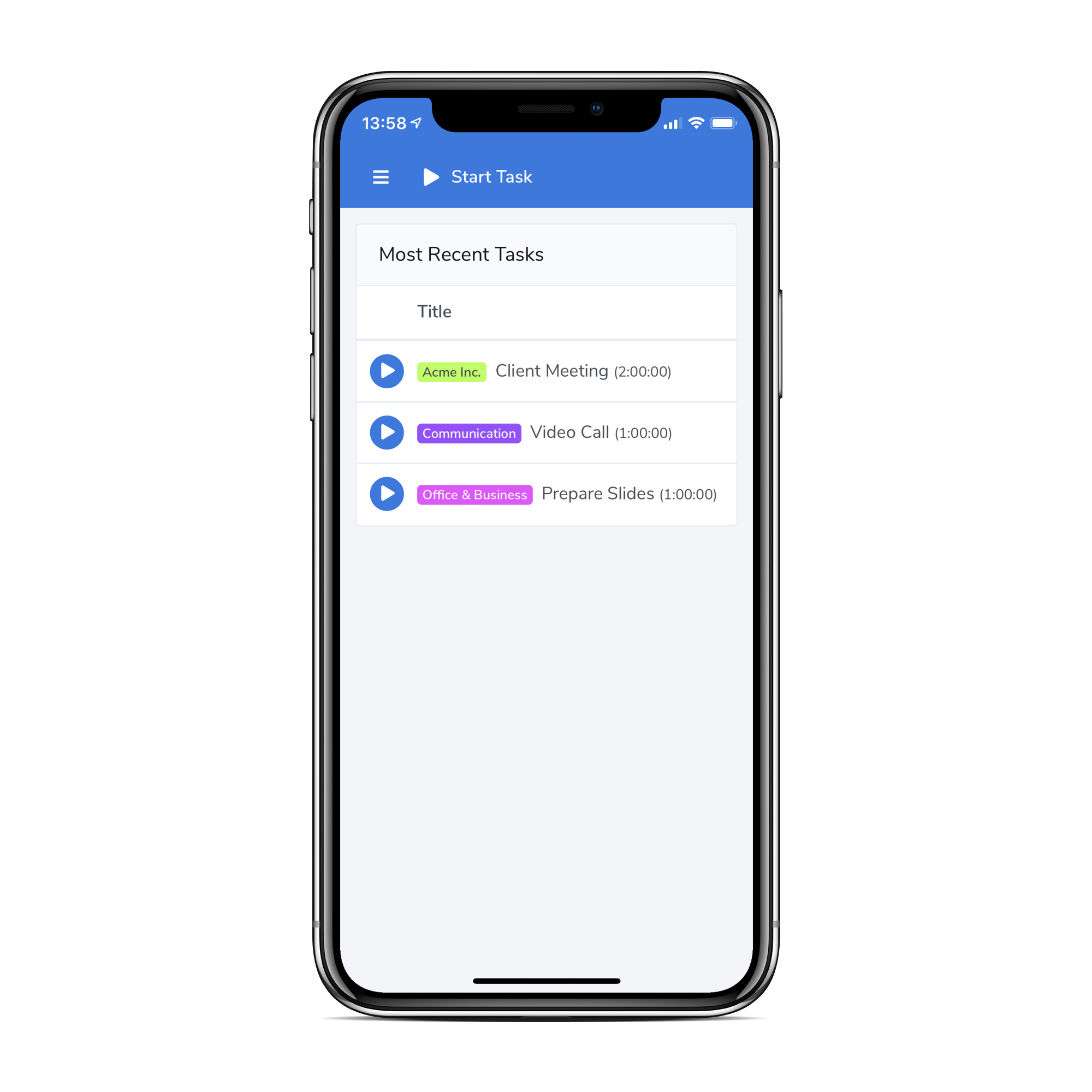 To access:
Press the "Hamburger" menu in the top left of the screen to show the navigation menu.
Press "Quick Start Task". If you just logged into the Web App, you will already be on this page.
Press the blue "Play" button next to the task you would like to resume.
Voila! You will see a message that your time is now being tracked with a link to edit the task — handy if you need to make some small tweaks to the task's title. The started task will be synced to your Mac within a few minutes, of course. By the way, don't forget to stop the task once you are done! More on stopping tasks below.
Option 2: Use "Start Task" to Track Time for a New Task
Starting tasks via the "Start Task" feature is great for when you have a new task that you want to quickly track time for. Unlike Quick Start, with this option, you can enter detailed information for your new task.
To access: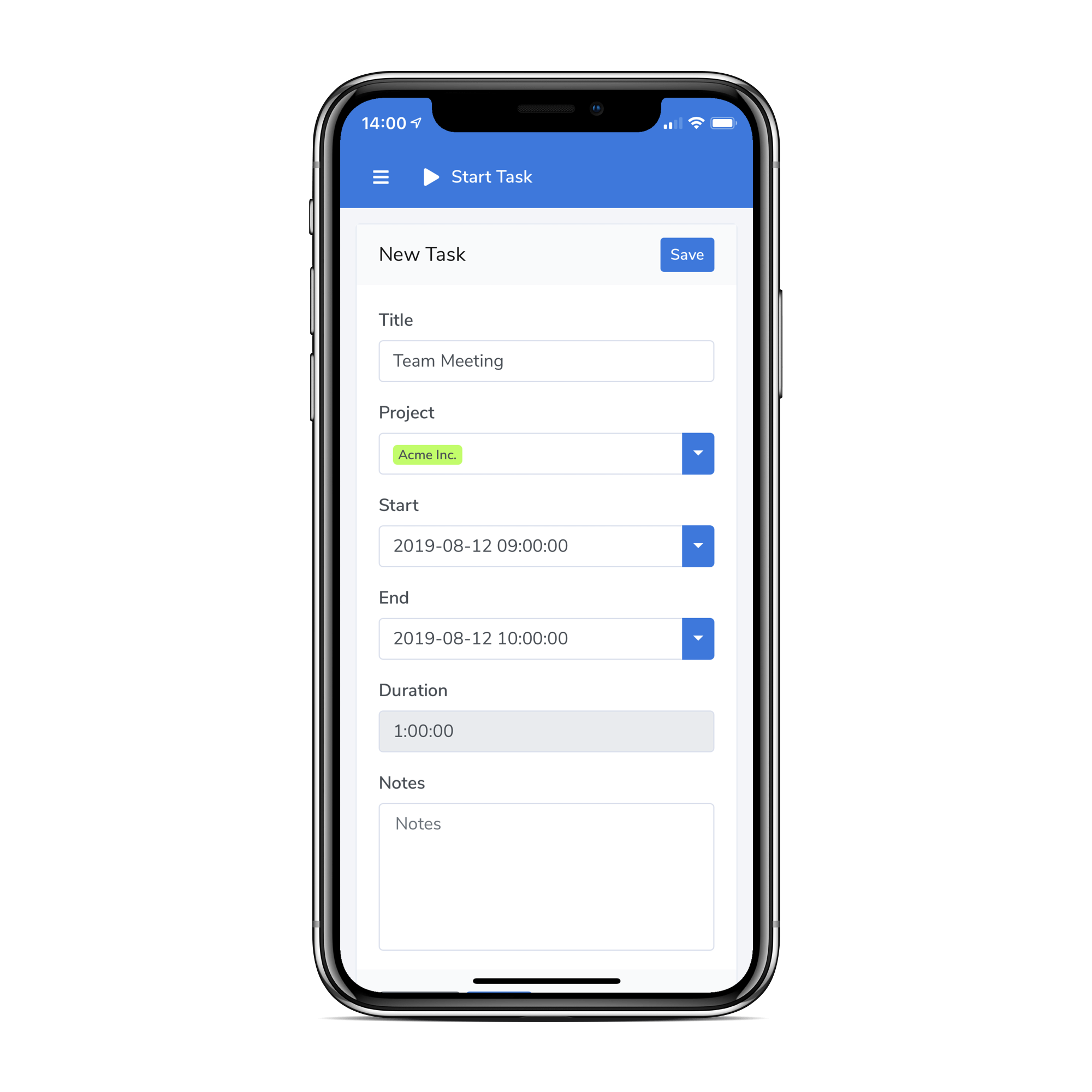 Click the "Start Task" button in the title bar.
Fill out the details of your task.
Press the blue "Start" button.
Note that the "Start Task" dialog also lets you pick a different start time for your task instead of "right now": Simply press the blue button next to the "Start" field, then press "15 Minutes Earlier". You can also set the task's start time to the previous one's end time to avoid a gap in your time tracking.
Stopping Tasks
Whether you started a pre-existing or new task, stopping a task is just as easy as starting.
To make it easily accessible, there are two different ways to stop a task in the Timing Web App:
Using the "Stop Task" button in the title bar, or,
Pressing the red "Stop"button on the "Quick Start Task" list.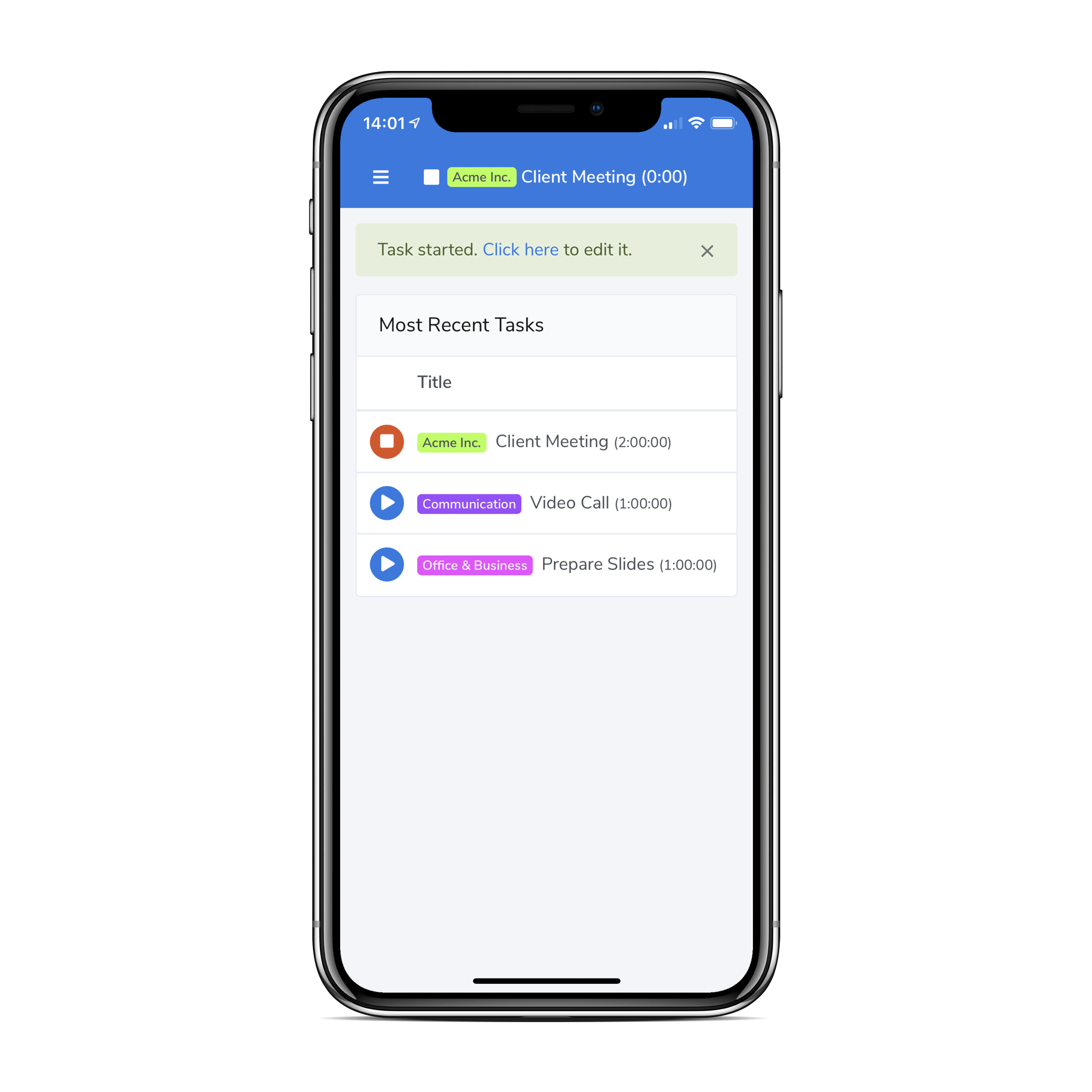 Ultimately how you choose to stop a task is a matter of personal preference — you can't go wrong with either option.
Additional Features of the Timing Web App
There's more to the Timing Web App than starting and stopping your time. Below, we've outlined some additional features and how you might use them to maximize your productivity.
Install as a Progressive Web App
You can install the web app as a Progressive Web App (PWA) on your phone, adding it as an icon to your home screen and hiding the browser chrome from its interface.
To install the Timing PWA:
Tap the "Share" button in the Safari browser while using the Timing web app. Note that this only works in Safari, not in third party-browsers.
Tap the icon labeled "Add to Home Screen".
Tap "Add" in the upper-right corner of the screen.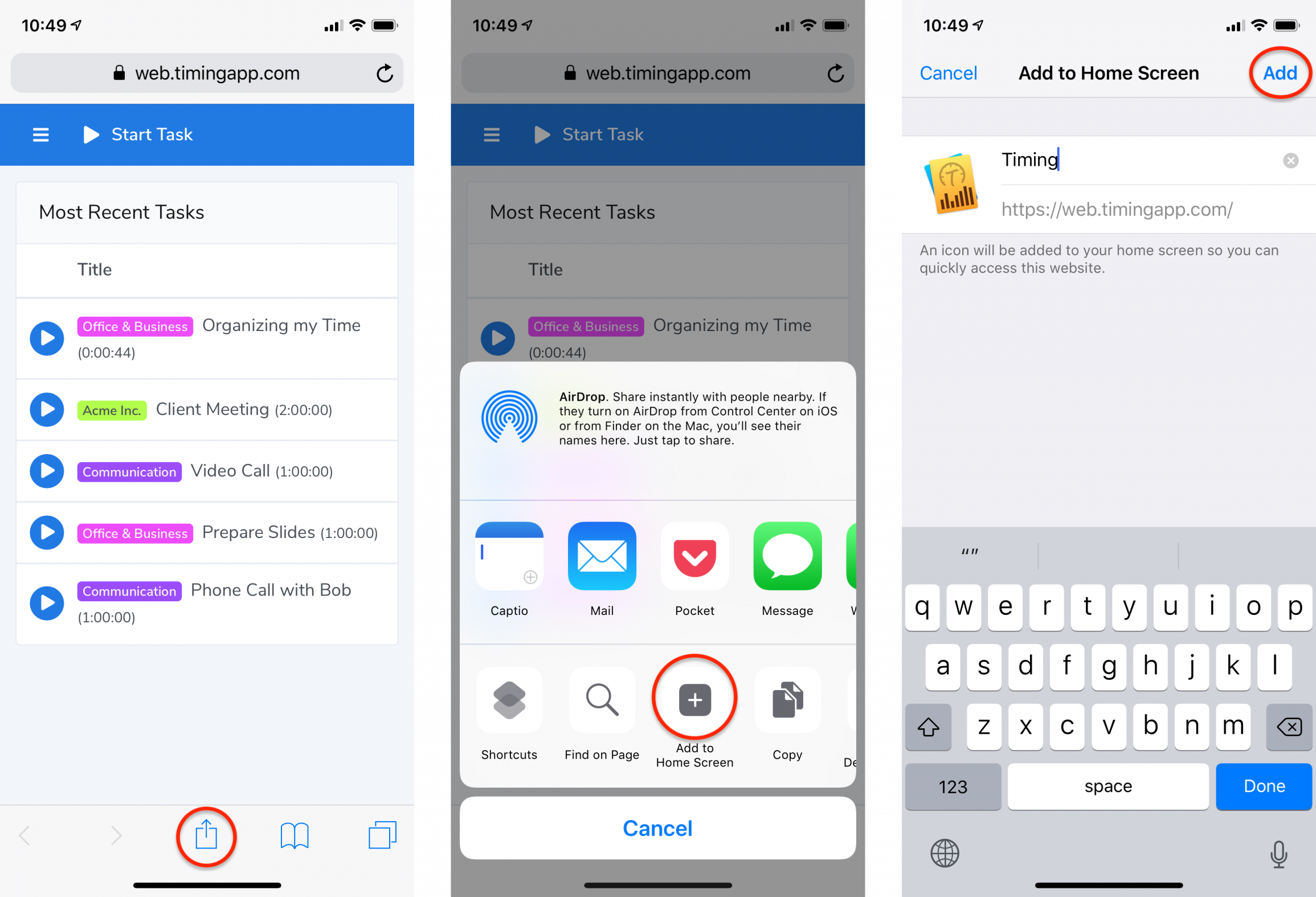 Easily Create New Projects
Another way to take advantage of the Timing web app is to create new projects on the fly. You won't need to use the Timing desktop app when Jamie comes up with a new project idea on your call.
To create a new project from the web app:
Simply select "Projects" from the navigation menu. You'll get a full list of all your current projects. Make sure there isn't a duplicate project, then click the "New Project" button.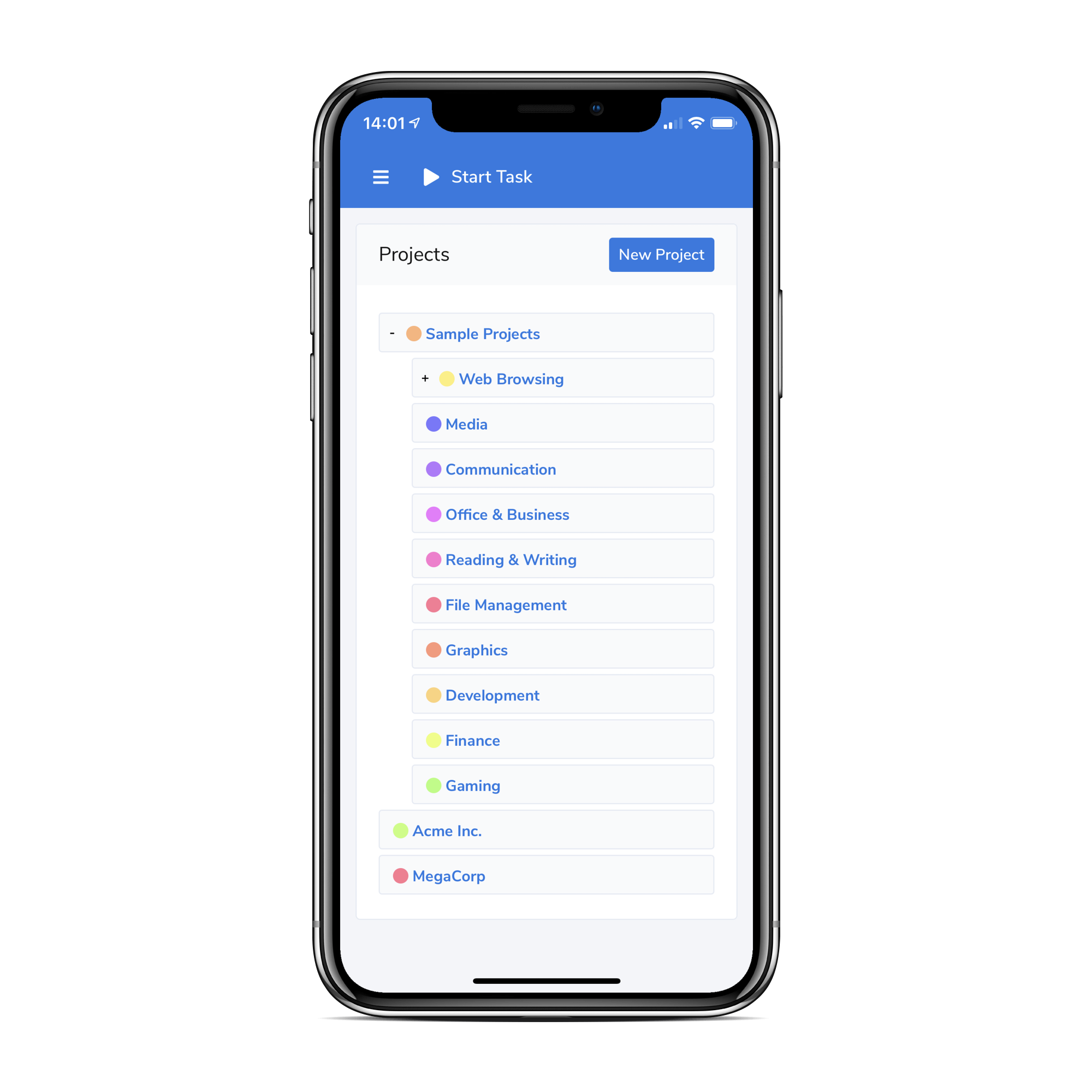 You'll have all the project options you need — you can even set a custom color and tweak the project's productivity rating.
Add Tasks After The Fact
Were you interrupted and unable to start tracking your time? No worries! Just like how you started a task before, you can use the "New Task" navigation item to add a past task.
This is a great feature for adding those impromptu tasks like a meeting or phone call that you forgot to start a task at the time they happened. This works just like starting a task, except that you'll also need to provide an end time for the task you are creating — it has already happened, after all.
With the latest Timing updates, we hope that you enjoy the flexibility of starting and stopping your tasks on the go. The Timing web app not only works where you work but also how you work. Let us know how you are using it — we are always looking for case studies to teach more people on improving their lives with Timing!