Timing 2018.3: Dark Mode, App Integrations, and More!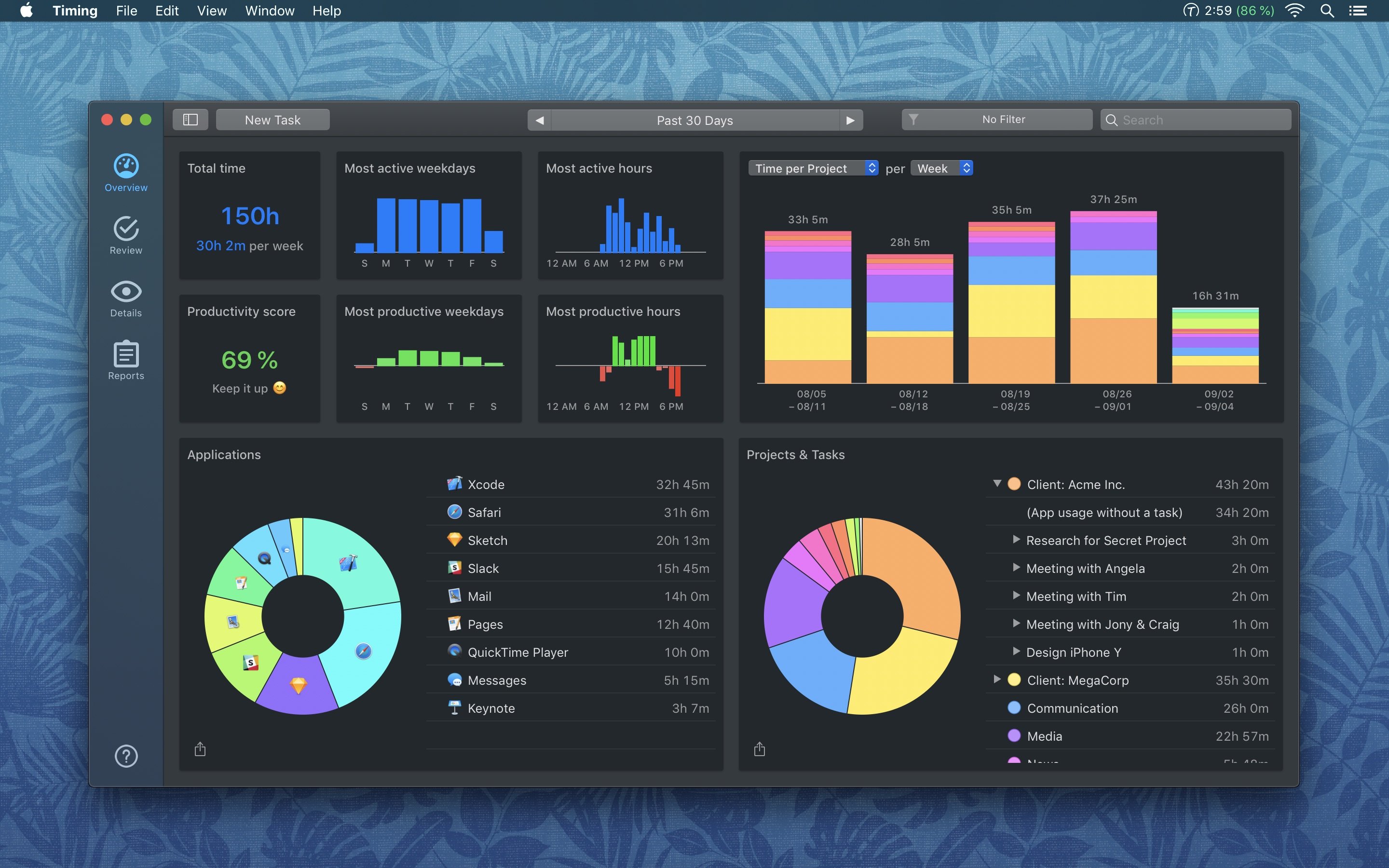 We are happy to announce the release of Timing 2018.3!
Among other things, the new version includes:
Support for macOS Mojave, including a great new Dark Mode
A design refresh for light mode
Integration with GrandTotal, letting you easily create invoices from your Timing tasks
你好! A Chinese translation
And dozens of other improvements (many of which are based on your feedback), for a total of 38 changes in the release notes!
Read on for more details on these changes, as well as some important notes for using Timing on macOS Mojave.
Dark Mode & a Design Refresh
With the upcoming macOS Mojave update, Apple is introducing a slick new Dark Mode. Here at Timing, we are thrilled about Dark Mode and added support for it right away; it will automatically be enabled when you activate the system-wide dark mode under macOS Mojave. You can see the results at the beginning of this post.
While preparing for Dark Mode, we noticed that some of those tweaks could be applied to Light Mode as well. So we did, and this is the result: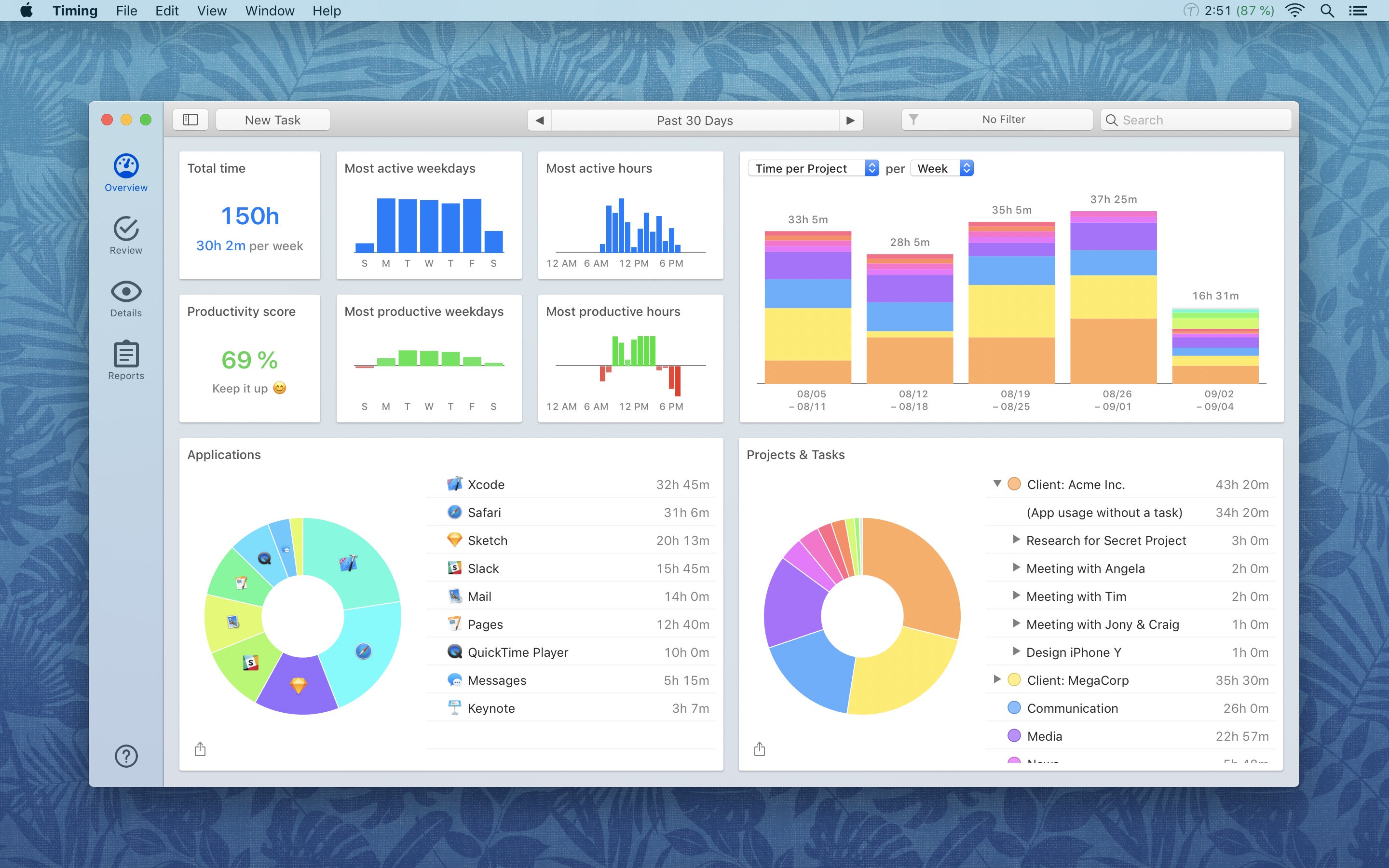 A Note on macOS Mojave
Of course Timing 2018.3 is fully compatible with macOS Mojave. However, you might receive dialogs like the following: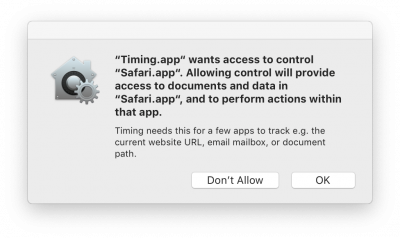 These dialogs appear when Timing needs to use AppleScript in order to track more detailed information. We try to show such dialogs as rarely as possible, but you might see them when using Safari, Chrome, Finder, and Mail, for example. The apps we are adding custom support for in this version (Mailplane, Bear, Dash and Opera) are affected as well.
In case you encounter a dialog like this, please make sure to click "OK" to avoid missing information in your Timing history. Unfortunately, macOS does not let you approve this access for all apps at once. In case you accidentally clicked "Don't Allow" for one of these apps, don't worry, you can still authorize this later on in the "Security & Privacy" pane of System Preferences. Just make sure to check all marks below "Timing.app":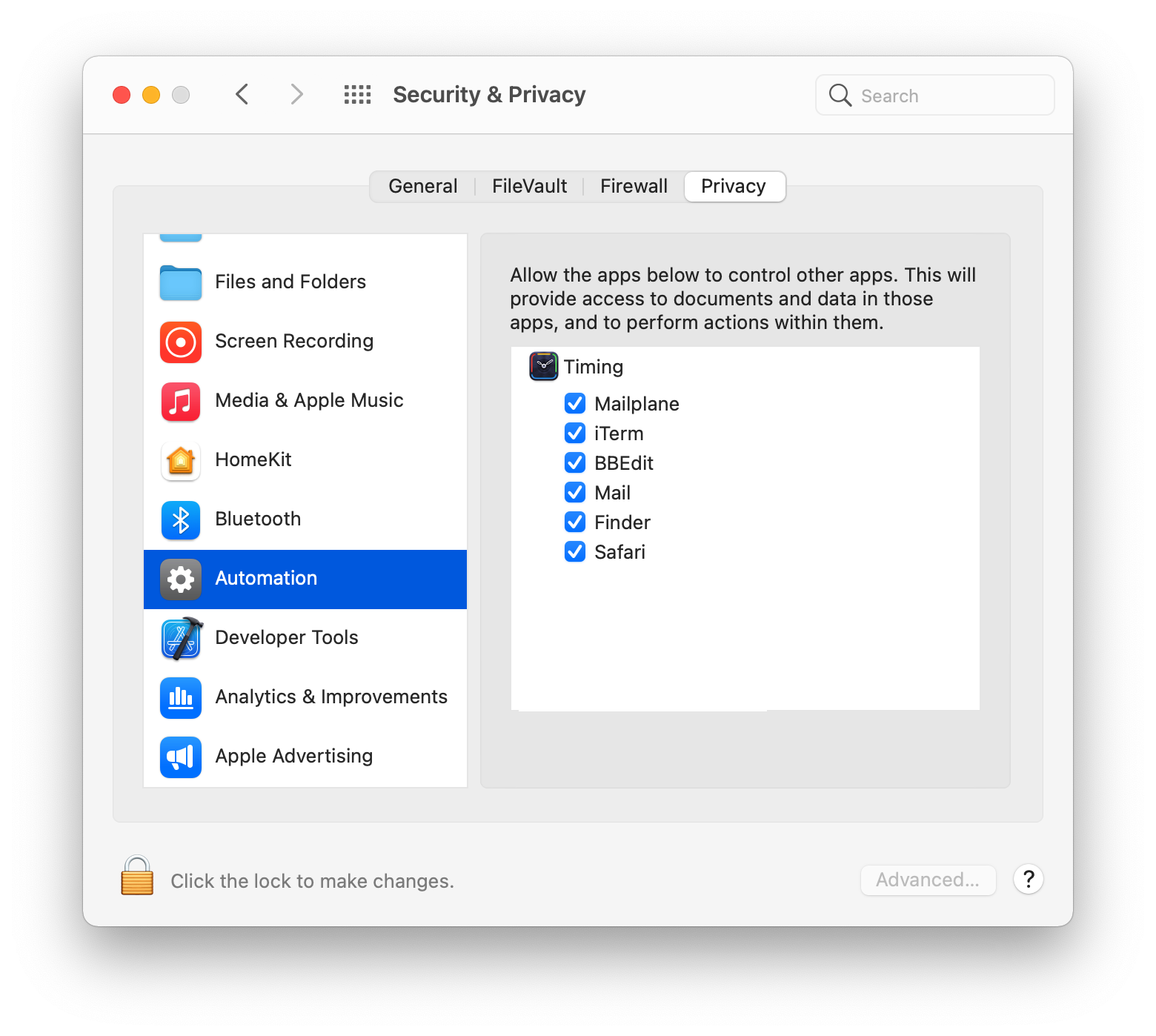 Tracking Support
This version of Timing also adds support for tracking more details for apps from some of our Indie developer friends:
Mailplane is a native Gmail client for macOS. It lets you more comfortable browse Gmail on your Mac, receive notifications for new emails, and update your Calendar.
Timing will track which email account you are using as well as the current email's sender and subject.
If you were looking for a way to more accurately track your time spent in Gmail, you can now do so by using Mailplane!
Bear is a note-taking app for Mac and iOS. Timing will track the current note's title.
So if you work in many different notes, you will now see which ones you spend the most time on.
Dash is a documentation browser for developers, supporting more than 200 frameworks on languages.
No matter what you are working on, Timing will now track the used Docset as well as the individual page inside that Docset.
Lastly, Timing will now track the current website URL in Opera, as it already does for e.g. Chrome and Safari.
And while at it, we added support for tracking the current website URL in the redesigned Chrome 69, as well as the current conversation in Skype and Slack.
And if you are a developer looking to add Timing support to your Mac app, don't hesitate to reach out!

GrandTotal Integration
We often get asked about invoicing solutions that work well with Timing. With Timing 2018.3 and GrandTotal 5.2, we finally have a good answer to that question!
Once you install the Timing plugin for GrandTotal, if you are using the Expert edition of Timing, all your Timing tasks will automatically show up in GrandTotal: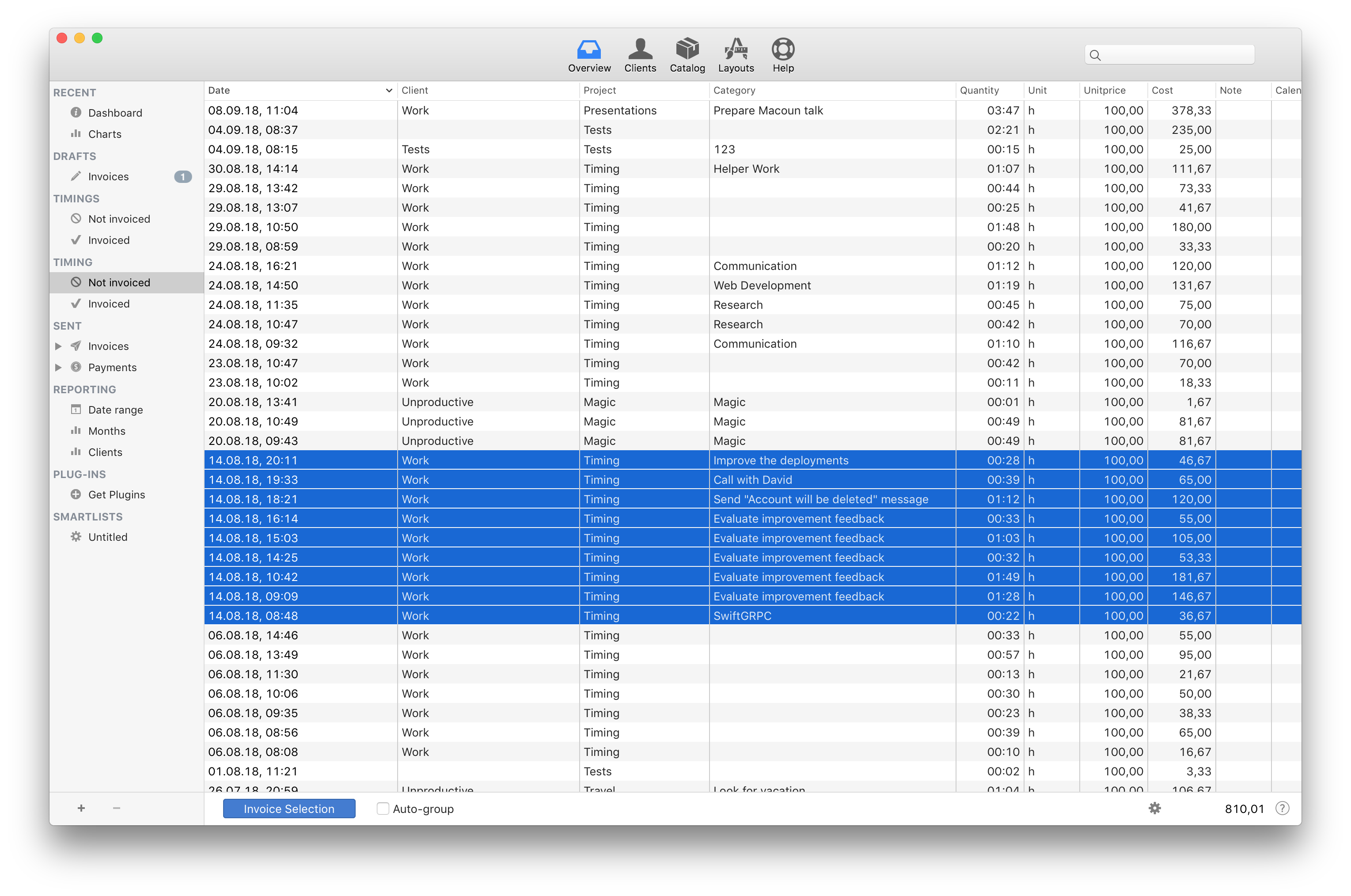 You can then add those tasks to a GrandTotal invoice by pressing the blue "Invoice Selection" button at the bottom of the GrandTotal window. If you'd like to use different hourly rates in GrandTotal for different Timing projects, add the desired hourly rate in parentheses to the name of your Timing project. For example, a project called "Acme Inc. (50)" in Timing will be shown as a client "Acme Inc." with an hourly rate of 50 €/$/etc. in GrandTotal.
In addition, you can now select Tasks in Timing's activity list, then drag those onto an invoice in GrandTotal to add them right away. Alternatively, you can copy those tasks by pressing ⌘-C in Timing, then paste them into a GrandTotal invoice with ⌘-V.
More Improvements
But that's not all, Timing 2018.3 also includes several smaller improvements that go a long way towards making Timing even easier to use:
Timing will now remember the last estimated duration when starting a task.
When selecting app activities on the "Review" screen, the corresponding times will now be highlighted on the timeline.
Made it easier to change a task's start and end dates by increasing the clickable area of the drag handles. The mouse cursor will also change when you are hovering these handles.
Task and project editors are detachable now. If they occlude some of your tracking data, simply drag them out of the way!
Added an option to format durations as fractions of hours in exports, and changed the HH:MM:SS format to get parsed properly by Excel.
Tweaked the way durations are displayed in the project and activity lists. Instead of showing "Xh Ym" mixed with "Ym Zs", Timing will now always show "Xh Ym" (or just "Ym") and drop the seconds part. Durations shorter than one minute are shown as "<1m", but can be hovered in the activity list to view their exact value.
In fact, all of these have been suggested by YOU, our users! About a month ago, we asked for suggestions on how to make Timing more useful in your day-to-day life, and these are just the first of many improvements based on your feedback.
There's even more changes, but it would be too much to list them all here, so you can find them in the release notes instead.
Update Availability
Since Timing 2.0, all purchases of Timing come with exactly 12 months of free updates, so if you purchased Timing on or after Sep 1st, 2017, Timing 2018.3 is a free update. Otherwise, you can purchase an extension to your update period by clicking "Extend Update Period…" in the "Timing" menu, then download and install the update.
If you have any questions about this process, feel free to contact us.
Wrapping Up
That's it for today. If you haven't already, make sure to download and install Timing 2018.3 now!
And as always, we'd love for Timing to benefit as many people as possible, so if you want to help, spread the word:
Timing — Automatic Time & Productivity Tracking for Mac: https://timingapp.com/
Click To Tweet
Each mention of Timing really helps. In addition, we have partnered with Capterra to give you a free $10 Amazon gift for writing a review on their service. Simply click here to review Timing and receive a $10 gift card.