How to Get Screen Time for Your Mac Right Now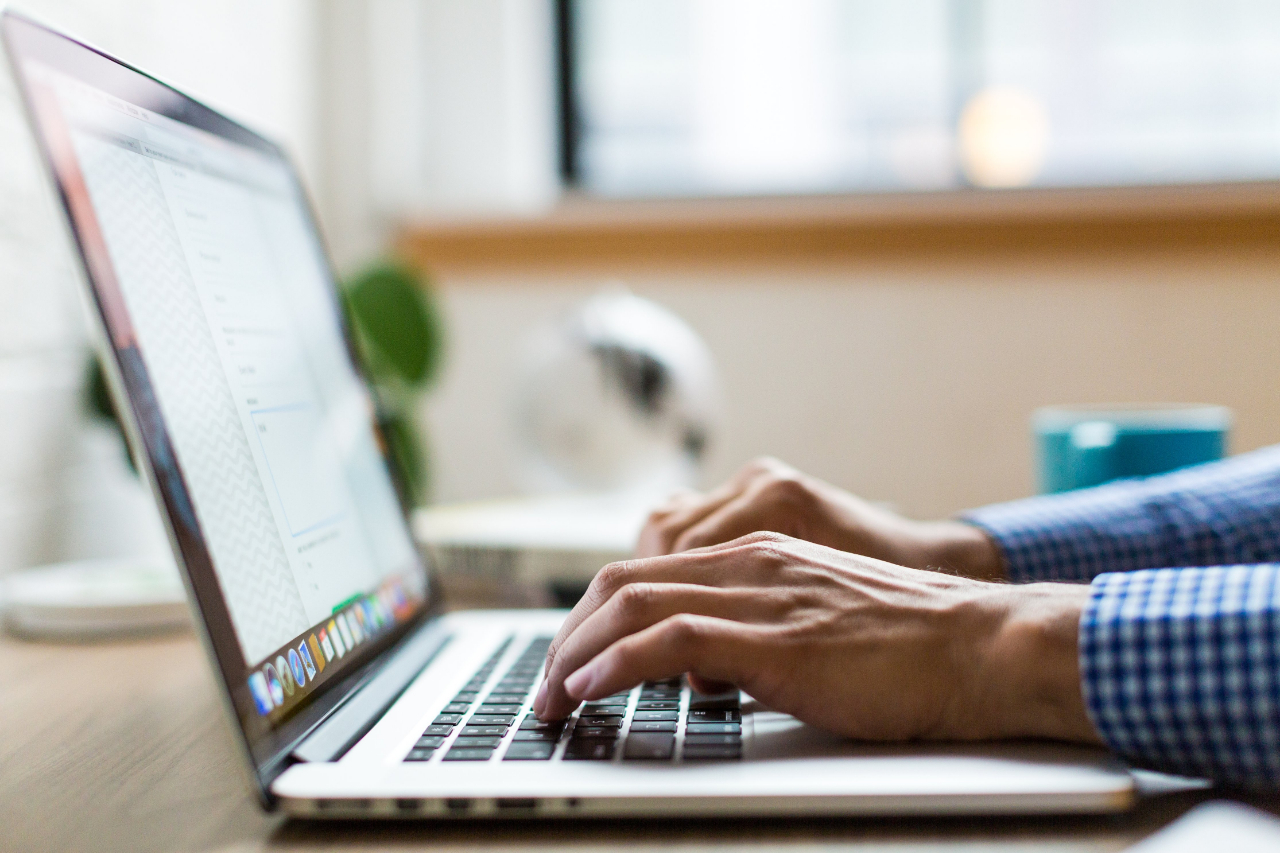 Last week's Worldwide Developers Conference (WWDC) saw the exciting unveiling of macOS 10.15, which will officially be released to the public in the fall. This latest version of macOS includes plenty of useful new features, including new book apps, TV apps, music apps, and maybe most relevant to freelancers: Screen Time for Mac.
Screen Time is still a relatively new feature that, up until now, has been exclusive to iPads and iPhones. It's basically a built-in time-tracking app that helps you see how much time you're spending (or wasting) on your handheld devices – including specific applications, and even categories, such as "Entertainment," "Productivity," or "Social Networking."
One of the most valuable aspects of Screen Time is that it lets you know how much time you're spending on a daily – or weekly – basis on your device. And, it will tell you just how much you've gone over or under that average.
Not only that, but Screen Time gives you the ability to schedule time away from your device with "Downtime," or set your own time limits for specific, time-sucking applications with "App Limits."
You also get to see how many times a day (or hour) that you pick up your device…and how many notifications you receive.
And lastly, you can use Screen Time to limit how much your kids are spending on their devices, with "Screen Time for Family." This feature gives one user per family the ability to set time limits on other devices (if you'd like your teenager to spend less time on Fortnite, for example).


Do you know when your most productive hours are? Download our free "productivity worksheet" now. 
Table of Contents
How To Start Tracking Time Right Now
At Timing, we're all about tracking your valuable hours and minutes in order to maximize your productivity and use your time wisely. So, we approve of Apple's effort to help users cut down on "screen addiction" and gain some much-needed awareness about how they're using their iPhones and iPads – and soon, Mac computers.
Screen Time for Mac won't be available until the fall. And for freelancers who must track and manage their time well in order to make a living, that's a bit long to wait. Moreover, it does not offer manual start/stop timers or the extensive reporting functionality that freelancers need for actionable insights into how they spend their time.
In the meantime, how can you get the same benefits of Screen Time for your Mac right now (and then some)?
We suggest using Timing to get all the same great advantages you'd get out of Screen Time – plus a few more.
Here's how to start tracking your productive hours on your Mac right now:
Automatically Track Your Time
Like the Mac's Screen Time, Timing will automatically track your hours. That means the minute you log in to your computer, Timing starts – no application open necessary.
Furthermore, Timing will automatically categorize your hours, so that you can see exactly how much time you spent on various applications, whether that's Microsoft Word, Chrome, Evernote, Adobe InDesign, or any other application. That way, when you go back to review your time later, you'll know exactly how much time it took you to research a topic, design a new brand label, or create a new invoice.
Here's a chart that shows where I spent my time during a given work period: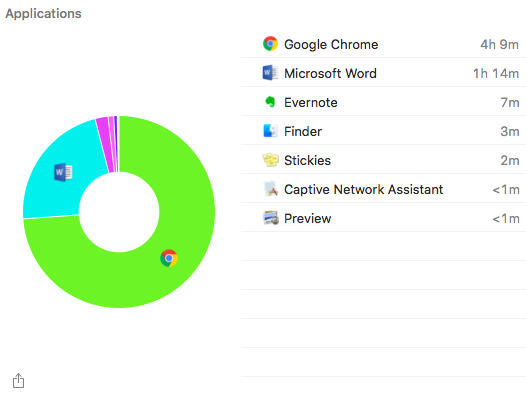 And, if it's the case that you did something for work that doesn't involve your Mac – such as making a phone call or having a lunch meeting – you can manually add those minutes or hours later, so that your reported time is perfectly accurate.
Organize Your Work
Timing is ideal for freelancers because it allows you to classify your working hours by project or client – not simply by application or general category (such as Screen Time's "Productivity" category.)
Timing is ideal for freelancers because it allows you to classify your working hours by project or client – not simply by application or general category
Click To Tweet
Here's an example of Timing's general categories, shown on the left-hand side of the image below: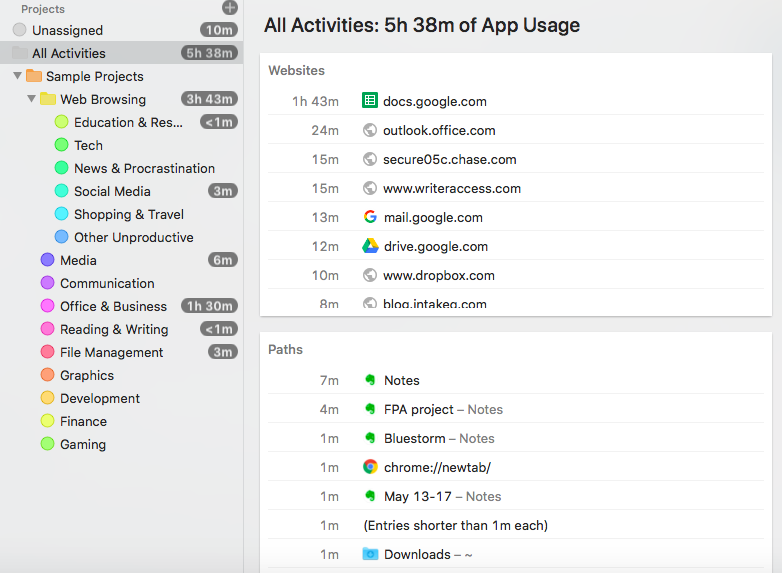 But, of course,you can create your own categories for specific clients or projects too.
You can classify work retroactively or you can even create "rules" that automatically identify and label certain types of work. For example, if you only use Excel for a specific client, you can create a rule to automatically input work in Excel to the client category you have created. Or have Timing assign all time spent on documents in a particular folder to a specific client.
And if you spend time away from your work (we all need a break!), you can categorize those hours, too (such as "Shopping" or "Social Media").
Identify Your "Flow" and Most Productive Hours
One of the best things about freelancing is that you get to control your own schedule. If you want to start work at 10 am and finish early evening, go for it! Or, if you're an early bird, get started at 6 am and be done by the afternoon.
In theory, it's a great advantage to be able to determine when you work. But are you aware of when you are actually the most productive?
That's where Timing can come in, to help you identify your "flow" – that catchy word used to describe your ideal working conditions.
Unlike Screen Time, which primarily helps you to see where you're wasting your time, Timing actually helps you to see when you're using your time the most productively – helping you to plan a schedule that helps you to get the most done.
In fact, Timing will show you your most active hours and your most productive hours, shown in a couple of bar graphs below: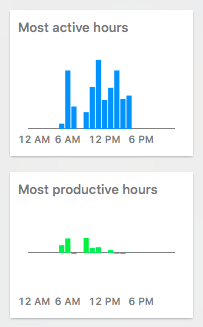 Create Calendar Events and Meetings
Timing will also allow you to add calendar events and meetings right onto your timeline, supplementing – or even replacing – your daily calendar.
That way, specific events and meetings are logged right in to your time tracking. If it's the case that you usually keep Timing open on your desktop (we certainly do), you can rely on this feature to help you remember important, scheduled events.
Create Accurate Reports
Timing's reporting feature is ideal for freelancers because it creates reports based on your time tracking. This makes invoicing your clients a cinch, especially for clients that you charge based on an hourly rate.
Reports within Timing also give you the option to export in different formats, as well as adjust the report to different timeframes, such as year, month, week, day, or even hour.
It remains to be seen whether Screen Time for Mac will provide this kind of service…but most likely, it will serve more as a visual overview application than as a report-generating feature. Apple is not in the business of making time-tracking apps, after all; their "Screen Time" feature is more geared towards "casual" users. In addition, Screen Time is limited to showing you data for the past 30 days. So if you'd like to see your Mac usage from two months ago, you are out of luck
Blocking Content
Screen Time for Mac will most likely offer the same kind of app-blocking feature that Screen Time does for the iPhone and iPad, including restricting how much time you can spend on specific apps
That being said, you can take advantage of this feature before the fall by downloading Focus – an app that helps you stay on track by permanently or temporarily blocking distracting sites or applications.
Focus is the ideal companion to use with Timing. Together, the applications give you detailed control, oversight, and reporting of time on your Mac, helping you to be as productive and accountable as possible.
Free Productivity Worksheet: How to Get Into Your Ideal Work Flow
Final Thoughts on Screen Time for Mac
Time will tell how useful Screen Time for Mac is for freelancers. It will certainly give you the same kinds of benefits as Screen Time for your iPhone and iPad – daily, weekly, and potentially monthly averages for each application, and a useful look at what you're doing each hour of the day. Plus, it can be synced across multiple Macs, if it's the case that you have several computers that you use for work. Timing can also sync your data across multiple Macs, too.
Still, this feature won't come out for a few months – leaving you in a lurch if you would like to start tracking your time ASAP.
Timing currently offers a free trial that can give you a taste of how time tracking can help you stay focused, organized, and productive – no matter when and where you work (lucky freelancer!).