How Timing's "Tasks" Feature Can Make Your Time Tracking More Useful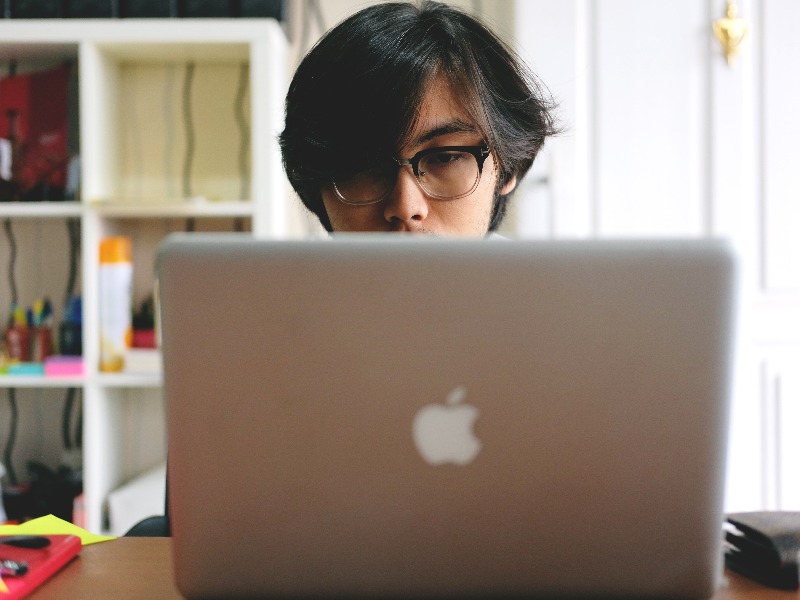 The ultimate goal of Timing is to give you time-tracking results that are accurate and useable. That's why Timing has created a special function to help you manually fine-tune your automatic time-tracking data: Creating Tasks.


Get A Basic Breakdown for "Creating Tasks" in Timing — it's free!
How Do I Create a Task in Timing?
If you've been using Timing for a while, you may have noticed a gray button in the upper left-hand corner of your Timing window, labeled "New Task." As tasks represent manual time entries, you may have wondered, "What would I use this for? Isn't Timing automatic?"
Yes, it certainly is. One of the greatest advantages to using Timing is that it will automatically track every moment you spend on your laptop or desktop computer. You may never need to create a task — but doing so can be extremely helpful in certain circumstances, as you'll discover in just a moment.
But first, let's guide you through the process of creating a task, with two different methods.
Let's begin with the "more conventional" method, using the "New Task" button.
Create a Task — The Conventional Method
First, click on the button labeled "New Task" in the title bar of your Timing window.
Select an existing project for which this task is appropriate, or create a new project.
Create a title. Timing will automatically give you pre-set options for titles drawn from your existing tasks and projects, or you can write a new one.
If necessary, add notes.
Now, add a "start" and "stop" time. You can also click and drag on the timeline to set the task's start and end times.
The second method allows you to create a task directly from events on your calendar.
Create a Task from the Timing timeline
Timing automatically recognizes blocks of time when you have worked on a particular project. It will highlight these as colored blocks with a "+" sign in the timeline on your "Review" and "Details" screens.
Simply click one of these blocks and enter a description of what you did, then click "Add Task".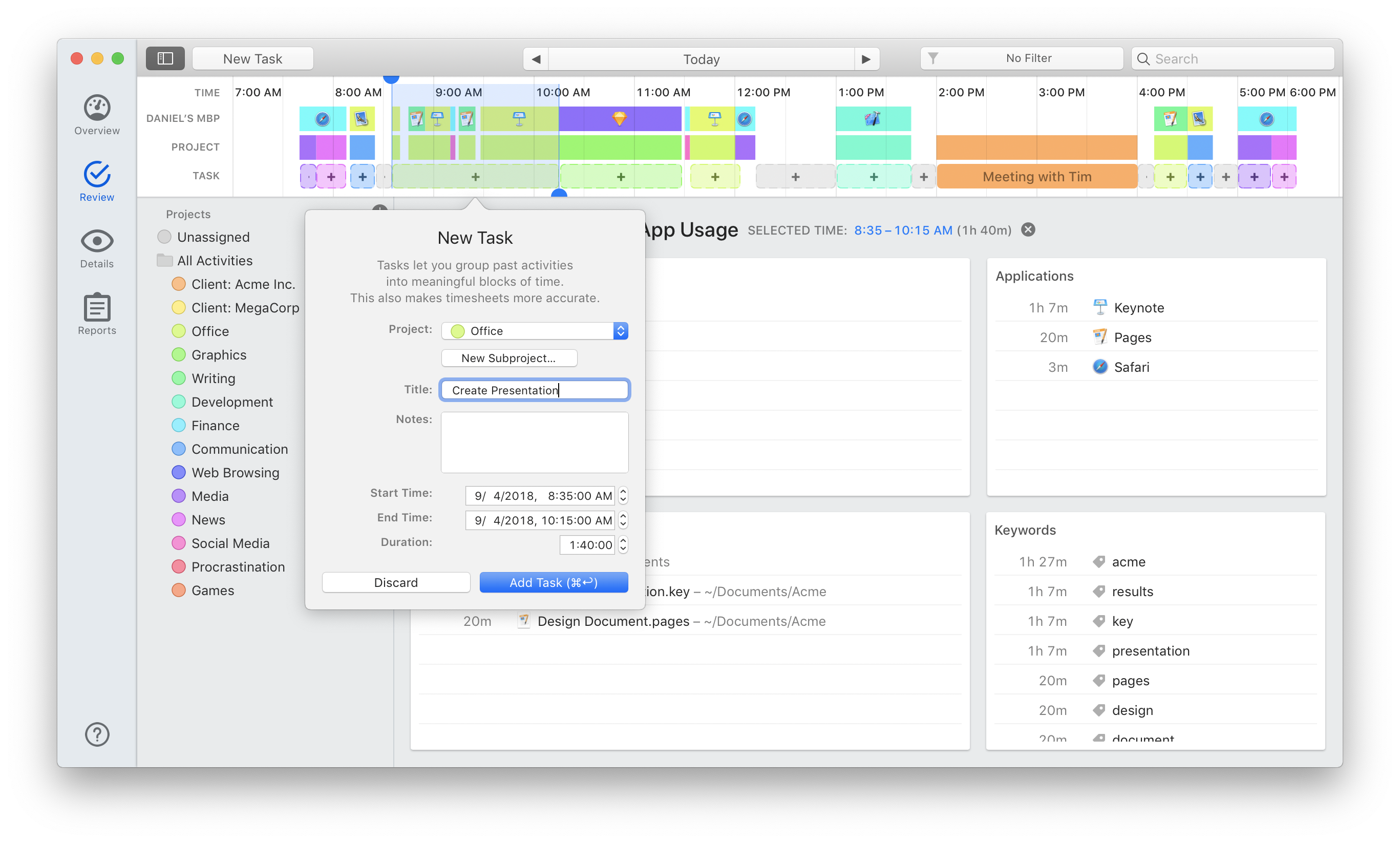 Create a Task From Your Calendar
Please note that this method of creating tasks requires Timing Expert.
Once you have set up Timing's Calendar integration, you will see your calendar events as colored blocks on the Timing timeline.
Once you click one of these blocks, you'll be offered the same options as in the previous method: Project/Title/Notes/Start Time/Stop Time. Timing will automatically try to guess the correct project for the new task from the event's properties and pre-fill the task's title field.
If you are in a hurry, you can hold the "Option/Alt" key pressed while clicking one of these blocks. This will have Timing create the new task immediately, without showing a "New Task" dialog prompting you for more information.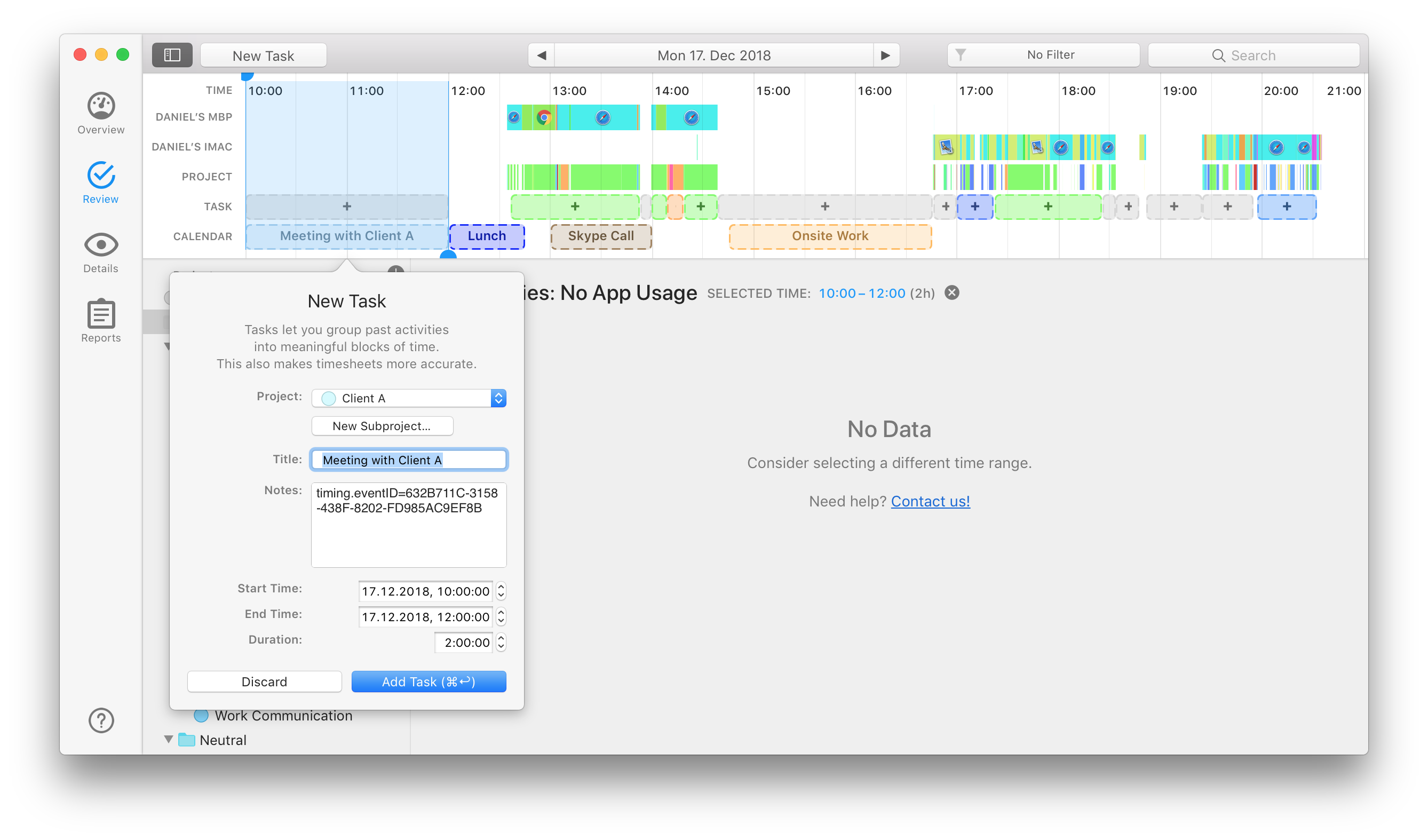 As you can see, Timing gives you several options for creating a task. The ultimate goal is to find a strategy that works best for you.
Now, let's take a look at some of the reasons why you might want to create a task, rather than simply relying on the automated results generated from Timing.
Create Tasks by Starting and Stopping Timers
You can also create tasks by starting a timer from the menu item: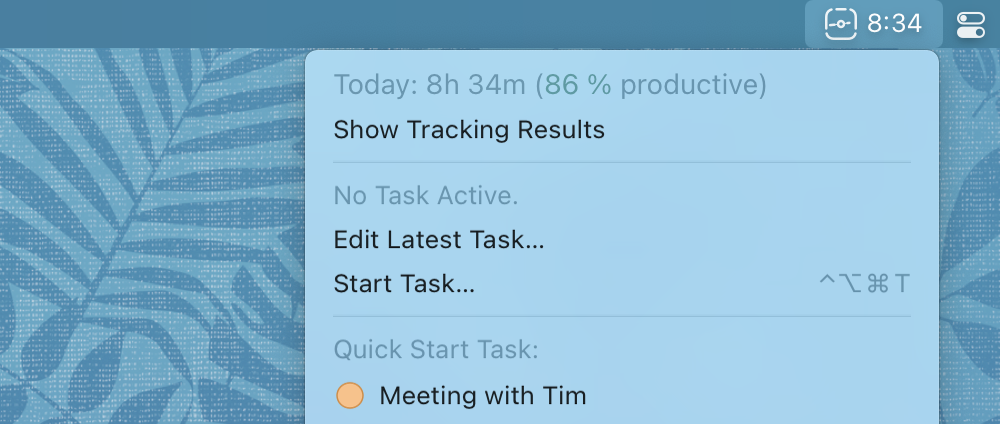 If you start a task via the menu item, Timing will ask you for a few details, then assign all subsequent activities to this task: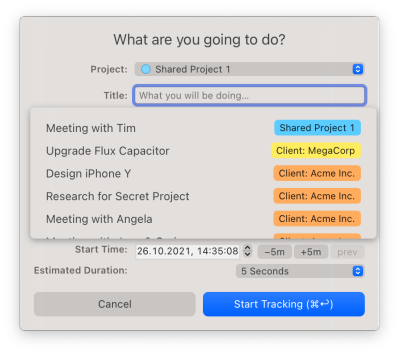 After the estimated duration, Timing will ask you whether you're still working on that task.
And if you want to save even more time, you can open that dialog at any time by simply pressing ⌃⌥⌘T!
You can also quick-start past tasks from the menu item.
If you select Ask for Activity after Being Idle, Timing will even ask you what you did whenever you return to your Mac: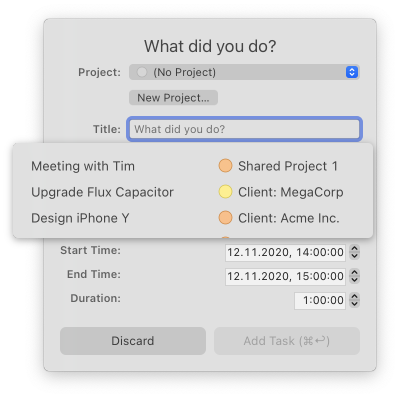 Create Tasks Automatically with the Task-O-Matic
Please note that this method of creating tasks requires Timing Expert.
You can also use the Task-O-Matic to automatically create tasks from the app usage that Timing has recorded for you:


You can find more information on the Task-O-Matic in the documentation.
Bill For Your Time Effectively and Accurately
For freelancers, one of the most useful aspects of Timing is that it allows you to invoice clients for your time. You can export detailed reports of how and where you've spent your minutes and hours, giving a breakdown of how much time you've dedicated to various aspects of a project, such as research, admin, outlining, and execution. Of course, this functionality is especially helpful if you bill your clients by the hour.
But reporting can also be used to explain your time usage, with your documented productivity used to justify a flat rate for a project, to present a rate increase, or to ask for a raise (for full-time employees).
In any case, reporting is a valuable tool — proof of your own careful hours of labor, devoted to delivering excellent results for your client (or employer).
However, your clients won't necessarily want to see the tedious details of your time usage. Most likely, they would rather see that you worked on a project from 8 AM to 11 AM, working primarily in Microsoft Word and Safari — rather than that you worked for three minutes in Evernote, ten minutes in Excel, one hour in Safari, and so forth. And there may be other cases where you want to describe a specific task without creating an additional sub-project; at such times, creating a task can be just the solution you need.
Creating a task can override unnecessary details to help you produce more concise reporting for your clients, while still giving them detailed, valuable insight into your work.
Track Time Spent Offline & Fill in the Gaps
Creating tasks can also help you account for time spent offline — such as when you're holding a phone meeting, brainstorming, or traveling for business (or even for keeping track of your down-time activities, such as grabbing lunch with friends, working out, or running a quick errand).
As you discovered above, you can click on calendar events to immediately create a task for that event. If the "offline event" was unscheduled, you can enter the task into the calendar retroactively using the "Create Task" button.
If you're "on the go" and you'd like to make sure that your current time usage will be accounted for, you can also create a task directly through the Timing web app on your iPhone.
You can also adjust the settings on your desktop to automatically ask you what you were doing during "idle time." This feature will allow you to immediately create a task to account for this extra time. Similarly, you can click "Start Task" on the Timing menu item and enter what you are going to work on, starting a timer that will run until you stop it.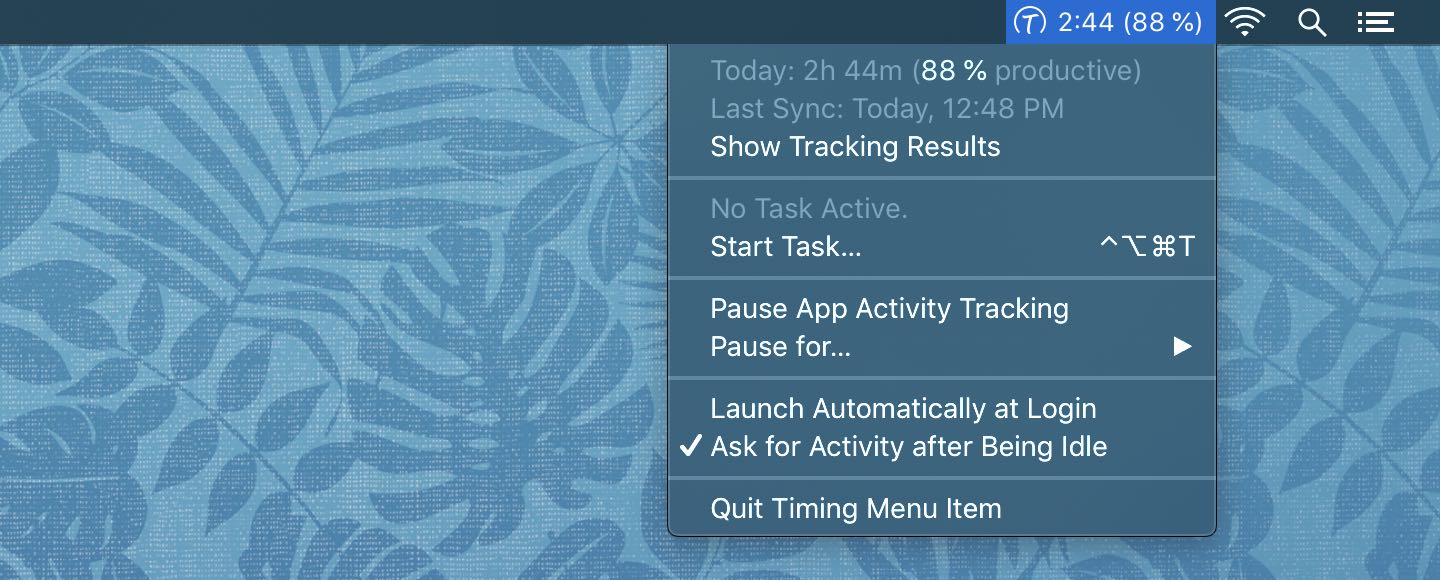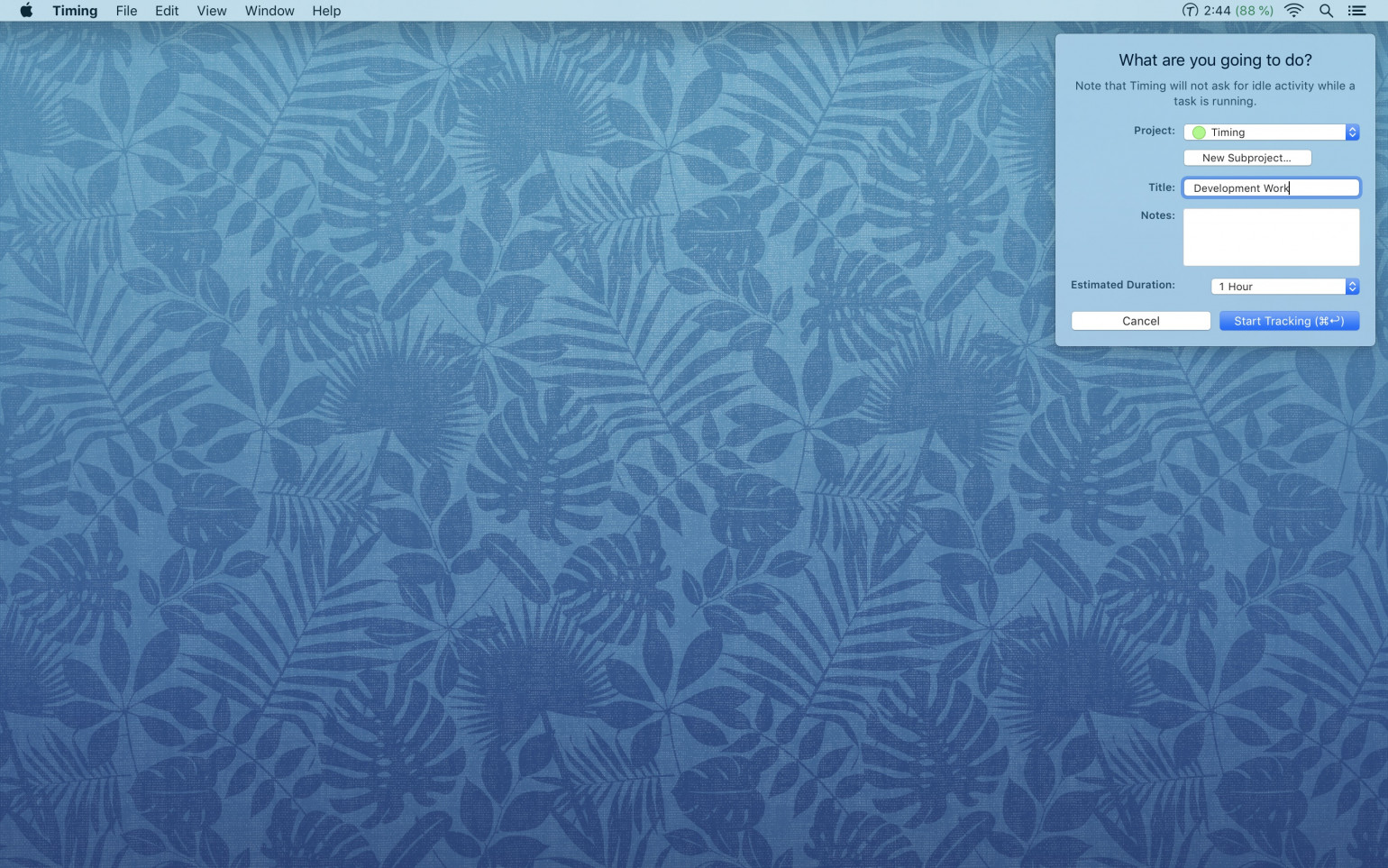 Lastly, you can create tasks to fill in "gaps" on your calendar as you review your day. As explained above, your calendar will actually make suggestions as to how you spent your time. You can expedite this action by pressing the Option (⌥) key while clicking a suggestion; Timing will then immediately create a task without showing the "New Task" dialog box.
Override a Project Created from Inferred Rules
Defining rules for specific projects helps Timing to automatically and accurately organize your time usage so that you have a useful, detailed overview of what you've accomplished at the end of every day (or week, or month). But there may be times where you'll want to override Timing's inferred rules — such as when a task met the rules for an unrelated project, or the rules overcomplicated an otherwise straightforward task.
Creating a task will help you override inferred rules to create a block of time that shows what you did, simply and accurately.
Be More Mindful & Intentional About a Specific Task
"Start" and "stop" timers are not efficient for tracking your overall time, but they can help you stay on track when you're working on a specific project. Click To Tweet As you discovered above, you can start a task from the Timing menu item. Doing so can help you stay accountable and focused on finishing your task in a timely manner!
Did you grab your free download yet? A Basic Breakdown for "Creating Tasks" in Timing
A Final Word About Creating Tasks
Creating tasks will help you account for your minutes and hours in a way that provides many advantages: It allows you to bill your clients efficiently, simplify your time-tracking, fill in "the gaps," and manage your own schedule. You don't have to create tasks to get a sense of how you are spending your time, but it's a useful (and easy) extra step that can make the difference between getting a broader sense of time usage, and maximizing your efficiency and accuracy on Timing.
If you're not using Timing yet to track your valuable minutes and hours, you can give it a try for free.