Screen Time for macOS: A Deep Dive
If you're using macOS 10.15 "Catalina", then you most likely already know about this brand-new operating system's time-tracking system: Screen Time. And you are not on macOS 10.15 yet, you can get similar features for previous versions of macOS with our guide on getting Screen Time on your Mac right now.
Screen Time for Mac is an exciting new crossover from Screen Time for the iPhone and iPad, which has already helped some of us gain surprising (and sometimes scary) insight into how long we're spending on Instagram, and how often we pick up our phones per day (or hour).
No doubt about it: Screen Time for the iPhone has been a game-changer, and we're feeling more productive, focused, and disciplined as a result of gaining in-depth knowledge about our iPhone usage.
Does Screen Time for Mac deliver the same kinds of results?
In this article, we're taking a deep dive into Screen Time for Mac, and looking at the features, benefits, and limitations of this new tool for time management.


Get "The Ultimate Screen Time Factsheet" for free here!
Table of Contents
Mac Screen Time: The Basics
Screen Time offers the same basic features as Screen Time for your iPhone and iPad, giving you a valuable overview of how you're actually spending your time on your device. You can find the Screen Time pane in the "System Preferences" app.
Under your "App Usage" tab, you'll find:
A total count of how many hours and minutes you've spent on your Mac during that day or week
How many minutes and hours you've spent on several basic categories, such as Reading & Reference, Social Networking, and Entertainment
A tally of the time you've spent on specific applications, such as time tracked for Google Chrome, Word, or iBooks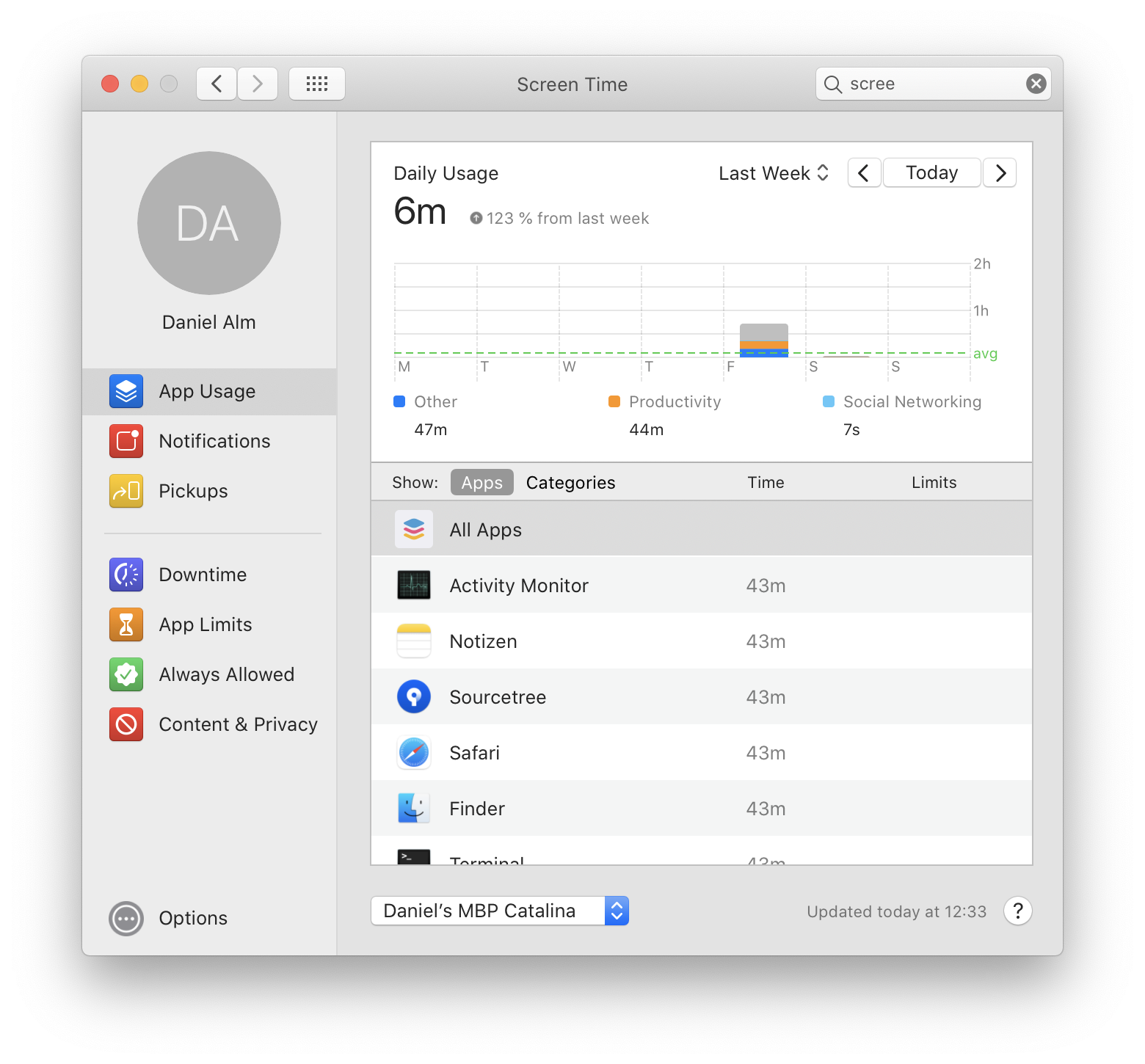 If you select the "Notifications" tab, you can also discover how many notifications you've received over the previous 7 days. You can individually select days of the week to view how many notifications you received during that period, and from which applications.
The same applies to "Pickups", where you can see how many times you used a particular app.
Screen Time for Mac: The Next Level
Like Screen Time for the iPhone and iPad, you can keep things pretty basic concerning your time management, or you can take them to the next level.
Syncing Across Multiple Devices
If you find yourself checking Screen Time on both your iPhone and your Mac — and then pulling up your Calculator app to combine the results — you might be relieved to find that you can sync Screen Time across all of your devices. Doing so will automatically add up the total tally of hours and minutes for your iPhone, iPad, and Mac computer.
To enable this feature, simply go to "Options" at the bottom of your Screen Time window, and then select "Share across devices."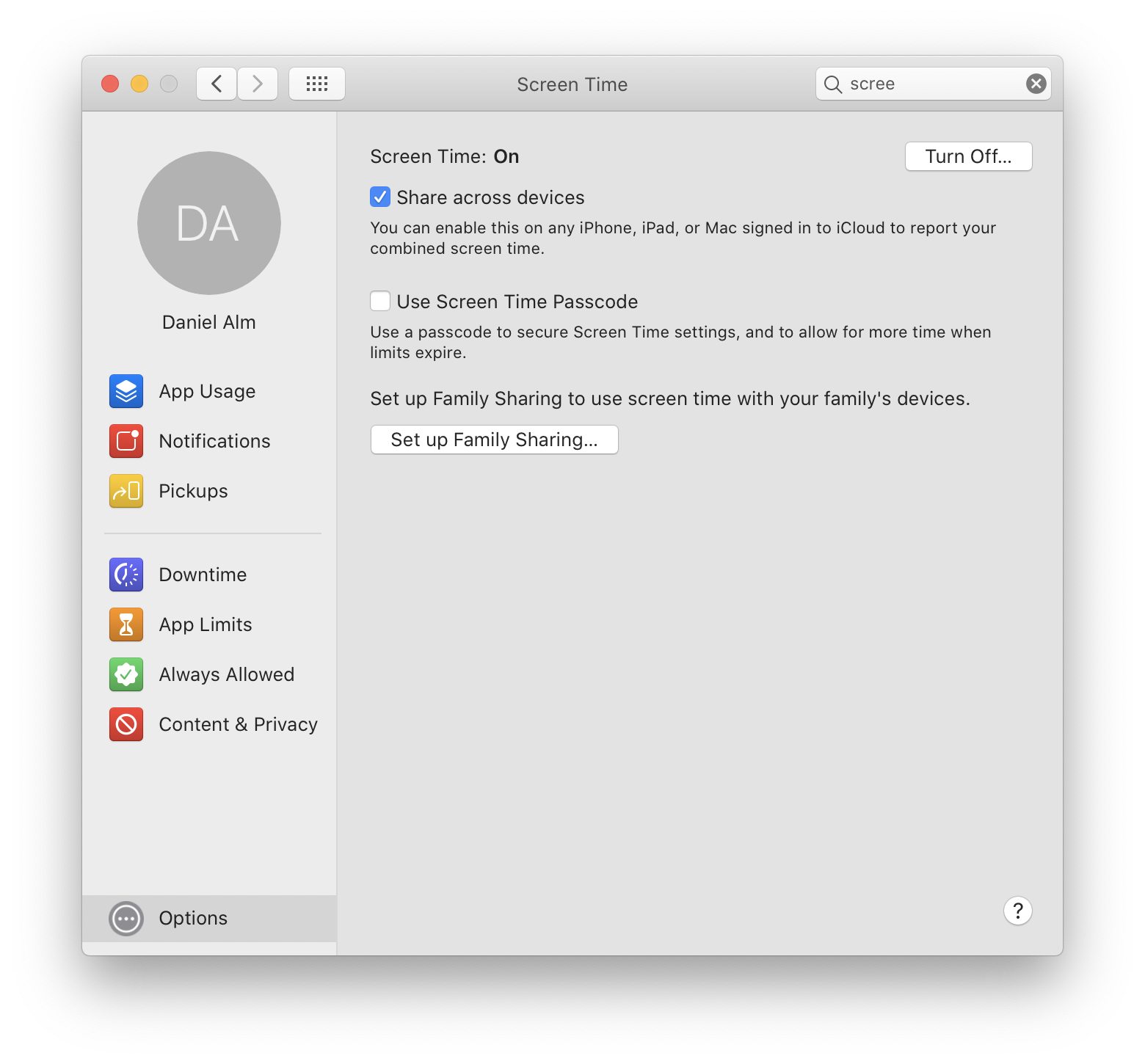 Seeing this total figure can be especially helpful if you spend a fair share of working minutes and hours on your iPhone and iPad as well as your Mac. It can also be a "reality check" for those who discover that they are spending close to all of their time on electronic devices.
Turn Screen Time off
In the event that you want to turn off Screen Time tracking, you can! You can turn this function on/off under "Options." This can be especially helpful if you want to use your Mac for a TV show marathon on Netflix. 😊
Set Limits
Just like on your iPhone, you can schedule "downtime" away from your Mac, setting limitations on your device so that you're unable to use it during certain hours. For example, you may want to schedule an hour of "downtime" before you go to sleep at night — experts say that exposure to so-called blue light in the evening can affect your night of sleep.
You can even get more detailed by setting limits on specific applications and websites throughout your day. Find yourself shopping on eBay when you should be sending invoices? Or editing your photos when you should be writing a project proposal? Try setting limits on distracting apps or websites during your set "work hours."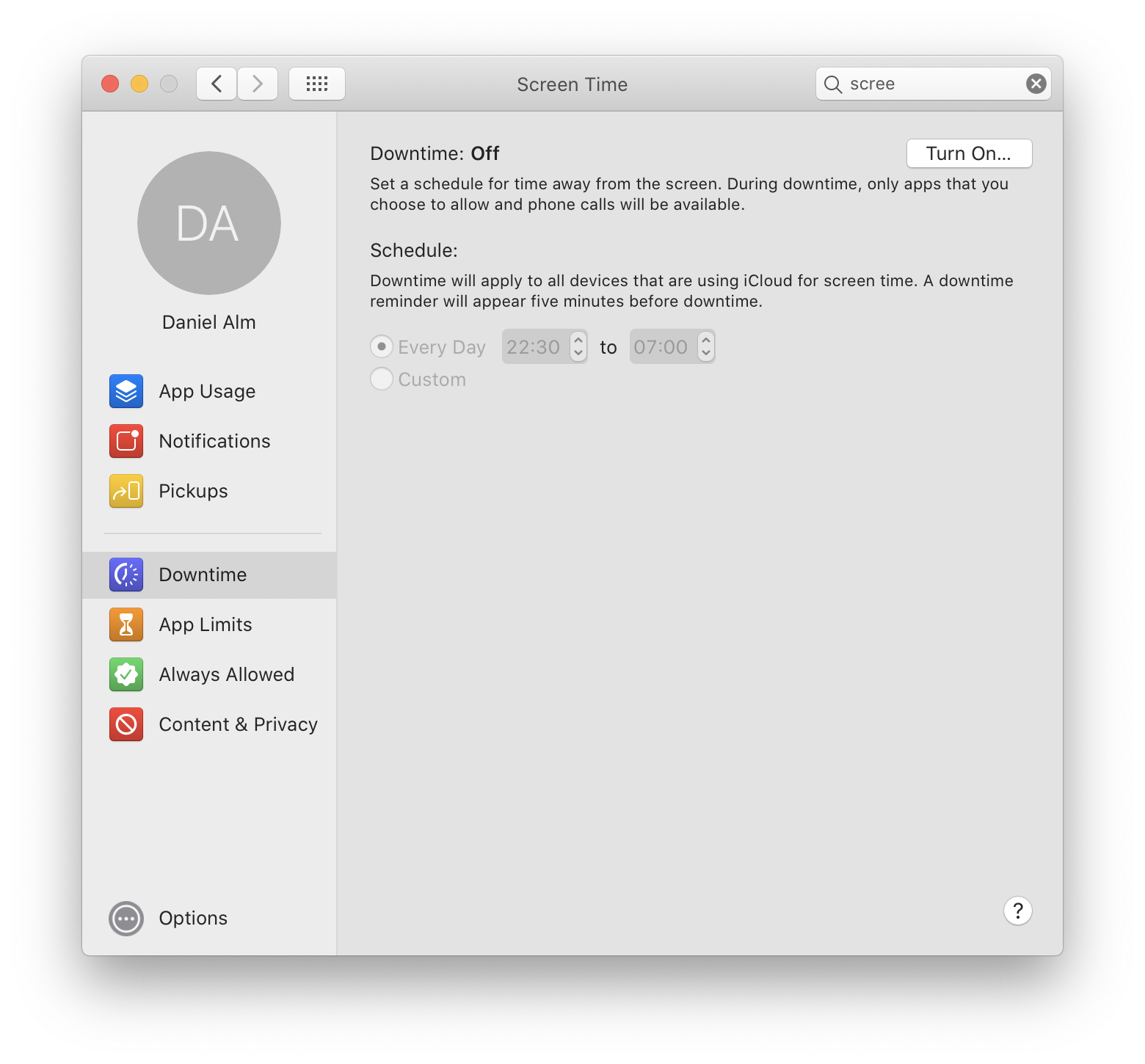 Conversely, you may want to use limits to help you schedule in hours of play or rest. Set a limit on Gmail after a certain hour of the day, and let yourself take a breather for a couple of hours in the evening.
Just like Screen Time for the iPhone and iPad, you can also set certain apps to "Always Allowed," so they won't be impacted by additional limitations.
Content & Privacy
Screen Time will also allow you to set privacy settings for certain apps, stores, and content, safeguarding your family from explicit or inappropriate content.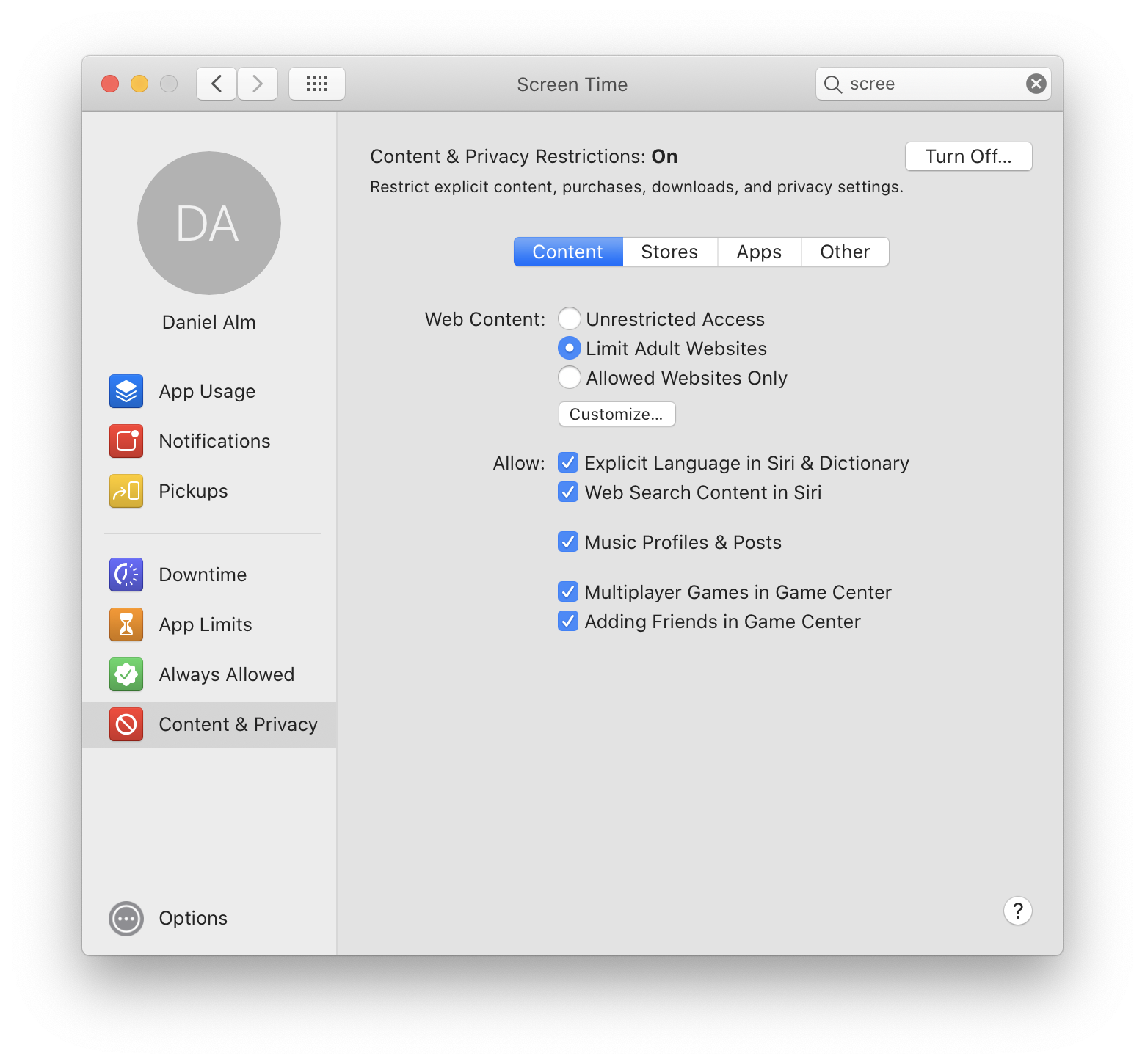 Benefits vs. Limitations of Screen Time for Mac
Screen Time for Mac is certainly a useful tool, but it definitely has its limitations. Let's take a closer look at why you may want to use Screen Time… just not as your exclusive resource for time management.
The "Perks"
Syncing Screen Time across all devices can produce some extremely useful insights, especially in terms of managing your overall usage of time.
But the most useful aspect of Screen Time is most likely the ability to actionably set limits on specific applications and websites. Screen Time gives you a degree of control over your application usage that can ultimately help you spend your time more productively. Click To Tweet
The Downsides
Screen Time provides decent insight into how you're spending your time. During a given 24-hour period, it can tell you how many hours and minutes you've spent on Microsoft Word, for example. What's missing? It won't tell you what project you were working on.
For example, if you're a freelance copywriter, knowing that you spent 6 hours and 20 minutes in Microsoft Word will not be incredibly helpful when determining how many hours you spent on a particular project. Or, if you manage social media accounts for local businesses, seeing that you spent 3 hours on Hootsuite on Sunday evening isn't going to give you the breakdown you need to bill 7 different clients. That's where an app like Timing can help, tracking your time for each individual document and website URL.
In terms of functionality, Screen Time does give you the ability to set limitations and privacy settings. But it doesn't allow you to "start" and "stop" a timer, or to manually input tasks.
Overall, the degree of overview and control that Screen Time for Mac gives you is fairly shallow. Screen Time's "App Usage" is more of a "bird's eye view" than a deep dive into your personal time usage. And while useful for setting personal limitations, it doesn't really allow you to create a detailed schedule and breakdown of your time.
Did you forget? Download The Ultimate Screen Time Factsheet
Using Screen Time & Timing Together
As you've discovered, Screen Time is a helpful add-on (rather than a replacement) for the system you currently use to track your work hours. It doesn't offer the in-depth insight that Timing gives you when it identifies and tracks specific projects and clients using keywords, paths, rules, and manual input. It doesn't allow you to manage your calendar or export reports for client invoicing. After all the hype, Screen Time is fairly limited.
Still, we suggest Timing users take advantage of what Screen Time has to offer, in a couple of ways:
First, you can utilize Screen Time's "App Limits" feature to restrict your usage of distracting apps and use your working hours even more efficiently.
Second, seeing the total number of minutes and hours you're spending on both your iPhone and laptop may be helpful, especially if you often work on your phone.
If you're not using Timing yet to track your working hours, you can give it a try for free here.