Google Calendar Time Insights Review: Track Your Meeting Times to Better Understand Your Productivity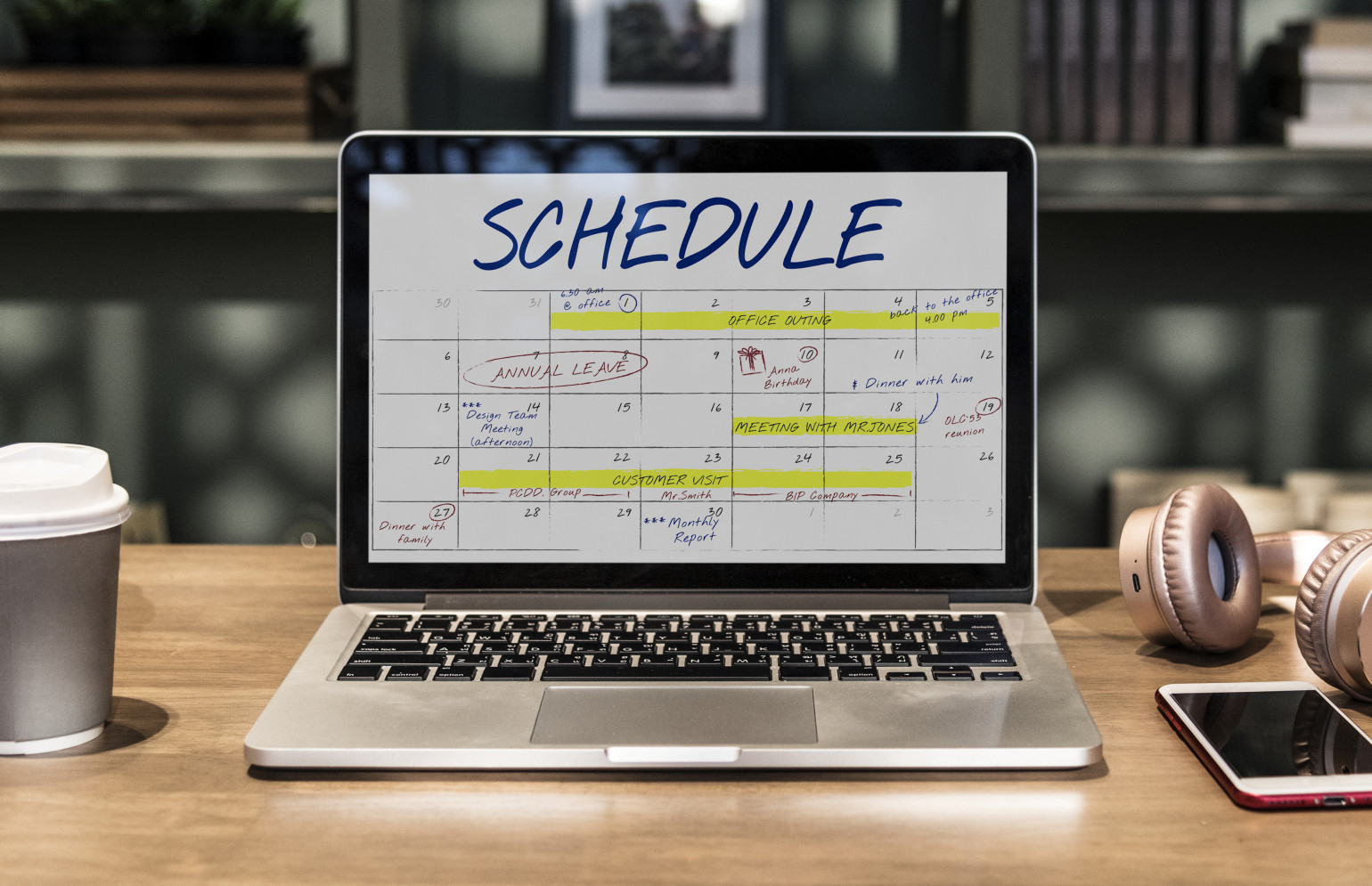 Meetings are an inevitable part of our professional lives. Few people – whether freelancers or employees – can work without ever participating in a meeting. Sadly, many meetings are unnecessary time-wasters that prevent us from completing actual work. This is true for 70% of all meetings.
Like a lot of professionals, you may feel that you spend a lot of time in meetings. For many of us, meetings get in the way of actual work. Scheduling a meeting seems like a good idea, but afterwards (or sometimes during) you ask yourself if it was really that important.
According to Get Clockwise, 78% of workers believe their meeting schedules are chaotic. 38% blame upper management while 16% blame their direct manager. 64% of employees are only excited about meetings when they are well-planned.
The COVID-19 pandemic did not help. Companies all over the world replaced in-person meetings with virtual ones. They also added meetings where they normally would not bother. Switching to remote work was not easy, so many companies erred on the side of overcommunication.
Consider these statistics from the National Bureau Of Economic Research and Microsoft Workplace Insights:
Weekly meeting time increased by 10%, resulting in three additional meetings per week.
70% of employees experienced a 70% increase in meetings.
The rate of one-on-one meetings increased by 18%.
Check-ins and team social meetings increased by 10%.
The number of meetings attended rose by 13.5%
It takes time and resources to set up, conduct, and follow-up on a meeting. This is a considerable expense for each attendee, especially if someone does not get much value from the meeting. There are likely people in your meetings who are being paid to contribute nothing.
Does this mean that all meetings are pointless? Absolutely not. Some are critical. Others add value, even if they are not essential. And sometimes it is just nice to have a conversation with other humans, especially if you work remotely and alone often.
To stay productive and get the most value out of your work, it is important to determine how much time you are spending in meetings, and discern which meetings are important and which are pointless.
To help with this, Google has released a new feature for their popular Google Calendar app called Time Insights: a simple calculator to help you track meeting times. It is part of Google's goal to help professionals work smarter and use their time wisely. In this article, we are going to explain and review Time Insights.
To stay productive and get the most value out of your work, it is important to determine how much time you are spending in meetings, and discern which meetings are important and which are pointless.
Click To Tweet
What is Time Insights?
Google has added a new feature to their popular Calendar web app called Time Insights. It was announced last March as part of a suite of new features for Google Workspace. It's currently available for all Workspace users.
Roll out began back in August where Google explained their goal more thoroughly: "With the changes to our working environments in the past year, some people have more meetings and may feel less control over how their work time is spent. Time Insights can show you this data, and help you plan your time better."
With Time Insights, Google Calendar now provides you with data on how much time you spend in meetings. It's a simple feature, but it offers some powerful information you can use to optimize your day, your workflow, and your life. This information gives you a better understanding of how you spend your time, letting you make adjustments to your schedule.
Time insights is available for users on the Google Workspace Business Standard, Business Plus, Enterprise Standard, Enterprise Plus, Education Plus, and Nonprofits plans. Unfortunately, it isn't available for those on Google Workspace Essentials, Business Starter, Enterprise Essentials, Education Fundamentals, and Frontline tiers, or for G Suite Basic and Business customers.
Google Calendar isn't the first to offer this kind of feature. Android and iOS have offered similar breakdowns in various apps. However, Time Insights is only available on desktop devices, not mobile.
Google has been very clear that this information is only visible to you. Your Workspace manager does not have access to it. However, you can grant another person the ability to see it by adjusting your permissions. This feature is turned on by default, and while Workspace administrators can turn it off, users can only minimize it.
The Time Insights Panel
Let's take a close look at the Time Insights panel in Google Calendar and go through each feature.
By default, the Time Insights panel is minimized, but you'll find a summary of its data on the left side of your calendar.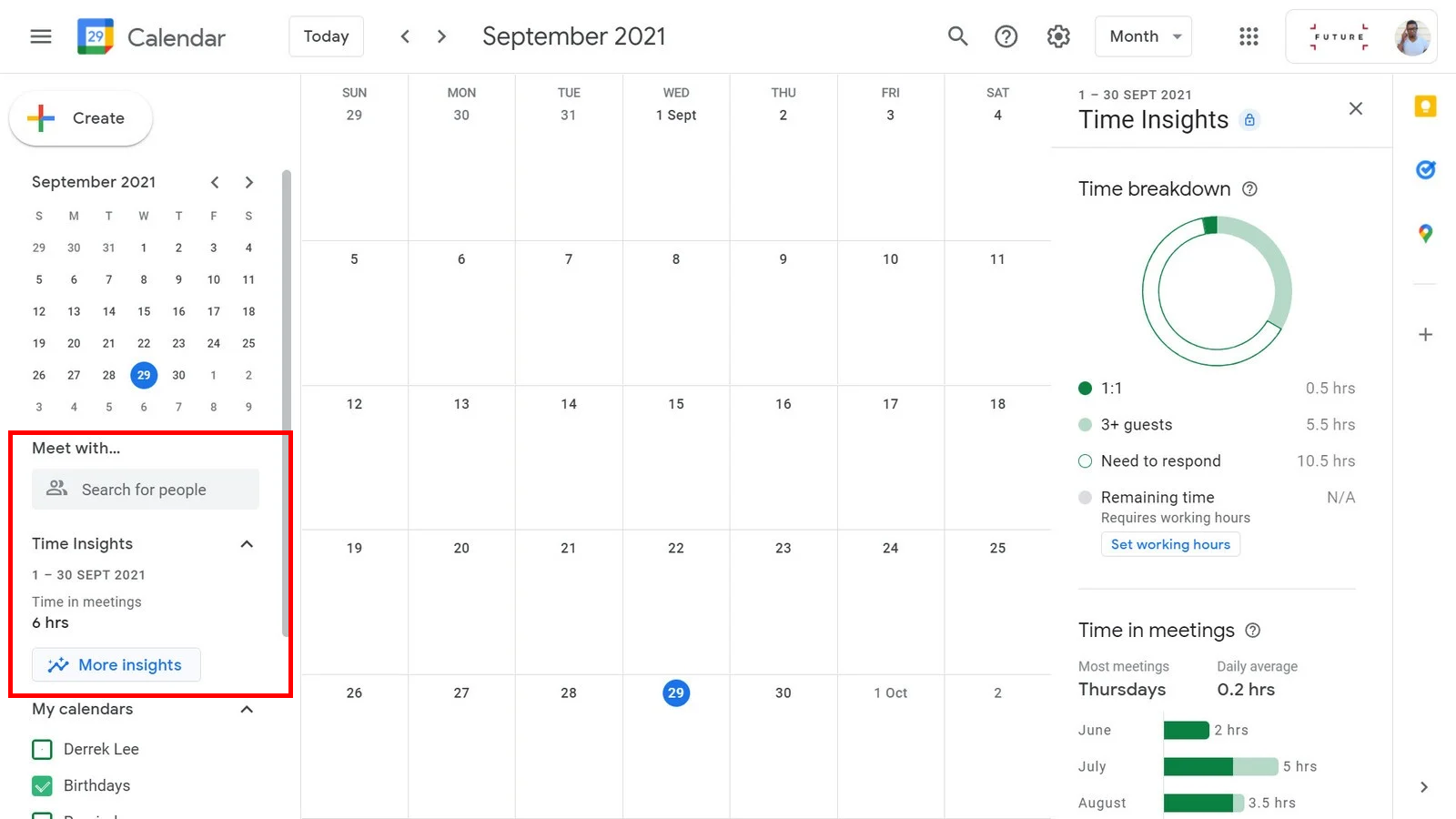 Image: Android Central
If you click the "more insights" button, a larger panel will open on the right side of the app in a sidebar.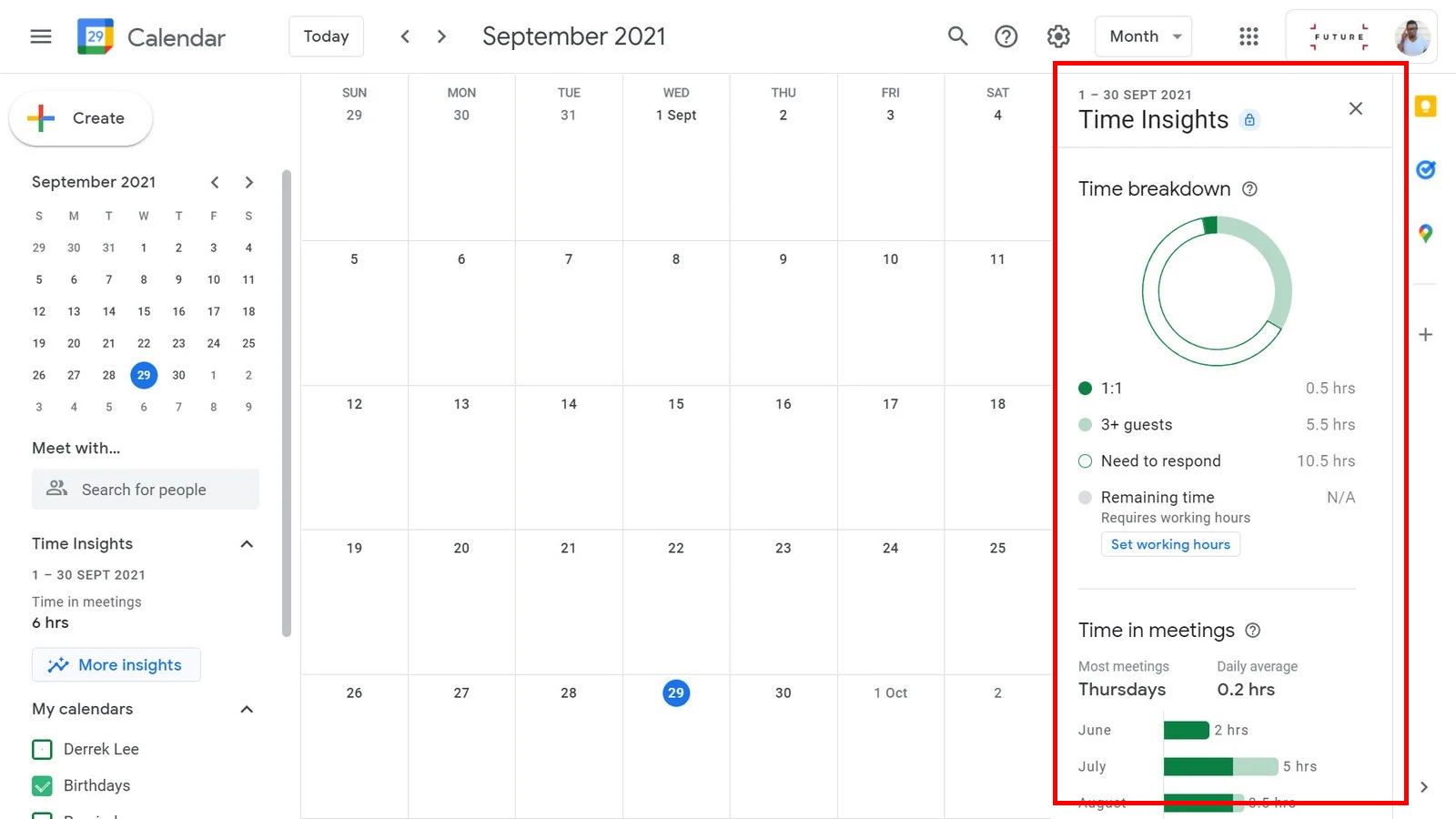 Image: Android Central
Time breakdown
The most important element is the "time breakdown" pie chart that shows you how much of your time is spent in meetings. It breaks your meeting time down into categories: meetings between just two people and meetings of three or more people.
If you hover your cursor over one of the pie chart colors, it will dim all events on your calendar except the ones that match that type. This helps you see where those meetings are on your schedule.
According to Google, Calendar entries where you're the only attendee don't count towards these meeting totals.
Time in meetings
Next, there's the "time in meetings" section that offers a snapshot of your meeting schedule. It tells you which days you have most meetings, your average daily meeting duration, and the total amount of time you spent in meetings over prior equivalent chunks of time. This helps you understand how much you are currently spending versus how much you typically spend.
In order to accurately track your meeting times with Time Insights, it is important that every meeting that you attend make it onto your calendar including the duration and attendee list. Without these data points, your Time Insights report will not be entirely accurate. Fortunately, Google Calendar allows you to modify the event details after an event, so you can make some last-minute changes if another person shows up or if the meeting runs longer than planned.
People you meet with
This section shows you who you have the most meetings with over a selected period. You can pin up to 10 people, or Google Calendar will make suggestions. Colored bars indicate whether these meetings are one-on-one or in a group of up to 15 people. If you hover your mouse over time, those meetings will highlight on your calendar. If you don't have a meeting with a pinned person, this section will also show you when your next meeting with them is.
Focus time
The Time Insights update also introduced a new Calendar entry called "focus time." This feature was introduced in late October. It appears alongside the standard "out of office" and "event" tags when you create a new entry on your calendar. Like all of the Time Insights features, Focus time is only available for people with work or school Google accounts.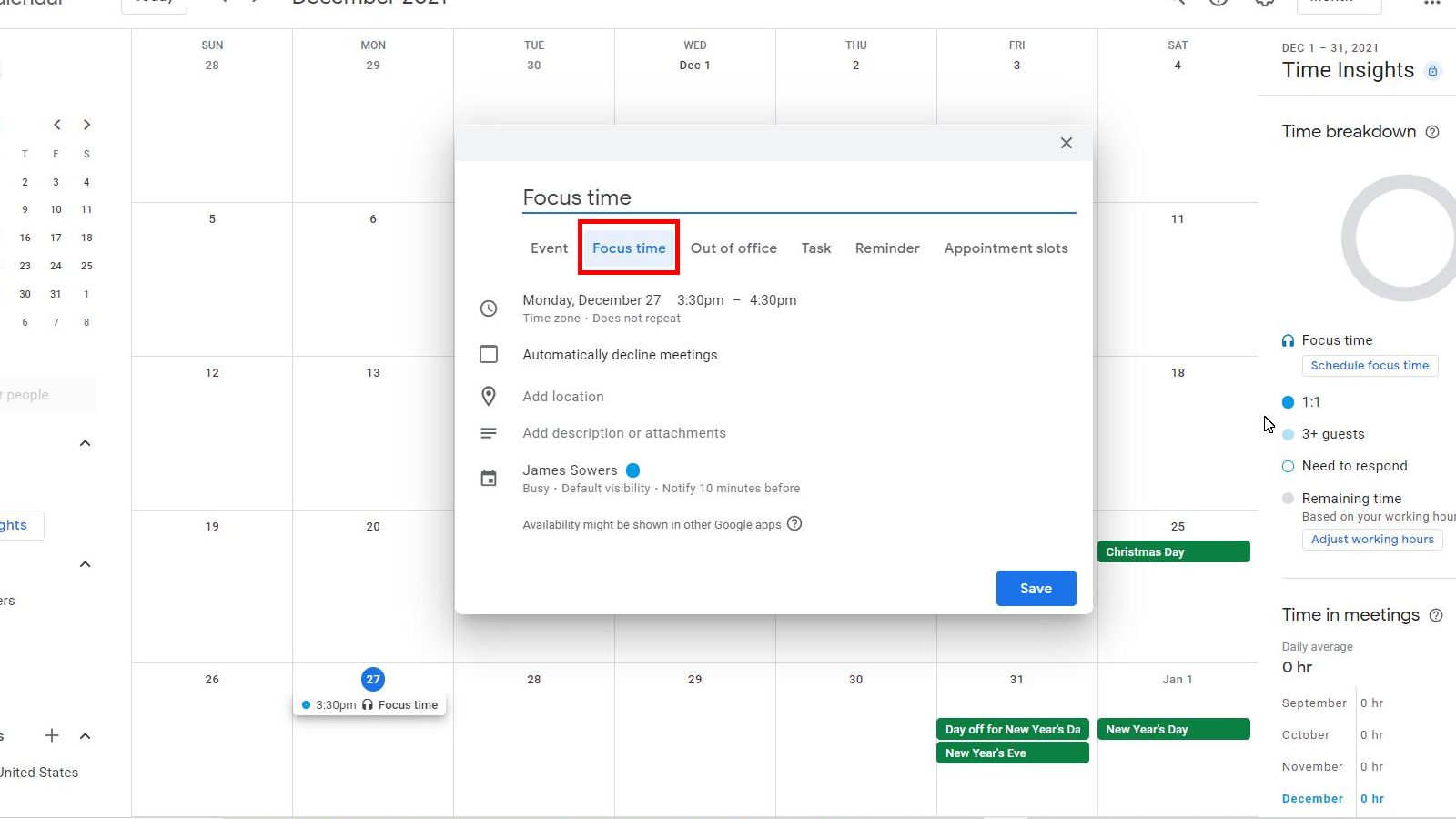 Image: Google
Google hopes Focus time will help you schedule time for intense, uninterrupted work:
"We're introducing a new Google Calendar entry type, Focus time, so you can block out and protect your time for heads-down individual work," says the Workspace team. "Similar to the Out of office event type, focus time has a different appearance on your calendar and includes the option to automatically decline conflicting events."
To designate focus time, add a new Calendar entry and use the "focus time" option. You can customize the entry time's name, time, color, and other options. Make sure to click the box next to "Automatically decline meetings" so meeting organizers know right away that you aren't available.
What We Like About Time Insights
Our favorite thing about Time Insights is that it makes people aware of their time. Working hard is important, but understanding how you work is just as key. Meetings are an easy way to waste a lot of time! A widget in a common app can keep you mindful of how much time is spent in meetings.
We also like that Time Insights breaks down meeting times by person. This lets you see who is hogging your time more than others. If, for example, a client was taking up a lot of your time, you could take steps to adjust your relationship with that client.
Finally, we love the addition of the focus time feature. Designating portions of your day for uninterrupted work is a critical way to make yourself more productive. This prevents other people from infiltrating your deep work time so you can focus on your revenue-generating activities.
Time Insights Limitations
Time Insights is a powerful tool, but it has limitations.
It is only available to Workspace users
Sadly, Time Insights is not part of the free Google Calendar. You must be a user through a business or organization that uses Google Workspace, which is not free.
However, if you decide to use Google Workspace, it offers a number of benefits you might find helpful for your work. All Google Workspace plans include a custom email for your business and access to collaboration tools like Gmail, Calendar, Meet, Chat, Drive, Docs, Sheets, Slides, Forms, Sites, and more. Plans start at $6/month for one person.
You have to schedule every meeting
Time Insights only knows you are in a meeting if you tell it you are. The meeting must be on your Google Calendar. This means that if you join or host an impromptu meeting, you will need to go back and add it retroactively to your Calendar in order for Time Insights to add it to its calculation. This can be challenging if you tend to join a lot of last-minute meetings.
For instance, if you work closely with a client, vendor, or partner who requires a lot of check-in meetings, those little five- or 10-minute calls add up. You probably would not add each of them to your Calendar, which means Time Insights would never see them.
It's not a complete time-tracking solution
Do not mistake Google Calendar with Time Insights as a substitute for tracking your time. It only tracks your time in meetings. It does not track anything else. If you spend a majority of your time in meetings, or if that is all you care to track, then it offers some value. But if you perform many tasks throughout the day and want to optimize the way you spend your time, Time Insights leaves a lot to be desired.
You must use Google Calendar
Time Insights is an extended feature of Google Calendar. It is not available as a standalone app. If you prefer not to use Google Calendar for your scheduling, then Time Insights will not be much help.
True Time Tracking
If you need more accurate information to track your time in meetings (or to track your time altogether), we recommend that you try a true time tracking app such as Timing.
Timing is a time-tracking app for freelancers, employees, and professionals. It automatically calculates the time you spend in various apps. You can manually or automatically sort your activities into categories for projects and clients. There's no need to press "record" or "stop" at any time. Just keep focusing on your work while Timing records your time automatically, then review your time when you want to.
This means you never have to worry about inaccurate timesheets. You will know exactly what you worked on at any given time. If your client or partner needs to see a timesheet for billing, you can simply export a report from Timing with a click of a button.
As you can see, Timing's dashboard gives you a LOT more information about how you spend your time than you will find in Google Calendar's Time Insights.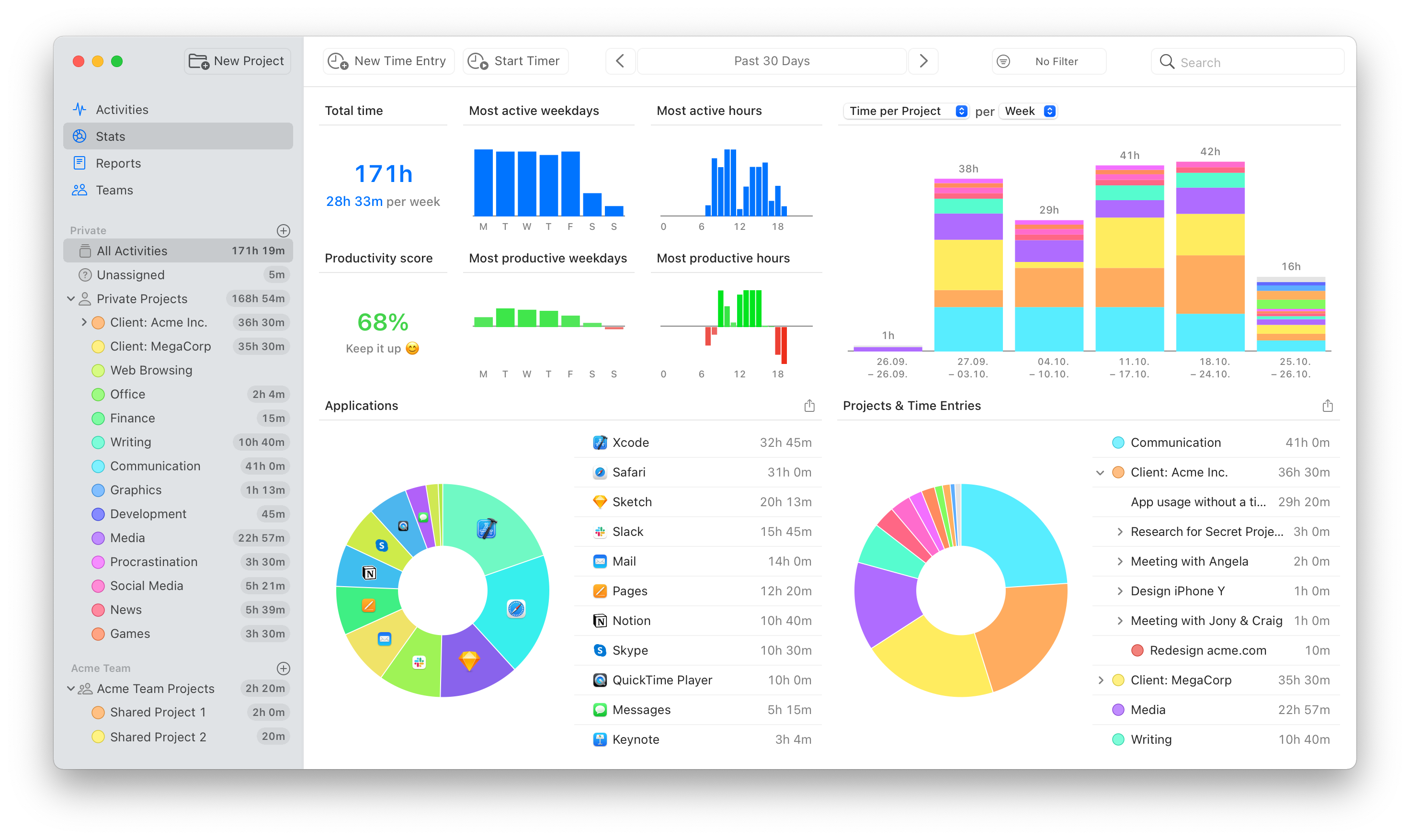 When it comes to tracking meeting times, Timing has you covered as well. Timing can automatically recognize whenever you start a video or audio call in many popular meeting apps. It is compatible with Zoom, Slack, Microsoft Teams, Google Meet, Skype, FaceTime, TeamViewer, and Whereby.
Once a call has ended, you will receive a notification. When you click that notification, you will be presented with a time entry editor to enter your meeting details.

In addition, Timing's automatic idle detection is disabled for the duration of the call.
If you set up Timing's Calendar integration, your calendar events will show up on the timeline. Click an event to create a time entry and add details. Timing will automatically try to guess the correct project for the new entry from the event's properties and pre-fill the entry's title field.
Is Time Insights Right For You?
The new Time Insights feature of Google Calendar is a helpful addition to a popular product many of us use every day. It's simple and fits nicely among the other features of the calendar app.
It has the potential to be quite insightful, especially if you do not understand the amount of time you spend in meetings, or how that time impacts your work. You are able to tell, at a glance, whether the amount of time is reasonable and how it compares to your past weeks and month.
That said, we think Time Insights does not provide enough information. If you care about your own productivity (and how meetings affect that productivity), it is best to use a dedicated time tracking app that looks at the total picture. You will not only know how much time was spent in meetings, but also how that time relates to individual activities.
Google Calendar only relates meetings to other work, whereas an app like Timing helps you understand how your meeting time relates to other activities. For instance, if you spend 30 minutes preparing a slideshow for a meeting and 10 minutes sending recap notes, Timing would show you those connections, whereas Google Calendar would not.
You'll have to decide if Google Calendar Time Insights is right for you. It provides some value, but it fails to tell the whole picture. If you are ready to take time tracking seriously, download your free trial of Timing today.