Boost Your Freelance Career: 12 Habits of Highly Effective Freelancers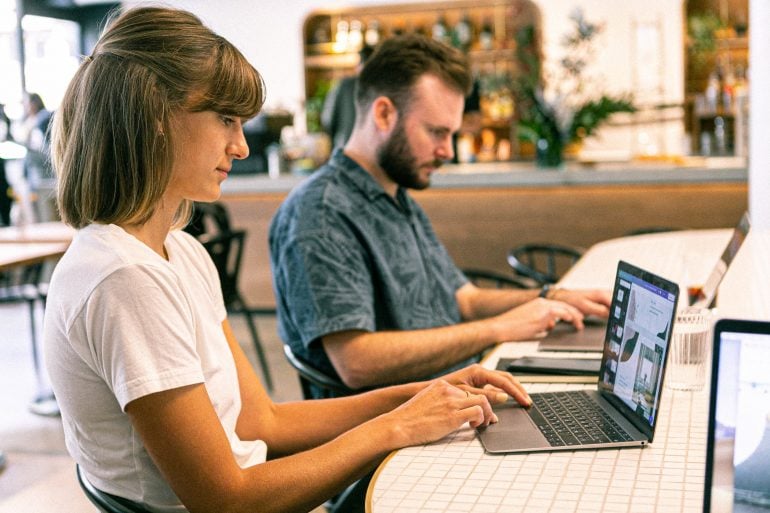 Image: Canva Studio
The freelance economy is thriving and showing no signs of slowing down.
According to a recent study by Fiverr, there are 1.57 billion people who are pursuing a freelance career, and the freelancing market is worth a staggering $1.5 trillion.
That's not all.
By 2028, more than 90 million Americans (half of the U.S. workforce!) are expected to make an income from freelance work to some degree.
But with so many people opting to work for themselves over the traditional 9-to-5, it brings up a lot of important questions like:
How do you stand out in a crowd of so many?
How do you market yourself to attract your ideal clients?
How do you make clients come to you instead of spending your precious time and energy hunting them?
The answer is simple.
By implementing these essential habits of highly effective freelancers, you can set your freelancing career up for long-term success.
Table of Contents
1. Specialize in a Profitable Niche
The best way to increase your service rates as a freelancer?
Specialize in a niche.
Let's say you need help writing pitches to get publicity for your business.
Would you rather:
A: Hire a generalist freelance copywriter for $10 per hour.
B: Hire a writer who specializes in PR and pitching to podcasts for $30 per hour.
The latter, right?
It makes the most sense to work with a writer who specializes in the exact outcome you want to achieve.
By specializing in a niche, you set yourself apart from other freelancers and become the go-to expert in your industry, effectively helping you charge higher rates.
Action Step: Think about where you want your freelance career to go and the type of person, industry, or problem you want to become known for solving.
2. Identify Gaps in the Market
One of the best skills you can develop to boost your freelance career is learning how to identify gaps in the market.
Ask yourself the following questions:
What are the biggest challenges my clients are facing?
What are other freelancers in my niche offering to solve it?
What is missing?
Is there a marketable skill I can learn or a service I can offer to meet the demand?
By taking the time to identify these freelance opportunities, you're creating a unique selling proposition (USP) for your freelancing business.
For example, most print materials designers do not handle the printing themselves. They simply deliver finished files, and it's up to the client to print the final product.
A smart freelance designer would manage the printing process, creating a seamless customer experience and setting themselves apart from other freelancers.
Action Step: Do market and industry research for your freelancing niche and adjust your service offering accordingly.
3. Interview Clients to Discover and Understand Pain Points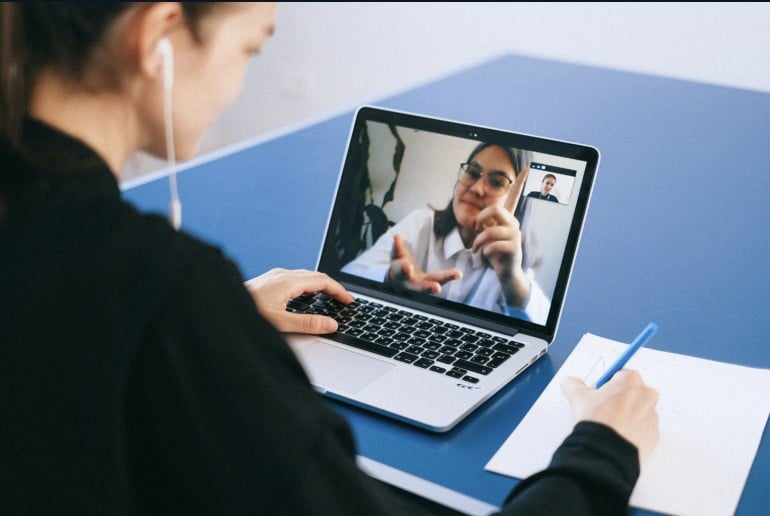 Image: Anna Shvets
To get ahead with your freelance career, you need to approach it like a business owner, not an employee.
Remember, you're not interviewing for a full-time role.
The purpose of your discovery and onboarding calls is to screen potential clients, learn about the problem, the scope of work, and determine how best you can help.
How do you do that?
By interviewing your clients and asking questions like:
What are you struggling with the most right now?
What is your expected outcome?
What is your budget for the project?
Why do you want _____?
Here's an example:
You're a freelance social media manager and PPC ads manager on a discovery call with the founder of an e-commerce brand. The potential client is complaining about their low social media engagement and lack of leads.
After probing the pain point further and focusing on the desired outcome, you learn the client wants to establish wholesale partnerships rather than focus on selling products at retail.
Instead of pushing your social media management, you recommend your PPC campaign services to target potential wholesalers.
These questions give you the information to:
Understand a client's needs
Suggest better solutions
Determine if the freelance project is the right fit for you
Identify any freelancing red flags.
And it helps the client figure out if you're a good fit for solving the problem.
It's a win-win.
Action Step: Create a list of screening questions for your discovery calls.
4. Create a Portfolio Website That Sells
Don't have an online portfolio?
Add making one to your to-do list for this week to instantly boost your freelance career.
It's easier than you think.
With platforms like WordPress and Squarespace, you can buy a template or a site theme and fill in your information. In an hour, you'll have a professional freelancing portfolio without writing a single line of code.
The main pages you'll want to have on your portfolio site are:
A home page: Put your niche above the fold so it's immediately clear who you help.
About page: Introduce yourself and how you can help.
Services page: Detail the different packages you offer.
Portfolio page: Add examples and links to your recent work.
Contact page: Create a simple form for potential clients to fill out.
Here are some more tips to make your portfolio attractive:
Pay attention to SEO: Sometimes, it only takes a few carefully placed keywords to bring your portfolio to the top of search engine results, especially if you are a local business. For instance, if you are a graphic designer in Phoenix, Arizona, optimize your site around "Phoenix graphic designer" or "Phoenix graphic design."
Be bold with your branding: Make your branding eye-catching, use captivating images, and craft a compelling tagline. Keep things professional, but let your personality flow through your branding.
Develop brand continuity: Maintain consistent branding across your site, social media platforms, print materials, and other touchpoints to create brand recognition.
Action Step: Create or update your portfolio website and include the link when pitching your services to clients on freelance websites.
5. Automatically Track Your Time
How you track your time is a crucial part of building a successful freelance career. The more understanding you have over your time leaks, the better equipped you are to improve your efficiency.
Most freelancers rely on stop-start time tracking apps or guesstimating.
However, these are not foolproof solutions.
If you forget to turn your time tracker on, you have to revert back to guesses, resulting in inaccurate timesheets and no true measure of how much time you're spending on each freelance job.
So how do you get the exact numbers? With an automatic time tracking app like Timing.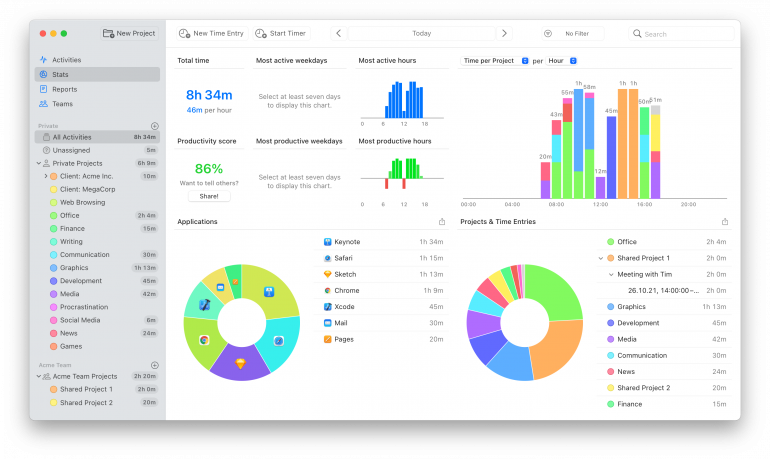 As soon as you turn your computer on, it starts tracking everything you do on your computer, helping you stay on top of your time without timers.
Just keep focusing on your tasks, then review your time when you want to and assign it to the correct categories or projects.
The result?
A detailed overview of how you're spending your time, what you worked on, and a real measure of your productivity.
Using the Report feature, you can quickly export your data to an Excel spreadsheet and submit accurate timesheets to your freelancing clients.
That said, Timing respects your privacy. It doesn't take screenshots, store your data online, and we certainly don't sell your data. It tracks your activity for your eyes only. It's up to you whether you export and send it to your clients.
Action Step: Download Timing's free 30-day trial.
6. Create Templates and Use Tools to Streamline Your Freelance Work
With only eight hours in the average work day, you need to create systems that maximize your time.
That starts with developing templates.
For example, a freelance writer can create:
Writing brief template
Outline and draft templates
Pre-publishing checklist
Onboarding and offboarding templates
Proposal templates
Contract template
These will help streamline the workflow in your business and save you time.
Next, you'll want to access your tool stack.
Ask yourself:
Are you using multiple tools when you could use one?
What tools will help you work more efficiently?
For example, as a freelancer, you probably have at least a couple of client calls throughout the week, and sometimes these calls can go over their scheduled time.
However, unless you've remembered to turn on your time tracker tool, you might forget and end up undercharging for your time.
A tool like Timing that automatically tracks every call solves that problem. You never have to remember to press record, and you'll always have the exact time stamps for your timesheets.
Action Step: Review your workflow and see where you can create templates to streamline your productivity.
7. Diversify Your Income Streams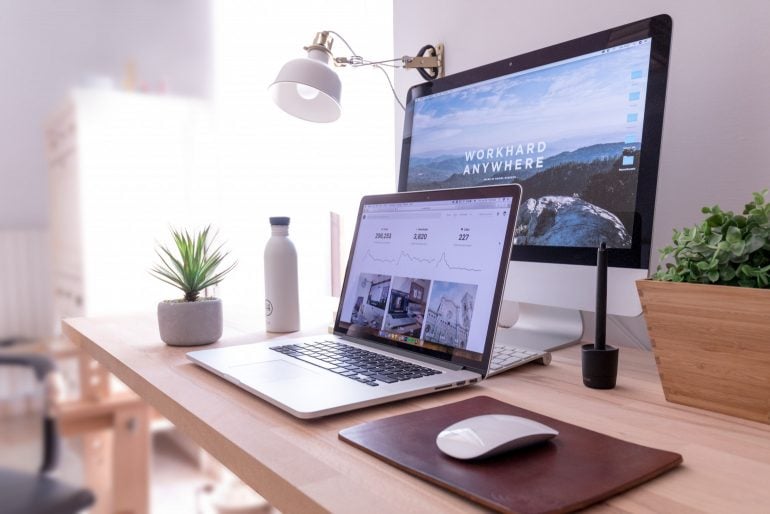 Image: Domenico Loia
One of the biggest mistakes you can make in your freelancing career?
Relying on one client to make up the majority of your income.
If the contract ends, your financial situation will swing into chaos.
The solution?
Diversify your income with:
Multiple service offerings
Selling digital products
Creating online courses
Affiliate marketing
Investing your money
A good rule of thumb is to get your "side hustle" to bring in the same amount of money as your freelancing jobs.
For example, if your freelancing is bringing in $1,000 per month, the goal is to get your digital products (and eventually the dividends of your investments) to do the same.
That way, if anything does happen with one of your clients, you'll have breathing room and won't need to dip into savings.
While your client roster is full, you have a second income just for investing and growing your emergency fund.
Action Step: Decide on one additional income stream for your freelancing business and start steadily growing it each month.
8. Improve Your Skill Level
When you work for yourself, you're in charge of your education and self-development.
There's no boss to force you to take a course or attend a webinar.
If you want to maintain a successful freelance career, it's up to you to prioritize staying on top of industry trends and learning new skills you can market to your clients.
That means consistently getting better at your job.
Take online courses.
Read industry-related books and articles.
Join industry Slack channels and LinkedIn groups.
Attend webinars and in-person events.
Follow and engage with thought leaders.
For example, let's say you're a freelance content writer.
You can build out your skill set to include:
SEO optimization
Keyword research
Different CMS functionality
Link building and guest posting
Pitching PR story ideas to publications
Social media marketing
These additional skills help you raise your rates, attract more clients, and sell different packages to clients.
Remember, the best marketing is a great product.
By continually improving your work, your reputation will grow organically. Testimonials and referrals will come in without prompting, and you'll set yourself up for a steady stream of freelance work.
Action Step: Schedule a non-negotiable time in your diary for self-improvement every week or month.
9. Underpromise and Overdeliver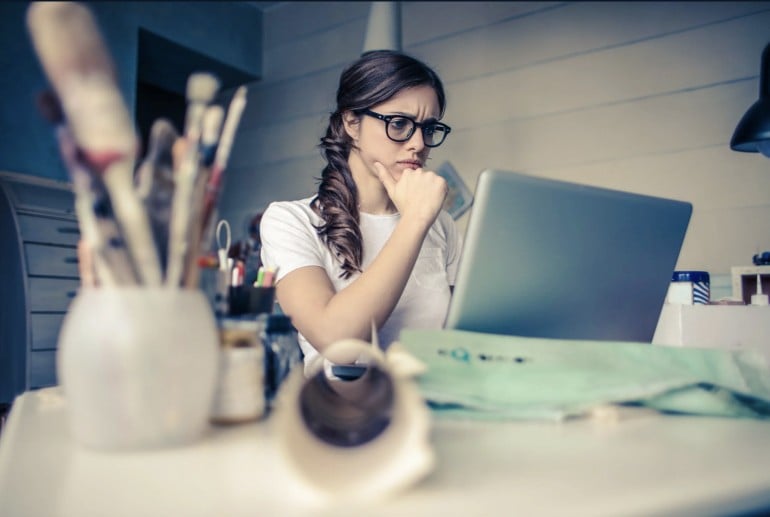 Image: Andrea Piacquadio
The key to wowing your freelance clients?
Always underpromise and overdeliver.
While it's tempting to fall into the trap of wanting to move mountains for your clients to get the job, it's not sustainable.
And if you miss the mark? You'll create a feeling of disappointment towards your work instead of satisfaction.
As a rule of thumb, always underpromise what you know you can achieve.
For example:
If you think you can grow a client's social media account by 500 followers each month, promise 400, and then "wow" them by bringing in 550 or 600.
Instead of promising a world-class website in two weeks, set a reasonable deadline with buffer time.
By focusing on underdelivering and deadline management, you'll keep your stress levels in check, produce quality work, and submit your work early, exceeding the client's expectations.
The best to improve both of these qualities?
Optimizing and automating your time tracking.
When you know it will take you exactly eight hours to design a poster, all you need to do is add buffer time to the project and tell your client exactly when you can deliver it before the deadline.
Action Step: Start time tracking your tasks to develop baselines.
10. Use Social Proof to Boost Your Freelance Career
When was the last time you bought something without input from someone else?
Whether it's reading reviews on Amazon, speaking to friends, or listening to influencers, our buying decisions are consciously and unconsciously influenced by other people's opinions, choices, and actions.
After all, you don't want to make a mistake and end up buying a dud product.
The same goes for your clients.
No one wants to hire the wrong freelancer for a project and waste valuable time and resources.
That's where social proof, aka testimonials and reviews, come into play.
88% of consumers trust reviews as much as personal recommendations.
The logic is simple.
If other people are having positive experiences with your business, the potential client will feel less anxious about hiring you. There's a feeling of safety that you will deliver high-quality freelance work.
How do you request social proof from your clients?
Reach out and ask them to write a short paragraph about their experience working with you and the result or impact the collaboration had on their business.
The key is to ask for the testimonial as soon as you've completed the project or achieved a specific result.
(If you can get numbers to support your ROI, you've hit the jackpot!)
Add these testimonials to your homepage, sales pages, proposal documents, and to your social media marketing collateral.
You can even take it a step further and put together a case study for some of your best clients.
Action Step: Reach out to your past and current clients and ask for testimonials demonstrating the ROI of your project.
11. Say No
Learning to say no is one of the most important habits of highly effective freelancers.
If you keep saying yes, you'll end up with extra work without the pay and taking on the types of projects you hate.
That's a one-way ticket to burnout.
But saying no doesn't stop and end with your clients. It also extends to your personal life and maintaining work boundaries (especially if you're a remote worker).
If people are constantly stopping by throughout the day and interrupting your flow state, it will put a serious strain on your productivity.
Action Step: If you don't have time or the project isn't in your wheelhouse, decide if it's worthwhile saying yes.
12. Selling Your Personality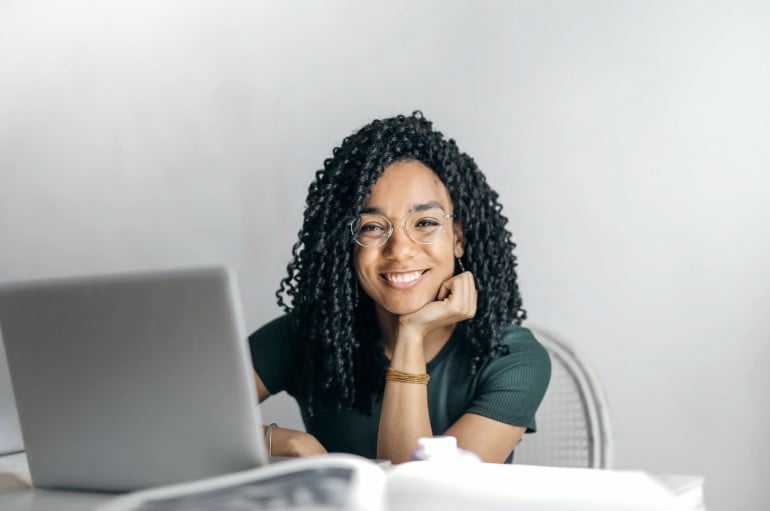 Image: Andrea Piacquadio
Instead of trying to be the kind of person you think your clients want, it is far wiser (and easier) simply to be your authentic self.
If you are quirky, be quirky. If you are reserved, be reserved. Instead of forcing yourself to fit your clients, find clients that match your personality.
It starts with your marketing copy.
On your website, use words and phrases that you'll normally use in everyday conversations. Talk about your hobbies and interests. Tell the story of how you started your freelancing business and discuss what motivates your "big why".
These details of your life are your biggest assets.
It helps you connect with your ideal client and is the first step in building a successful relationship.
After all, people buy from people they know, like, and trust.
Action Step: Update your digital marketing materials to include snippets of your personality.
Build Better Habits for Your Freelance Career
While there are more talented freelancers than ever before, that's not a bad omen.
There is space for you to have a flourishing freelance career as long as you follow these tips, develop a strategy to attract your dream client and set yourself apart from your competition.
Start by downloading Timing's 30-day free trial. Use the powerful automatic time-tracking tool to generate accurate timesheets for your clients and measure exactly where your time is going and how much you should be charging.
Freelance Career: Frequently Asked Questions
What is a freelance career?
A freelance career is where a person works for themselves rather than as a full-time employee at one company. You'll usually take on contract work and are considered self-employed.
Why is it important to stand out as a freelancer?
It's important to stand out as a freelancer to generate brand awareness around your business. The more people who know about your work, the easier it is to attract the right freelance work and maintain a full client roster.
How can I attract high-quality freelance clients?
You can attract high-quality clients to your freelance business by niching down, investing in your website, learning basic SEO, generating an online presence on the right social media channels, and asking for recommendations.
What are the highest-paid freelance jobs?
According to Upwork, the highest paying gigs on the freelance platform are public relations manager, business consultant, media buyer, photographer, AI professional, data analyst, and copywriter.