Introducing Timing 2023.1: Analyze Your iPhone and iPad Usage with Timing!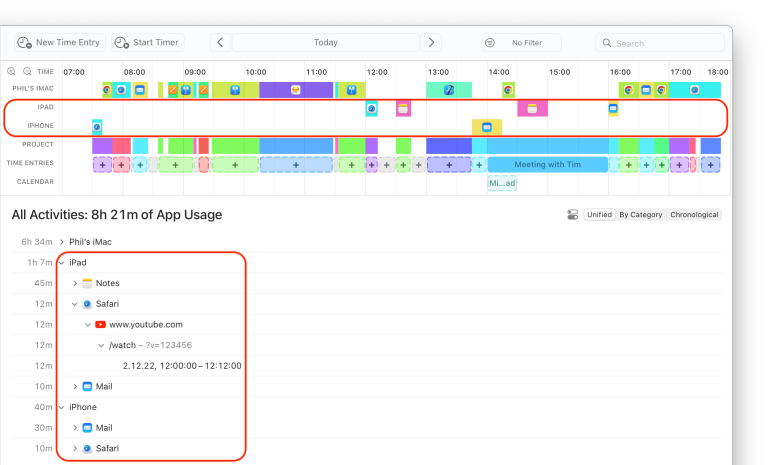 Timing has always been a great tool to keep track of how you spend time on your Mac, but we know that many of you also use your mobile devices for work and personal use. Up until now, however, it has not been possible to collect your iPhone and iPad usage in the same way as your Mac usage.
But this changes today: We are excited to announce Timing 2023.1, which introduces a new feature that a lot of you have been asking for: Timing can now import your iPhone and iPad usage from Screen Time!
This feature, available in the Expert and Connect editions of Timing, lets you manage your time spent on mobile devices just like your Mac usage, with the full functionality of Timing's timeline and activity list. Even Timing's rules are available to automatically categorize your mobile device usage.
Using Timing to display your mobile activity has several advantages over the limited device usage view in the iOS and macOS system settings:
A timeline that shows exactly when you used each device, and for what. No more guesswork, as opposed to Screen Time's "hourly" granularity!
Review any time range you want, rather than being limited to Screen Time's day/week views.
Archive Screen Time data for longer than the four weeks Apple allows.
Categorize your mobile activities into projects using drag-and-drop.
Timing can show even the full URLs of the websites you visited in Mobile Safari.
You can quickly create manual time entries to annotate and categorize whole blocks of your mobile activity at once.
In addition to this new integration, Timing 2023.1 also features plenty of usability improvements. You can find an overview of all the changes in our release notes.
Read on for more information on how how to set up the integration, and what to expect from it!
Getting Started
To set up the Screen Time import, open the Timing integration preferences and add the Screen Time integration. You will be asked to complete three steps:
Enable Screen Time in System Settings on your Mac and enable sharing Screen Time data across devices. This is required so that your mobile Screen Time data can be synced to your Mac.
Enable Screen Time on your mobile devices and enable sharing Screen Time data across devices. This is required for your mobile device to record data that Timing can import.
Finally, grant Timing the "Full Disk Access" permission in System Settings. This is required for Timing to read your Screen Time database.
Once you have completed all these steps, Timing will start importing your Screen Time data in the background. This can take a few hours, so don't worry if the data doesn't show up right away. Once Timing has imported your Screen Time data, it will also notify you.
Once your mobile device usage has been imported, you can interact with these activities just like with any Mac activity recorded by Timing. You can view it on the timeline, drag it onto projects to categorize it, generate reports for it, and so on.
Limitations
While we have tried to make the import process as reliable as possible, it still depends on Apple's Screen Time service, which imposes a few limitations:
The data that Timing imports can only be as accurate as the original data recorded by Screen Time. So, if you have noticed the data shown in the Screen Time settings on your mobile device to be notoriously unreliable, chances are that the data imported by Timing will reflect the same discrepancies.
Website tracking only works with mobile Safari, because Screen Time does not record URLs for third-party browsers such as Google Chrome. In addition, only the URLs of websites will be imported, but not their titles.
The Screen Time import relies on Apple's Screen Time and iCloud services to sync your data. This means that the initial import may take a while, and there might also be periods of delays later on, during which Timing takes a few hours to import your latest mobile activity. If you still aren't seeing any data whatsoever a few hours after setting up the Screen Time integration, please refer to the "Troubleshooting" section below.
Screen Time retains only the last couple of weeks of data, so anything older than that can not be imported. However, Timing can retain activities permanently once it has imported them. So once you have imported activites, those will continue to be available in Timing even when they are no longer available in Screen Time.
When you e.g. have Split Screen or Stage Manager enabled, time will be attributed towards only one of the visible apps at any given time.
Timing can't deduct idle time from your Screen Time data, so it will simply import all your mobile device activity as "active".
Some iOS apps might launch in the background to refresh their data. Screen Time will pick these up, even though you might not have used your device at that time. There's no way for Timing to recognize that this wasn't actual device usage, so it will import these activities as well. You can always delete these activities manually from your activity list; please see the "Troubleshooting" section below.
If you have any other questions about how the Screen Time integration works, please have a look at the Frequently Asked Questions in our knowledge base article on Screen Time, or contact us.