Timing's Look at the iOS 12 Update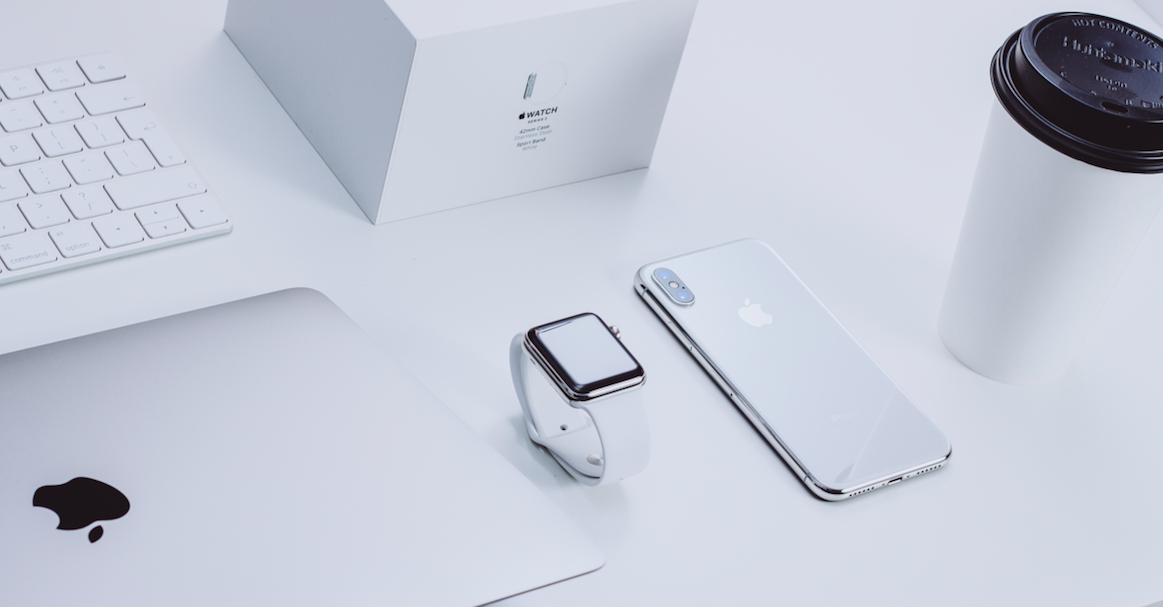 There's always a lot of excitement surrounding an Apple announcement—and for good reason.
The brand is an innovative leader in technology, and has made many products that have seamlessly integrated into our lives to make our daily routines easier, smarter, and better connected.
It should come as no surprise that we here at Timing are big Apple fans (Timing tracks all your time spent on your Mac—and off of it—after all). We love perusing what experts and customers alike have to say following a big announcement from the industry giant.
New iPhones, an Apple Watch update, and iOS 12 were all topics of discussion at Apple's September 12 press conference.
While new gadgets are cool, we're going to take a deeper look into iOS 12 and one of its best features—Screen Time.
Free Download: A Quick Timing Update Guide
iOS 12
You've probably already heard that Apple announced three new iPhones while inside the Steve Jobs Theater—all to the tune of some pretty hefty price tags. However, whether or not you decide to purchase a new device, customers are now able to download the new iOS 12 operating system, which can help make your older phone feel fresh again.
Though it has been in beta for a couple months, it officially became available on September 17. This iteration has a few notable updates—including a feature that only reinforces the importance of time tracking (more on that later).
According to The Verge, the "iOS 12 is a very different software update for Apple. Unlike in years past, where the focus has been on bright, flashy changes—whether that be a wholly new look for the operating system, redesigned notifications and widgets, or redesigned apps—this year's update puts the emphasis first on working better, instead of just looking better."
And there are improvements—the iOS update seems to instantly make devices faster, a nice departure from last year's iOS 11 headaches. Apps open more quickly, scrolling is smoother, and crashes should be (hopefully) fewer and farther between.
The new iOS 12 also vows to make notifications less of nuisance. Now, if you have multiple notifications from an app, they will stack together with the most recent one on top. You also have the option to delete all notifications in a stack (as opposed to one-by-one), or you can delete every notification at once within your Notification Center. So, basically, no more crowded lock screen.
Another handy, nice-to-have feature? A new app called Measure, which—you guessed it—can help you measure things using augmented reality. It may not be completely necessary, but it sure is fun!
In addition, Apple's updated operating system allows for some new Siri capabilities and shortcuts. CNET breaks them down for you here.
Don't want to worry about catching the next update? No worries. With iOS 12 you can now toggle on "Automatic updates," which means your phone will update on its own while you sleep.
You can install the iOS 12 all the way back to the iPhone 5S.
Screen Time
The most-hyped part of the iOS update is definitely Screen Time. Since Apple is in tune with what's necessary, they know that in this digital world it's important that we are aware of the time we are spending on our devices in order to be both productive and present in our daily lives. Screen Time can help with that on iOS 12, as can @TimingApp on MacOS.
It's important to be aware of the time we are spending on our devices in order to be both productive and present in our daily lives.
Click To Tweet
(Obviously, Timing on macOS has been ahead of the curve in regards to this realization for quite a while!)
Screen Time can show you how often you are on your device, and specifically the time you are spending within certain apps. Though there is no dedicated app for the feature, you can view and control it within your Settings.
Once you go into your Screen Time dashboard, you can see a snapshot of your last 24 hours categorized by individual app or app category. If you tap the chart, you can get more detailed information about your day or week.
In addition, you can set App Limits—maybe you need to curb your Instagram scrolling, or limit a child to a certain amount of minutes on YouTube (I mean, there is only so much Baby Shark a parent can take!)—putting you in control of your usage.
This is a great feature, as we are all glued to our devices most of the time, but likely aren't aware of how much time we are wasting. However, it really only minimally helps if you are tracking time for work.
Screen Time is only available to sync tracking across your iPhone and iPad—no Mac included—which leaves a gaping hole where you are likely spending your most productive working hours.
Screen Time v. Timing
Even though Screen Time offers an awareness solution to a glaring and growing screen-addiction issue, it doesn't help support one of the most critical needs for time tracking—work productivity.
Setting aside the fact that it doesn't operate across all your devices to include your MacBook, Screen Time also doesn't allow you to customize your time tracking in the way that Timing does.
As you know if you are an avid Timing user, the software provides endless ways for you to organize and personalize your experience.
Since Timing automatically tracks the time spent on your Mac—including the apps you use, documents you edit, and websites you visit—it's important to make sure all the time is being appropriately filed into the right project folder.
As we discussed in detail in this previous article, with Timing you can create a hierarchy for your projects that makes the most sense for you. You can also set up custom rules to automatically categorize and file away chunks of time, so you never miss any of those previous billable hours and minutes.
On top of all that, you can assign productivity scores, manually enter time spent off of your device (meetings, phone calls, field research, etc.), and even export reports for easy tracking and invoicing—an absolute dream for freelancers or small business owners!
It's clear that Screen Time only provides a smidge of capabilities compared to Timing, but they share a common (and important) goal. And, when you use Screen Time in conjunction with Timing's time-tracking tool, it can help you account for time spent on phone calls, emailing, etc., so you can manually enter that time into your Timing dashboard—sweet! (We would love to import that data automatically, but unfortunately the Screen Time data is not available at all to third-party apps like Timing.)
Timing & MacOS Mojave
Apple has also released its newest Mac operating system—MacOS Mojave—that offers some cool new features, including Dark Mode, Stacks, a new screenshot tool, and a 32-person FaceTime call capability (coming soon).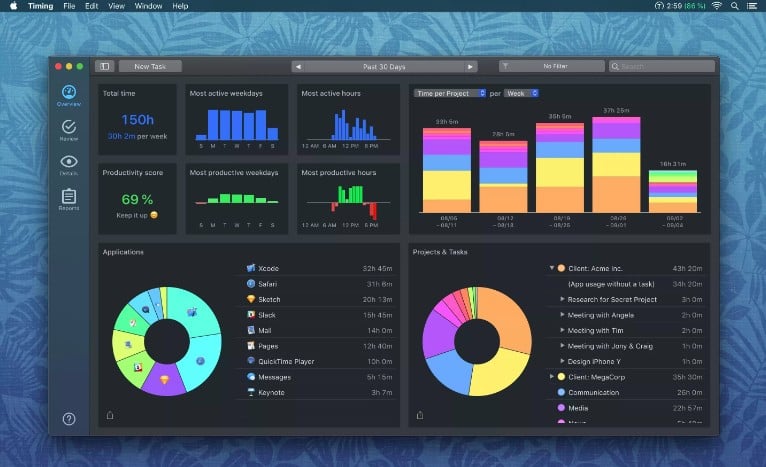 To help Timing users have the best time-tracking experience possible, we just launched Timing 2018.3, which helps support some Mac features included in the newly released MacOS Mojave, such as the new Dark Mode. In total, we've made 38 updates, largely based on users' suggestions!
Check out our recent article to learn everything you need to know about Timing's newest update.
Check it out: A Quick Timing Update Guide
Final Thoughts
Apple is still a dominant leader in the industry, and we have a feeling that's not going to change any time soon.
You can rest assured knowing that as a Mac-focused company, Timing is always ready and excited to introduce new time-tracking features that go hand-in-hand with operating system updates.
Now, are you willing to shell out upwards of $1,400 for a new iPhone? That, friends, is up to you.