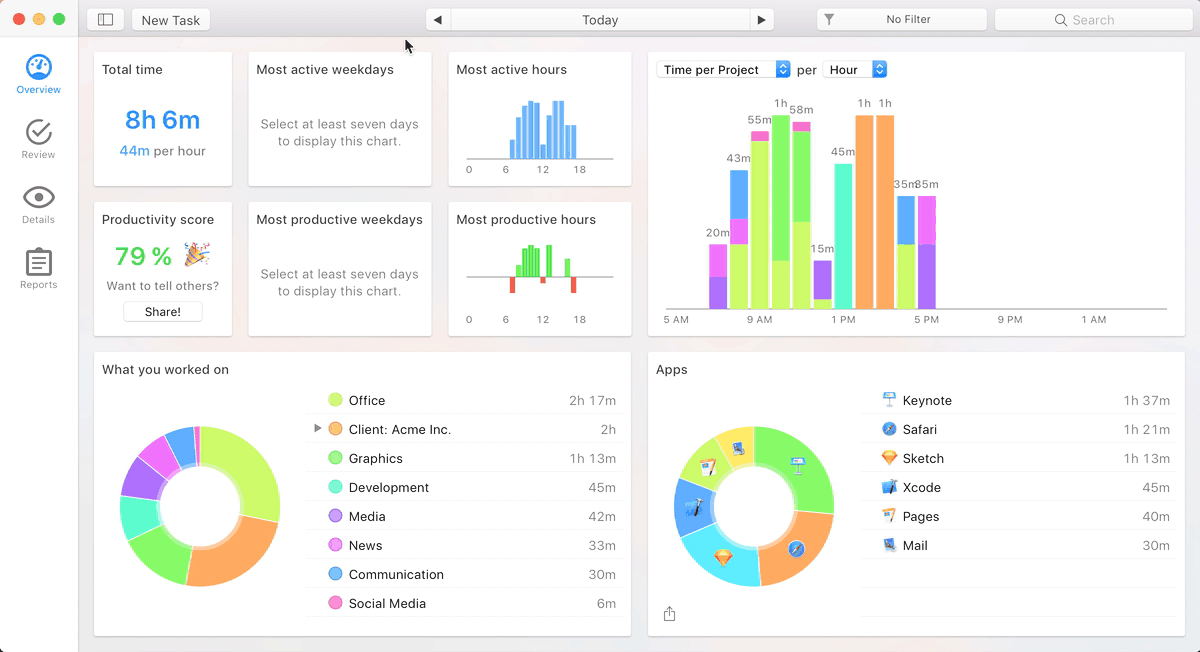 Timing is great for tracking time.
Timing 2 is way better.
Timing 1 was already a great app for automatically tracking how you spend your time.
However, it wasn't perfect — the interface was a bit clunky at times, tracking off-computer time could be cumbersome, and assigning activities to projects was not very flexible.
With a brand new interface, Timing 2 does much better.
It still has all the automatic tracking features you know and love, but adds:
A timeline that shows you how you spent your day.
Automatic suggestions to assign whole blocks of time at once.
Productivity tracking — see when you are most productive.
Searching activities.
A much more flexible rule system.
Lots of report options, including timesheets.
Start/stop timers (if you need them).
And much more...
Download
Buy Now
Requires OS X El Capitan and supports macOS Sierra.
See Exactly When You Worked.
Timing 2's smart timeline shows you exactly what you did at any given time.
And it even makes suggestions for blocks of time that belong together — just click the '+' button to assign a whole block at once!
This even works for times when you didn't use your Mac, so you can easily add meetings!
(You can also drag on the timeline to only show activities during a particular time range.)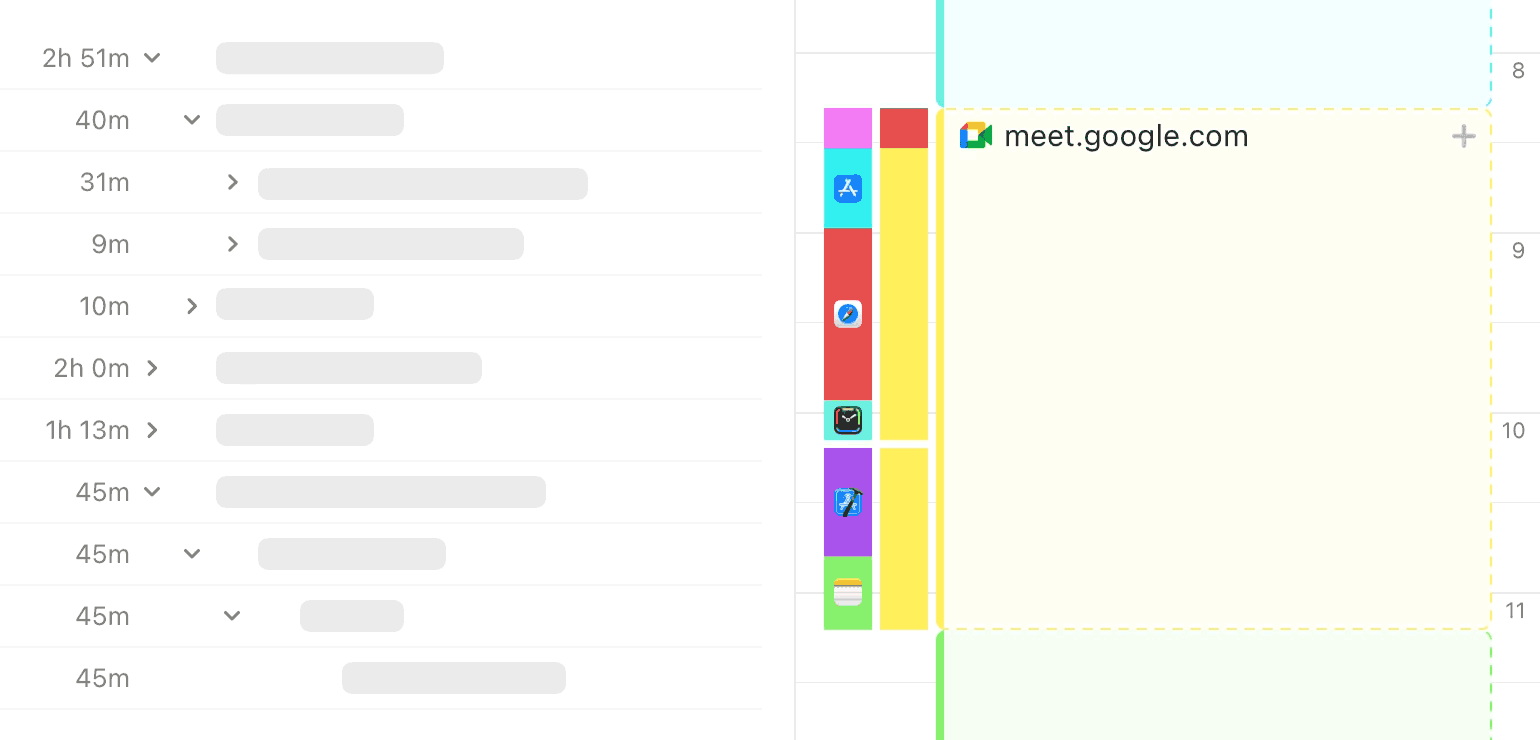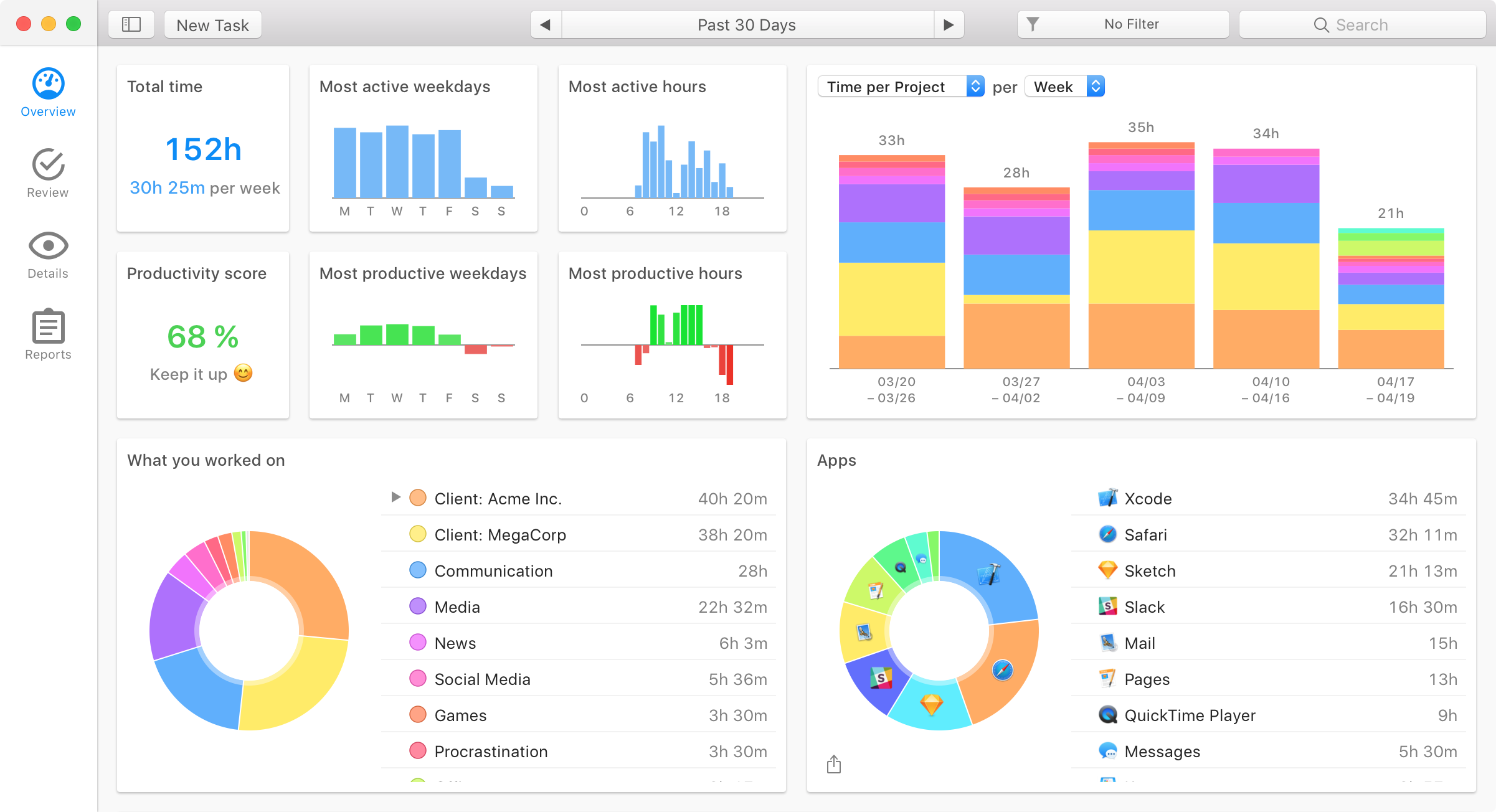 Get The Information You Need.
Timing 2's brand-new dashboard gives you a great overview of where your time went.
It even shows when you are most productive, so you know when you do your best work.
Assign Time Via Drag-and-Drop.
Timing 2 still features the familiar drag-and-drop interface, with one improvement:
Simply dragging an activity doesn't create a rule anymore.
This lets you now assign the same activity at different times to different projects.
(To create a rule in Timing 2, simply hold ⌥ pressed while dragging.)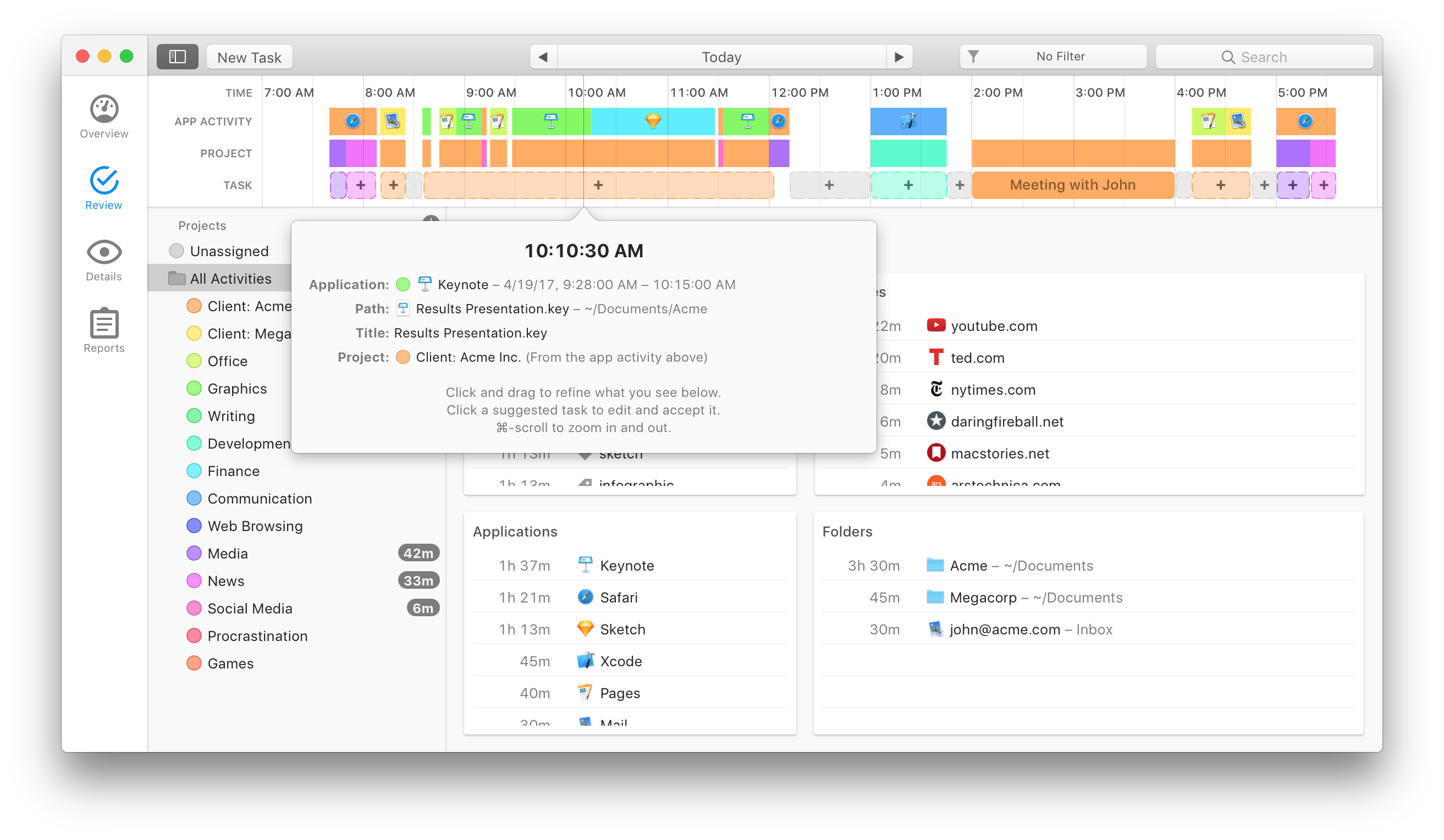 Track Time More Effectively Than Ever.
Timing 2 features hundreds of small (and big!) improvements throughout the entire app.
For example:
Timing 2 automatically computes a productivity score for you, so you know exactly when you've been slacking off for too long.
You can now 🔍 search for activities by application, title or path.
You can now create 💡 custom rules with wildcards.
Timing 2 will automatically group your activities according to criteria such as keyword, website, app, and folder.
Timing 2 tracks more information for several apps, such as Messages, Slack, Skype, and Final Cut Pro.
Much better performance, especially if you have tracked lots of data.
Did Something Off Your Mac?
Timing 2 Has You Covered!
If you need to track other activities, such as phone calls or meetings, just start a timer.
Timing 2 will automatically remind you to stop it when appropriate.
And it can still automatically ask you what you did when you return to your desk!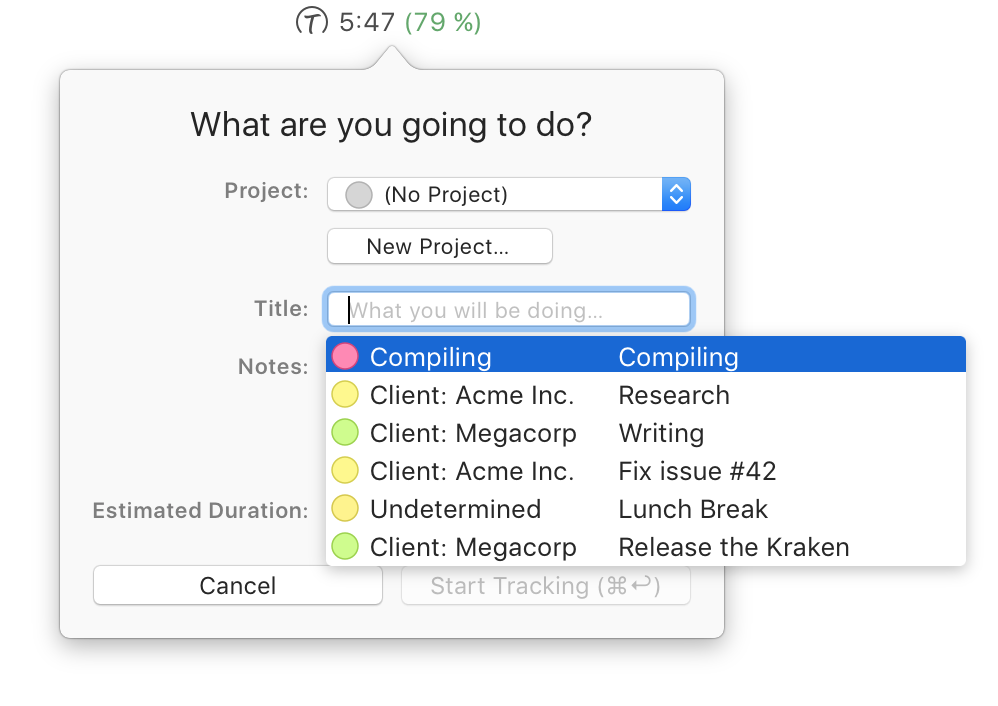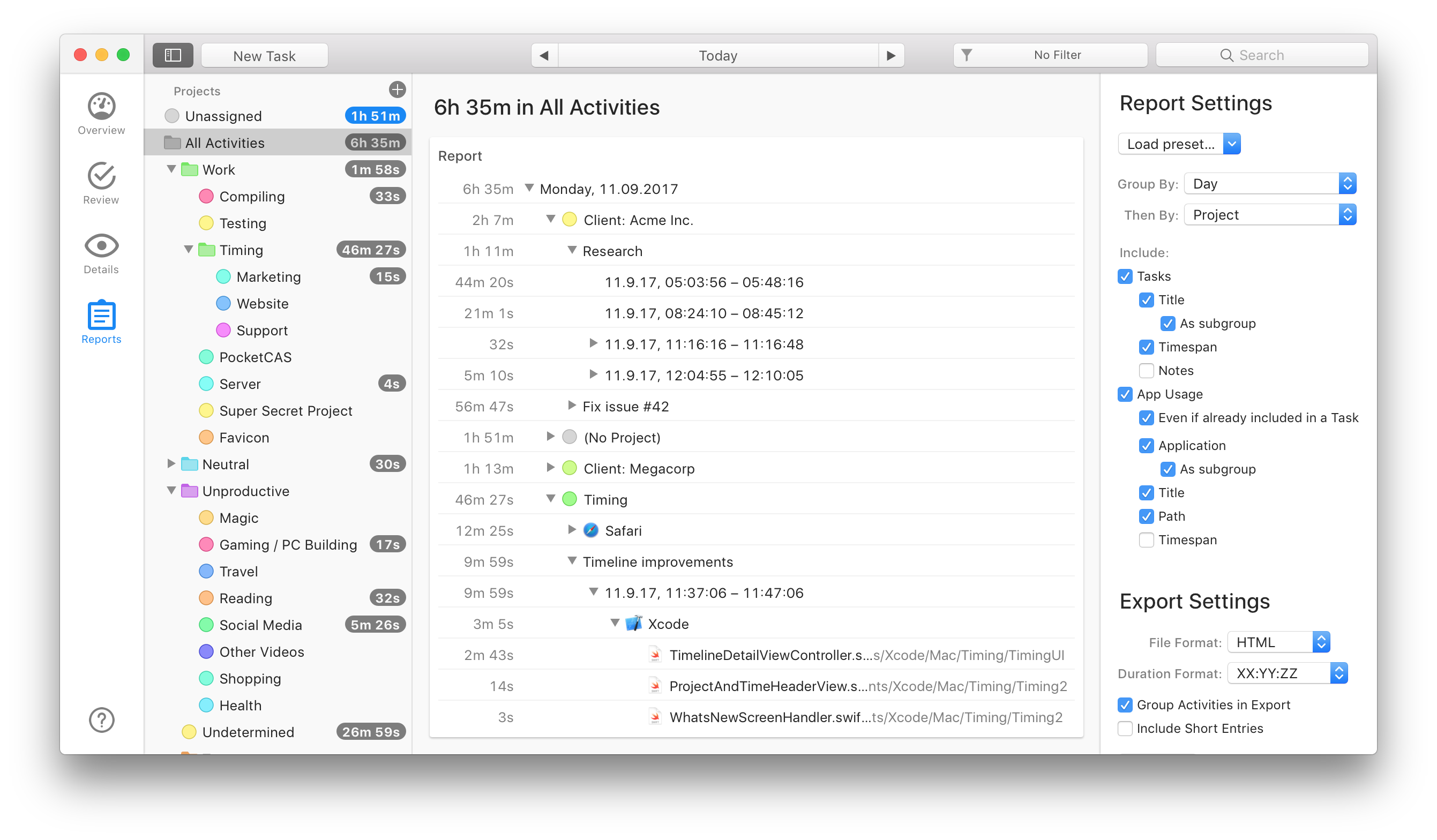 Get Sophisticated Reports In Seconds.
Timing 2 comes with a new, powerful reports feature built-in.
Select from one of several report presets or customize the report to your liking.
No matter how your clients need you to report your time,
Timing 2 can do it.
Frequently Asked Questions
How stable is the app?
Timing 2 has been tested extensively and is already being used productively by several customers.
It should already be at least as stable as Timing 1!
Are there any important differences between Timing 1 and Timing 2?
Most notably, rules are now handled differently and activities can only be part of at most one project (but they can still be matched by multiple filters).
Have a look at our switcher's guide for more details.
What about my data from Timing 1?
Timing 2 will automatically ask to import your existing data when you launch it for the first time.
However, the database formats aren't 100% compatible — for example, your existing rules can not be migrated,
and time entries in the same hour might get re-ordered.
(This is due to Timing 1 only saving the hour an event occurred, not the exact time — Timing 2 needs to "make up" a time during that hour.)
Note that Timing 2 does not modify any of Timing 1's data, so you can go back at any time.
Can I use Timing 1 and Timing 2 alongside each other?
Yes. Timing 2's data is kept separately from Timing 1's and both apps can run independently.
Just make sure to rename 'Timing.app' to e.g. 'Timing 1.app' before moving the new 'Timing.app' to your 'Applications' folder.
So you can keep using Timing 1 and even go back if you really want to.
(But we don't think you'll want to ever go back!)
How much will Timing 2 cost?
Timing 2 will be available in three editions: Productivity, Professional and Expert.
You can view the corresponding prices here.
If you have purchased Timing 1 before, you'll be able to upgrade to Timing 2 at a discounted price (or for free, if you purchased it in 2017) — see our pricing page for details.
How can I get the upgrade discount?
Again, see our pricing page.